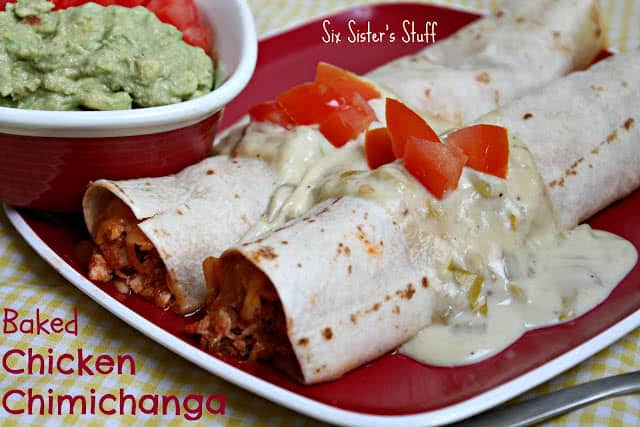 This is a healthy alternative to the Deep Fried Chimichanga and tastes just as delicious!  Our family ate them all, I thought for sure we could enjoy leftovers the next day!
Ingredients:
2 1/2 cups shredded cooked chicken breast
1 1/2 cups salsa
1 small onion, chopped
3/4 teaspoon cumin
1/2 teaspoon dried oregano
6 flour tortillas
3/4 cup shredded cheese
1 cup reduced sodium chicken broth
2 teaspoon chicken bouillon granules
1/8 teaspoon pepper
1/4 cup all purpose flour
1 cup fat free half & half
1 can (4 oz) chopped green chilis
Directions:
1. In a nonstick skillet, simmer the chicken, salsa, onion, cumin and oregano until heated through and most of    the liquid has evaporated.
2. Place 1/2 cup chicken mixture down the center of each tortilla; top with 2 tablespoons cheese. Fold sides and ends over filling and roll up.
3. Place seam side down in a 13×9 inch baking dish coated with cooking spray. Bake uncovered at 425 degrees for 15 minutes or until lightly browned.
4. Meanwhile, in a small saucepan combine the broth, bouillon and pepper. Cook until bouillon is dissolved. In a small bowl combine flour and cream until smooth; gradually stir into broth.  Bring to a boil; cook and stir for 2 minutes til thickened. Stir in chilies and cook until heated through. To serve, cut chimichangas in half, top with sauce.
Yield: 6 servings
Adapted from: Taste of Home
If you liked this recipe, you might like these other baked chicken recipes: