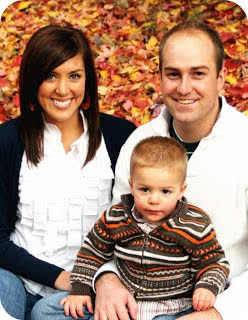 -12 days of Christmas Traditions-
Day 10: Elyse"Crazy Dinner"
 My name is Elyse.  I am the 3rd oldest of the sisters.  My husband and I just moved into a cute, little house in Brigham City, UT.   My husband graduated this last spring from Utah State University and is currently working for a company called Wayfair.com.  He plans on going back to school this year to receive his MBA.  I am a stay-at-home mom.  I think it is the best job in the world!  Our son, Camden, is 20 months old and we are expecting another little one in June of 2012.
Growing up a family of 8, we didn't go out to eat much as it would be very expensive.  Instead, every holiday season our family would have, what we called, a "crazy dinner."  I'm sure my mom came up with it after spending so many hours in the kitchen cooking over the holidays, that she finally needed a night off.
For our "crazy dinner,"  our parents would give us each $5 and take us to the grocery store.  The only rule was to pick out ANYTHING you wanted to eat for dinner as long as it was $5 or under!  As a kid, this was the coolest thing ever!
(Our mom has shopped at the same grocery store on the same day of the week for 20 years.  We knew this place like the back of our hands!)
We would go to the store and everyone would pick out their special dinner item.  We would combine our money with other siblings if we wanted to get something really big.  We would rush home from the store and start cooking everything!  While the food was all cooking (or microwaving) we would set the table, light a few candles and turn off all the lights.  We thought it was so neat to have a candlelight dinner!
Many of our meals through the years consisted of frozen pizzas, egg rolls, and food our parents wouldn't usually let us eat for dinner.  It made for quite the "crazy dinner!"
I can't wait to start this silly tradition with my little family (and I'll be the one going for the egg rolls!).