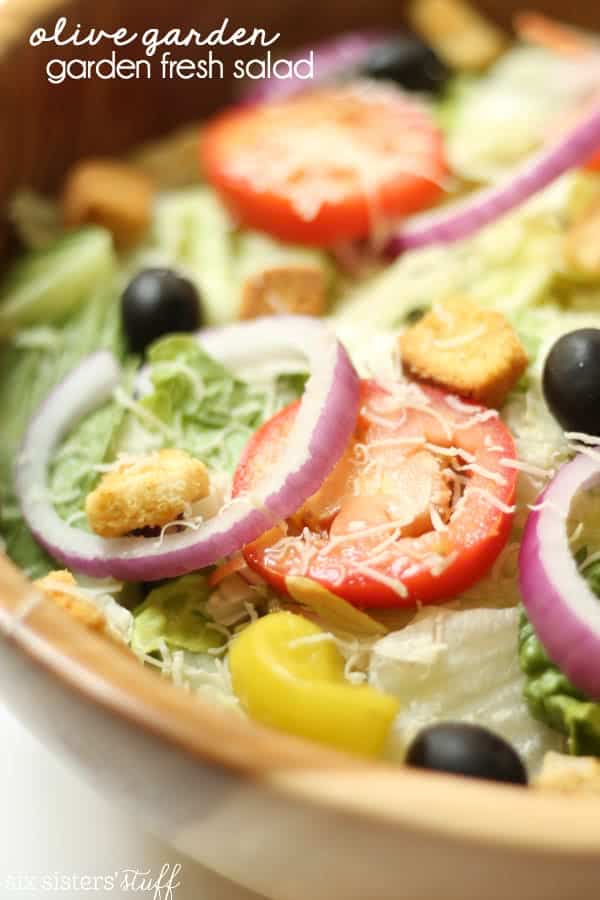 My husband and I celebrated our 3rd wedding anniversary this past week. We were able to go out on a date a few days before, but I decided to come up with something to do on the actual day of our anniversary that we could do at home! My husband had to work late, so I had everything all ready for him when he arrived.
It was almost as good as actually eating at Olive Garden, plus you don't have to pay a tip! 🙂
I have to confess, we eat dinner in front of the TV a lot, so it is a big deal for me to set the table!
Here is the menu I made for our meal. I tried to make it look like an actual Olive Garden menu, to seem a little more authentic. I also included a blank menu, in case you don't want to serve the same food that I did. You can copy and paste this into Word, re-size and print!
Now onto the meal! Here are all of the recipes I used:
Olive Garden Copycat Spinach Artichoke Dip:
8 ounces cream cheese
14 ounces Artichoke Hearts, drained, coarsely chopped
1/2 cup Spinach frozen chopped, or steamed
1/4 cup Mayonnaise, not Miracle Whip (I substituted this with fat free sour cream!)
1/4 cup Parmesan cheese
1/4 cup Romano or Parmesan cheese
1 clove garlic, finely minced
1/2 teaspoon dried basil
OR
1 tablespoon Basil Fresh
1/4 cup Mozzarella Cheese grated
1/4 teaspoon garlic salt
salt and pepper, to taste
Allow cream cheese to come to room temperature. Cream together mayonnaise (or sour cream), Parmesan, Romano cheese, Mozzarella, garlic, basil, and garlic salt. Mix well. Add the artichoke hearts and spinach (careful to drain this well), and mix until blended. Store in a container until you are ready to use. Spray pie pan with Pam, pour in dip, and top with cheese. Bake at 350 degrees for 25 minutes or until the top is browned. Serve with toasted bread.
Olive Garden Pasta e Fagioli:
(Recipe from Food.com)
2 lbs ground beef
1 onion, chopped
3 carrots, chopped
4 stalks celery, chopped
2 (28 ounce) cans diced tomatoes , undrained
1 (16 ounce) can red kidney beans , drained (I skipped this, not a fan of red kidney beans!)
1 (16 ounce) can white kidney beans , drained
3 (10 ounce) cans beef stock
3 teaspoons oregano
2 teaspoons pepper
5 teaspoons parsley
1 teaspoon Tabasco sauce (optional)
1 (20 ounce) jar spaghetti sauce
8 ounces pasta
Directions:
Brown beef in a skillet. Drain fat from beef and add to crock pot with everything except pasta. Cook on low 7-8 hours or high 4-5 hours. During last 30 min on high or 1 hour on low, add pasta.
**This makes 12 servings, so you could definitely cut it in half if you are making it for only a few people.**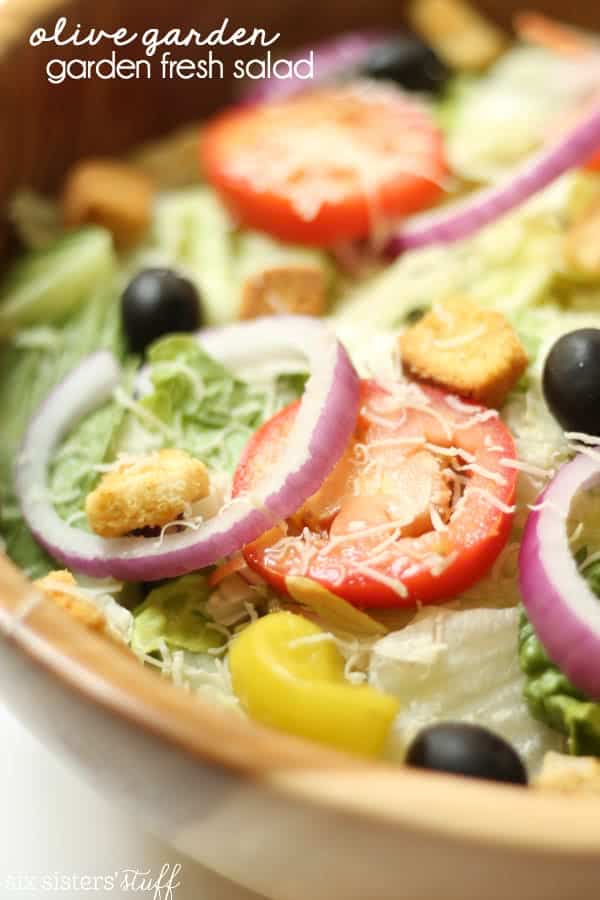 Olive Garden Garden Fresh Salad Recipe:
Olive Garden Salad Dressing:
1/2 C. Mayonnaise
1/3 C. White Vinegar
1 tsp. Vegetable Oil
2 Tbsp. Corn Syrup
2 Tbsp. Parmesan Cheese
2 Tbsp. Romano Cheese
1/4 tsp. Garlic Salt – or one clove garlic minced
1/2 tsp. Italian Seasoning
1/2 tsp. Parsley Flakes
1 Tbsp. Lemon Juice
Blend all ingredients together and chill until ready to use. The dressing will be a white color, but will taste very similar to Olive Garden's House Dressing.
Olive Garden Salad Mix:
1 bag American Blend Dole Salad
4-5 slices Red Onion
4-6 Black Olives
2-4 Banana Peppers
1/2 C. Croutons
1 small Tomato Quartered
Freshly grated Parmesan Cheese
Place bag of salad in bowl. Place red onion, black olives, banana peppers, tomatoes, and croutons on top of salad. Add some freshly grated Parmesan cheese if you like, and add plenty of Olive Garden Salad Dressing on top. You can add more or less of each ingredient depending on your preference.
Olive Garden Breadsticks:
(Recipe adapted from Recipe Dose)
Camille made
these
breadsticks a few weeks ago so I knew they would go perfect with our Olive Garden meal. Because I was short on time, I used Rhodes Rolls frozen dough, thawed it, shaped breadsticks, brushed butter on top, sprinkled on garlic salt and cooked it at 375 degrees for 15-18 minutes. They still tasted so good, and you wouldn't know they weren't made from scratch!
Here is the actual copycat recipe Camille used:
Ingredients:
1 1/3 cups of water
1 1/2 Tbsp butter, softened
4 cups of flour
2 Tbsp sugar
2 tsp salt
2 tsp instant yeast (one packet)
2 Tbsp butter, melted
Non-stick cooking spray (preferably butter flavored)
Garlic salt for topping
Procedure:
1. In the mixing bowl of dough mixer, mix together 1 1/2 Tbsp softened butter, flour, sugar, salt, yeast and water and make smooth soft dough. (If you don't have a dough mixer, simply mix ingredients together in a bowl using a large spoon. When dough becomes too hard to mix using that, pull out of pull and knead on a floured surface until dough is smooth. I kneaded mine for about 5 minutes and it turned out fine)
2. When dough is ready make elongated shape of bread sticks having 1 1/2? thickness and 5-6″ long.
3. Place these sticks on a greased baking sheet by keeping 2-4 cm distance in between sticks cover the pan and let them rise to double in size for 60-80 min (keep in a warm place for faster rising).
4. Meanwhile preheat oven to 375 degrees F.
5. Brush breaksticks with melted butter and sprinkle with garlic salt. Bake for 18-20 min until they are barely lightly golden on top (don't over-do it!). Serve warm breadsticks with marinara sauce for dipping.
We always have these on special occasions! You can see my step-by-step post
here.
Easy Chocolate Dipped Strawberries:
1 pkg. milk chocolate chips
4 Tbl. vegetable oil
1 pkg. strawberries
1 pkg. white chocolate chips (optional, only if you want some white chocolate on top)
2 Tbl. vegetable oil (only if you are using white chocolate chips)
Aluminum Foil
Baking Sheet
Line baking sheet with foil and set aside. Wash and dry all of your strawberries. Add whole bag of chocolate chips & 4 Tbl. of oil to a saucepan over low heat. You'll want the heat to be as low as possible! Whisk chocolate and oil together constantly as it melts. Hold each strawberry by the leaves and dip into chocolate. Make sure to not get the leaves! Gently set each dipped strawberry on foil lined baking sheet. After all of the strawberries are dipped, place baking sheet in the fridge for 30 minutes.
If you want white chocolate on top:
Melt 1/2 bag of white chocolate chips and 2 Tbl. of vegetable oil on Low heat. Constantly mix with whisk until completely melted. Use a spoon to drizzle white chocolate on top of each strawberry. It will look like a disaster! Place baking sheet bake in the fridge until ready to eat. Remove from sheet and serve.
Hope you have a lovely night in!