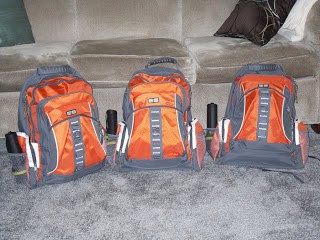 I'm sure everyone has heard about the earthquake that hit in Virginia this week.  I always get so nervous when I hear about natural disasters and being prepared in case one hits close to home.  When disaster hits, it can take up to 3 days for relief workers to reach some areas. Having a 72 hour kit will supply you with supplies and food you need to survive for 3 days.  The Red Cross sells
72 hour kits
for 79.95 a piece.  These kits are great, but I knew I could come up with something for less with food and supplies that would be more realistic for our family.
Find bags that can be easily carried by each person in your family.  I found these bags at WalMart for $10 a piece.  The "Back to School" clearance sales are a good time to look for back packs!
It sure looks like a lot of stuff, but better safe than sorry! 🙂
It seems like a lot of stuff for 72 hours but you never know what kind of emergency could come your way.  Luckily, it all fits in a backpack!
I was able to find most of the non-food items at our local dollar store which saved me a lot of money! There were so many different lists, it was hard to know what should really go in a 72 hour kit.  You can Google "72 Hour Kits" and find lists of recommended supplies if you want to adjust our list.
Here is a list of all the items in each kit:
4-8 water bottles (it is recommended to have about a gallon in each 72 hour kit- adjust as you want for you and your family)
2 granola bars
2 oatmeal bars
1 bag of trail mix
2 packages of crackers
2 packages of pretzels w/ cheese
1 package of tuna
1 package of chicken salad w/ crackers
1 bag of beef jerky
1 can green beans
1 can chef boyardee meat raviolis
candy (laffy taffy, hard candies, tootsie pops, etc.)
1 bag famous amos cookies
Gum (anything but mint flavored, so everything else doesn't taste like mint)
2 ponchos
Flashlight w/ batteries
Matches
Lighter (just in Dad's bag)
Candle
Can opener (just in Dad's bag)
Plastic utensils (2 of each utensil)
Radio w/ extra batteries
Pen
Paper
Pocket knife
Duct tape
Scissors
Work gloves
Book of Mormon/Bible (or other book)
Playing cards
Crossword puzzle/word search book
Kleenex packet (could also be used as toilet paper?)
Comb
Shampoo/Conditioner
Deodorant
Soap
Lotion
Chapstick
Toothbrush
Toothpaste
Floss
Feminine hygiene products (just in Mom's bag)
Razor (I'm sure in an emergency situation I won't be shaving my legs, but who knows! Maybe I'll want to look good!)
Wash cloths (Dollar Tree has the cloths that are in a tiny package and expand in water!)
Hand Sanitizer
Sun screen (just in one bag to share)
Tylenol, Tums, Allergy medicine (just in one bag to share)
Fingernail clippers
First Aid Kit (Dollar Tree had these in a nice plastic container that was filled with different kind of bandages, then I just added some Neosporin, tweezers, wet wipes and disposable gloves to it.)
(I ended up taking the 2 cans of food out of one of them so it would be lighter for a little kid to carry. They probably weigh about ten pounds each, so not too bad if you have to grab them and run!)
We go through our 72 hour kits each year (pick a day that works for you- ours is the first weekend in October- General Conference weekend) and replace perishable items.Find what works best for you and go for it! Something is better than nothing. 🙂