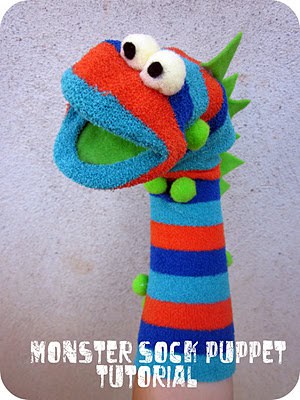 With the cold winter months ahead, I decided I better come up with a few things to entertain the kiddo indoors.  I found an easy tutorial from
One of a Kind Gift Ideas
for a darling monster sock puppet and went to work!
Materials:
Fuzzy Sock(s)
hot glue and glue gun
cardboard
felt
pom poms
*You'll want to find a fuzzy sock that is long enough to cover a lot of your arm!*
Step 1: Cut out a cardboard oval.  Mine was about 4 inches long.
Step 2: Trace your cardboard oval twice onto your piece of felt.  Hot glue a piece of felt to each side of the cardboard.
Step 3: Cut the toe off the end of your sock, slide your arm through and adjust the cardboard to work as a mouth (fold in half).
Step 4: Roll the ends of the sock under and hot glue them to the felt covered cardboard to create the mouth.
Step 5: Decorate!  I used pom poms for the eyes, felt for the razor back and hot glued on random pom poms all over the body.  Just be creative!