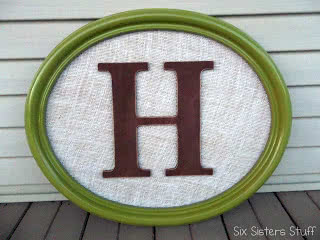 I have been trying to redecorate (on a budget) for some time now and I have slowly been working on my Laundry Room. Nothing was really coming together until I came across this cute monogrammed Wall Hanging from Love of Family and Home. She made it for a wedding but I figured it would go perfect in my Laundry Room.
Things you will need:
– A Large Frame, round or oval
– Burlap sack (I bought cream burlap sack material from Walmart for super cheap!)
– A Large Wooden Letter from Hobby Lobby
– Spray Paint and Primer
I found this lovely looking picture at a thrift store and bought it for $5.
I then removed the frame, primed it, and spray painted it lime green. (I'm loving green right now!)
While it was drying, I took the picture from inside the frame and traced the outside of it onto my burlap sack so I would know how big it would need to be.
Next I painted my Wooden letter "H" brown (H for Hills, our last name). After it dried… I sanded the edges to give it a little more texture.
After everything was done and dry- I just put it all together with a glue gun! So easy and super cheap!
I'm almost done with my other "cheap remodeling" ideas for my laundry room. I'll show you what it looks like when I'm all finished! I am VERY excited!