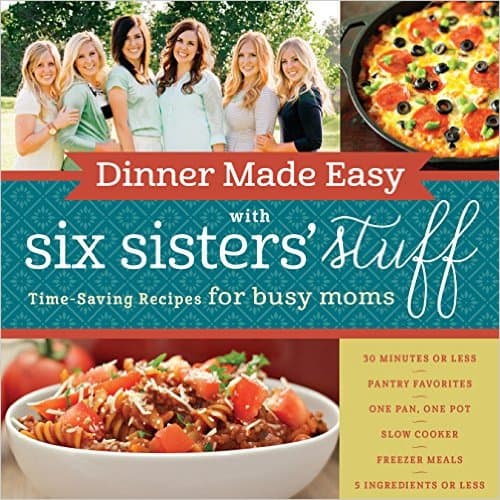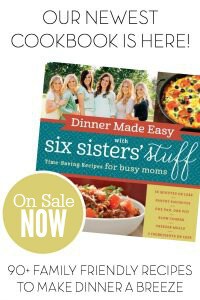 The day is HERE!!!! Our Dinner Made Easy cookbook is NOW available to buy!!
We just want to thank EVERYONE who pre-ordered the book and hope it arrives in your mail today! For those of you who were waiting for its release you can order it online on Amazon, Walmart, Barnes and Noble or Deseret Book.
Of if you want to pick it up in person, you can find it at Barnes and Noble, many Walmarts, Costco and Deseret Book!
We would LOVE to see pictures of you with our NEW book or a recipe from it! Tag us in an Instagram photo (@sixsistersstuff) or Tweet us! Then hashtag your pictures #DinnerMadeEasy so we can find your pictures and share them with our audience!

Curious what is in our cookbook?
It is the complete family meal game plan arranged along seven popular categories:
30 Minutes or Less
5 Ingredients or Less
Pantry Essentials
Slow Cooker
Freezer Meals
One Pan, One Pot
Casseroles
You can read more about it in detail and how to get it HERE.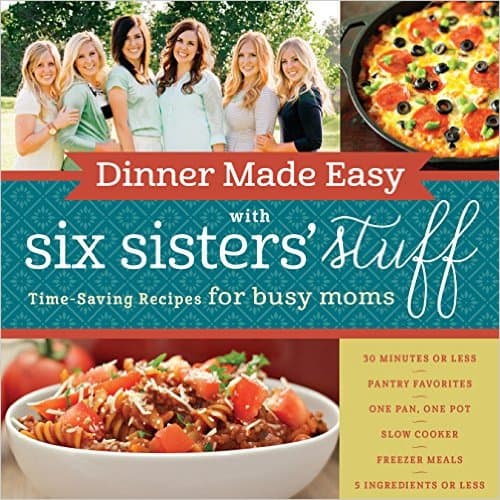 We feel so blessed to have the opportunity to share our recipes with you! And we are so grateful to have you as followers! Thank you for your support, love and kindness!
Love,
The Sisters
(Camille, Kristen Elyse, Stephanie, Lauren and Kendra)