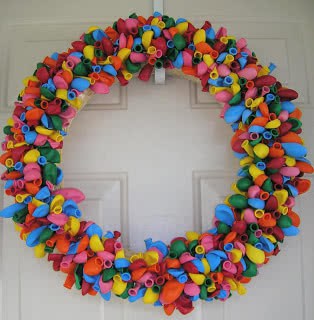 I am always looking for fun ways to make my kids' birthdays more special . . . I originally saw this idea over on
How Does She?
and I fell in love with it! I knew that I had to make one for myself! It was really easy and pretty inexpensive. And look how cute it is!
Here is what you need to make one:
–Balloons (I used 320 7″ balloons)

-A straw wreath (I purchased an 18″ wreath on Amazon for pretty cheap). Keep the plastic wrap on it.

Now comes the fun part . . . take a floral pin and slide it over the middle of the balloon. Poke it into the wreath so that it is nice and tight . . . and repeat . . . and repeat . . . and repeat . . .
If you happen to have your sisters in town (like I do!! Yey for sister time!!), put them to work!! 🙂

Just keep poking those balloons in until the entire wreath is full.

And there you go! Ready to put on the door for the next birthday! I am always looking for ways to make birthdays more special and I think that this will make my kids even more excited for when their birthday rolls around. It is a super fun and super easy birthday tradition.
Looking for more craft ideas? Check out our PROJECT INDEX!