We have you covered with game day treats this year. All thanks to our local Kroger store. They have us covered from meats and cheese, to desserts, and everything in-between.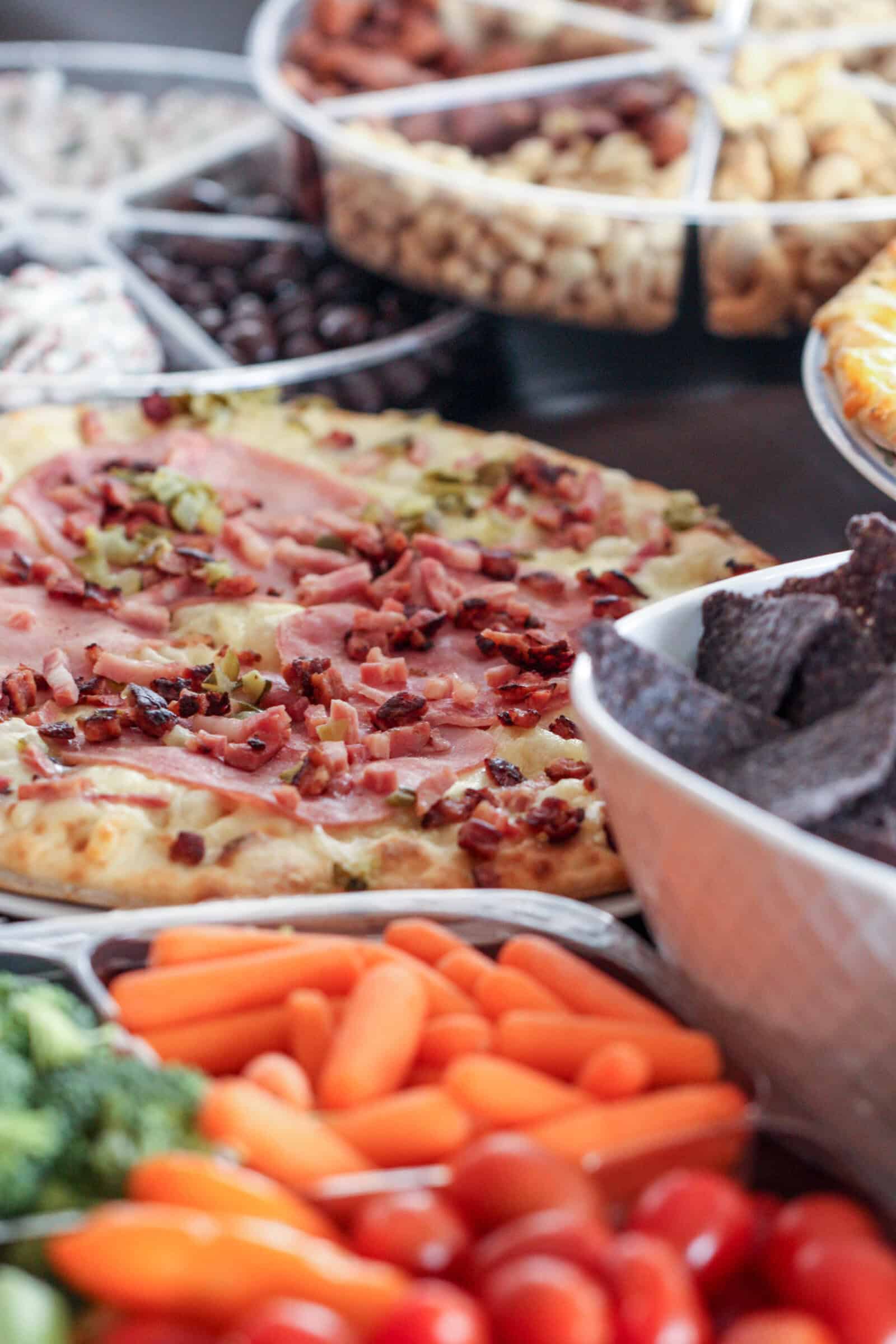 Growing up with sisters, we never were a huge football family, or celebrated any big game.
As we got older and started to marry, our husbands were shocked that we never really watched that many sports, or had a party for a certain team.
We decided we would start throwing big game parties, and the main purpose of the party would of course, be food.
All the boys would watch the game in the family room, and all the girls would be in the kitchen, snacking and talking.
It is still one of my favorite traditions to this day. We've only done it for a handful of years, but now, it is one of my most cherished memories.
I still don't even know who plays in the "big game" most years, but I do know what is on the food menu, and who is making what food.
If you are looking for easy, simple, and delicious Super Bowl, or Game Day foods, we have what you are looking for, all thanks to Kroger.
They have all your game day snacks, and most are pre-made, so preparation is simple. You can enjoy less time in the kitchen cooking, and more time being with your family.
Charcuterie Boards
I love a good assortment of meat and cheese, however, the men in our family like it basic. They don't want the expensive aged cheeses and weird oils and honey, they want the edible stuff, which is what our kids also prefer.
I have seen a lot of charcuterie boards around, lately, however, they all seem to have some unique cheeses and meats, that aren't always easy to come by.
I decided to take it upon myself, and create a board that is family friendly, that all tastebuds will enjoy.
Watch how I make it, here:
Tips to making the perfect Charcuterie board:
Step 1: To begin, you will want to place your larger items, in different areas of the board, to spread the attention out.
If all your items are about the same size, then do it by color. If you have similar items or meats of the same color, place them far away from each other on the board.
Step 2: Fill in the blank areas, with the foods that pair well with the main objects you placed down first.
For example, If you placed down a large block of cheese, fill in the area around it with crackers that go with the cheese.
Step 3: Use fruit or candy to add a pop of color in places that need it.
Because most charcuterie boards are meat and cheese, the color can look a little plain. I like to use grapes or candy as a way to add a pop or color to the board.
I just place them, where I feel more color is needed, or if there is extra space that needs to be filled.
Step 4: Don't overthink it. If it's not looking the way you want it to, don't stress, because it will all be eaten soon enough. Enjoy your company, and the game.
As long as you have good food, I don't think anyone will be complaining about the set up.
make your charcuterie board realistic
Making my own charcuterie board with items my family and I will actually eat, is so fun. I loved watching it come together, and watching it get eaten in seconds because people loved what was on it.
It didn't have any fancy oils or vinegars, no sharp cheese knives, no strange meats, you wouldn't usually find at your local grocery store, etc. It was all simple, delicious, and appetizing to everyone, especially the kids.
It has a random variety of foods, I knew my family would actually enjoy.
Although the images I saw of fancy boards on social media are stunning, I don't think I'd actually eat any of the items, or really know how to.
Where this is a game day, you will want a charcuterie board that best fits everyone.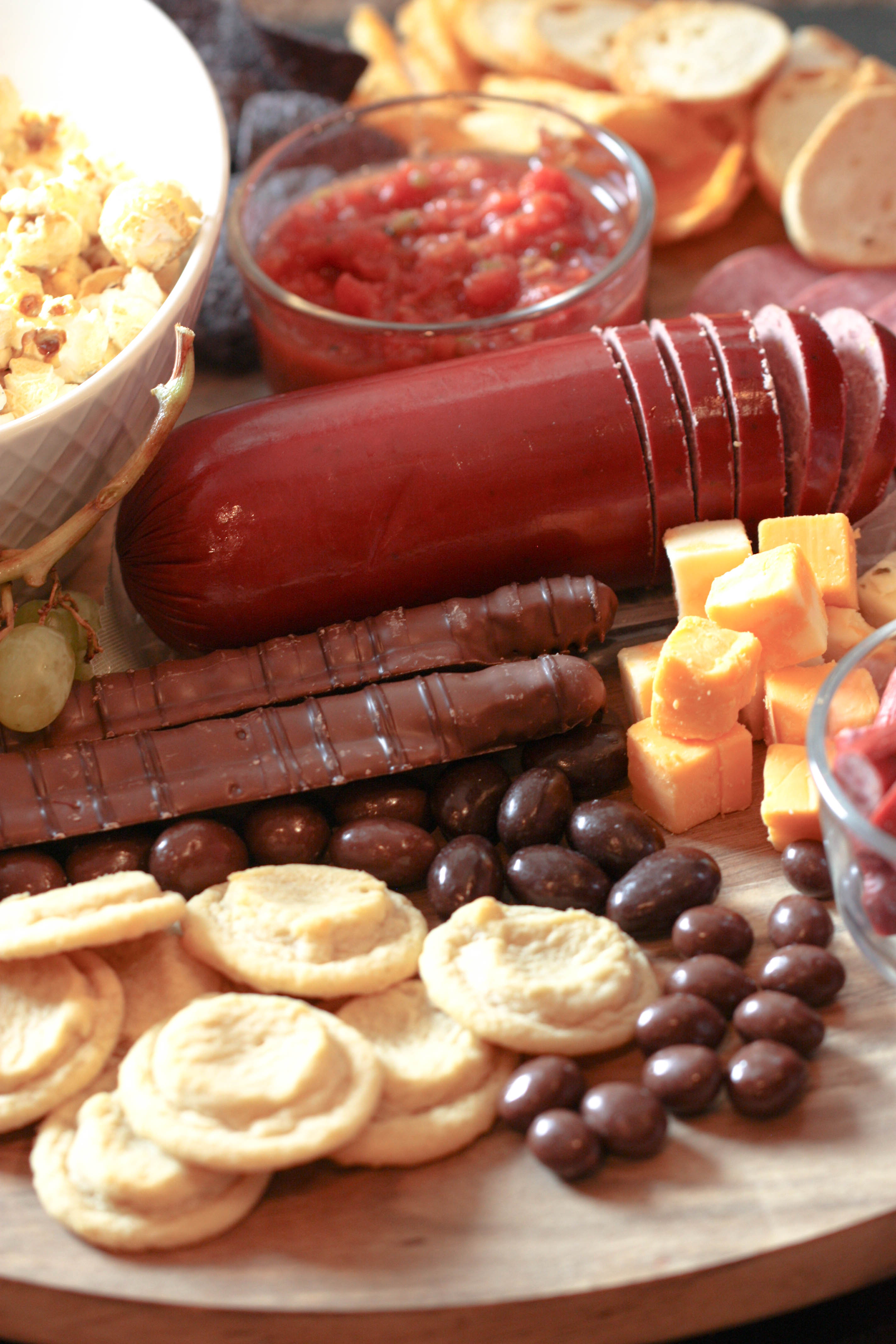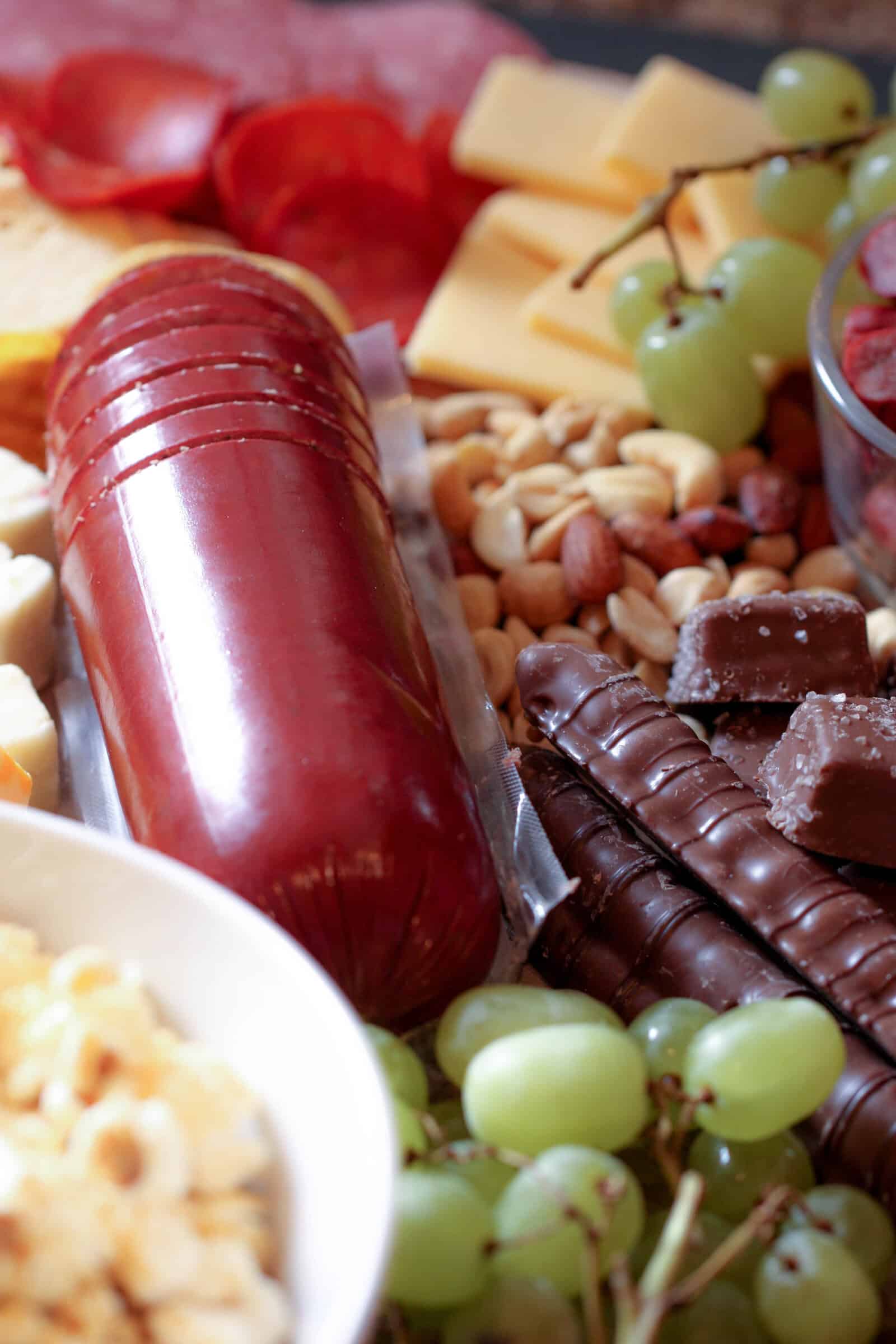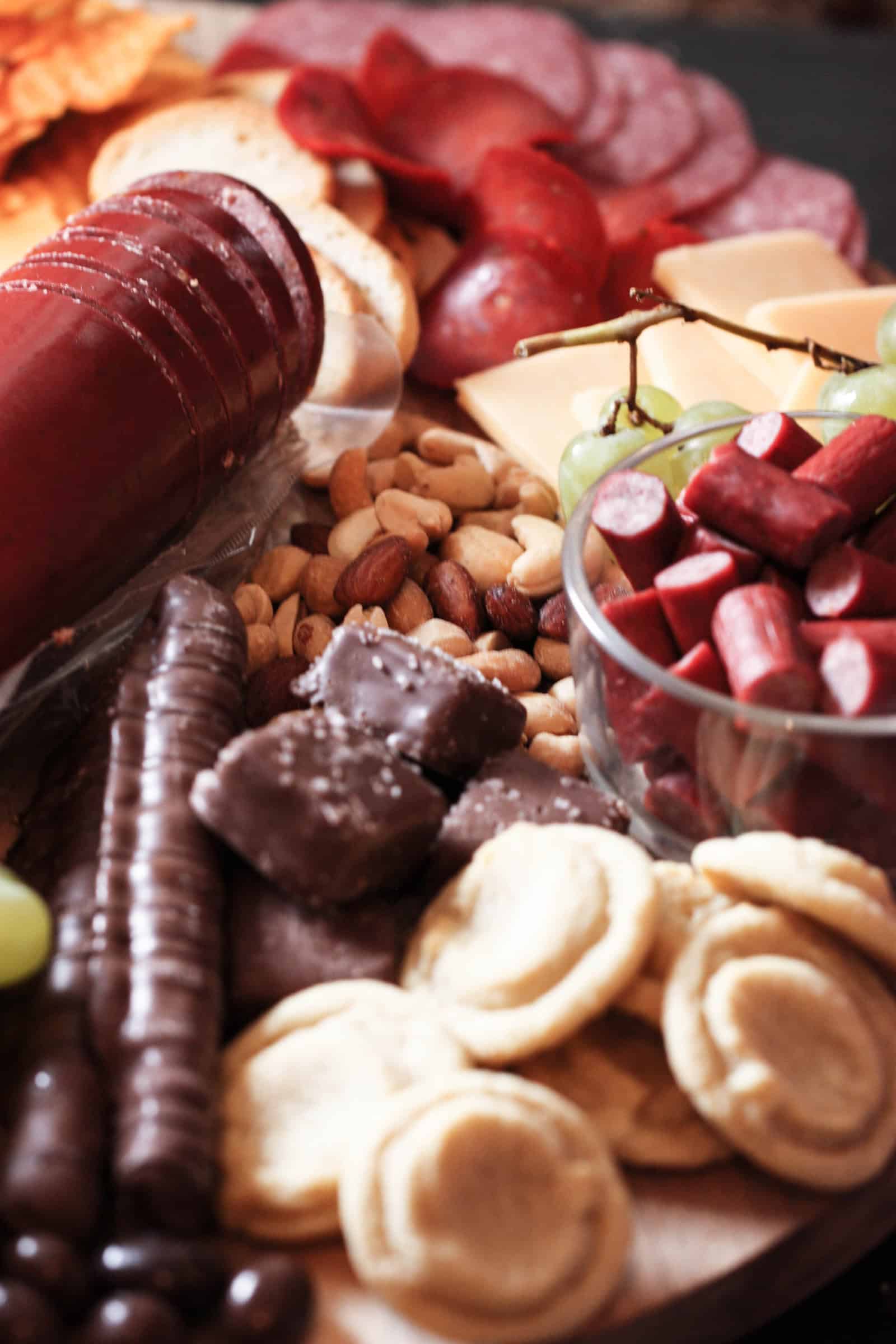 the entire spread
Not only do we enjoy a delicious charcuterie board, but we prefer it all. The entire spread of game day treats was simple, delicious, inexpensive, and pre-made (for the most part).
It was so nice being able to make several dishes in a matter of minutes, all while the pre-made pizzas and wings, cooked, from our local Kroger store.
Here is what we served:
Between our charcuterie board, and our snack table, we didn't even need to have dinner. We just snacked on these amazing sides and appetizers all night.
From fruit, to sweet and savory, to meat and vegetables, we have you covered for your next hosting event, or game day.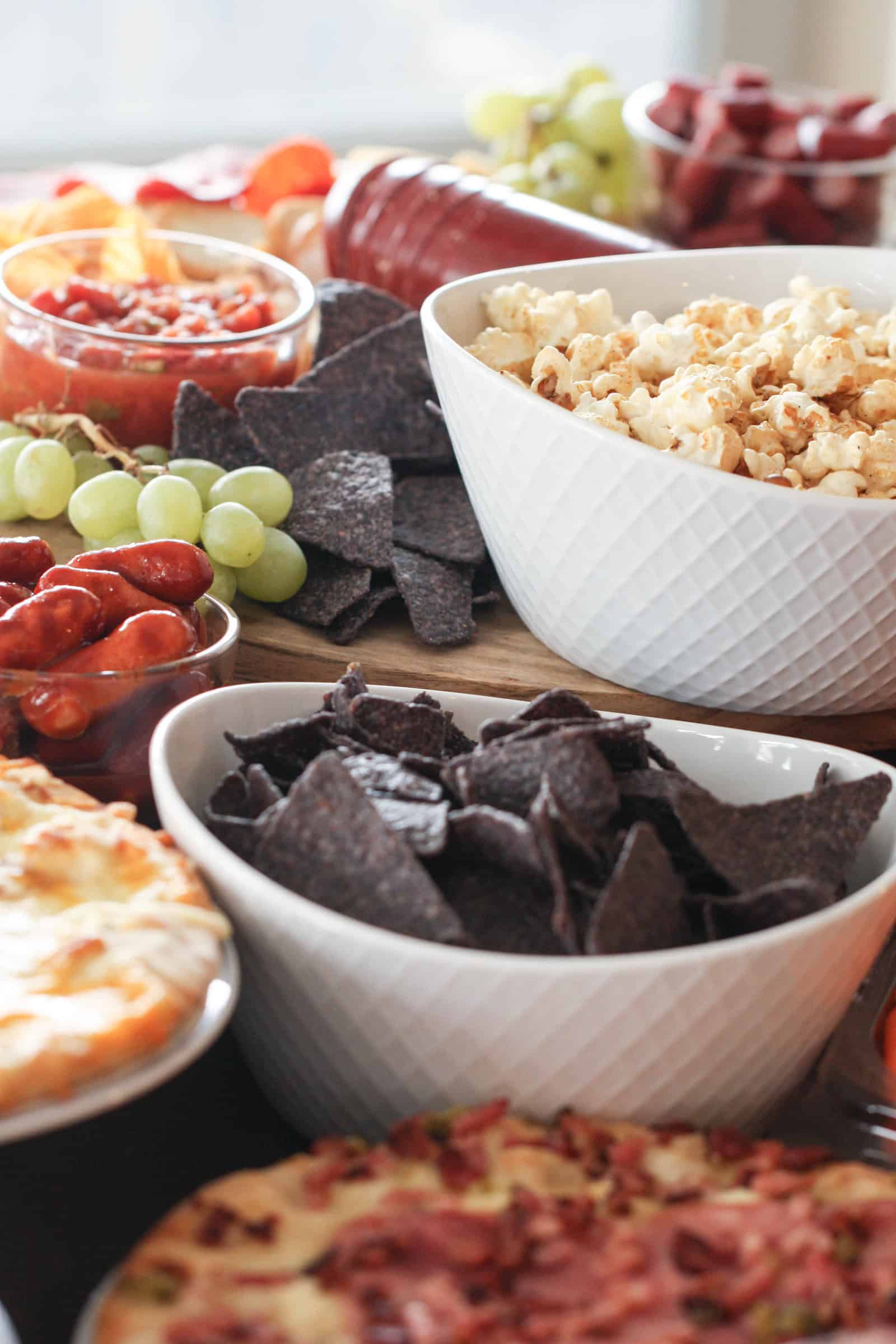 We set out paper plates and cups with ice for our guests. Everyone just went crazy and loaded their plates with all their favorite game day treats.
chocolate and nuts
It's not a game without either of those two food groups. I personally love the nut trays I found at Kroger. The nuts are also packaged and come separated, so it's perfect for picky preferences.
This Chocolate mixture also contained chocolate covered nuts, among other sweet and salty flavors.
They are the perfect combination of what everyone loves to snack on, during the game.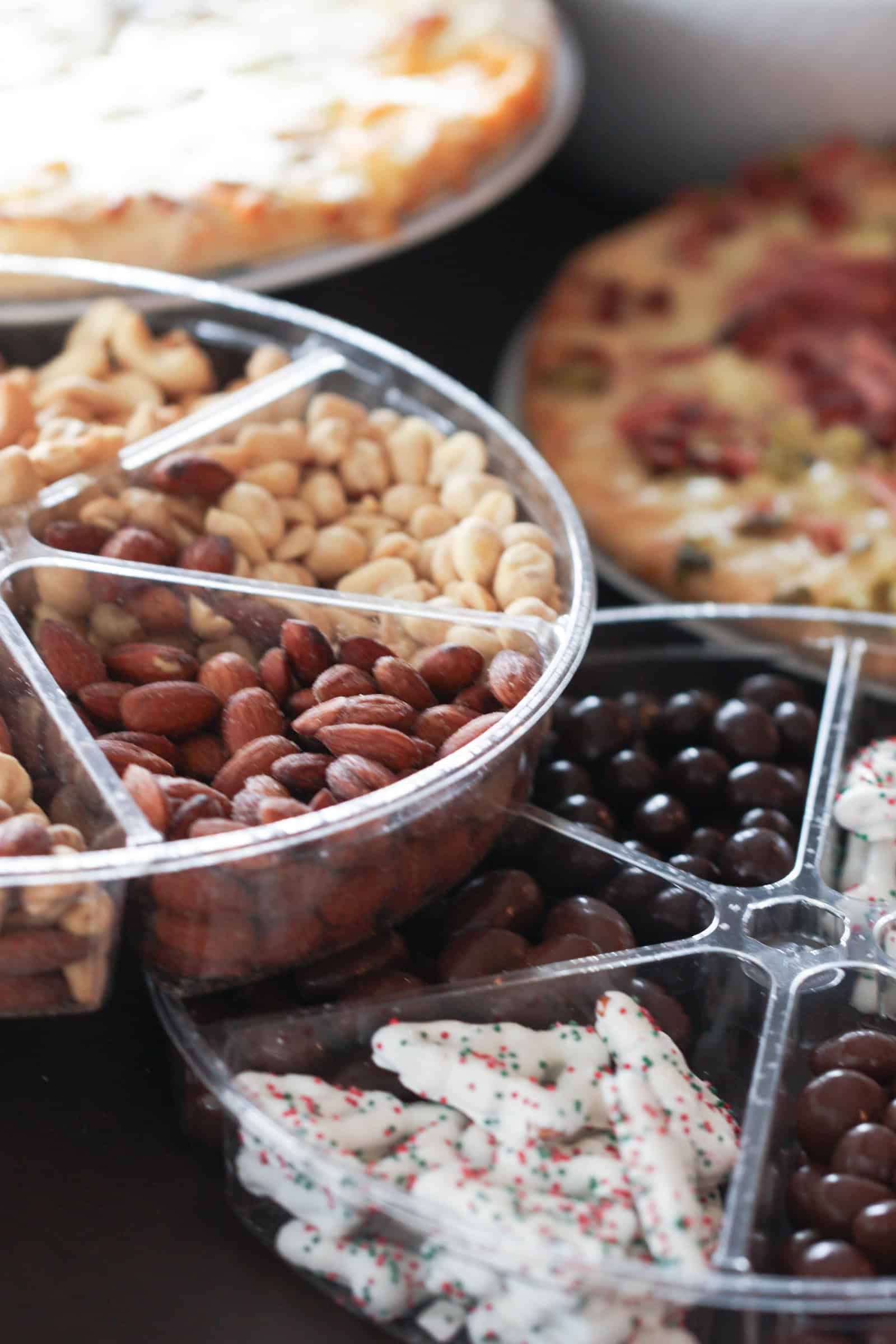 sweet and savory
Whether it's mixed nuts and chocolate, or kettle corn and chips, all game day watchers enjoy something sweet and salty.
These Blue Corn Tortilla Chips, will blow your mind. I prefer the taste, texture, and color, over other tortilla chips.
They add a little fun to any treat table. Also, if you are cheering on a blue team, you may want to buy a second bag. They will go pretty fast.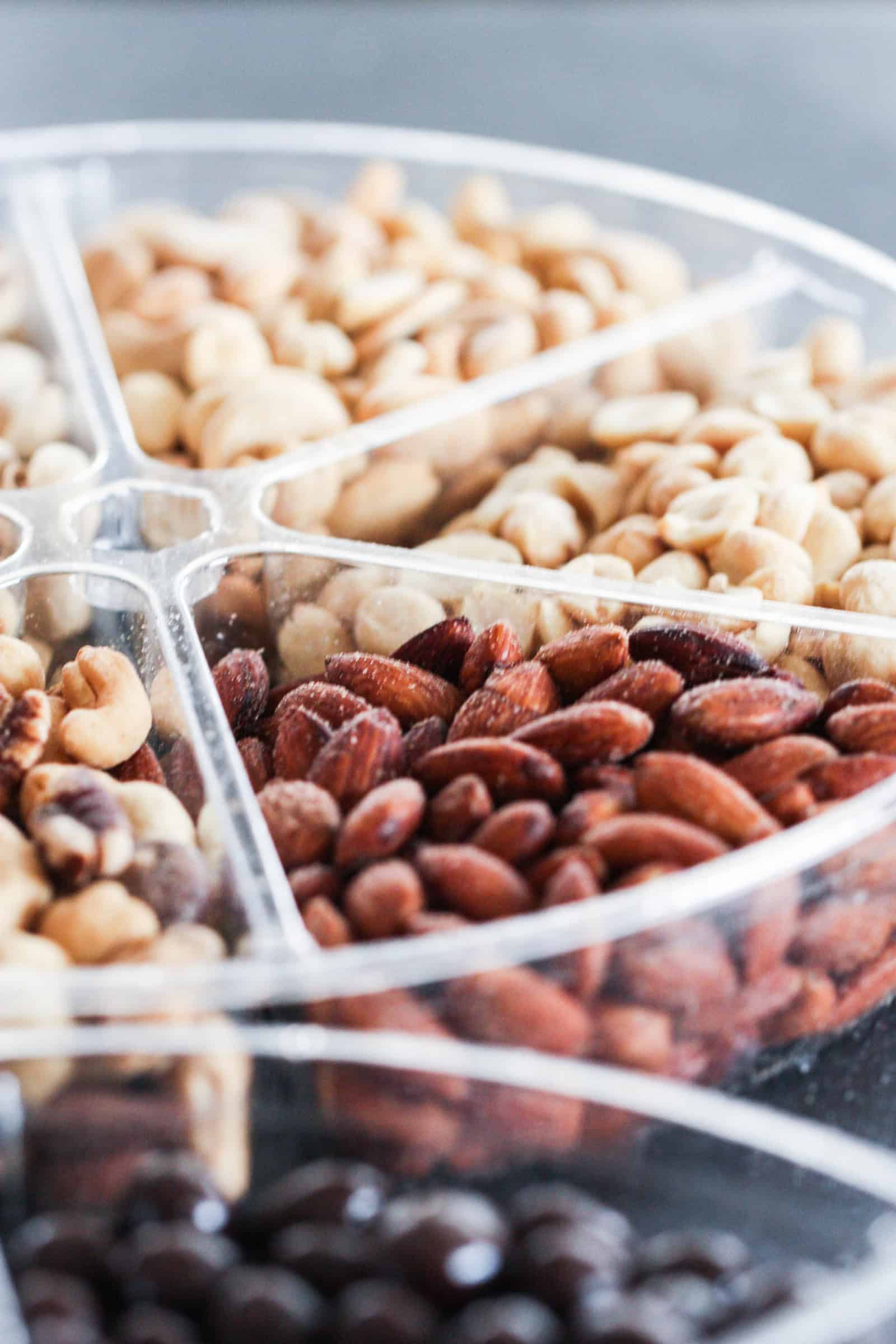 vegetable trays
I don't know why one of the worst tasks, for me, is putting together a veggie tray? I feel like I don't know what I'm doing, and what vegetables to add.
Lucky for me, I found a pre-made and arranged vegetable tray at my local Kroger store. They even had vegetable trays that came with dips. I already bought some of their Kroger dips, which I prefer, but it was delicious.
The best part is, I didn't have to dirty any dishes, or cut anything up. It comes in it's own tray, and has a stunning presentation.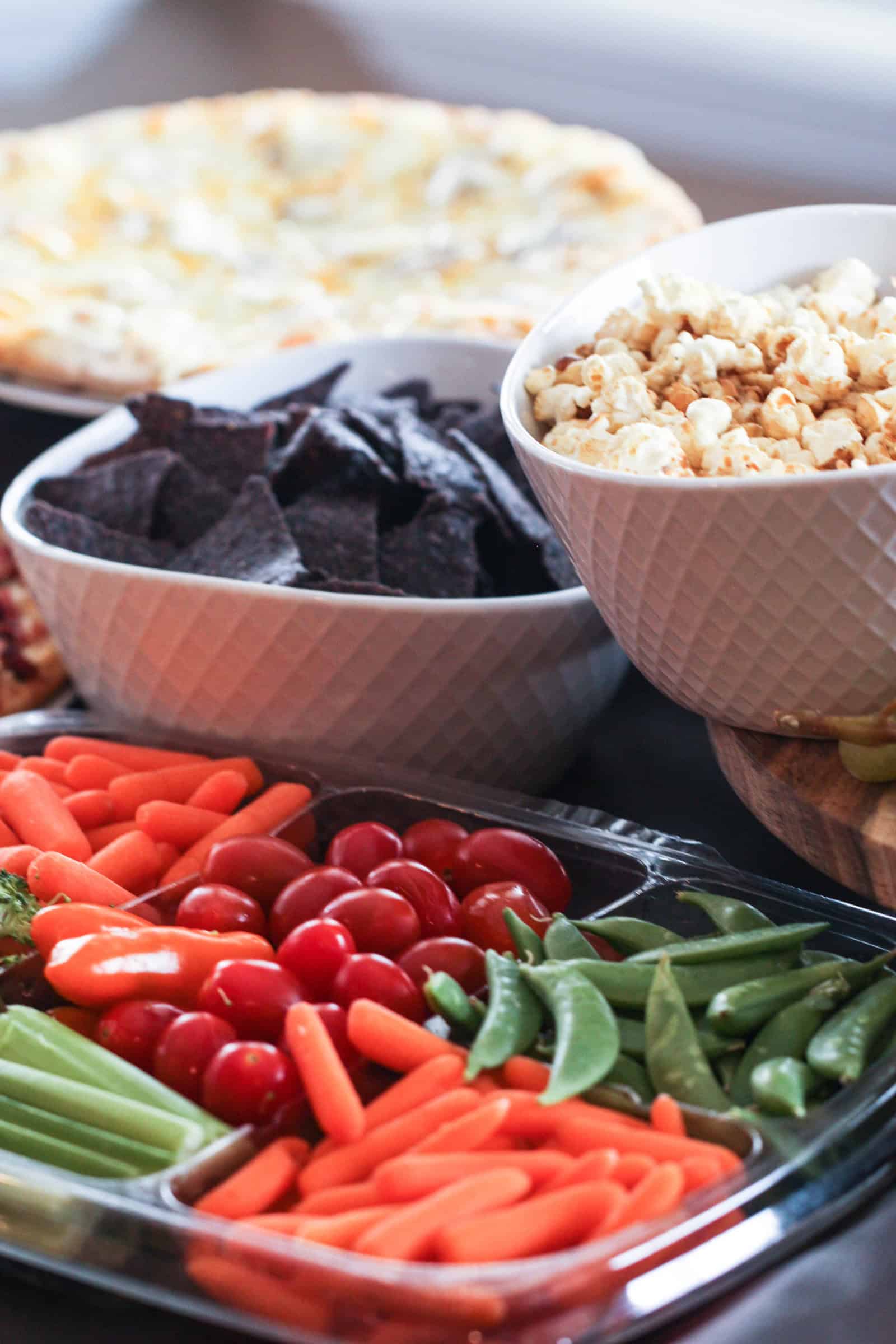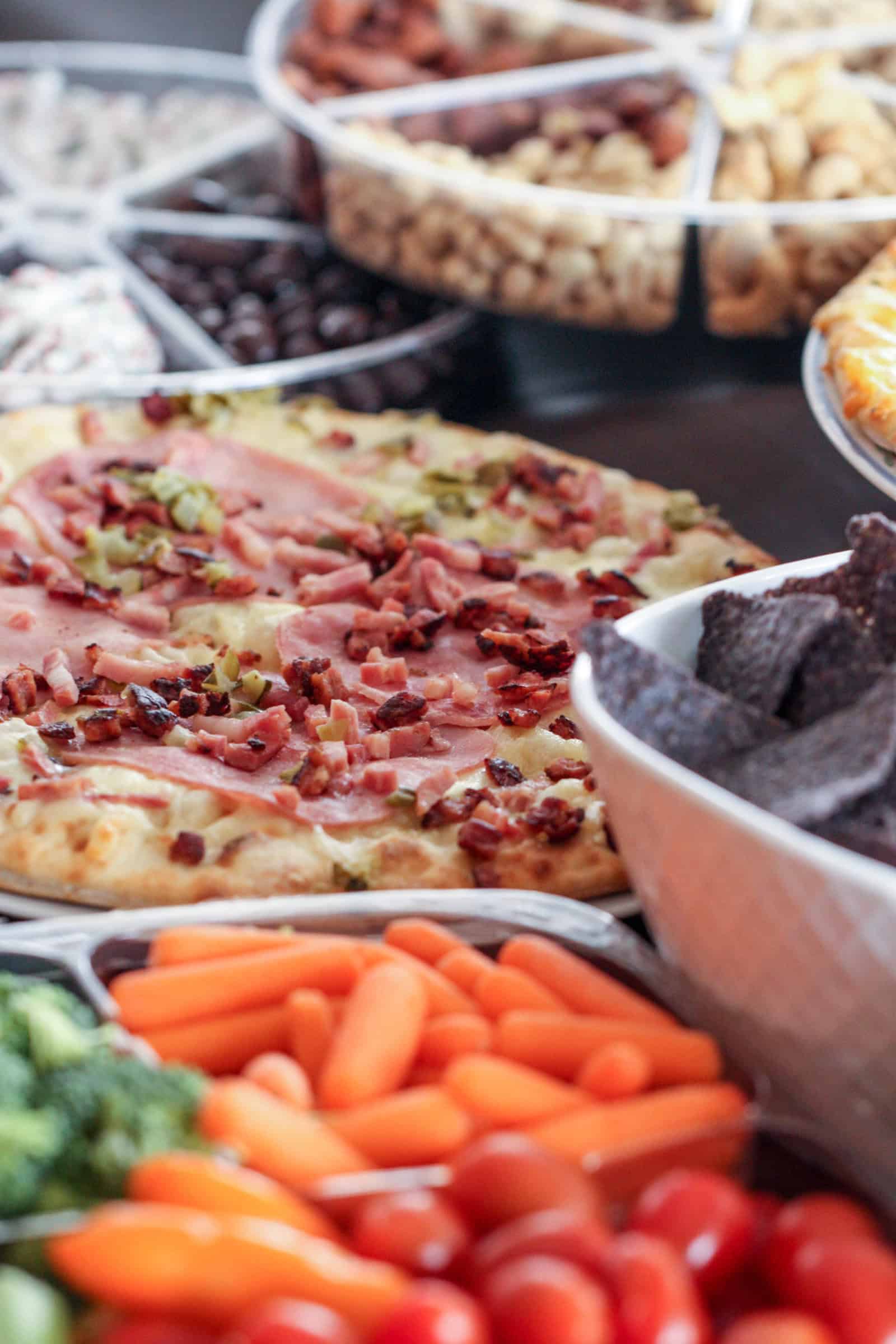 Pre-baked Frozen Pizzas:
This Private Selection, Cuban Inspired Ham and Swiss Pizza, was out of this world. It only took about 15 minutes to bake, and it was ready to go.
They are pre-cooked, so the crust was extra soft, and the timing was excellent. These pizza's would also make a great dinner, for those busy nights.
We also tried the Private Selection 5 Cheese and Marmalade Thin Crust Pizza. I would definitely recommend that one.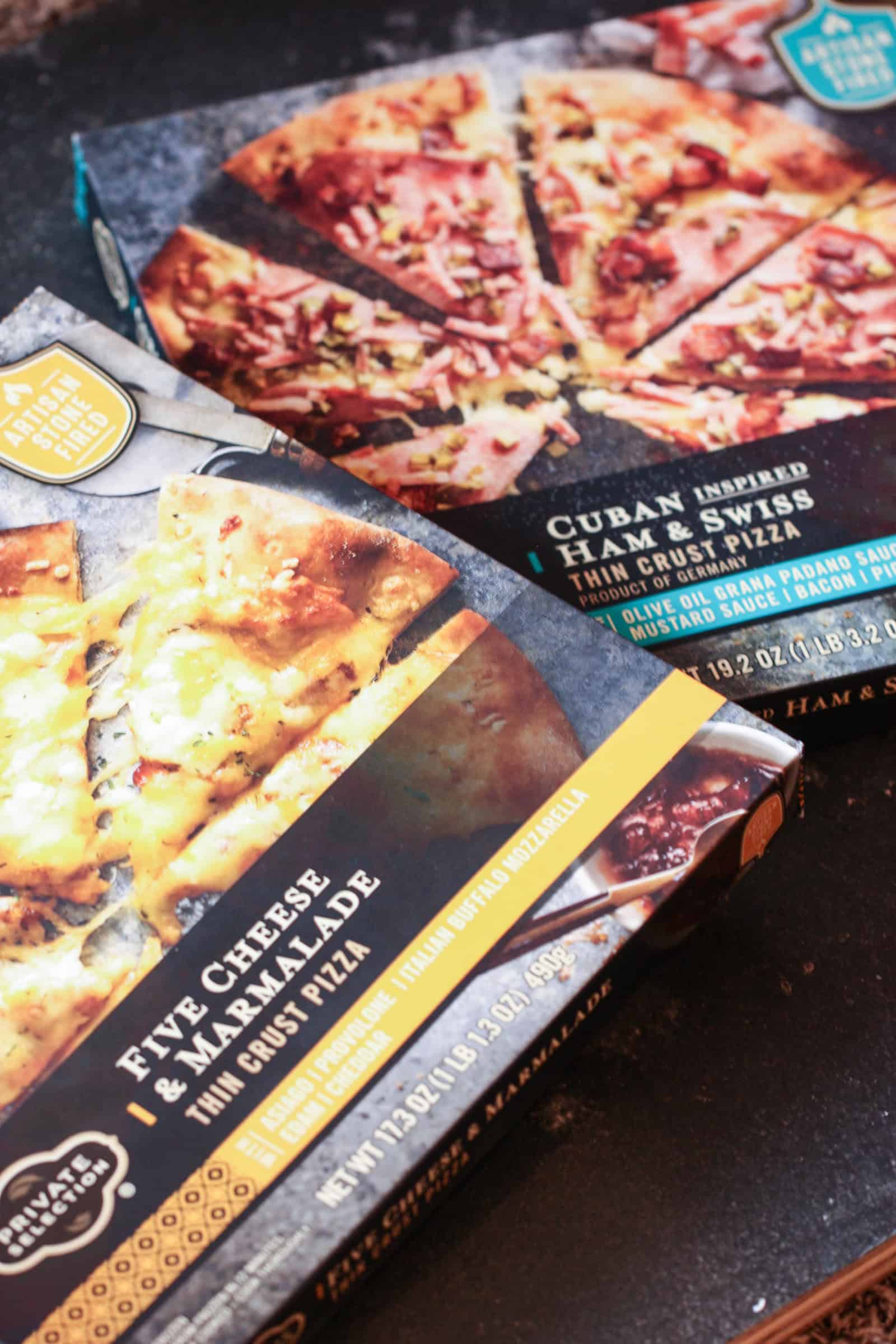 The pizza's came in boxes like this, and I kid you not, they only take a few minutes to bake, and they are baked to perfection.
They are loaded with flavor, and have the most unique combinations, that everyone is bound to love. There is a pizza for everyone, and Kroger has them all in stock.
drinks
My family and I love to get together and have delicious food, but you have to wash that food down with something!
If you have never tried the seltzer water from Kroger, you need to stop what you are doing and try some.
They have the most unique and delicious flavors.
My personal favorites are the Grapefruit and the Root Beer. They are caffeine free, and kid friendly. My nieces and nephews loved these.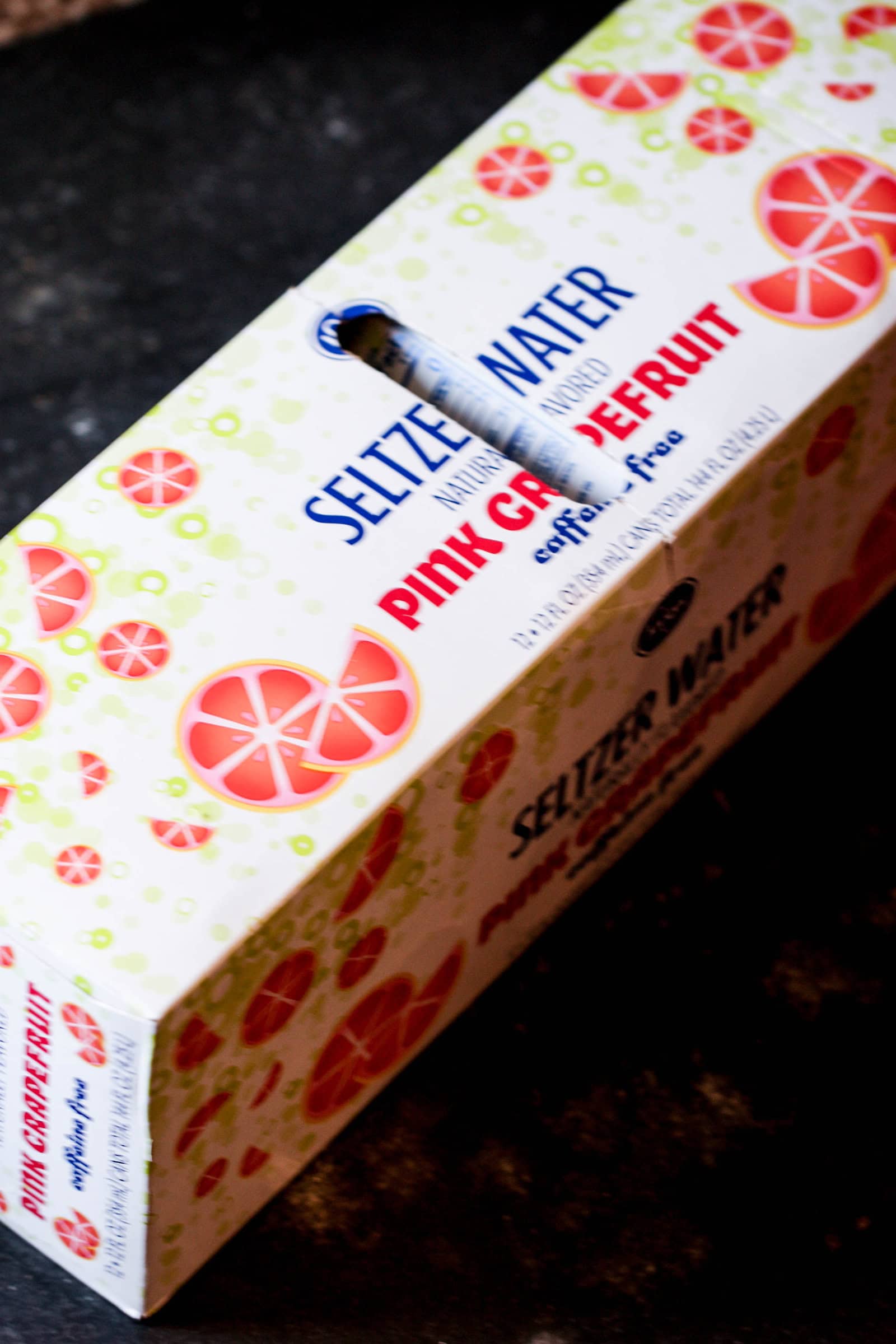 dips and more dips
I am all about my dips. I dip my dip. I love the burst of flavor and texture it can bring food.
For our Blue Corn and Sweet Potato Tortilla Chips, we got some AMAZING fresh salsa.
For the vegetables, crackers, and other chips, we got pre-made dips, that are refrigerated, made, and ready to eat. I liked the Sour Cream and Onion Dip.
It could not have been more easy, or delicious. And I didn't have to dirty a spoon or dish. It doesn't get better than this. Kroger saved me this year.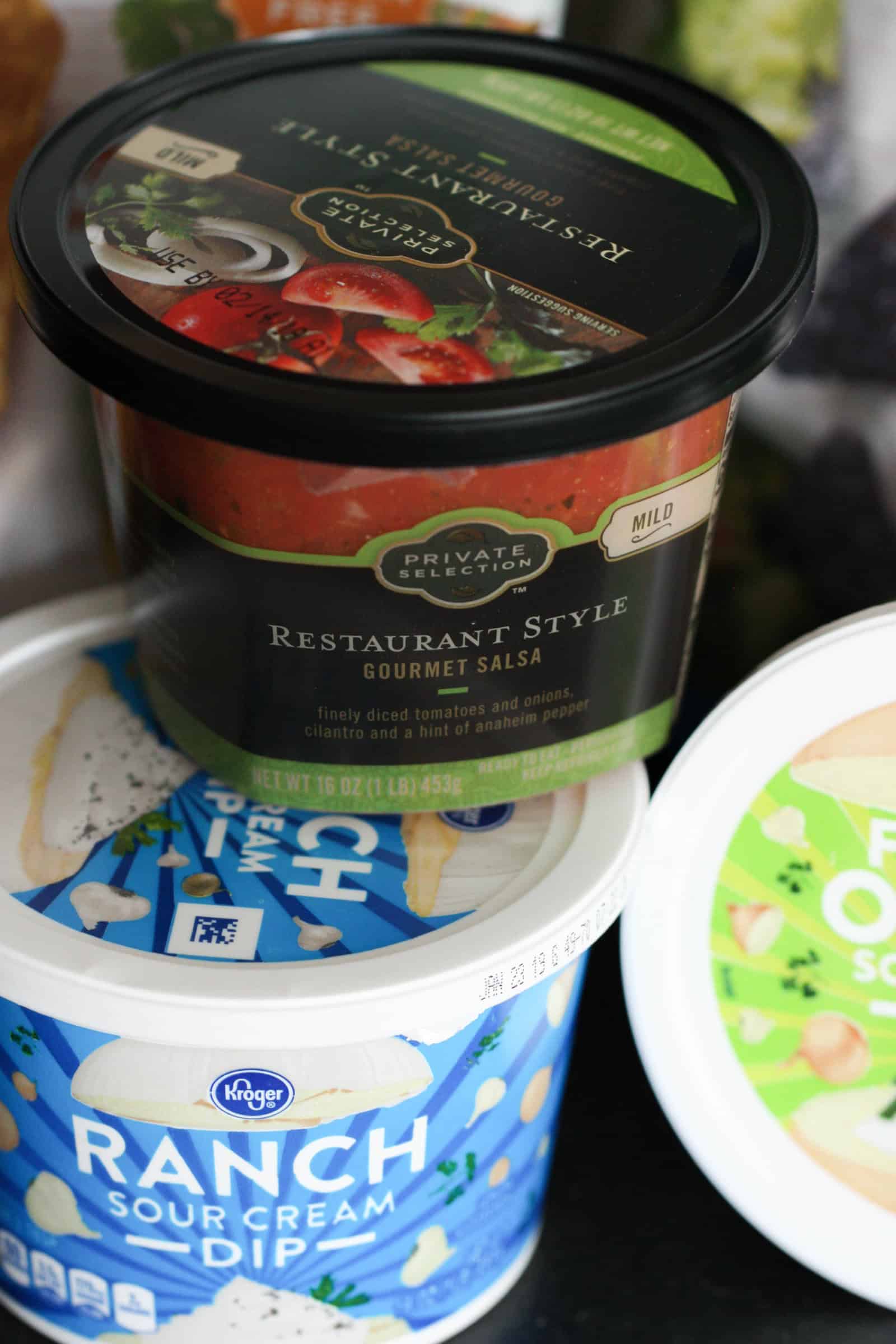 Cheeses
I don't know much about fancy cheese, that requires special knives for slicing and spreading. But I do know what my family and friends like.
My husband loves pepper jack cheese, and I love mozzarella. Luckily, Kroger has pre-made cheese plates, that saved me a ton of time, and decisions.
It also came with some cute grapes in the middle, that I didn't have to creatively try to garnish the cheese cubes myself. It was perfect for eating and display, as soon as I opened it.
I also got some pre-cut gouda cheese slices, for those with a more spontaneous pallet.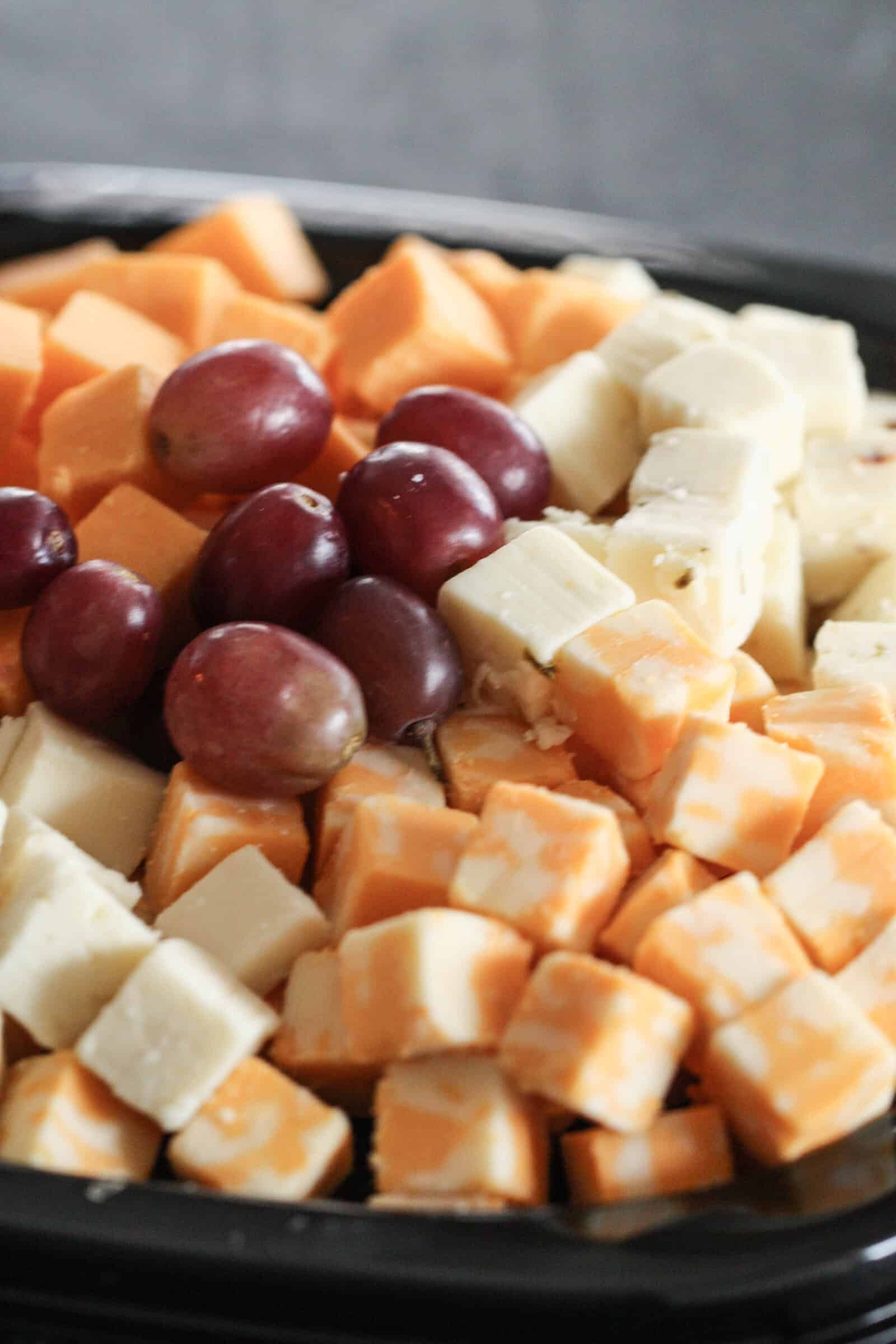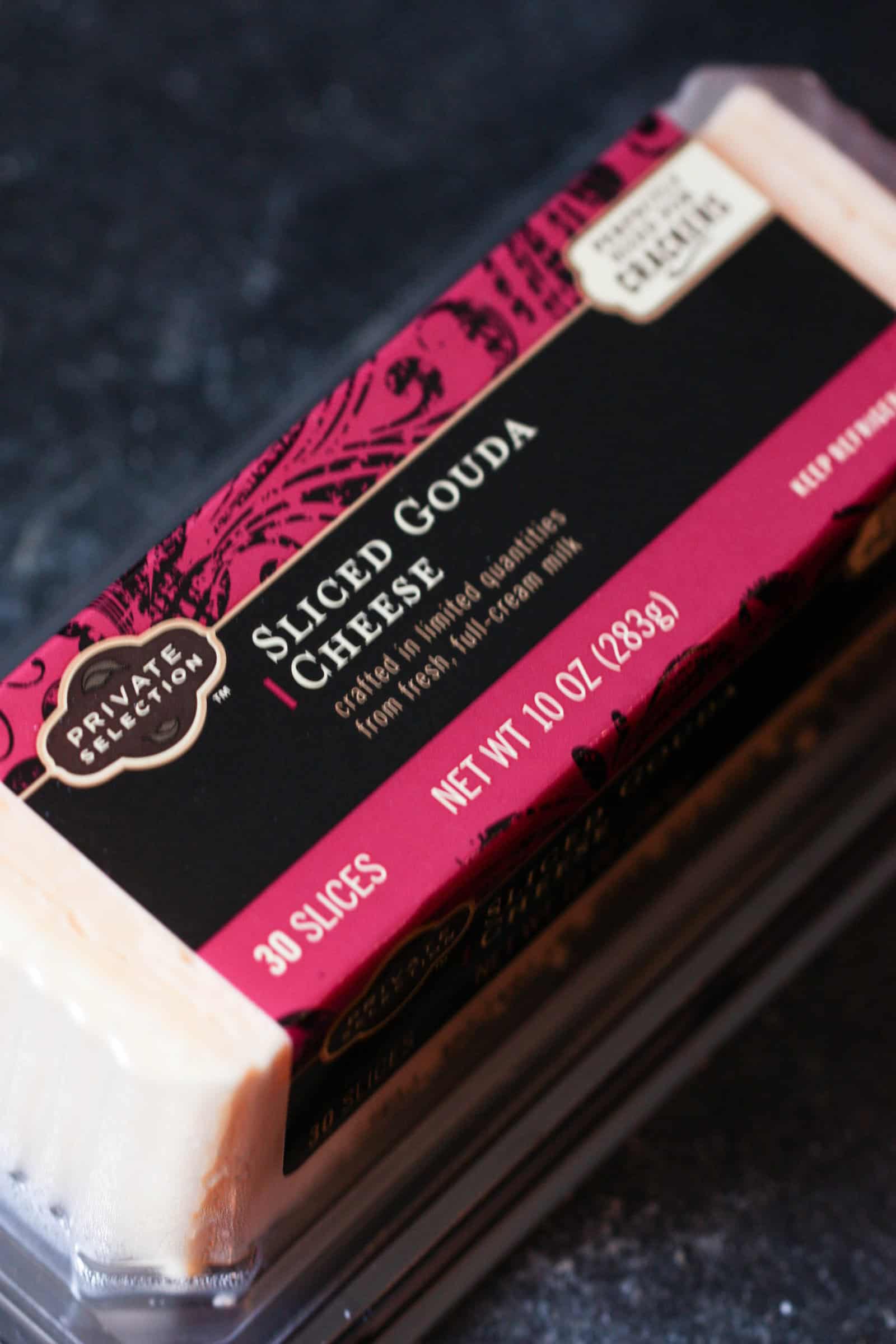 chips and crackers
You can't have cheese and dip, and not have any crackers or chips. These two go hand in hand.
Kroger offers a wide variety of chip flavors. My favorites were General Tso's Chicken, and Kansas BBQ.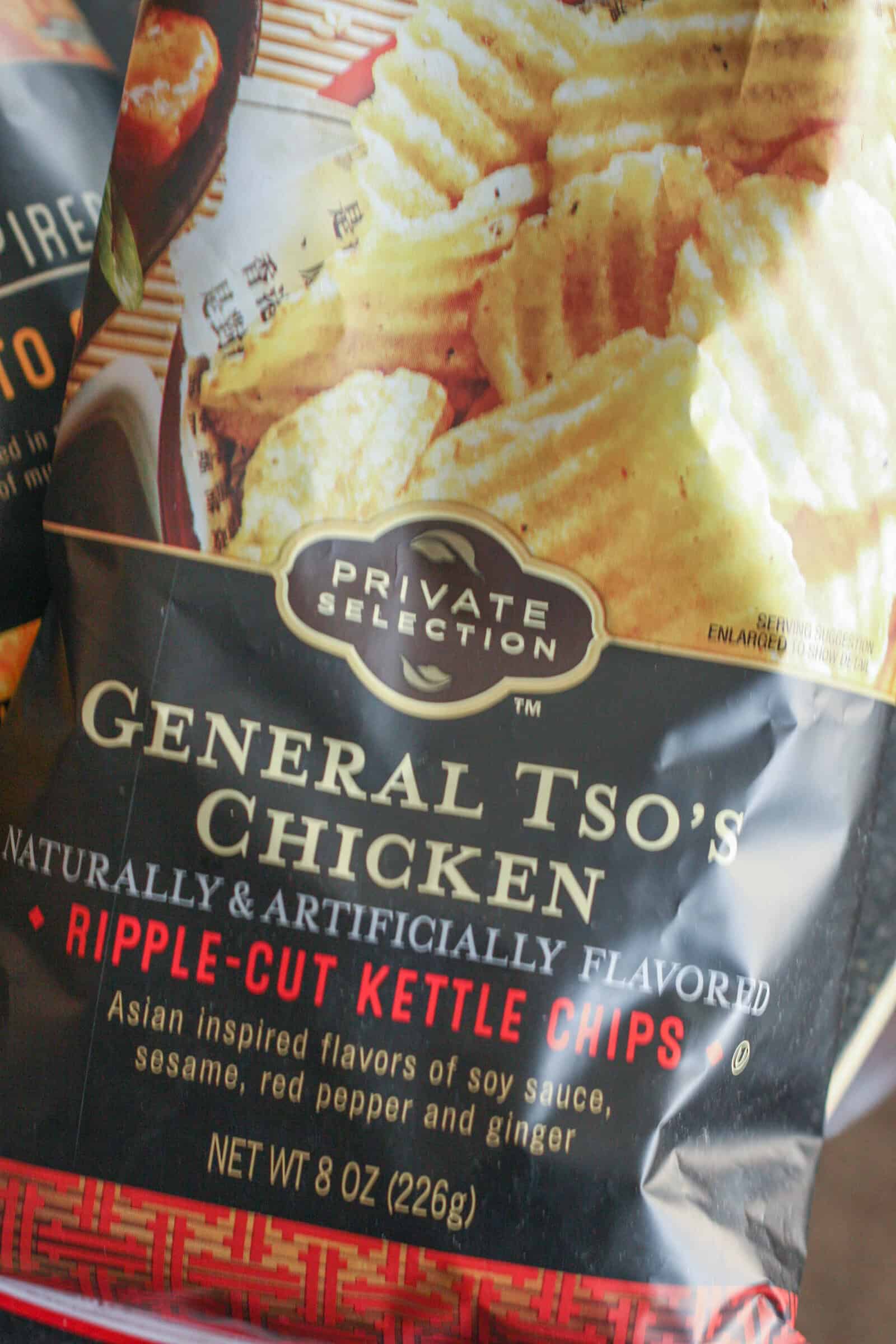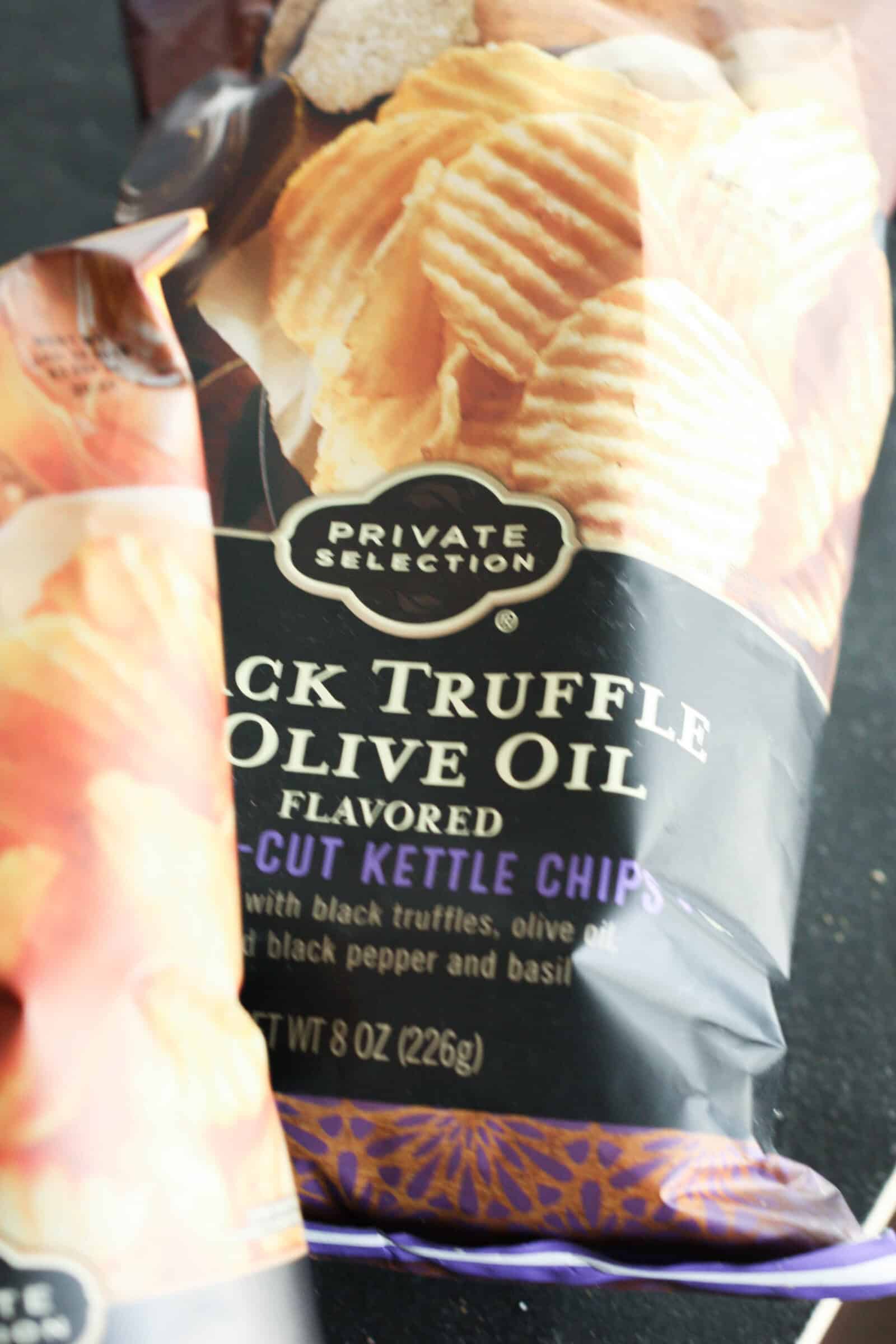 They also have a wide range of crackers, and baguette crisps, perfect for dips or cheese. I fell in love with these Sea Salt and Olive Oil Baguette Crisps.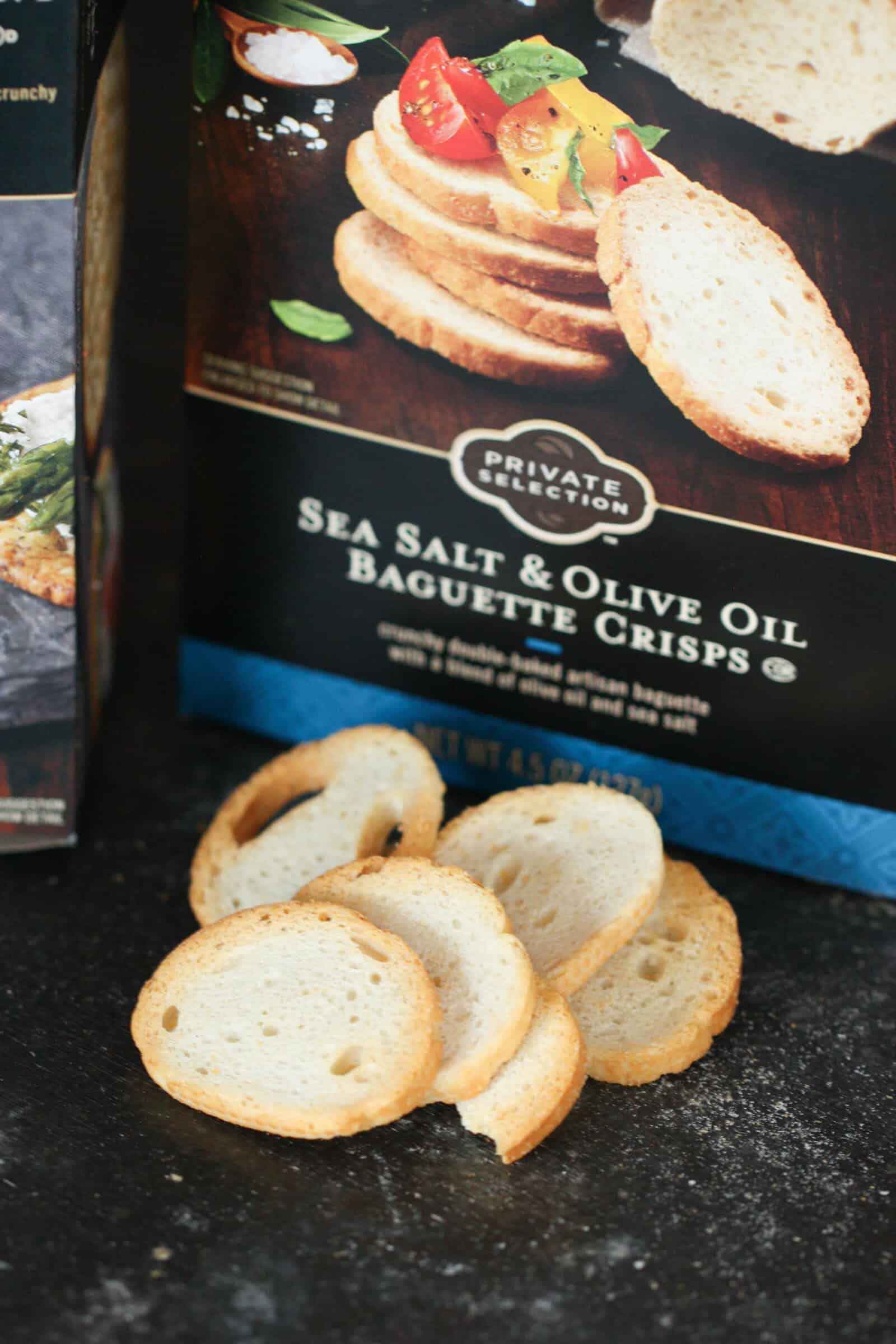 My husband loved dipping his Sesame Crackers into all our different dips, and layering them with cheese.
He was in his heaven, and I can see why. These crackers were yummy!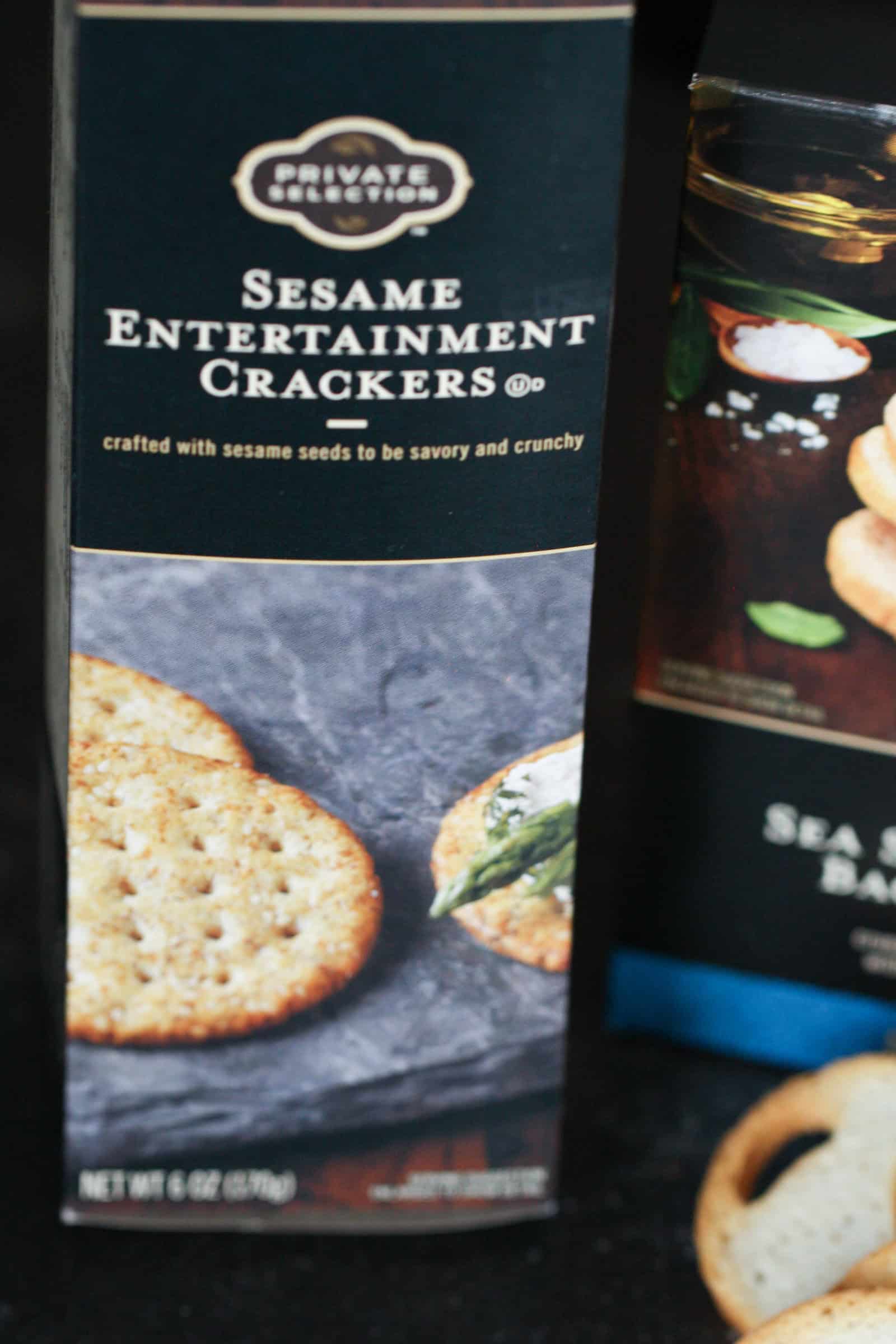 meats
Meats are by far, the best part of the super bowl. I love sampling all the little sausages, little smokies, wings, chicken bites, etc.
We got two kinds of wings from Kroger, in the freezer section, and they were delicious. They were crisp, chewy, and full of flavor.
We also got some extra sauces for people that wanted to add some serious flavor to their wings.
We highly recommend the pineapple sauce. It was out of this world, when we paired them with the wings.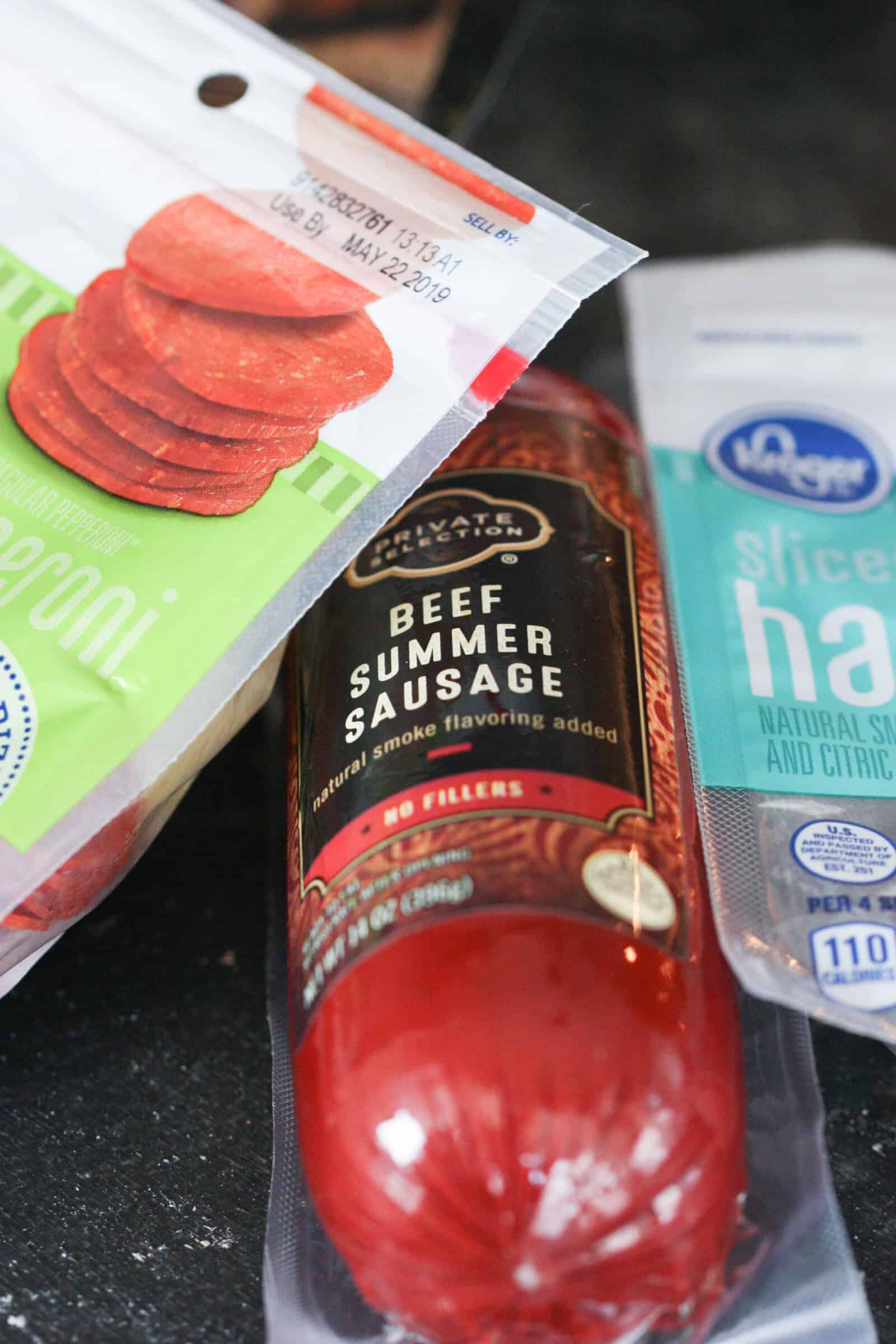 These meats are perfect for crackers, or to just eat plain.
I prefer to take a cracker, place a piece of gouda cheese on it, then top it off with a slice of meat.
Highly recommend the Salami.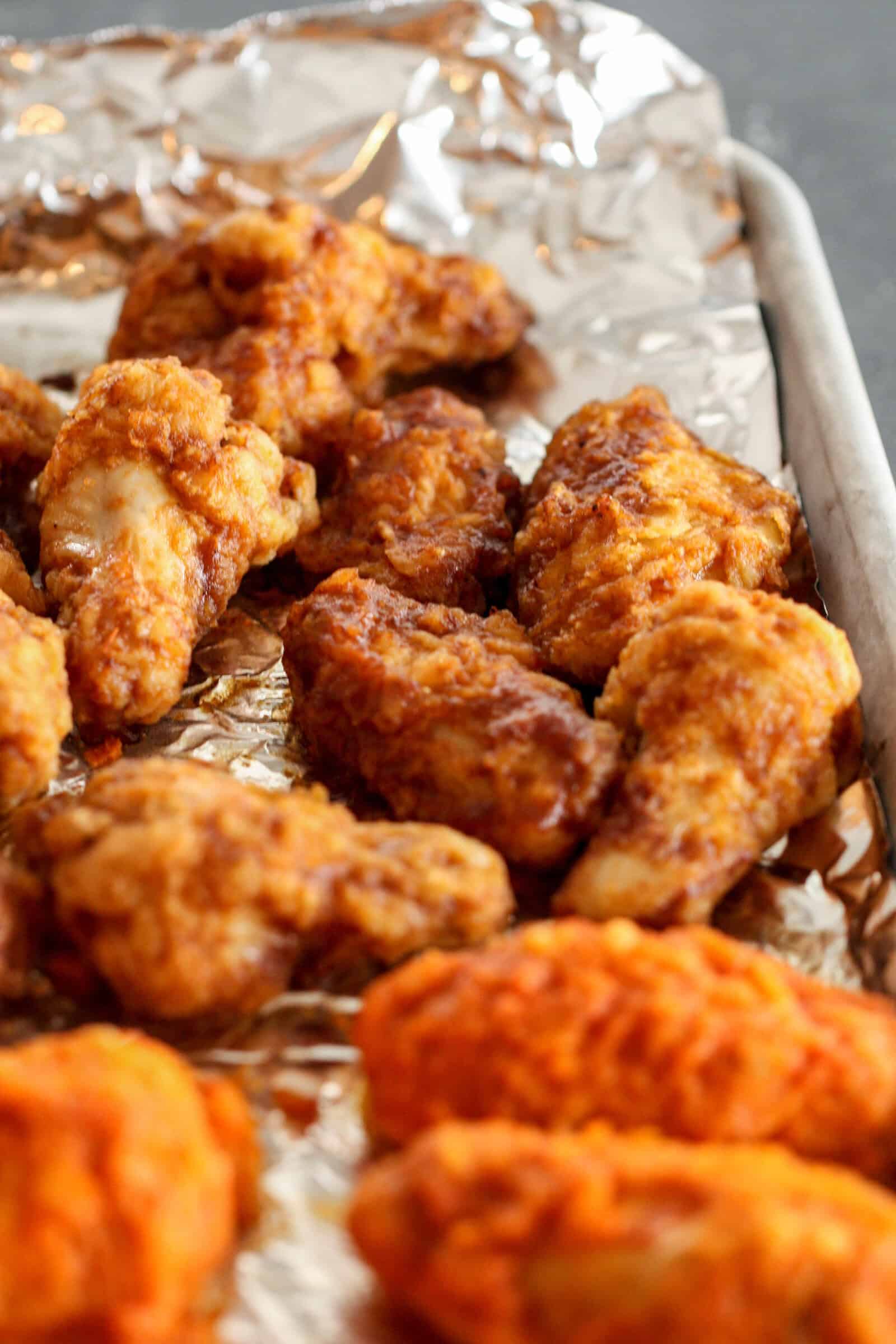 Here are our favorite sauces, that we put on the meat, and were especially delicious with the wings.
LOOKING FOR A WING RECIPE? HERE IS OUR FAVORITE:
Big Game Day Treats and Family Friendly Charcuterie Board Recipe
We have you covered with game day treats this year. All thanks to our local Kroger store. They have us covered from meats and cheese, to desserts, and everything in-between.
Ingredients
1

bag

Kroger BBQ Chicken Wings

½

cup

Kroger KC Style Original Barbecue Sauce

¼

cup

Private Selection Hawaiian Inspired Pineapple Wing Sauce

1

teaspoon

garlic salt
Instructions
Preheat oven to 350 degrees. Cover a cookie sheet with aluminum foil.

Place your chicken wings on a foil lined cookie sheet.

In a bowl, combine the BBQ sauce, pineapple sauce, and garlic salt.

Baste the chicken wings with the sauce using a basting brush, or a spoon.

Cook as directed on the package, at 350 degrees for 30 minutes
Nutrition
Calories:
41
kcal
·
Carbohydrates:
10
g
·
Protein:
1
g
·
Fat:
1
g
·
Saturated Fat:
1
g
·
Polyunsaturated Fat:
1
g
·
Monounsaturated Fat:
1
g
·
Cholesterol:
1
mg
·
Sodium:
939
mg
·
Potassium:
56
mg
·
Fiber:
1
g
·
Sugar:
8
g
·
Vitamin A:
54
IU
·
Vitamin C:
1
mg
·
Calcium:
8
mg
·
Iron:
1
mg
Equipment
Cookie Sheet

Aluminum Foil

Mixing Bowl

basting brush
Recipe Details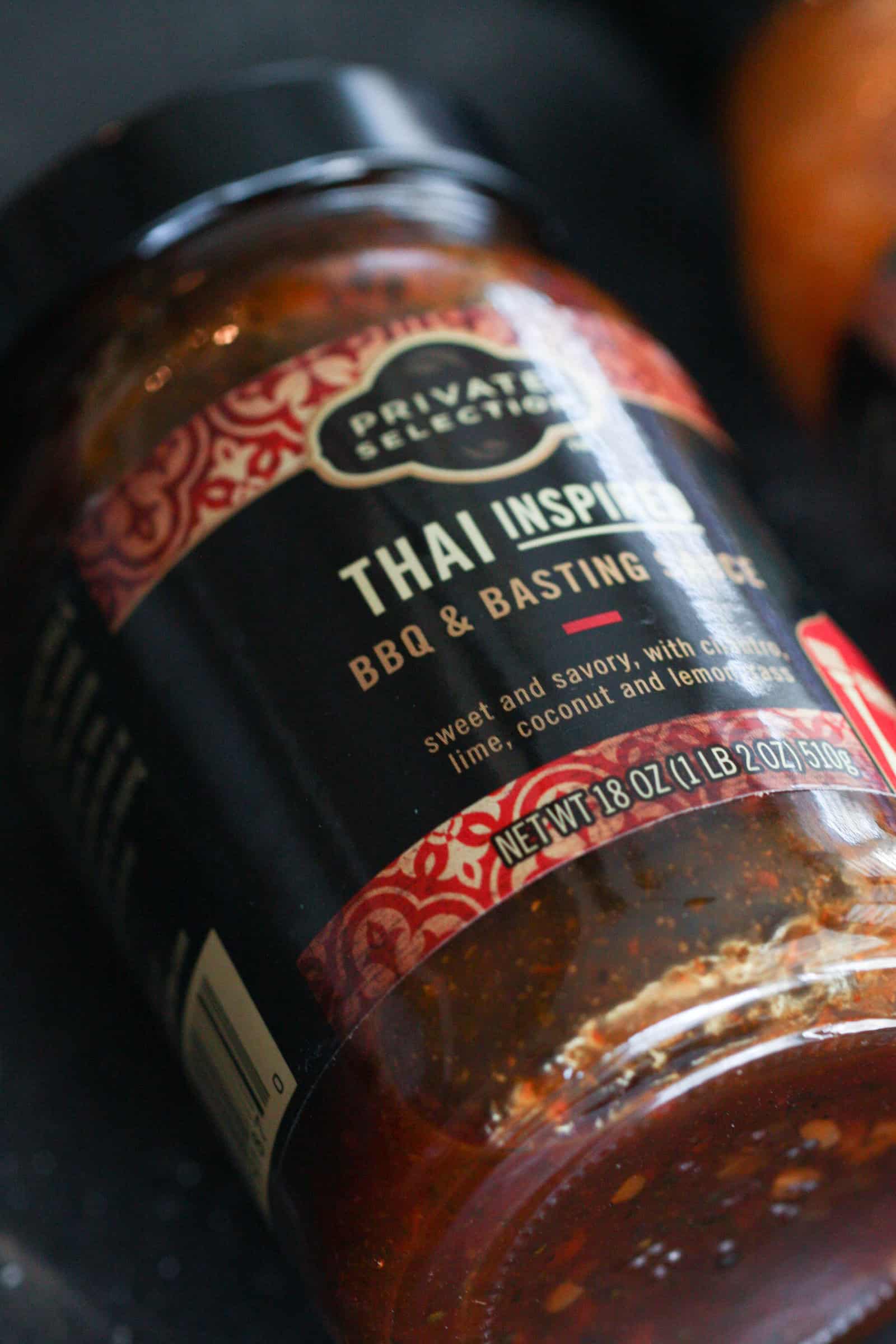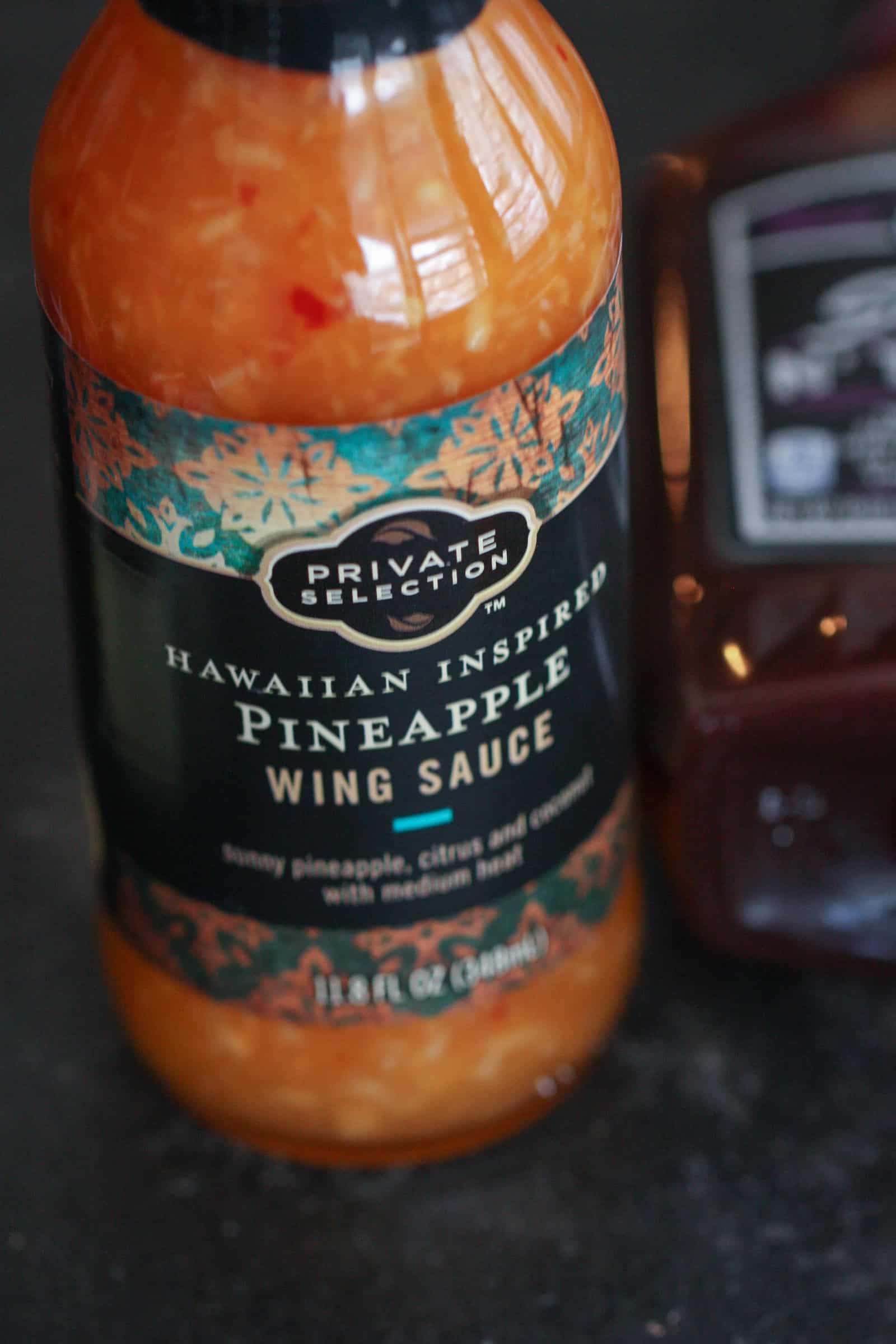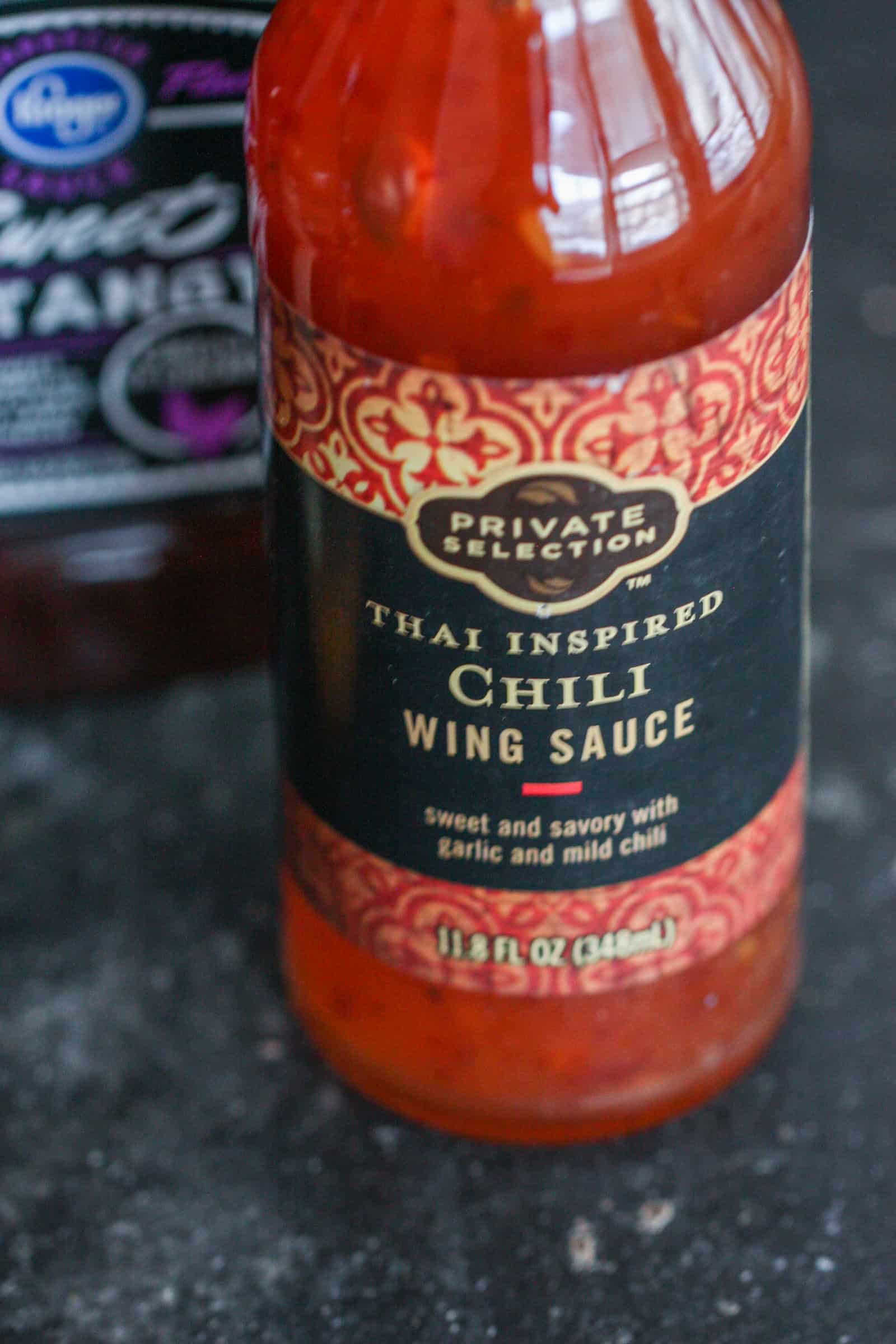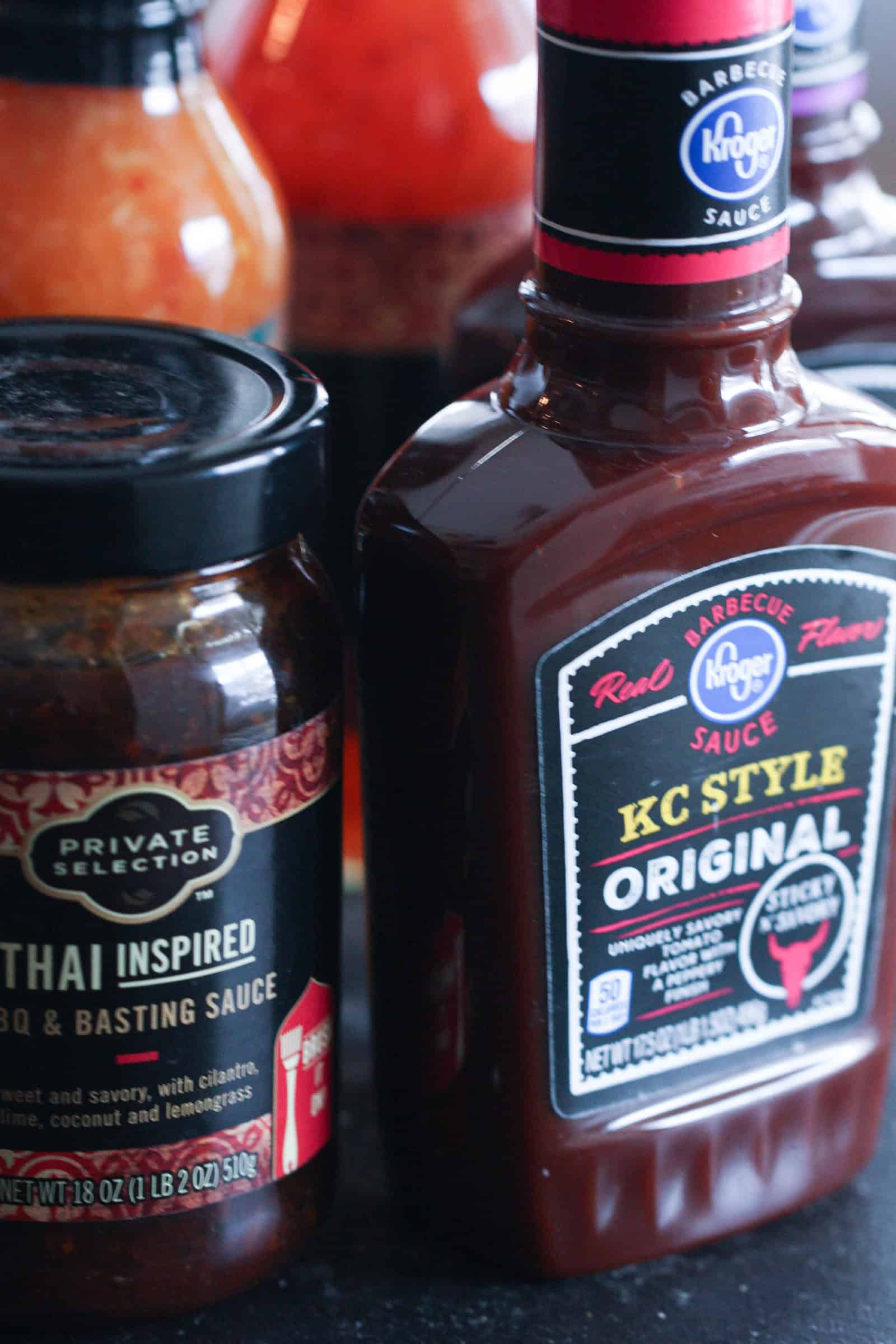 We are also huge shrimp lovers at our house, and I couldn't resist buying this half ring. The price was right, and it's definitely a crowd favorite.
It comes with the cocktail sauce, and there is no work for you to do, it comes ready.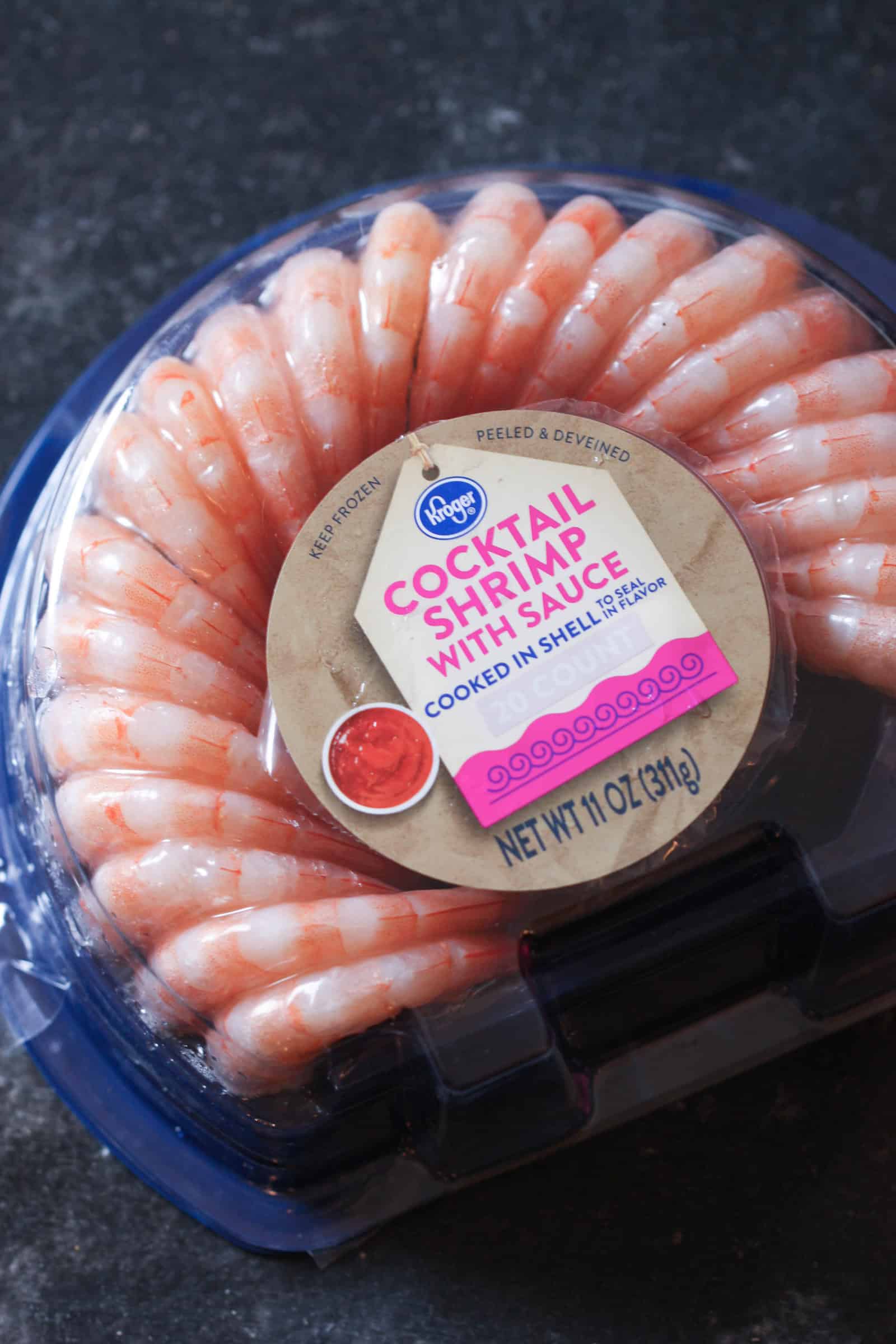 Sweets
It's not a game without some sweets. Words can't express how delicious these Milk Chocolate Sea Salt Caramels are.
They are so soft and chewy, with the perfect amount of salt, for an amazing flavor combo.
I also love these Milk Chocolate and Caramel Covered Pretzel Rods. They are crunchy, sweet, savory, and the perfect game day treat. You will love these.
I also love that they are milk chocolate, so they aren't too rich. They are the perfect amount of sweet and savory.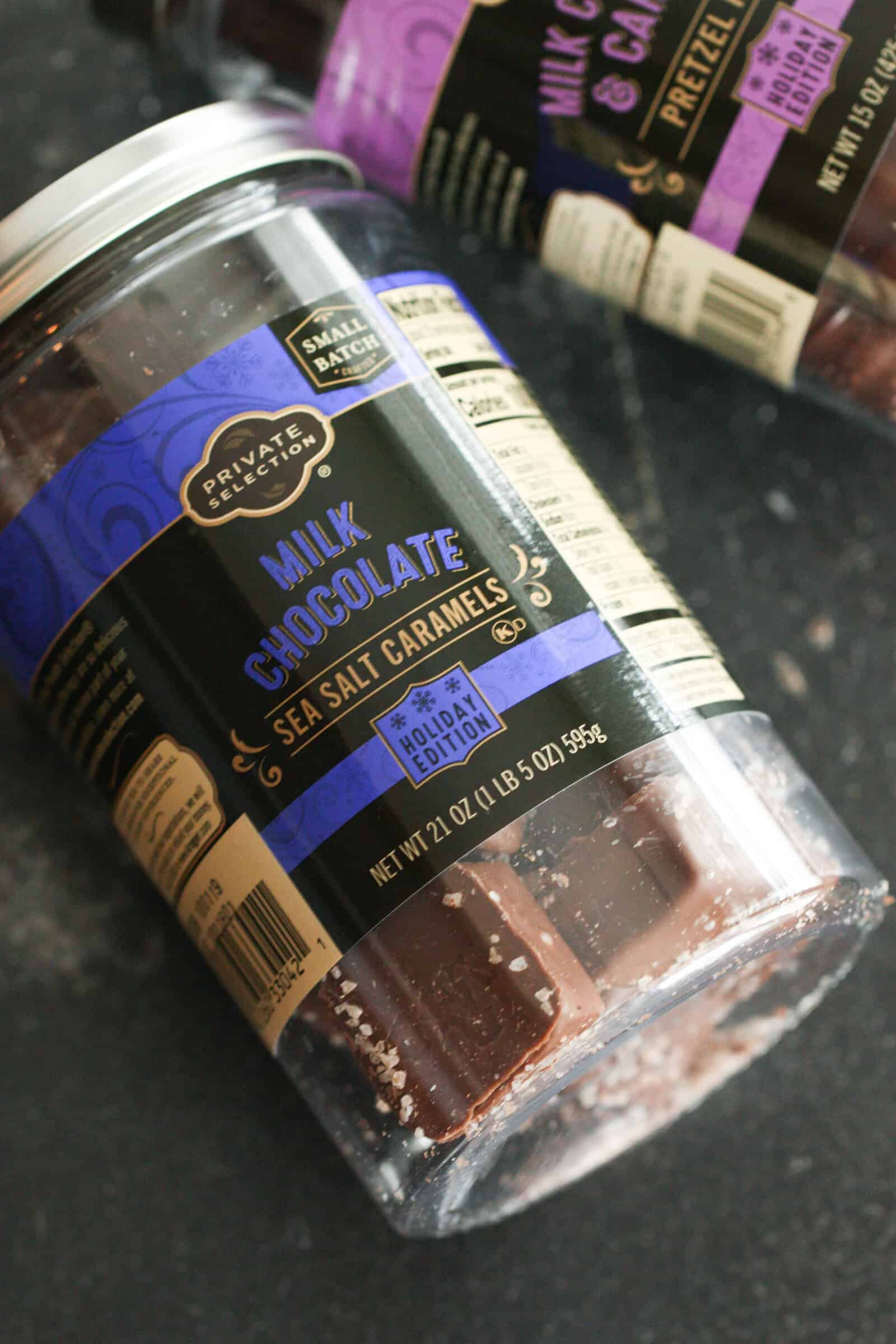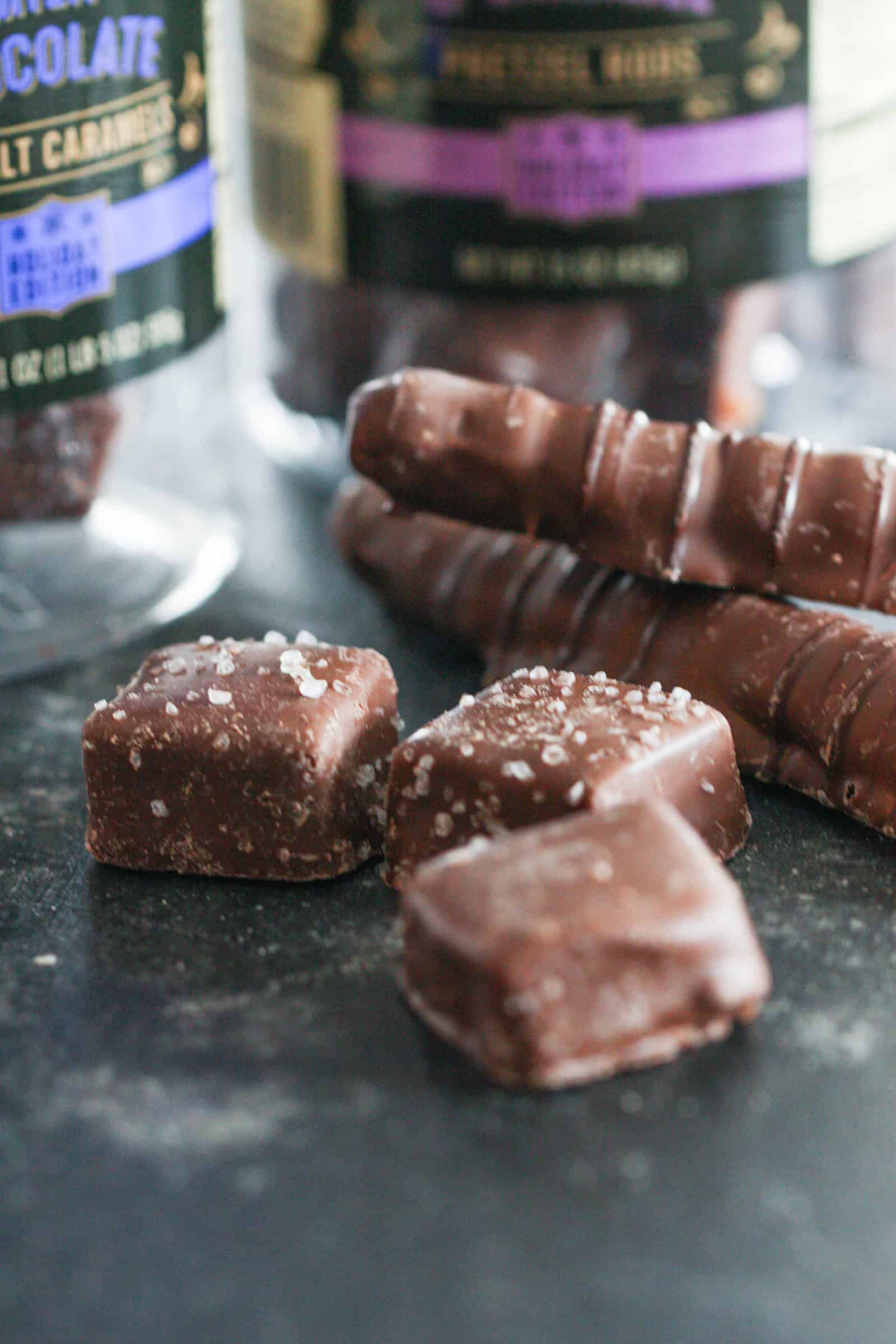 These mini sugar cookies are the perfect bite of sweetness. They are the perfect size, especially for little hands.
They are so soft and chewy. If you have never had sugar cookies from the Kroger bakery, you really need to. You will love these.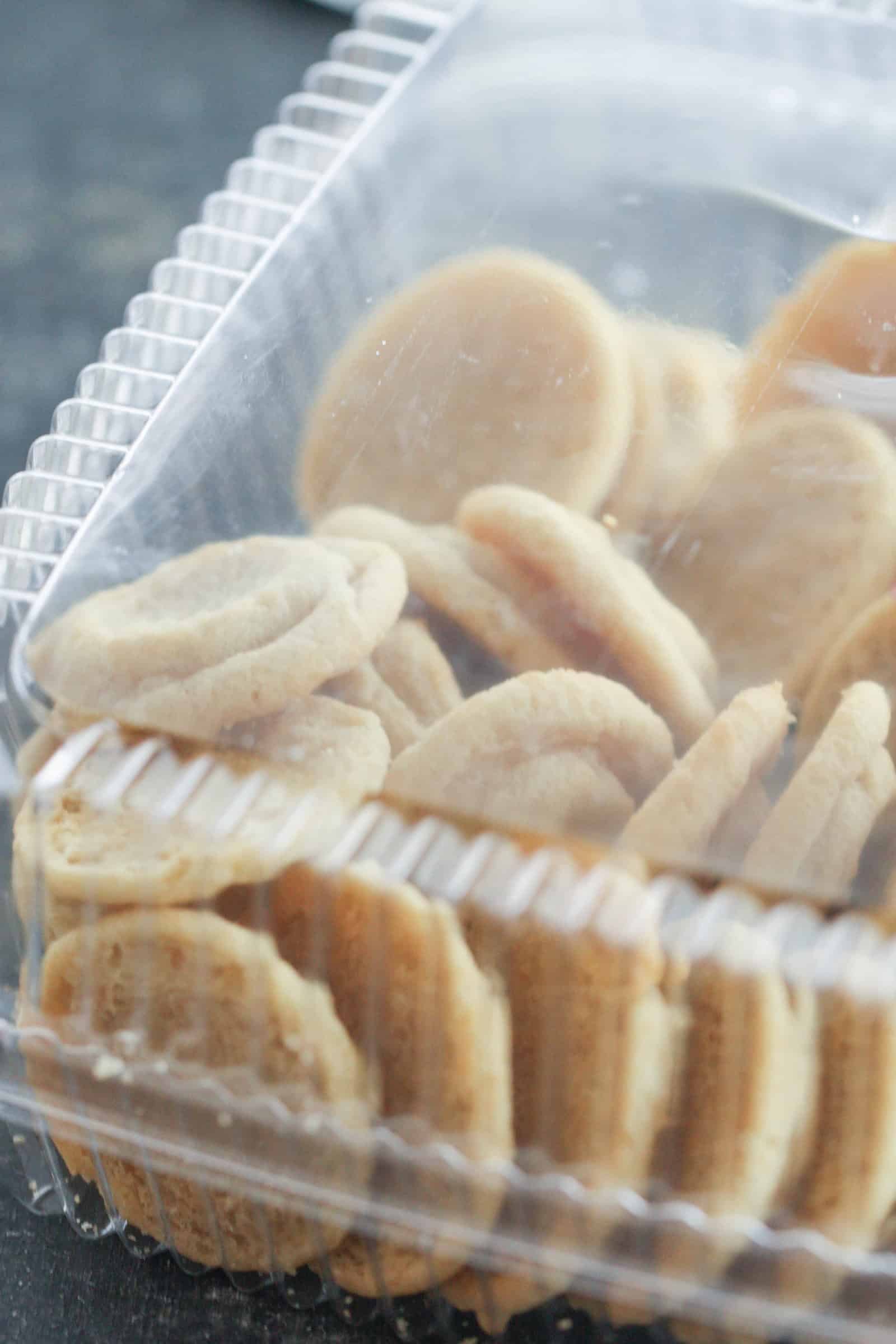 My Game Day grocery list:
Want to use my same game day treats? Here is a list of all my items:
Vegetable Tray
Nuts
Candied Nuts
Green Grapes
Cheese Cube Tray
Gouda Cheese Slices
Salami
Turkey Pepperonis
Little Smokies
Restaurant Style Gourmet Salsa
Ranch Dip
Sour Cream and Onion Dip
Blue Corn Tortilla Chips
Sweet Potato Tortilla Chips
General Tso's Chicken Potato Chips
Southern Heat BBQ Chips
Simple Truth Popcorn
Mini Sugar Cookies
Milk Chocolate Covered Salted Caramels
Milk Chocolate and Caramel Covered Pretzels
Chili Wing Sauce
Pineapple Sauce
Thai Inspired BBQ Basting Sauce
Barbecue Sauce
Shrimp Ring
Summer Sausage
Frozen Wings
Frozen Pizza's
Sea Salt and Olive Oil Baguette Crisps
Sesame Seed Crackers
Seltzer Water