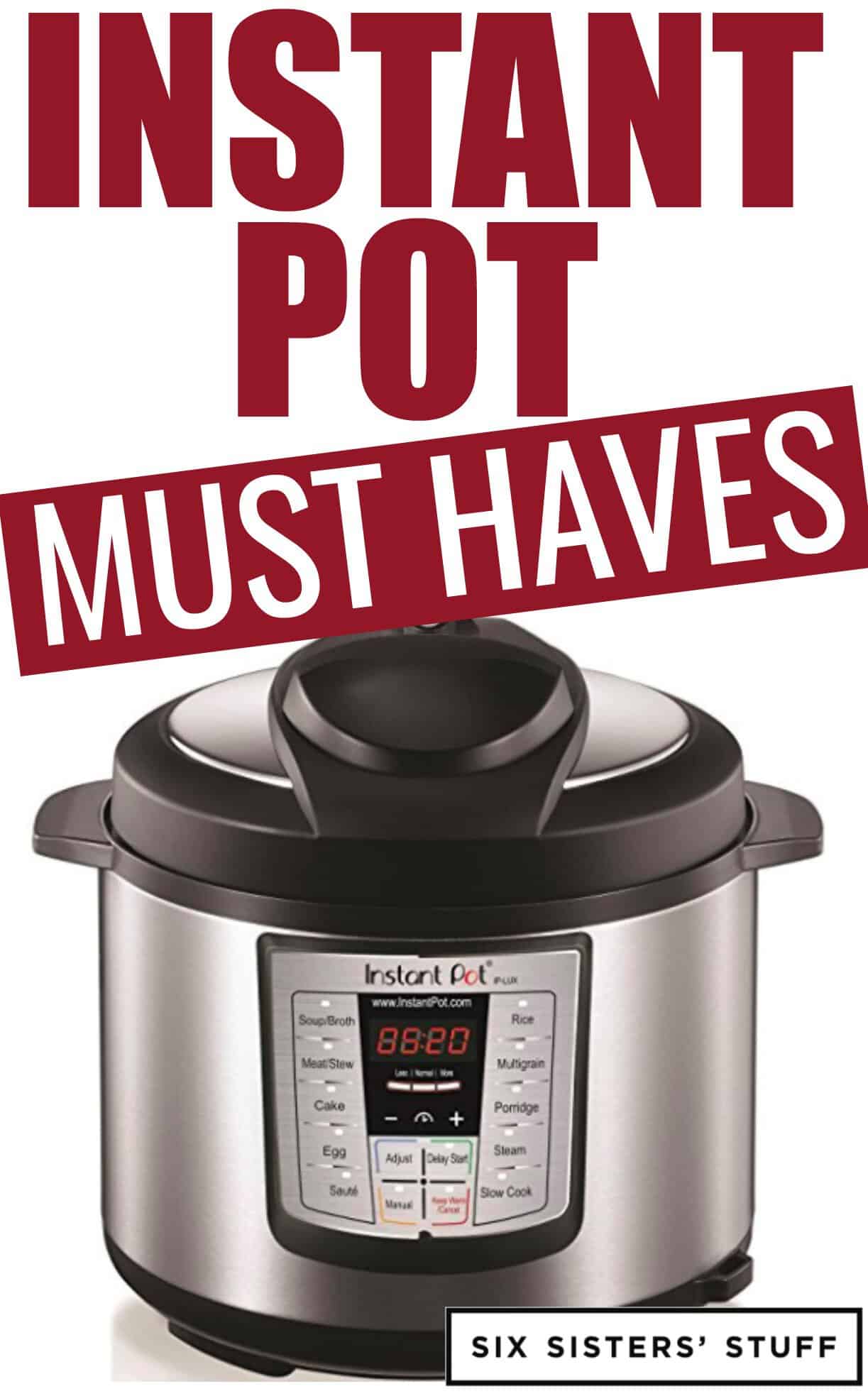 If you have an Instant pot, then you will want to check out all of my Instant Pot Must Haves! I know there are probably a lot of things out there, but these are the products I use when using my Instant Pot! They are pretty inexpensive, and will save you time! (That's my favorite thing about them!)
Here are my 6 Instant Pot Must Haves!
1. ekovana Stackable Stainless Steel Pressure Cooker Steamer Insert Pans
These are a 2 tier stackable pans that will let you cook multiple foods at the same time! It is also great for steaming vegetables, meat or fish. Then you can use it as a dessert pan to make cheesecakes or use as a lasagna pan. And if that isn't enough – it is perfect for reheating food too! It fits the  5, 6 & 8 QUART COOKER. Find it here.
2. Instant Pot Stainless Steel Inner Cooking Pot


This is PERFECT if you are wanting to make recipes that require you to use your Instant Pot TWICE! Like our Sticky Chicken found HERE. Then you don't have to take your pot out, dump out everything, let it cool, wash it, and then add your other recipe. If use another pot, you are saving time and dishes! Find the pot I have here.
The silicone lid creates an airtight, spill proof and watertight seal on the Instant Pot stainless steel inner pot! So instead of dumping all your contents into tupperware, just put this lid on! It almost is like you have your own giant tupperware! Reheating is easy also! Just take off the lid, stick your pot in your instant pot, push warm, and you dinner will be heating in a matter of minutes! Get my lid here.
So this one actually comes as a 2-Pack color set, one for sweet, the other for savory! You don't want the smell of chicken or beef in your cheesecake or dessert do you? Using two different rings will make it so that doesn't happen! These are the rings I got: https://amzn.to/2GlQ1zb
5. Glass Lid

This is the Instant Pot lid (found HERE), but I got one that isn't Instant Pot (found HERE)! Having a transparent glass for clear viewing will let you see inside without removing the lid, it's perfect to turn the pressure cookers to a slower cooker, popcorn cooker, or other things! 

This is the 6 inch springform pan, but you can get the 7 inch and 8 inch one! The 6 inch will fit in the 3quart, along with the others! This is perfect for making a delicious cheesecakes, brownies, and even Lasagna! Find my Instant Pot Lasagna HERE.
Watch my Instant Pot Must Haves Video below!
I hope these help you when using your Instant Pot! This is the Instant Pot I have. Find it HERE.
If you are looking for Instant Pot Recipes, be sure to Subscribe to our YouTube Channel (HERE) because I will be sharing a New Instant Pot recipe every Monday!