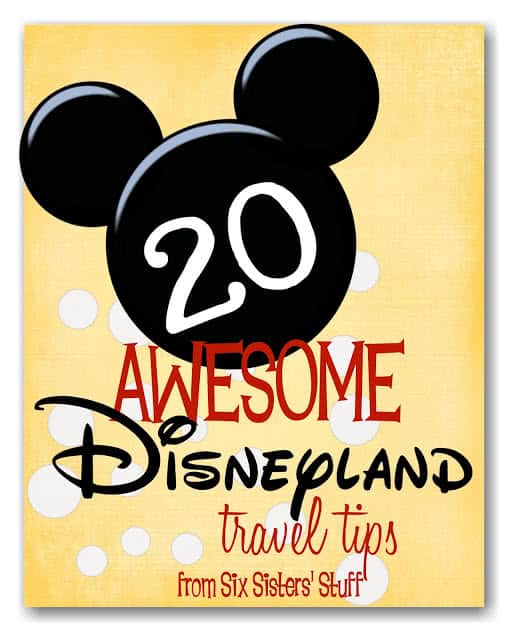 In February of 2013 we had our very first
Build Your Blog Conference
. It was a huge success but a lot of work! About halfway into the planning we decided that when the conference is over, we needed a vacation. We grew up loving
Disneyland
as a family vacation and so we decided that it would be fun for all of us to go together (which is a lot of people!).
I had been to Disneyland just a couple of years before so I was a little more prepared for this trip. Every time I go I learn more that helps make the next trip a little more smooth. Here are some of my tips for making Disneyland more enjoyable and much easier!
 1.  Plan ahead.  Planning for our trip was so easy! Get Away Today helped us out with booking our trip!  They are great to work with and helped find us the best deals! I actually did the research before we booked with them and they found cheaper deals than I could find by myself.
2.  Order a vacation planning DVD. 
Before your trip you can order a
Free Disney Vacation Planning DVD
. They pay for shipping and you get a free DVD to get you in the Disney spirit! My kids watched it almost everyday for 2 weeks before we left.  The DVD will give you more information about the parks, rides and additional travel tips!
3. Hotels.
After comparing lots of prices, we found that it was best for us to get a hotel close to the parks. We stayed at the
Camelot Suites
and it was right across the street from
Disneyland
(and very affordable). If you are getting a hotel that is further away, check to see if they have a free shuttle to
Disneyland
(which is a lot cheaper than paying for a shuttle everyday or paying $15 a day for parking at the park). Another thing that will save you some money is to find hotels that offer a free breakfast. We have stayed in hotels before that offer a hot breakfast buffet every morning and it saved us a lot of money on food.
4. Bring your own food.  Thankfully, you can take food into the park, including coolers! When prices of food hit around $10-$15 a person, it can add up really fast. We liked to pack lots of snacks we could munch on while we were walking around or waiting in line.
Of course, you have to splurge on their Gumbo Bread Bowls or a Dole Whip every once in a while!
 Even though it is very convenient to eat inside the park, you can save a lot of money if you venture outside of the park. There are many restaurants (i.e. McDonalds and IHOP) within a short distance and you can even jump on the Monorail and travel to Downtown Disney for many more places to eat. We found a little place to eat called Earl of Sandwich right outside the park that was DELICIOUS and had a large eating area that fit our whole family! We loved both the sandwiches and the salads.
5.  Beat the crowds when eating in the park.  If you do eat in the park (let's be honest… the smells get to you!), do what you can to beat the mealtime rush. Aim to eat between 10:30 and 11 for lunch and 3:30 and 4:30 for dinner. You will most likely find a table and the less time you wait for food, the more time you have for rides! We would get our food and then eat it while we waited for a parade or show.
6. Use FastPasses:
Disney never ceases to amaze me! They really think of everything- FastPasses are pure genius! Fast Passes are used to avoid long lines- basically it's an electronic ticket that holds your place in line, so-to-speak (
here is a great site
that can give you the info you need on FastPasses). We got our FastPasses for the new ride in Cars Land (Radiator Spring Racers) at about 11am and they ran out of FastPasses right after we printed ours off! With Cars Land being such a hot commodity, I recommend getting your Radiator Springs Racer FastPasses right when you get there. You might have to wait about 30 minutes to get them but that is better than waiting 2 hours later in the day.
(Just a side note- this ride is AMAZING at night!)

You can also have more than one Fast Pass at one time. Make sure that you get the World of Color Fast Pass in the morning so you can get a good place at night!
7.  Arrive to the park early.
  They say that the early bird gets the worm!  The same is true for
Disneyland
.  The park opens at 10:00 am (it opens earlier in the summer).
But they will let you in the park before it opens so you can get through security, get your tickets, and wait in the park until 10 am.
8.  Download apps. 
You can find all kinds of free apps for
Disneyland
.  My favorite is the Mobile Magic phone app.  This app includes line wait times, entertainment schedules, character meet and greets, weather and so much more!  So much better than carrying a map around all day!
9. Meet the characters.  The Disney characters often have very long lines. Mickey, Minnie in Toon Town, and the Disney Princesses by the castle tend to have the longest lines (close to an hour).
If you watch the Princess show with Rapunzel or Belle, be sure to sit on the right hand side because they will take pictures and sign autographs on that side after the show!
10.  Ponchos. It rained a little bit while we were there and our ponchos came in very handy. We have also learned from experience  that there are many rides where you will get wet like Splash Mountain, Grizzly River Run and the New World of Color. Sometimes the water is welcome, but when it cools off at night you don't want to be soaking wet.
(We are eating churros in the rain while waiting for a parade to begin!)

11.  Save money on souvenirs: Disneyland can get expensive! (We all know it… and yet we still love it!) The souvenirs can be especially expensive. You can get Disney t-shirts for for a fraction of the price at stores in California like Old Navy, Children's Place, and even WalMart. You can also buy the Disney Trading Pins online before you go so you can switch with them with employees.  If you have a little princess at home, buy a princess dress before you leave to wear to the park to save some money.
Some of our favorite souvenirs from Disneyland are the smashed pennies that cost 50 cents!  My 5 year old daughter is still carrying it around in her pockets.

12.  Use the Baby Care Centers.  If you are traveling with a baby or little ones, be sure to use the Baby Care Centers.  They have nursing rooms with rocking chairs, changing tables, highchairs, microwaves to heat up bottles, room for little ones to relax and an on-site shop offering formula, baby food, diapers, and anything else you might need!
13.  Get free water. 
Disneyland Resort
offers free cups of water at any restaurant if you ask, even hot water!  I brought my own water bottles that I could fill up and keep in my backpack at all times.   You can even have the restaurant fill up your water bottles for you!  It is important to keep hydrated while out walking around in the heat all day!
14.  Keep on riding.  Rides don?t close when the parks close.  You can still get in a 60 minute line at 10:50 when the parks close at 11 p.m.  Most people clear out when it closes, which gives you more time for the "long line" rides. We never stayed that late because my 3 and 5 year old were exhausted! But this is perfect for those with older kids that stay up that late.
The shops on Main Street are also open for an hour after the park closes. Perfect time to do your shopping then!
You can also shop at Downtown Disney after the park closes, so you don't feel like you are wasting any of your precious time in the park.
15.  Take lots of pictures.  In the park, you will see the photographers taking pictures of perfect spots around Disneyland and California Adventures.  Don't be afraid to ask if they will take your picture with your own camera. Every worker at Disneyland is so kind and they are all there to help you!
If you don't want to carry around your camera in the park, the Disney PhotoPass Photographers will take pictures of your entire family for free!  You can register online to view your photos and buy them individually.  It is a great way to have your whole family in every picture!
I took most of my pictures with my phone.  If you are the same… charge your phone before you leave because there are very few outlets in Disneyland. And let's be honest… you don't want to wait around for your phone to charge.
16.  Save your seats.
  Most of the parades and other shows in the park get very crowded.  Find a spot where you will be able to see the parade, fireworks, etc. and stay there until the entertainment begins.  If you have little ones, try to find spots where they will be able to easily watch the entertainment if they aren't tall enough to see over others.

17.  Grab a button.
  If you are celebrating a special occasion on your trip, make sure to stop by Guest Services (or a restaurant if the line is too long) and receive a button reflecting your celebration (i.e. birthday, first trip to
Disney
, anniversary, etc.).  You may receive special treatment if you are wearing a button!
18.  Use the single rider line.
  Some of the most popular attractions have single rider lines.  If you want to go on a ride but don't want to stand in a long line, you can split up your party and use the single rider line!  Because most of the rides in the park only seat two people, there is often an odd number in a party and they use a "single rider" to fill the empty spot!  The entrance for the single rider line is next to the normal entrance and is a much shorter line!
19.  Ask for help.  Have a question?  All cast members will have on large name tags.  They have been hired to help people, so feel free to ask them questions!  It's in their job description to be friendly and helpful, so use that to your advantage! Also, tell your kids to find a cast member with a name tag if they get lost.  They will assist your child to the lost and found near the front gates of each park.
20.  Plan Accordingly.  Check the park schedule so you don't miss a beat!  There are many shows, parades, fireworks, meet and greets. These are what make your trip so magical!
There are also so many wonderful rides at Disneyland and California Adventure but instead of bouncing to your favorite rides and walking all over the park, try and stay in one land at a time. This will save you a lot of time and energy.