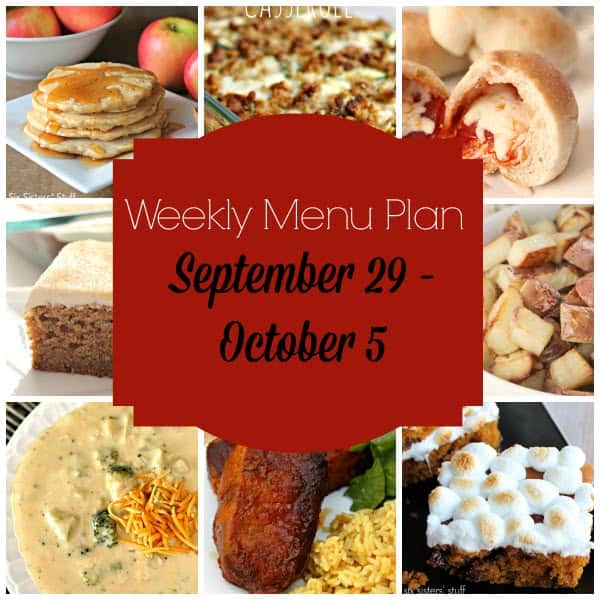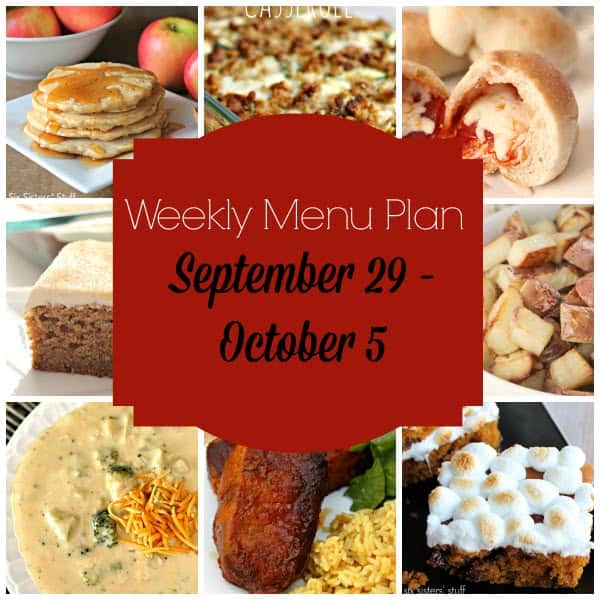 The air is getting cooler, and the nights are getting shorter…. which can only mean one thing; Fall is here! The holiday baking is just around the corner! This weeks menu plan is a few of our autumn favorites, to get you in the spirit. Hope you enjoy!
Monday:
Tuesday:
Wednesday:
Chicken and Broccoli Cheese Soup
Thursday:
Cinnamon Apple Pancakes Recipe
Friday:
Slow Cooker Sweet Glazed Pork Chops
Saturday:
Sunday:
Slow Cooker Apricot Glazed Pork Tenderloin Recipe
Side Dish Ideas:
Dessert Ideas:
Cinnamon Zucchini Cake with Cream Cheese Frosting
You Might Also Enjoy:
Weekly Menu Plan July 28th – August 3rd
Weekly Menu Plan January 6th-12th
IT'S HERE! IT'S HERE!
You can pre-order our "12 Days of Christmas" cookbook TODAY for only $14!
This book is due to be released on September 30, so grab this deal while you can (regularly $19.99).
Get the book HERE!
This book is loaded with all of our Christmas favorites- cookies, fudge, dinners, neighbor gifts, decorations, traditions, ideas for service, and of course Christmas morning breakfast. 🙂 We LOVE the holidays and can't wait to share them with you!