If you're anything like us, you don't have a ton of time to spend in the kitchen but still want to prepare a delicious meal for your family.  After hundreds of requests from our wonderful readers we have finally made cooking family dinner at home even easier!
Freezer and slow cooker meals are our go-to dinners when we are in a hurry.  They are easy to make ahead but will still provide an amazing meal at the end of the day!
We have put together two AMAZING eCookbooks (which means you can get it straight from your computer!) to help make mealtime easier!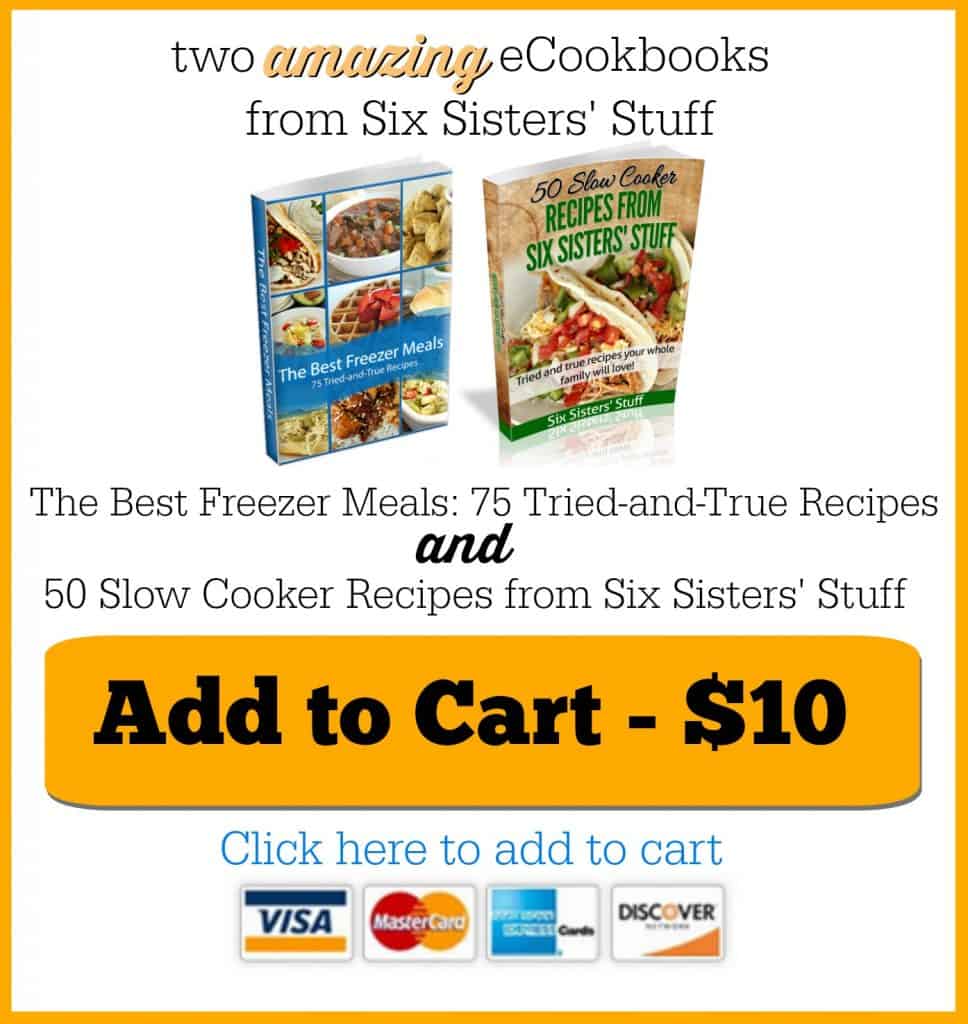 For just $10 you will be getting two eCookbooks, which include over 100 delicious recipes, tips and ideas!
The Best Freezer Meals: 75 Tried-and-True Recipes:
We are sharing 75 of our all-time favorite freezer meals, along with great tips to help you get started, frequently asked questions and tips and tricks to make mealtime a breeze!
This collection features breakfast and brunch recipes, soups and stews, "Dump and Go" dinners (it doesn't get any easier than this!), meatless meals, casseroles and kid favorites.

and more!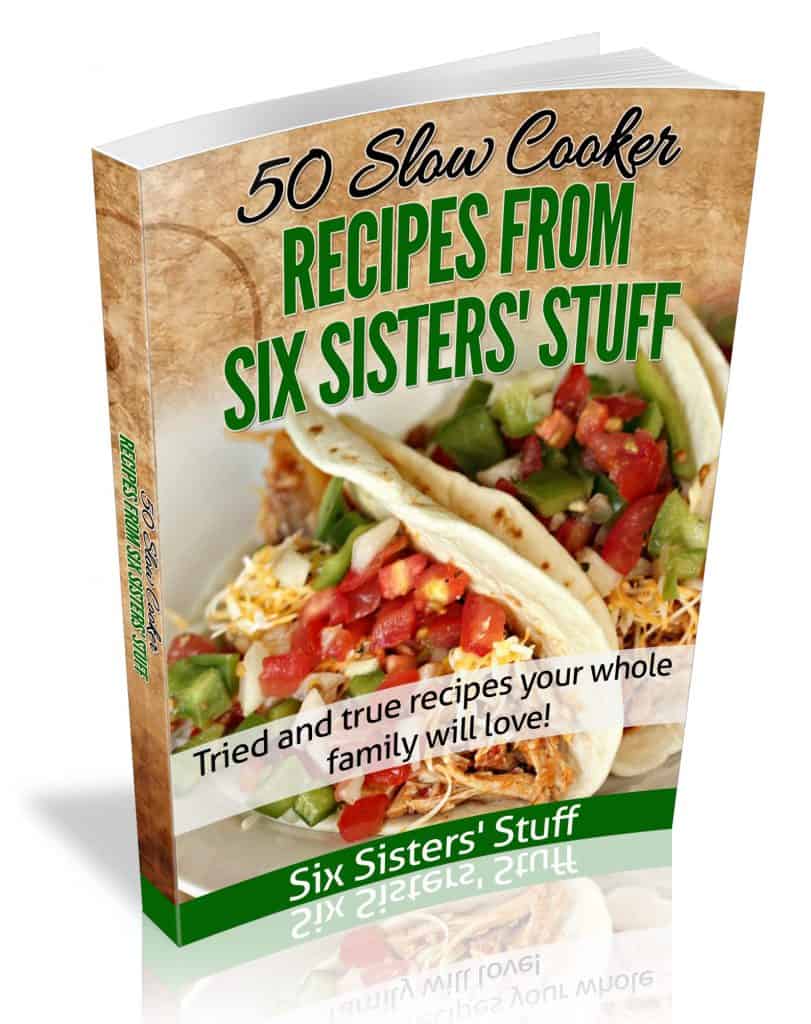 50 Slow Cooker Recipes from Six Sisters' Stuff: Tried and true recipes your whole family will love!
A collection of our absolute favorite slow cooker recipes.
This collection includes 10 chicken recipes, 10 beef recipes, 10 pork recipes, 10 soup recipes and 10 side dishes and appetizers that can be made in your slow cooker!  Dinner has never been easier or more delicious!
Here are a few of our favorite recipes from the eCookbook:
Your family will want to try every single one of these slow cooker recipes!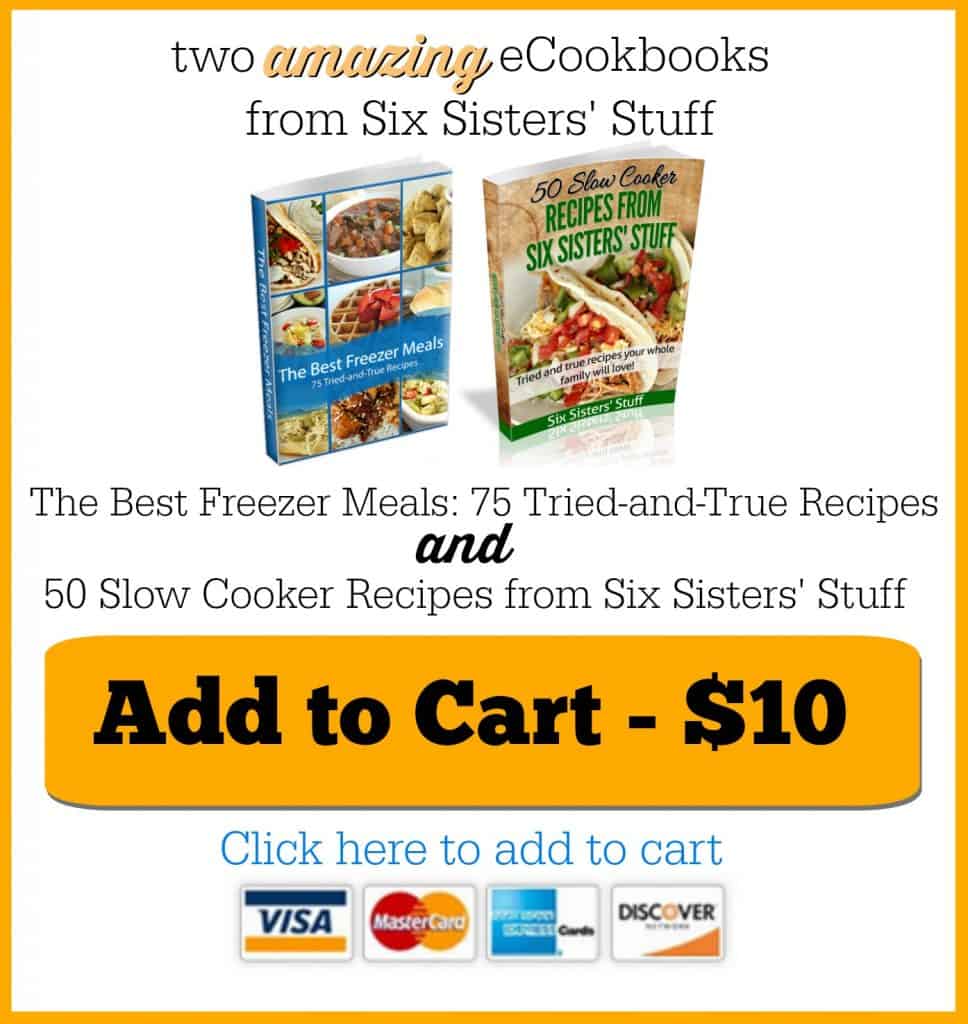 An eCookbook is a cookbook in an electronic format!  Rather than having to go to the store to purchase a cookbook, you can download it to your own computer, smart phone or tablet!
You can print your eCookbook if you want a hard version, but it may be a lot of ink!  You can easily access your eCookbook from your computer or other devices whenever you are ready to cook.
After you purchase your eCookbooks, you will receive an email with a PDF file that you can download and save for personal use.