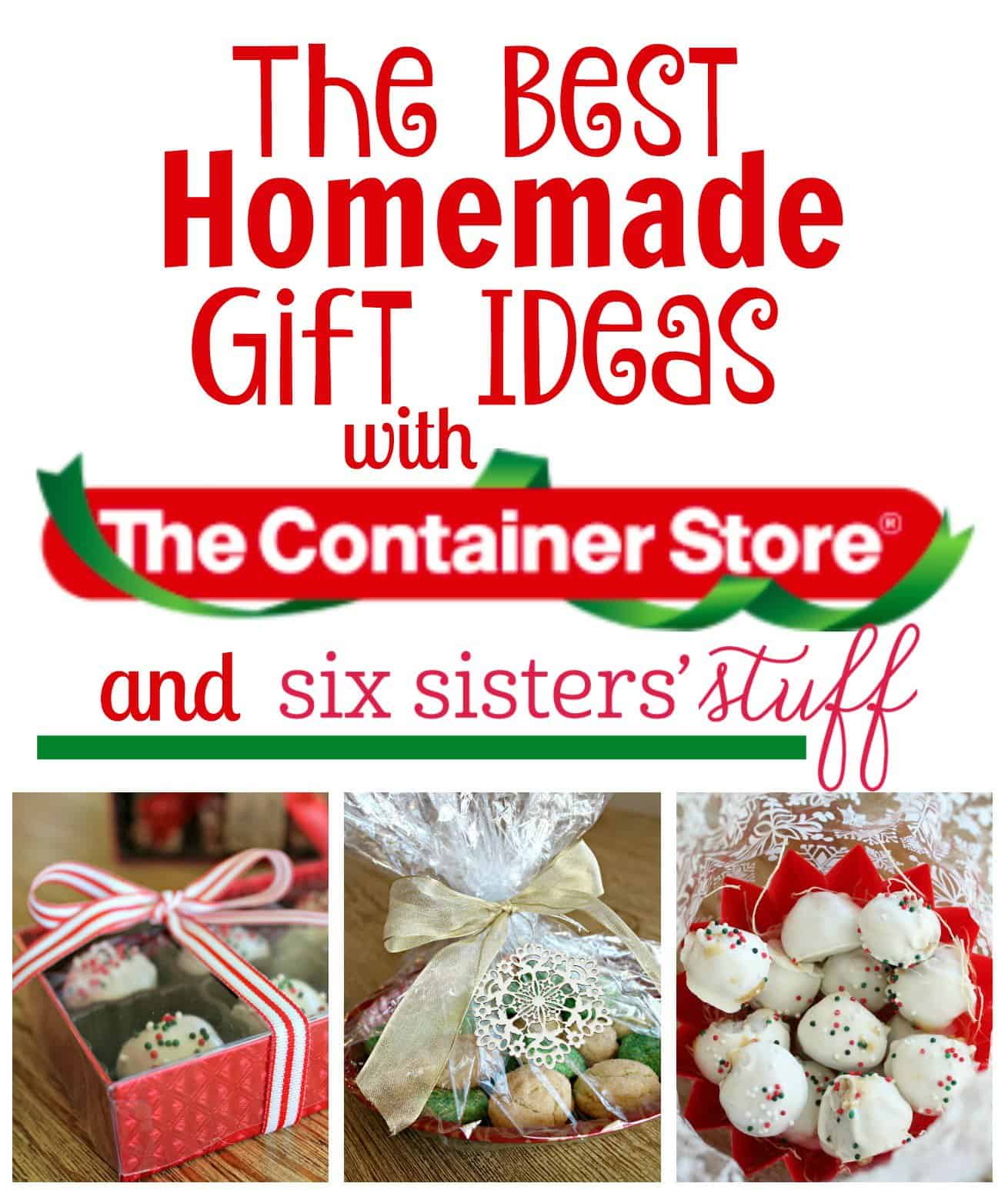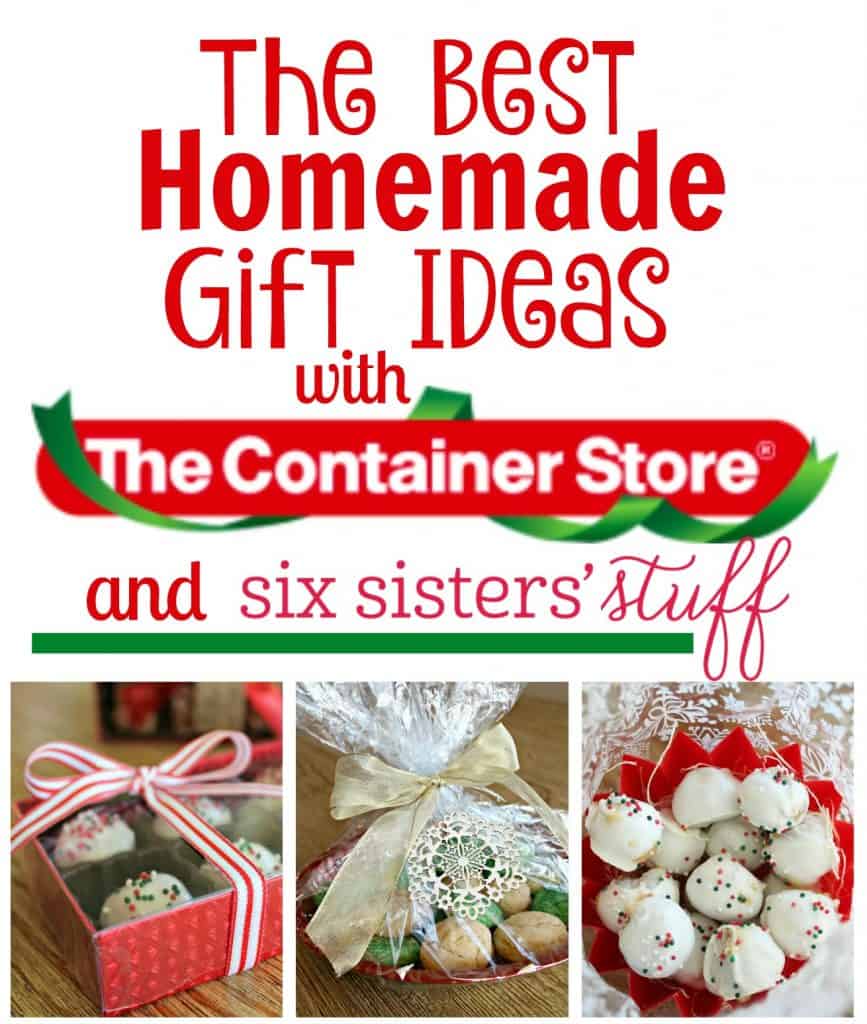 We are so happy to team up with The Container Store this month and share with you some of the best homemade neighbor gifts!
The last two weeks we have been very busy with The Container Store. Lauren and I were in the Dallas store and Elyse and Camille were in the Salt Lake Store. We had great time sharing our gift ideas. Now if you missed it, don't worry, keep scrolling and we will share everything that we presented!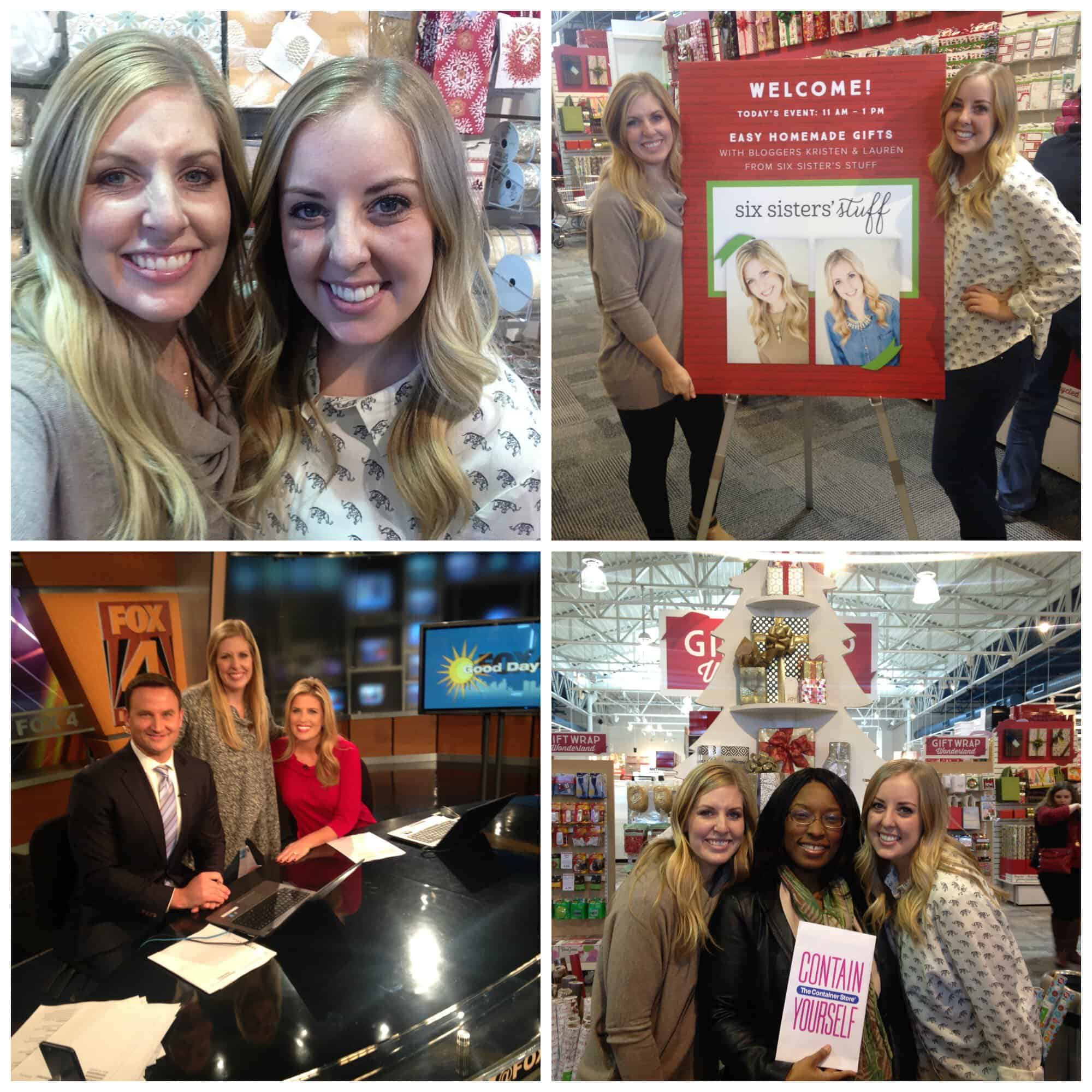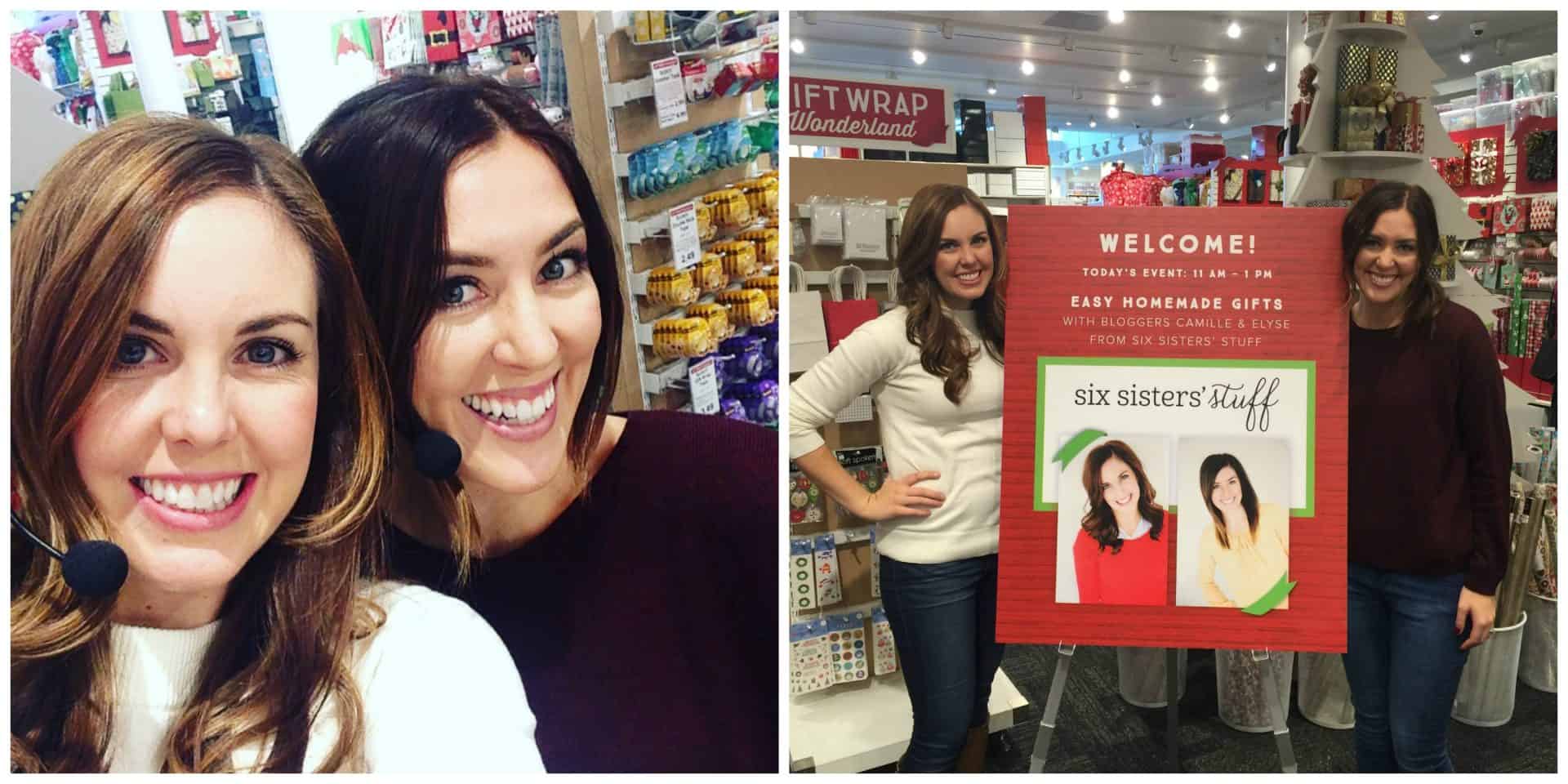 Growing up I loved coming home to find treats or small gifts on the porch. Now that we've grown up and have families of our own we try and carry on the tradition of fun neighbor treats! The Container Store has made it so much easier to package treats and gifts! Today we want to share with you some of our favorite ways we package gifts!

The first one we are sharing is our Christmas Snickerdoodles. All we did was roll a few cookies in green sprinkles and a few in cinnamon and sugar. They are so easy and make it very festive. This is the snickerdoodle recipe we used.
Things we packaged it with from the container store:
Red Brocade Round Platter (only $1.19)
Gold Ribbon ($5.59 for 10 yards)
Snow Flake Tags ($3.20 for 6)
Plastic Shrink Wrap Bags ($3.99 for 2) – This is my new favorite thing. All you do it put it in the bag, tie the top and then blow dry the bottom of the bag and the shrink wrap will do it's magic! It makes the presentation look SO GOOD!
We took some of our favorite treats and put them in these darling Compartment Boxes! We put in our Peanut Butter Snow Balls and our German Chocolate Fudge (coming to the blog soon!)
Compartment Boxes with Clear Lids ($2.39 for the 15 compartment holder)
Scallop Gift Tags ($2.99 for 20 tags)
Red Raffia Ribbon ($4.79 for 100 yards)
Red and White Striped Ribbon ($6.79 for 25 yards)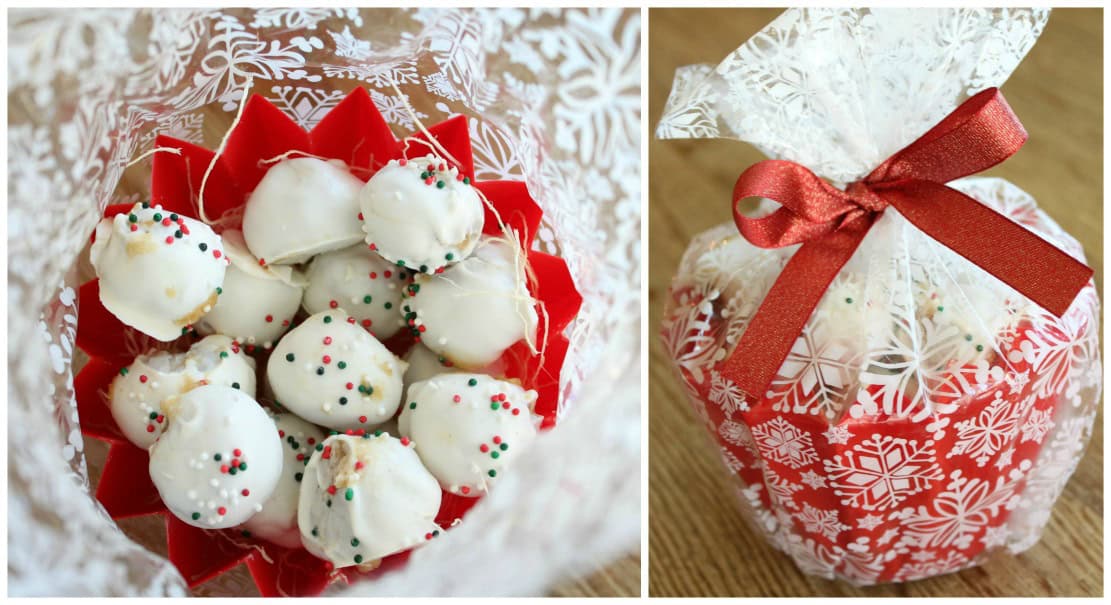 For this one we showed a darling zig-zag pot  filled with our favorite treats. In this case we filled it with our Peanut Butter Snow Balls again (because they are my FAVORITE!)
Large Zig Zag Pot ($1.79 each)
Snow Flake Cello Bags ($3.16 for 8 of them)
You can ALL of their red ribbons HERE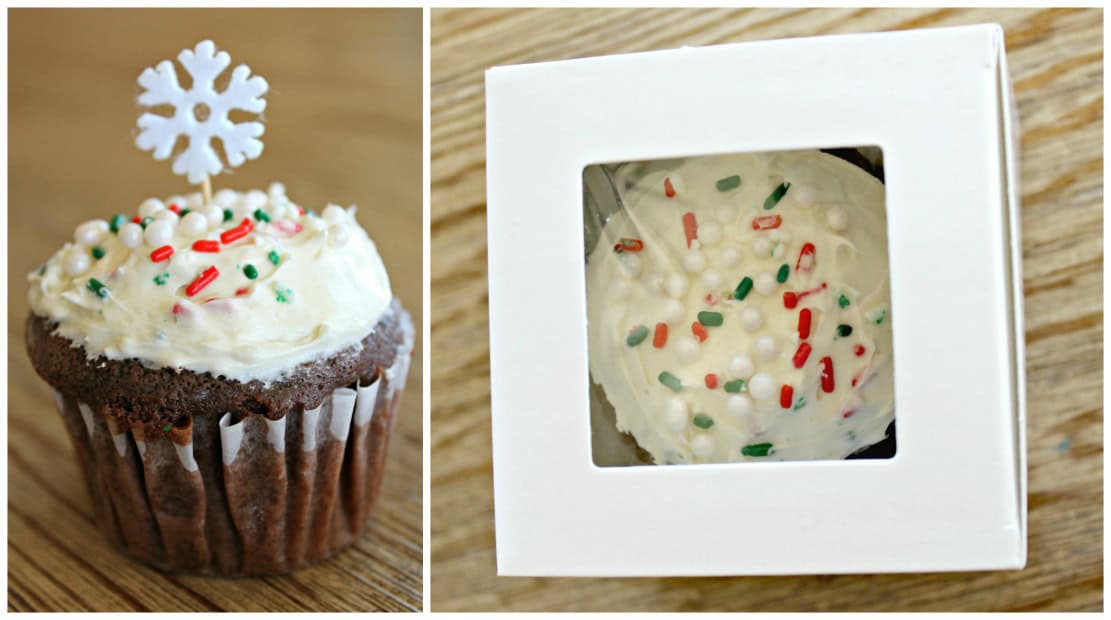 Growing up we always loved getting presents for our friends. Now that my kids are getting bigger they are wanting to get little presents for their friends. I decided to whip up a batch of cupcakes, stick a little decorative snowflake on top, stick it in a perfect little box and call it good. My daughters were thrilled!
Felt Snow Flake Toppers ($3.99 for 20)
Single Cupcake Window Box ($.79 each)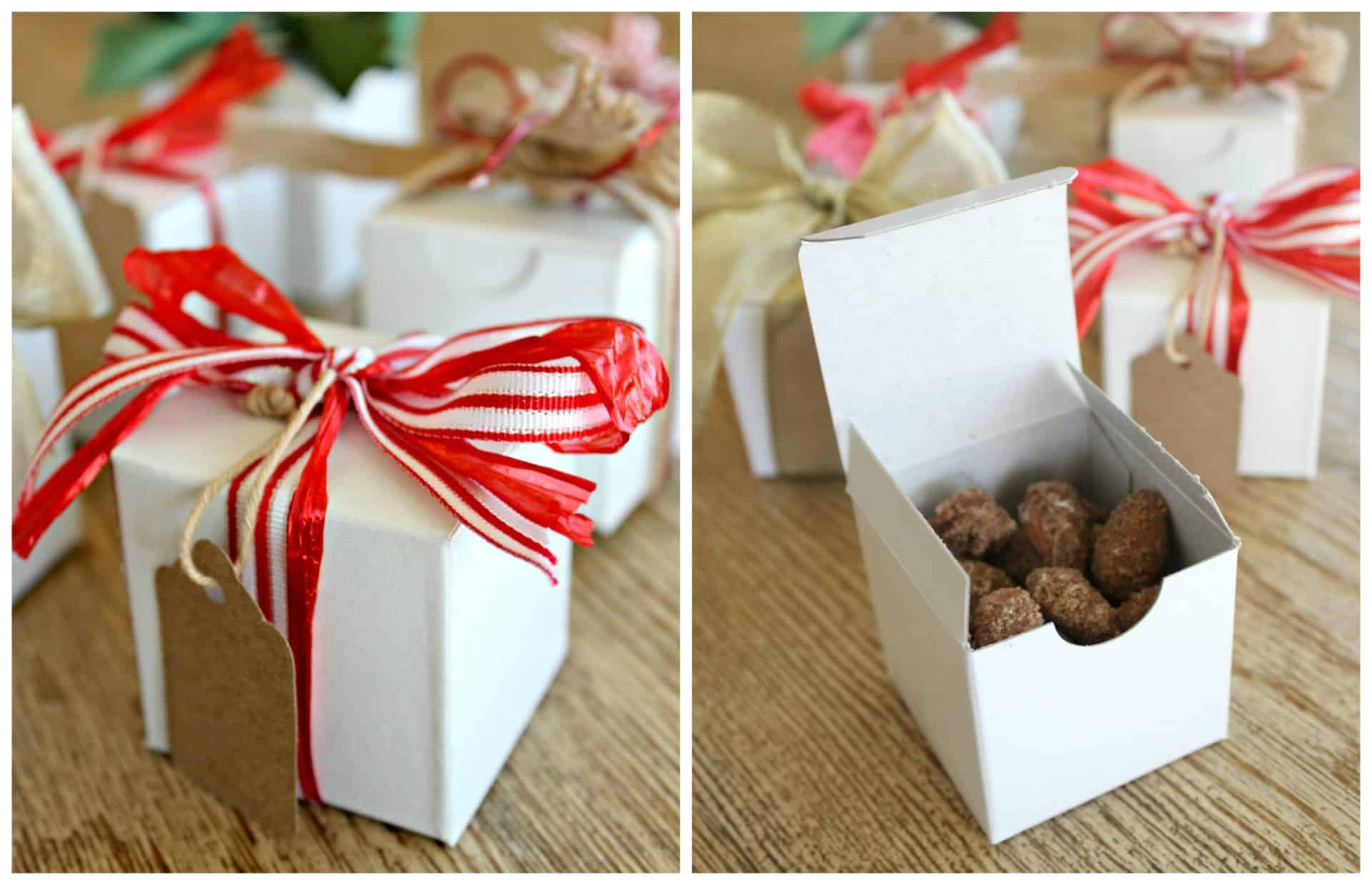 These little boxes are my new favorite. I packaged 34 for all the people I work with in my primary church calling.  It might have just been a little gift but it sure looked darling! I filled them with Cookies and Cream Pretzels, and Slow Cooker Cinnamon Almonds.


White Cube Box ($.59 a box)
The Container Store has SO many different kids of Ribbon. You can find them all HERE.

Sometimes I get tired of making treats, so I fill my gifts with things that I bought. These glass jars already have a chalkboard label built right in, making it easy to create a picture-perfect presentation. Just fill and add a bit of ribbon and a fun tag!
Bag of Raffia ($7.19 – it will last you FOREVER!)
Red Raffia Ribbon ($4.79 for 100 yards)
If you have never been to The Container Store you NEED to see the inside! It is like a toy store for any woman (and even some men!) ha ha! Have fun prepping for Christmas!
Sincerely, Kristen