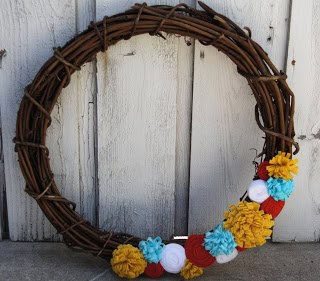 I have been seeing some darling wreaths for summer and decided that I would try one for myself. I picked up my wreath at a thrift store for $1 and I already had the felt and fabric on hand, so this seriously cost me only a buck. You can't beat that!
 The flowers were super easy to make- I finished this wreath in just over an hour.
Here are the tutorials that I used to make my flowers:
Blue fabric flowers: I used the same tutorial as the yellow flowers, but I just made it twice as wide and folded it over to give it more of a "looped" petal. I hope that makes sense! The fabric that I used was pretty thin and flimsy and it worked awesome for this type of flower.
After making all the flowers, I just glued them on with my hot glue gun (how I love that gun).
One thing that I love about this wreath is how sturdy it is! We have had some crazy storms for the past couple weeks and this wreath has withstood all of them!
This is going to stay on my door until I finish my 4th of July door hanging! 🙂 Coming soon!
Linking up to these parties . . .