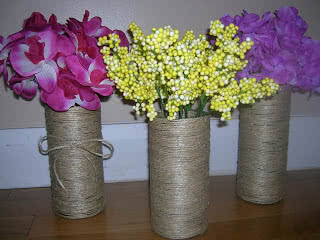 I have been loving everything made with twine out there in the blog world, so I decided to try something myself!
 I went to my local thrift store and purchased 3 glass vases for $1 each and I already had a huge ball of twine (but if you don't have any, I saw it for $5 at Wal-Mart).
 I started at the bottom and using my hot glue gun, I made a small dot as close to the bottom as I could. I stuck the end of the twine on my glue dot and then started wrapping it around.
 I probably made about 5 glue dots all around the bottom wrap, just because I wanted that one to stay put. Once I made it back to where I started, I made another glue dot and then continued wrapping . . .
 At this point, I only used a glue dot after wrapping it around at least once or twice. I wrapped it as tight as I could and tried to push the twine down as I went so that I wouldn't have any gaps or holes . . .
 Just keep wrapping . . . just keep wrapping . . . (and gluing when needed!)
 Almost done!
 I did it! Once you get to the top, determine where you want to stop and cut the twine off. Glue it at the top . . .
 Like so . . .
 Ta-da! I made all three in less than one hour.
I added a simple twine bow on one of them and ended up liking it. If you wanted to add color, it might be cute to add a cute ribbon or fabric bow!