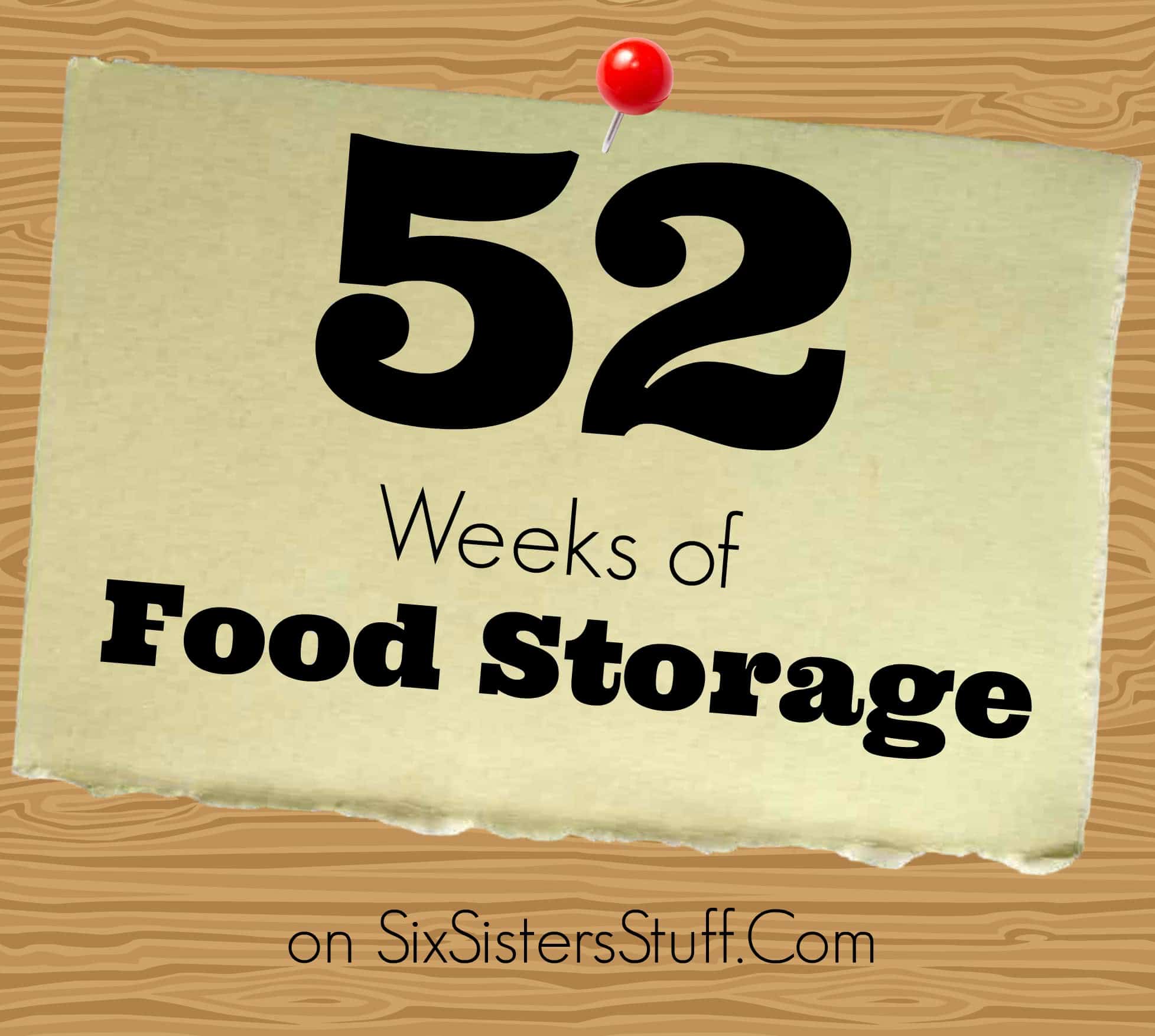 I remember every year, we would go with our dad to a huge case-lot sale. We would stock up on all of our food storage for an entire year. My dad created this big, rolling shelf system in one of our basement storage rooms, and we would rotate through all of the food the whole year. It was a LOT of work, and a big expense to buy all at once. Now as we have tried to establish food storage in our own homes, we realize how hard it is for us to shop for food storage all at once. So, we?ve created a list of food storage to collect for 52 weeks. We recommend adding them slowly to your shopping list each week, buying one or two items. Start small, and before you know it, you will be well on your way to a solid supply of food.  With all the natural disasters we have seen over the past few years, it can never hurt to be prepared, and a small supply is better than no supply at all!
52 Weeks of Food Storage from Six Sisters? Stuff
Week 1: Water ? two gallons per person in your family. You can fill up your own sanitized containers, or buy them.
Week 2: One case of tomato soup
Week 3: Plastic plates, bowls, and utensils
Week 4: Salt ? one pound per person in your family
Week 5: Oats – two  pounds per person in your family, and fill up or buy 2 more gallons of water per person
Week 6: Peanut Butter ? one pound per person in your family
Week 7: Sugar – two pounds  per person in your family
Week 8: One case of evaporated milk
Week 9: Three pounds of pasta (any kind)
Week 10: Four  jars of jam or jelly, and fill up or buy 2 more gallons of water per person
Week 11: Flour ? five pounds per person in your family
Week 12: Two large bottles of vinegar
Week 13: Two large bottles of vegetable oil
Week 14: One  case of applesauce
Week 15: Three pounds of pasta, and fill up or buy 2 more gallons of water per person
Week 16: Honey ? one and a half pounds per person in your family, and fill up or buy 2 or more gallons of water per person
Week 17: One case of canned olives
Week 18: One case of chicken noodle soup, and fill up or buy 2 or more gallons of water per person
Week 19: Four  jars of Mayonnaise
Week 20: Five pounds of rice, and fill up or buy 2 more gallons of water per person
Week 21: Sugar ? two pounds per person in your family,
Week 22: Four boxes of baking soda, and eight cans of tuna
Week 23: Peanut Butter  – one pound per person
Week 24: Oats ? three pounds per person
Week 25: One case of canned tomatoes, and fill up or buy 2 more gallons of water per person
Week 26: Salt ? one pound per person in your family
Week 27: Two  loaves of bread (to store in your freezer)
Week 28: Four cans of baking powder
Week 29: One large package (or can) of dried fruit
Week 30: Three pounds of dried beans (any kind), and fill up or buy 2 more gallons of water per person
Week 31: Two bottles of ketchup and two bottles of mustard
Week 32: Four pounds of powdered sugar
Week 33: Oats ? three pounds per person in your family
Week 34: One case of canned pineapple
Week 35: One case of canned corn and fill up or buy 2 more gallons of water per person
Week 36: Sugar – two pounds per person in your family
Week 37: Three pounds of Brown Sugar
Week 38: One case of cream of chicken soup
Week 39: Six boxes of Macaroni and Cheese
Week 40: One case of canned mandarin oranges
Week 41: Honey ? one and a half pounds per person in your family, and fill up or buy 2 more gallons of water per person
Week 42: Five pounds of rice
Week 43: Three pounds of pasta
Week 44: Salt ? one pound per person in your family
Week 45: One case of canned  black beans
Week 46: One case of cream of mushroom soup, and fill up or buy 2 more gallons of water per person
Week 47: Flour ? five pounds per person in your family
Week 48: Five cans of pasta sauce
Week 49: One gallon of bleach
Week 50: Two pounds of your favorite powdered drink mix
Week 51: One case of canned green beans, and fill up or buy 2 more gallons of water per person
Week 52: One case of canned chili