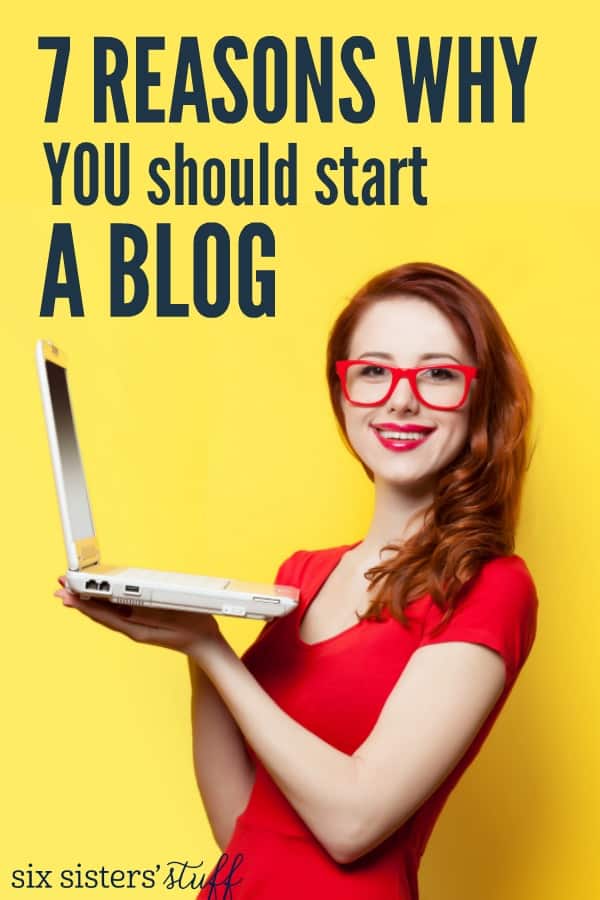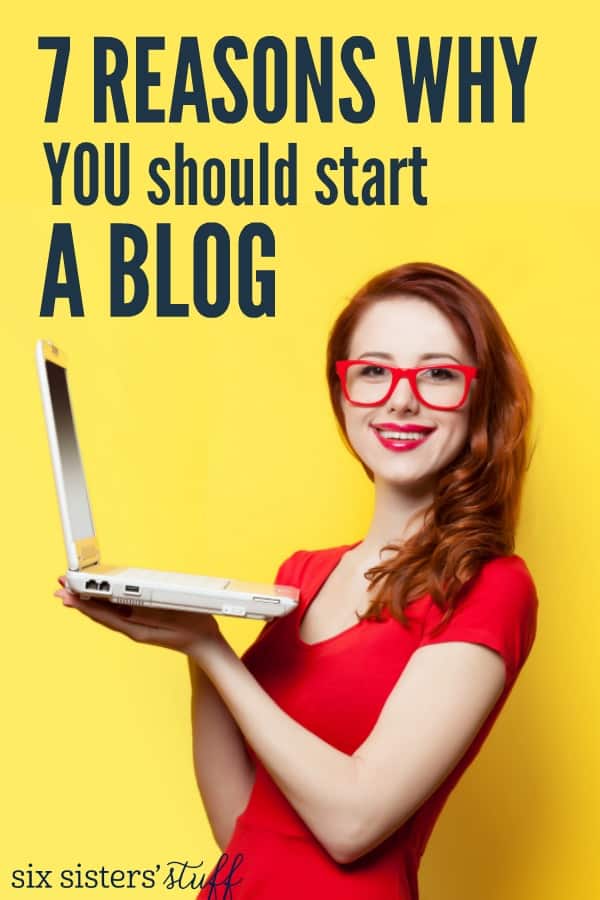 As we talked about in our blog post yesterday (if you didn't read it, you can see it HERE), blogging has changed our lives so much . . . for the better! And so for today's blogging post, we wanted to talk about 7 reasons why YOU should start a blog.
Also, as we talk about these reasons, keep in mind that when you are ready to start blogging, we have made FREE step-by-step instructions to walk you through the process of setting up your own blog and having it ready to go in a matter of minutes! Check it out HERE.
Here are the 7 main reasons why we think YOU should start a blog today:
1. YOU have a story to share and someone out there needs to hear it.
I shared on Instagram how in January 2011, I lost a baby girl. As I went through the grieving process, I was up late one night surfing the Internet and stumbled across a woman's blog who had gone through the same thing I had. I didn't know this woman, but I felt such a connection with her because our stories of loss were so similar. A couple of weeks later, we started our blog and it was such a big part of my healing. It gave me purpose, it gave me an outlet, and it connected me to a whole new world outside of my little world. I am so grateful for that woman who shared her story and made me feel like I wasn't alone.
There are so many bloggers who have shared their story and helped to inspire so many people because of it. Here are some examples to look at:
One Good Thing By Jillee: How we love this woman! Jillee was battling alcohol addiction and as part of her recovery and therapy, they told her that she needed to find her passion. Her blog became her passion where everyday she would just share "One Good Thing" . . . and years later, she is still sharing all her good things, along with two books that she has written. She has inspired and helped so many who are also dealing with their own struggles.
Babes in Hairland: Becky is a darling mom to three beautiful girls. In 2008, she started sharing all the different ways that she styled her girls' hair and her blog was born! She is not a beautician, but she has just always done the best hairstyles and so many people wanted to know how they could do that same hairstyle themselves. She has hundreds and hundreds of posts about how to do cute hair and they are amazing!
Livy Love: Our cute friend Diana Smith is such an inspiration! She started her blog as a way to sell her graphic designs, but ended up using it as a way to share her 100 pound weight loss journey. If you ever want to feel inspired, be sure to check her out!!
The Sullengers: Ashley's blog is such a message of hope! What started as a family blog turned into a place of hope and comfort after her 18-month old daughter passed away. She now uses the blog to share others' stories of grief and heartache and how they find hope in their sorrow. She is just absolutely amazing.
You could also write a blog about:
–how to decorate your home
-your favorite books
-gluten-free recipes
–fun craft ideas
-ideas for grandparents
-ways to live on a budget
-your religion
–things to do in your city or state
–your best make-up tips
-recipes kids will actually eat
-photography
-the races that you run
The possibilities are endless!!! Some of these blogs just started as a place for them to record their own thoughts and feelings, but turned into a place where people came for inspiration and ideas.
2. Blogging helps you stay in touch with old friends/family and introduces you to new ones.
Before we started Six Sisters' Stuff, we each had our own family blogs – they were basically a scrapbook for the grandparents to see what was going on. It gave our family members who lived far away a glimpse into what we were doing with our lives at the moment and whatever you choose to blog about, it will be the same way for you. Your friends and family will want to see what you are up to and what you are sharing.
Also, blogging opens up all kinds of new ways to meet people, both in person and online. Whether it's through a post on Facebook, a tweet on Twitter, an email, or a comment on your blog, the blogging community is one of the most social ones out there! I feel like I have genuine friends all over the world who are also bloggers and we can relate to each other in a way that no one else understands. If you don't feel like you have a friend in the world, become a blogger and that will change instantly! 😉
3. Blogging gives you an outlet.
A blog can be a place to share your problems and can actually be a great source of therapy. Everyone is going through something – if you choose to write about your struggles, you might get some people who are going through the same things you are who can offer advice, support, and encouragement. Also, sometimes just writing down all the things that are going on in your head can be helpful and aid you as you sort through your problems.
Everyone has an opinion, but sometimes it can be hard to share it. If you have ever struggled with having an authentic voice, a blog can be a great place to share those opinions.
4. Blogging opens the door to SO many possibilities!
When you start blogging about a specific thing, you are seen as an expert in that area. Although we have had no professional training when it comes to cooking, we get asked all the time to come and speak about cooking and do cooking demos in front of large audiences and come cook for TV segments . . . it's crazy! And it's all because we have a blog.
We know bloggers who have landed book deals, writing gigs, consulting deals, speaking engagements, travel opportunities, sponsorship opportunities, and so much more . . . just because they started a blog.
5. Blogging builds your online presence and brand.
If you own a company or are looking to sell a product online, you need to have a blog. Blogging helps with your SEO, it gives your brand a voice, it gives you a landing page to send your customers to, it creates free PR, it creates a relationship between you and your customer, it let's you tell your brand's story, and it will give you insight into your audience. All of these things will help you with a tailored sales approach, which will turn into more money. Whether you sell insurance or nursing covers, it doesn't matter – a blog will make all the difference.
Even if you are a local brick and mortar store, you need to have some type of online website or blog. Before you go to a restaurant, what do you check? The reviews online. Before you purchase a couch, what do you look at? You compare prices and read reviews of the various stores online before heading to the furniture store. If you need a new dentist, how do you find one? You google dentists in your local area. An online study showed that 78% of consumers consider it important to look up information about businesses online before deciding to interact with them. Here's the bottom line: blogs help to influence customers? buying decisions and if your business isn't blogging, your competition will and it will make all the difference for them.
6. Blogging sharpens your skills on your resume.
If you are going to apply for a job and you mention that you have a blog and understand how to use it, you suddenly become so much more marketable to the people interviewing you! Blogging can definitely make you stand out from the crowd. Blogging helps with your writing skills, your reading skills, your typing skills, your knowledge of social media, your creativity, and it helps you learn a lot about yourself.
7. Blogging can be a source of income.
As I talked about in the post yesterday, we didn't start out thinking that this blog would make us money, but as we researched blogging and learned more about it, we decided that we wanted to turn it into a business. In order for a blog to become a source of income, you have to understand that it doesn't happen overnight and that it takes a lot of blood, sweat, tears, and even a couple of months without making money at all. We recommend that before you start focusing on the money, think about how you will grow your blog first.
So, are you thinking that you have something to share?
If so, we hope that you will start your own blog and join us in this blogging community.
We just know how much blogging has changed our lives and hope to inspire others to start a blog so that it can change your life as well.
As always, please let us know if you have any questions – we are happy to help you!
[email protected]
Happy Blogging!