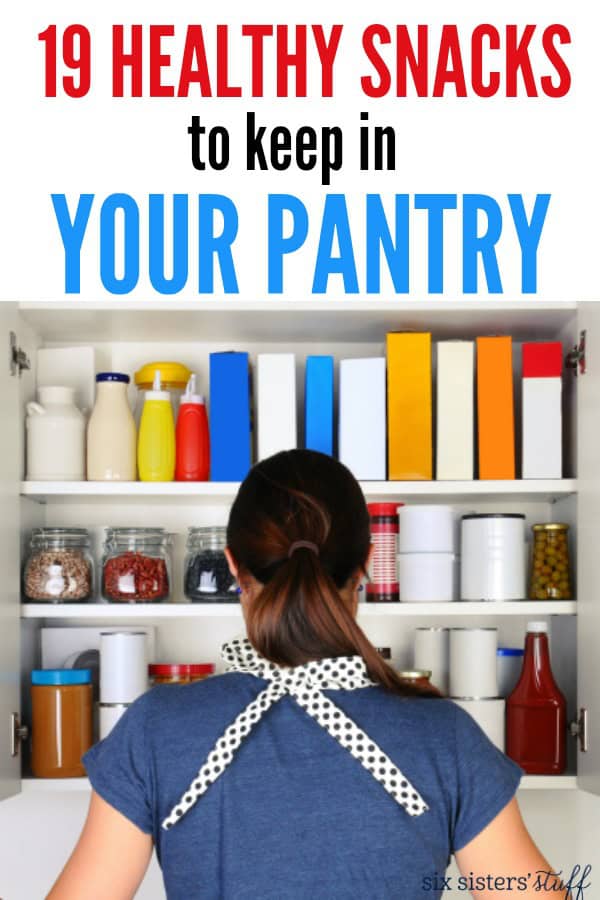 As I started another round of our 8 Week Challenge, I decided to get rid of all the junk food in my house and stock our pantry with healthy snacks that we could just grab-and-go. I have found that if I remove temptation (aka the junk food) and replace it with healthy foods that are ready to go, it is so much easier to eat healthy!
As part of our 30 Days of Healthy Eating Menu Plan, I included my HUGE master list of healthy snacks that I keep on hand. If you are wanting to eat healthier, be sure to check out this plan . . . it includes breakfast, lunch, dinner, and snacks for 30 days (over 30 delicious family-friendly recipes).
Use code "
healthy

" at checkout to get

50% off

, which makes it only $4.99!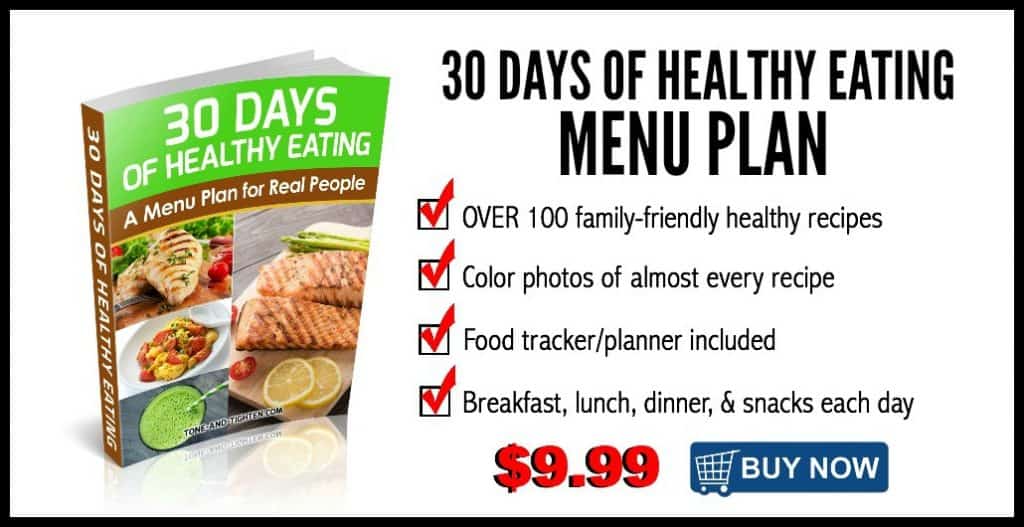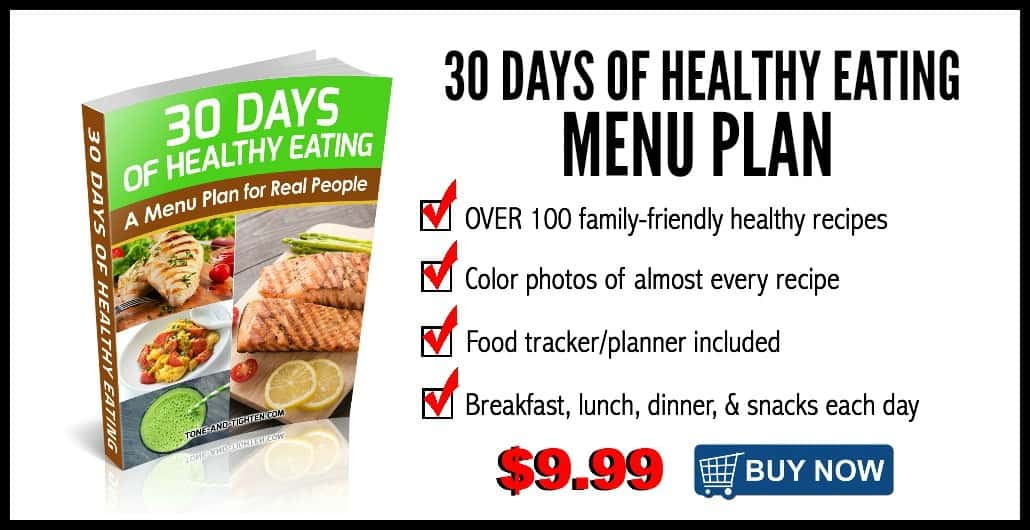 So, without further adieu, here are the healthy snacks that I keep stocked in my pantry!
1. Almonds
(164 calories in 1 ounce, about 24 almonds)
My favorite are these 100 Calorie Snack Packs!
2. Cashews
(170 calories in 1/4 cup)
These also come in a grab-and-go snack pack!
3. Dates
(23 calories in 1 date)
Our dietitian taught us to eat a date with a handful of almonds for a delicious sweet/salty snack. I love these pitted dates!
Related Article: Make your own fruit snacks at home! Our Easy Jello Fruit Snacks are a great snack to keep around!  
4. Trail Mix
(150 calories in 1/4 cup)
Now, I have to be careful with trail mix because I could seriously eat it by the handful. I usually measure out a 1/4 cup to keep my portions under control. You can get trail mix in snack packs, which makes portion control easy.
5. Turkey Jerky
(120 calories in 2 oz)
This is one of my favorite snacks for road trips! This is one of my favorite brands of turkey jerky.
6. Kind Bars
(108 calories in 1 bar; 24 g)
I ALWAYS keep one of these in my purse and in the car for those times when you are out and about and hunger strikes! They will fill you up and keep you going, without all the artificial additives other bars use. They are also delicious!
7. Walnuts
(210 calories in 1/4 cup)
Walnuts are awesome because they are high in omega-3 fatty acids, which are so good for you! These walnut snack packs are my favorite.
8. Dried Fruit (no sugar added)
(110 calories in 1/3 cup)
Dried fruit is hard because usually they are coated in sugar! Here are some of my favorite types of dried fruit:
*Bare Apple Chips
*All Natural Fruit Crisps
*Organic Dried Mangoes
9. Pecans
(100 calories in 10 pieces)
Pecans are awesome because they are high in HEALTHY unsaturated fat, which will help lower your "bad" cholesterol. These lightly salted ones are delicious!
10. Pumpkin Seeds
(56 calories in 1 tbsp.)
Who knew that pumpkin seeds were loaded with nutrients?! And you can even purchase them unshelled, which makes life so much easier. 🙂
11. Unsweetened Applesauce
(105 calories in 1 cup)
My kids LOVE applesauce – it's one of their favorite snacks – so we ALWAYS keep it on hand! Also, for a fun treat, try sticking a cup of applesauce in the freezer and enjoy it frozen!
12. Skinny Pop Popcorn
(100 calories in 1 bag)
I love this popcorn! I usually buy the snack-sized bags and then my kids love them as an after school treat.
13. Whole-Grain Crackers
(about 140 calories for 1 serving)
I usually keep Triscuit crackers on hand, just because they only have 3-4 ingredients and I know all of them. I love eating Triscuits with hummus, cheese, or even cottage cheese. Be sure that whatever cracker you use that it doesn't contain hydrogenated oils.
14. Pistachios
(163 calories in 47 nuts)
Pistachios are probably my favorite nuts – I just think that they have the best flavor! Also, did you know that you can purchase pistachios that have already been shelled?! I just made your life so much easier!
15. Organic Fruit Leather
(45-50 calories per strip)
If you can't make your own fruit leather, this is the next best thing. My kids LOVE them!
Peanuts ? (166 calories in 1 ounce, 28 g)
16. Lara Bars
(200 calories in 1 bar; 48 g – they also have 100 calorie bars)
These have been one of my favorite snacks for a couple of years now and they are literally made with only 3-4 ingredients. The mini bars are so cute and make the perfect little snack!
17. Natural Peanut Butter (or almond butter or cashew butter)
(1oo calories in 1 tablespoon)
While peanut butter is high in fat, it also can be a great source of protein. Make sure you purchase peanut butter that has only one ingredient: PEANUTS! I love to dip celery, apples, and bananas in my peanut butter for a great afternoon snack.
18. Unsweetened Raisins
(42 calories in 1 mini box; 1/2 oz)
I always try to keep some of these mini raisin boxes on hand, especially as a quick snack for my kids.
19. Multigrain Chips
(140 calories in 10 chips)
If you are craving chips, at least try to eat chips that are not loaded with ingredients you can't pronounce or hydrogenated oils. These chips are one of my favorites to dip in salsa!
So throw out the junk and replace it with some of these delicious healthy snacks and get your body started on it's healthy journey! And be sure to check out our 30 Day Healthy Menu Plan for more healthy dinner ideas (plus breakfast, lunch, and snacks!).
*There are affiliate links in this post, meaning at no additional cost to you, when you click on a link a make a purchase, we make a small commission. Thank you for supporting our blog in this way!