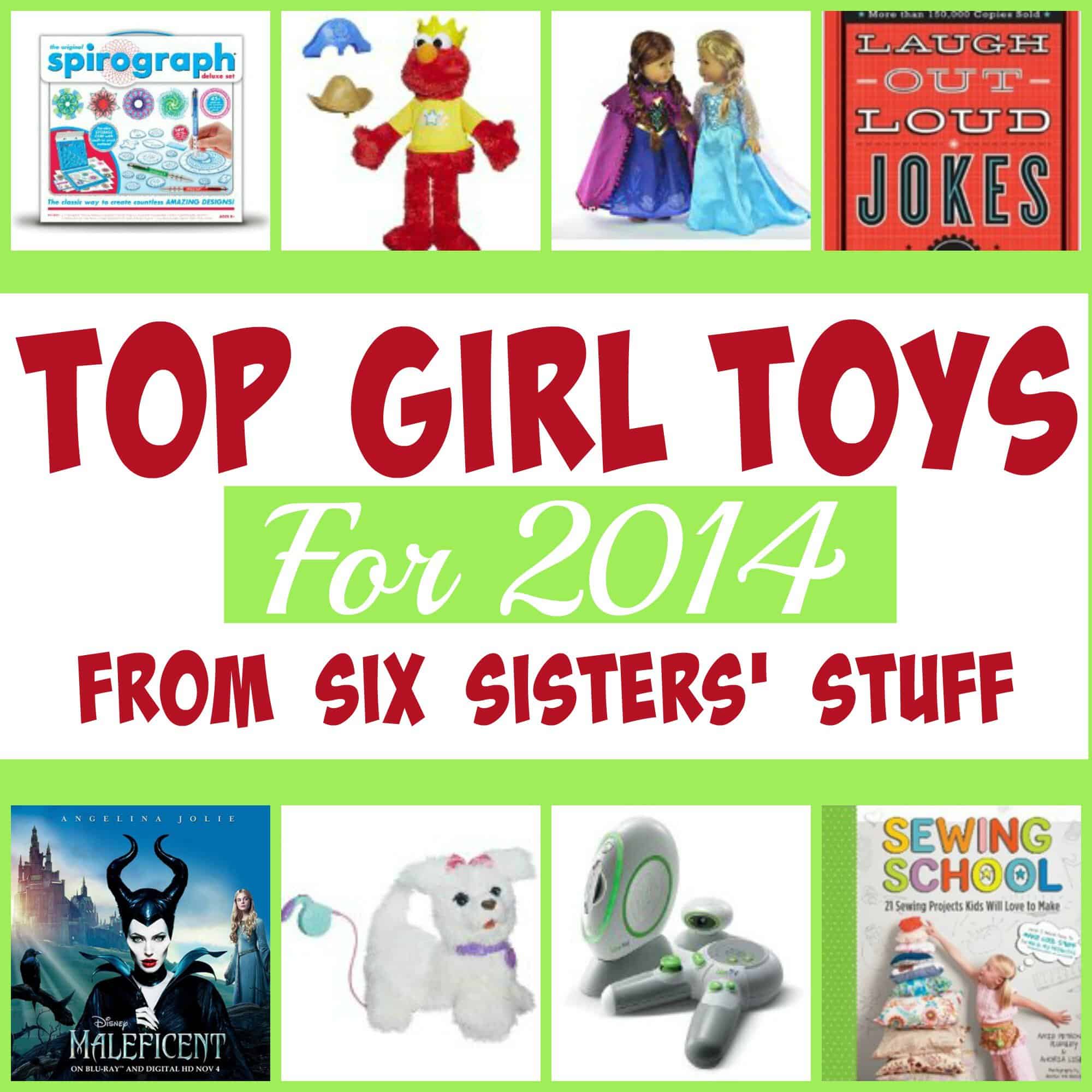 Can you believe it is November?!?! I still can't believe it! After today there are only 7 more Saturdays before Christmas. I'm not trying to scare you… I'm just getting you excited! Ha Ha!
These are "girl" gifts, but some could be for boys and girls.
Be sure to check out our "Boy" list coming soon!

Playskool Sesame Street Let's Imagine Elmo (2 to 4 years)

Disney Frozen Elsa Sparkle Doll (ages 3 to 10)
Disney Frozen Anna Doll (ages 3 to 10)


FurReal Friends Get Up & GoGo My Walkin' Pup Pet (ages 4 and up)
My First Disney Princess Frozen Snow Glow Elsa Singing Doll (ages 3 to 6)

Doc McStuffins Mobile Cart (ages 3 to 7)

Razor Lil' Kick Scooter (ages 2 to 4)
Crystal Growing Kit (ages 10 – 15)

Leap Pad 3 (Ages 3 to 9)

Pretend Doctor Kit (Ages 3 to 6)
Frozen Spot It (Ages 3 and up)

Kid Sewing Book (Ages 8 and up)

LaLaLoopsy Furry Grrrrs  a Lot (Ages 4 to 10)
Nerf Rebelle Agent Bow Blaster (Ages 8 and up)
Disney Princess Palace Pets Magic Dance Pumpkin, Cinderella's Puppy (Ages 4 to 10)


Cute Pink Sleeping Bag (ages 2 +)
Laugh and Learn Chair (Ages 1 to 3)
The Original Swing Car for Kids and Powered by Kids (Ages 3 to 5)

Lego Friends House (Ages 6 to 12)
Disney Frozen Karaoke (ages 7+)
Barbie Feed & Cuddle Tawny Horse and Doll  (Ages 3 to 12)

Baby Alive My Baby All Gone Doll (Ages 3 and up)

Barbie/Doll House from Kid Kraft (Ages 3 to 12)
Spiralgraph Deluxe Set (Ages 8 – 15) – My 7 year old did it just fine!
Tinkertoy Pink Building Set (ages 3+)
LEGO Bricks & More (ages 4 – 99) 
Little Tikes Princess Cozy Coupe Ride-On (ages 18 months – 5)
LeapFrog LeapTV Educational Active Video Game System (ages 3 to 10)

Elsa and Anna Doll Dresses (Will fit 18 inch dolls) (ages 3+)

Laugh out loud Joke Book (ages 6 to 12)
Maleficent the Movie (6 and up)