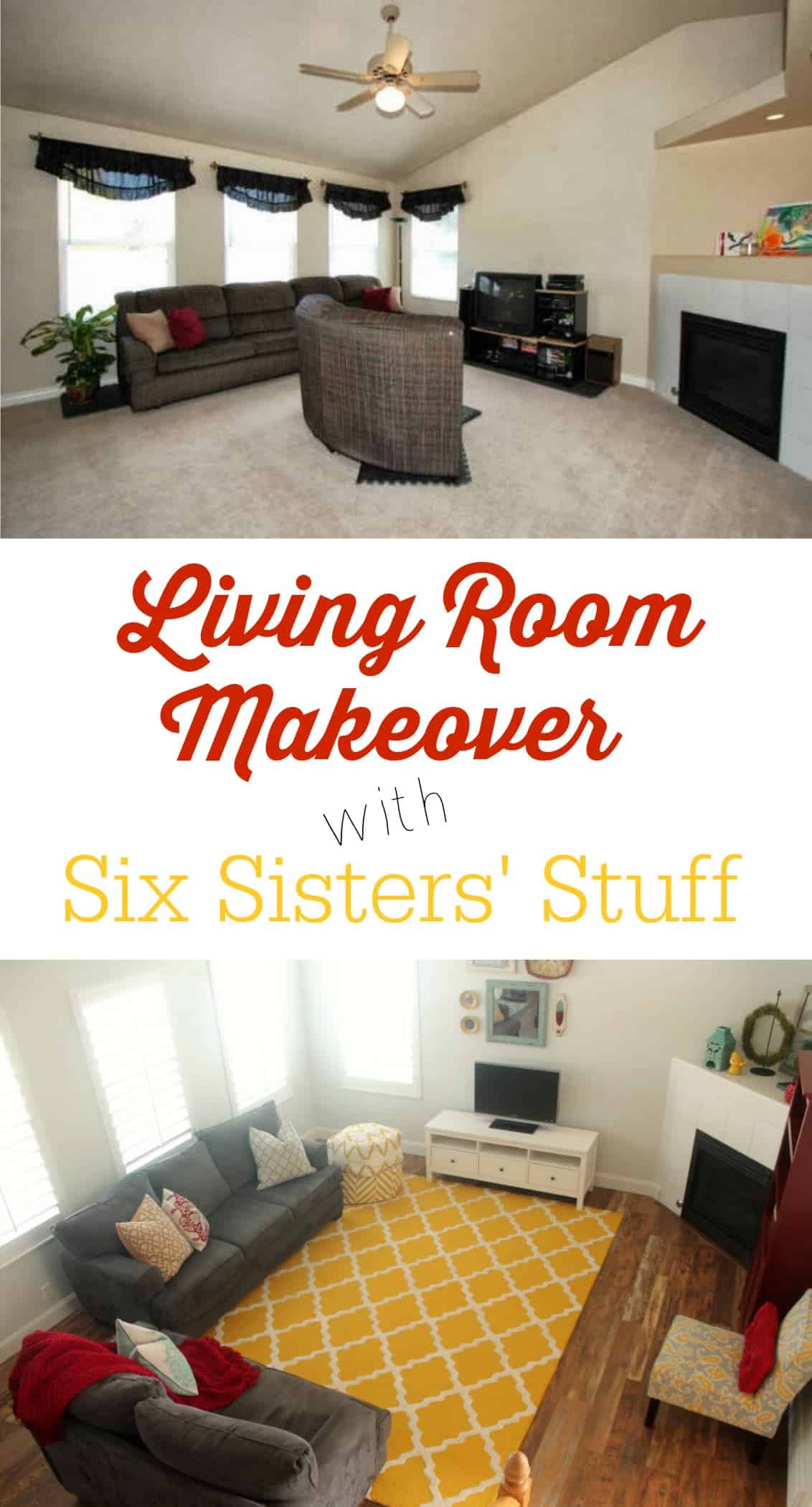 We are so excited to show you the progress we have made on our living room!
When we moved into our house, the living room needed a lot of updating…
This is the picture from the listing for our house.  The paint, carpet and just about everything else was about 20 years old.  That random piece of sectional in the middle of the room doesn't help either! Haha!  My husband and I knew by making just a few simple changes, we could totally transform this room!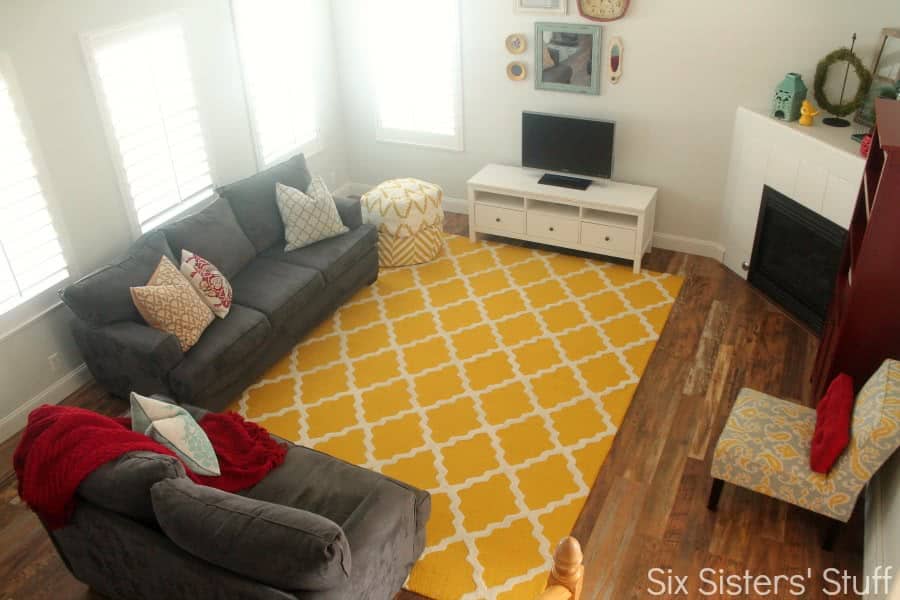 I use to cringe every time I went into that room, now I absolutely love it!
We started by tearing out all of the carpet and painting the walls.  Those two things made such a huge difference in the room!  We used  Sherwin-Williams Emerald Interior Acrylic Latex Paint in Frosty White for the walls and Pure White for the ceiling and trim.  I love how much the paint lightened up the room!  Frosty White was the perfect light gray shade we were looking for.  I also love the coverage that Sherwin-Williams offers because we didn't have to use primer and it covered our walls flawlessly!

I was a little hesitant to not have carpet in our living room, but because our living room, dining room and kitchen are all connected and open, I knew I wanted one type of floor throughout the whole main level of our home.  I love real wood floor, but with a house full of kids and not a lot of time to maintain it, I knew that laminate was the way to go!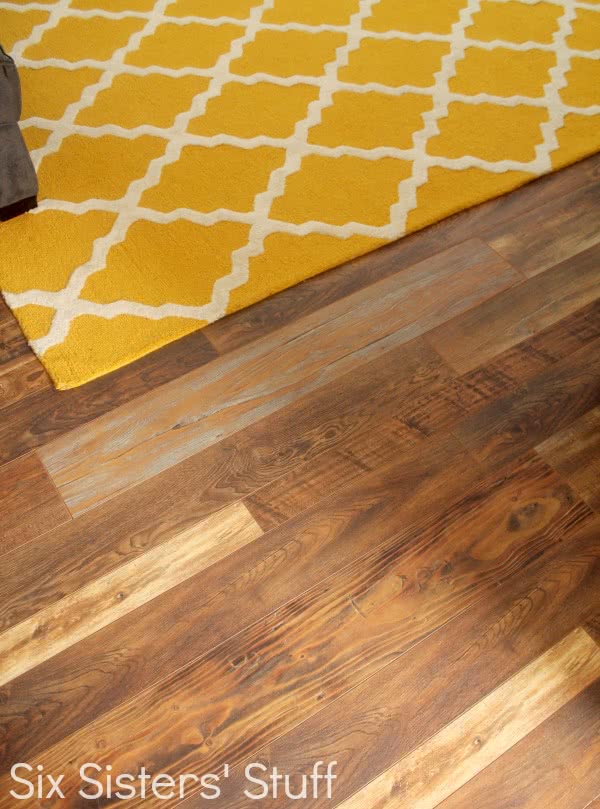 We installed Armstrong Architectural Laminate after we tore up the carpet.  It was so easy to do that we did it all on our own in a day or two!  Everyone who comes to our house asks about our flooring and can't believe it isn't real wood.  We also installed this flooring in our dining room and kitchen, which you can read about HERE!  We even have a step-by-step video of how we installed it!
I think my favorite part of the entire living room is the big, yellow rug!

As soon as our flooring was in, I couldn't wait to roll out this gorgeous rug!  The rug is from RugsUSA and you can find it HERE.  I love the color and warmth it adds to the room!  The rug is made of 100% wool and is so durable and easy to clean.  RugsUSA is my favorite place to find rugs for our home.  They have a HUGE selection to fit any budget and style!  They also have really awesome sales with prices you can't beat!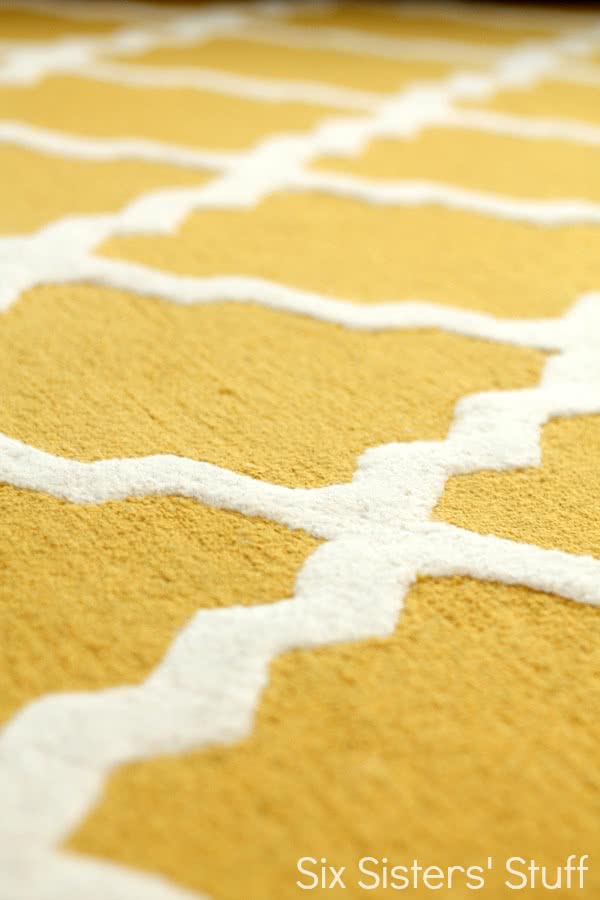 This is the Homespun Moroccan Trellis Rug in Gold, but they have it in a variety of colors that are all gorgeous!
We have had the gray couches for a few years now, but I wanted to add some pillows to tie in some other colors.

I found these pillows from a local furniture store, but they are from the Villa Home Collection.  I love the texture and durability of their pillows!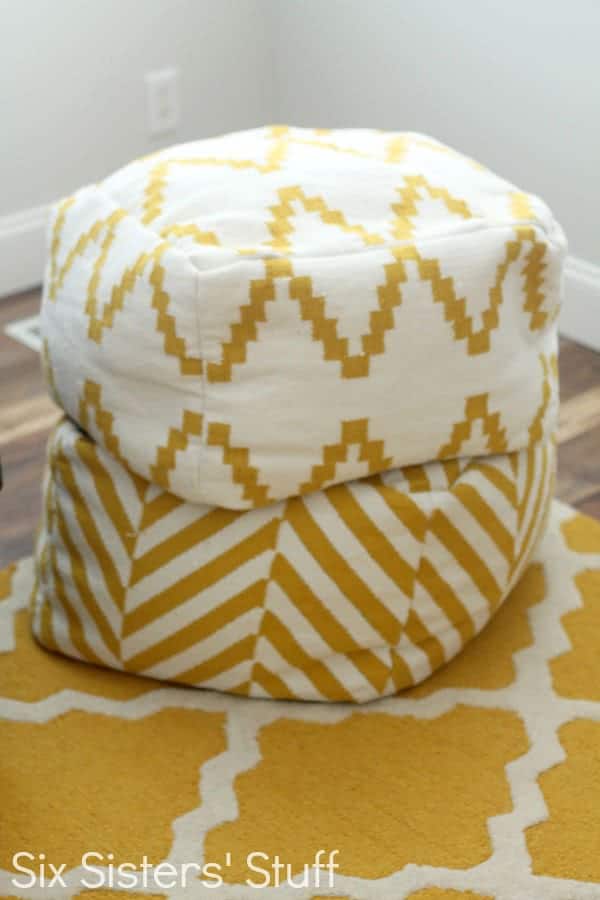 I found these yellow poufs from Target a few months ago.  My kids love to sit/play on them and they are great as ottomans as well!  You can find them HERE.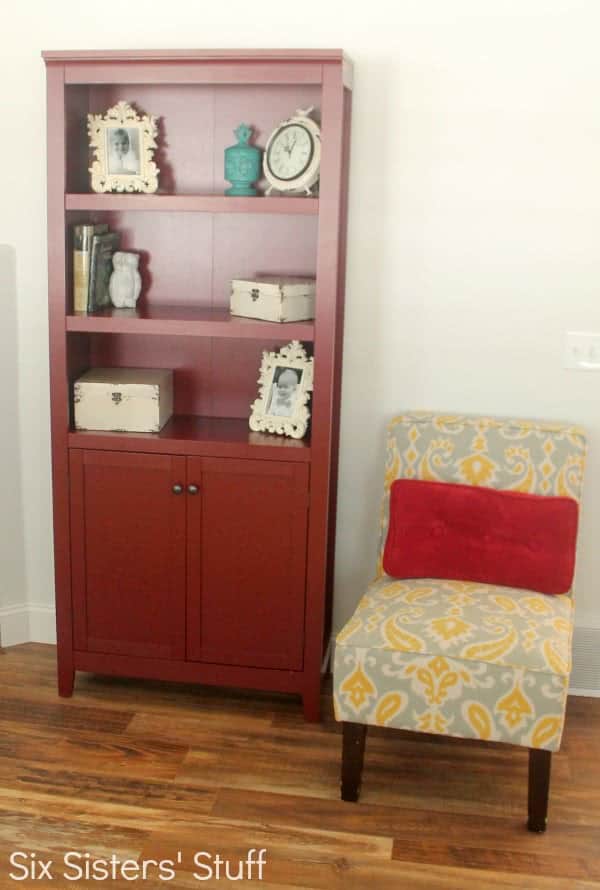 We have a playroom in the basement, but my kids love having toys upstairs.  I found this red bookshelf at Target, which is the perfect place to stash toys in the living room! 😉
The chair is also from Target and the red pillow is from Walmart.

The one thing that still needs a little updating is our fireplace.  I'm hoping to convince my husband to refinish it in the next few months! 😉
You can read about all the decor HERE.
The entertainment center is from Ikea and all of the mirrors and clock are from Hobby Lobby.  We've had the entertainment center for a few years and we love it!  It has plenty of storage for movies and can withstand all the wear and tear my boys throw at it.
We also replaced the window treatments with some plantation shutters from Wasatch Shutter Design.  You can read more about them HERE.
Phew!  I think that about does it!
Check out our Project Index for more inspiration for your home!