This easy side dish pairs up with any entree. They come together in a few minutes and your slow cooker does all the work. They are so tasty.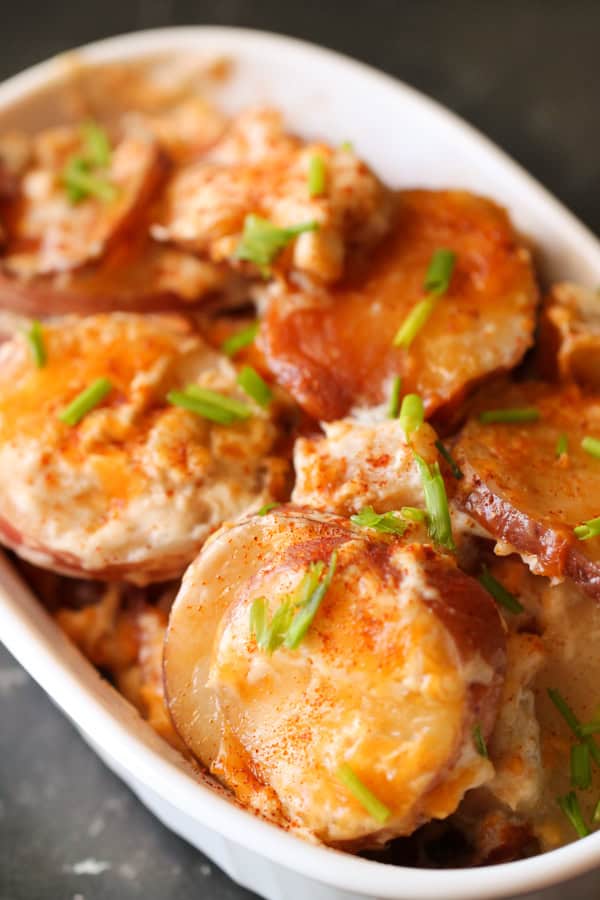 If you are looking for the perfect side dish for any dinner or holiday, then look no further than this Slow Cooker Scalloped Potatoes recipe.
These potatoes can cook while you prepare the rest of your dinner.
They only take a few minutes to assemble and taste amazing.
It's perfect for a big dinner because it will give you so much more oven space since it's all done in the slow cooker.
It's one of our favorite side dishes for Sunday dinners and holidays.
Be sure and try our Twice Baked Potato Casserole too.
Can you use other types of potatoes?
We use red potatoes in our recipe Slow Cooker Scalloped Potatoes, but you could use other potatoes. Here are a few options –
Russet Potatoes – They are also known as Idaho potatoes. Great for baking, mashing, and casseroles.
Golden Yukon – These potatoes are a version of a white potato. Their golden flesh has a delicious buttery taste.
White Potatoes – These are also known as an all purpose potato. They have a yellow or white flesh.
Fingerling Potatoes – They are small, but still work. You can even leave the skins on.
If you are looking for a recipe that uses frozen hashbrown potatoes, be sure to check out our Mom's AMAZING Slow Cooker Cheesy Potatoes!
How long do these Slow Cooker Scalloped Potatoes need to cook?
After you get these slow cooker scalloped potatoes in the slow cooker, then the slow cooker will do the rest of the work for you.
They cook on high for about 3-5 hours or on low for 7-8 hours.
If your potatoes get done before the rest of your meal is ready, no problem. Just turn your slow cooker to the "warm" setting and you'll be fine for another hour.
You can serve these potatoes right out of the slow cooker, or transfer them to a serving dish. And if you are lucky enough to have leftovers, they store great in an airtight container in the fridge.