Slow Cooker Ritz Chicken is a family-dinner must. If you are in a time crunch or on a budget, this recipe is for you. It takes less than 5 minutes to throw together and everyone will think you spent hours working on this delicious chicken recipe.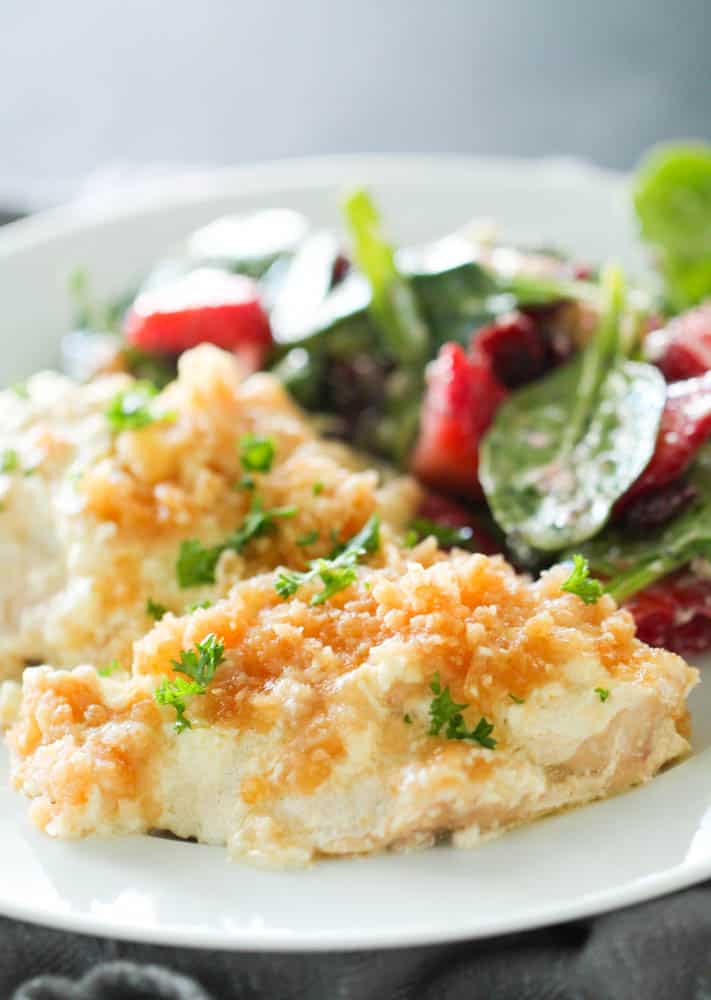 This Slow Cooker Ritz Cracker Chicken is the most popular recipe on our blog. Plus, it is a family favorite our mom made for us growing up. As a result, it quickly became a family favorite for all our followers.
We think it's a favorite, because it is so easy to make and is perfect for busy nights, but is still delicious enough to serve when you are entertaining.
Whether you are entertaining a large group or a small group, this Slow Cooker Ritz Chicken recipe can be adjusted as needed.
You can serve the recipe and sauce over rice, baked potatoes, egg noodles or just eat it as is. However you choose to eat it, the possibilities are endless and we know you are going to love this one!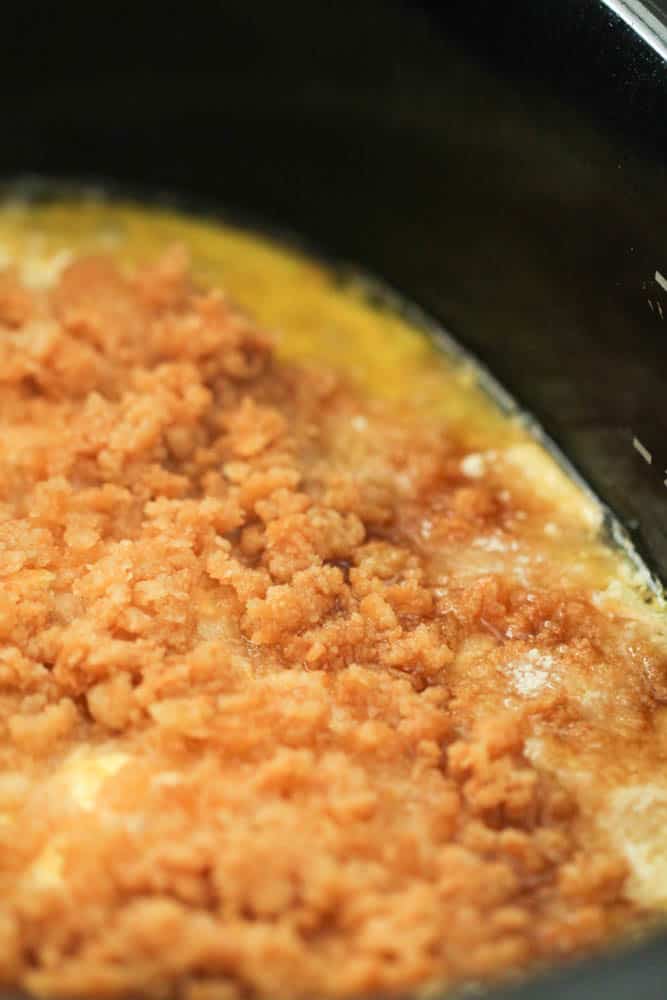 I love a good buttery topping, especially when I can make it in my slow cooker.
This recipe is as easy as placing some uncooked chicken in your slow cooker, spread a simple sauce over top, and sprinkling on a Ritz cracker crumb mixture and letting your slow cooker do the work for you. Does it get any easier than this?
If you love our Slow Cooker Ritz Chicken, be sure to try our easy and delicious White Chicken Enchilada Casserole. It's absolutely a family favorite because, just like this recipe, it is so simple to make.
Want more of our favorite slow cooker recipes? Try our 3 Ingredient Slow Cooker Chicken Tacos, Slow Cooker Chicken Cordon Bleu, Slow Cooker Teriyaki chicken Bowls or our Slow Cooker Chicken Noodle Soup.
MAKE SURE YOU HAVE EVERYTHING IN THE LISTS BELOW TO MAKE THE BEST SLOW COOKER RITZ CHICKEN RECIPE, EVER!
Slow Cooker Ritz Chicken Recipe Ingredients:
Cream of Chicken Soup
Sour Cream
Ritz Crackers
Butter
Boneless Skinless Chicken Breasts
Parsley
Kitchen necessities for our Ritz Chicken recipe:
Slow Cooker (THIS one is great!)
Mixing Bowls (THIS set comes with 3 bowls)
How to Make Ritz Chicken without a slow cooker?
This chicken recipe is totally doable even without a slow cooker, because all you need is an oven and a 9 x 13 inch pan. However, the cooking time will be different. If you cook this in the pan, it won't cook all day like it would in the slow cooker, so prepare accordingly!
To make it in a glass baking dish, you prepare it just as you would with your slow cooker. First, spray your pan with non-stick cooking spray. Second, lay your chicken down first, followed by the sauce, and topped with the buttery crackers. And lastly, that's it! All you have to do now, is bake it!
Once it is ready to bake, place it into a pre-heated oven at 350 degrees. Once the oven has reached the pre-heating temperature, bake for 35 minutes or until the chicken reaches an internal temperature of 160 degrees F.
We also recommend using a 9 x 13 inch pan to make this recipe when you are in a time crunch and need to make something quick. I put all of these ingredients in my slow cooker in just a few minutes and within a few hours, I have dinner ready to go.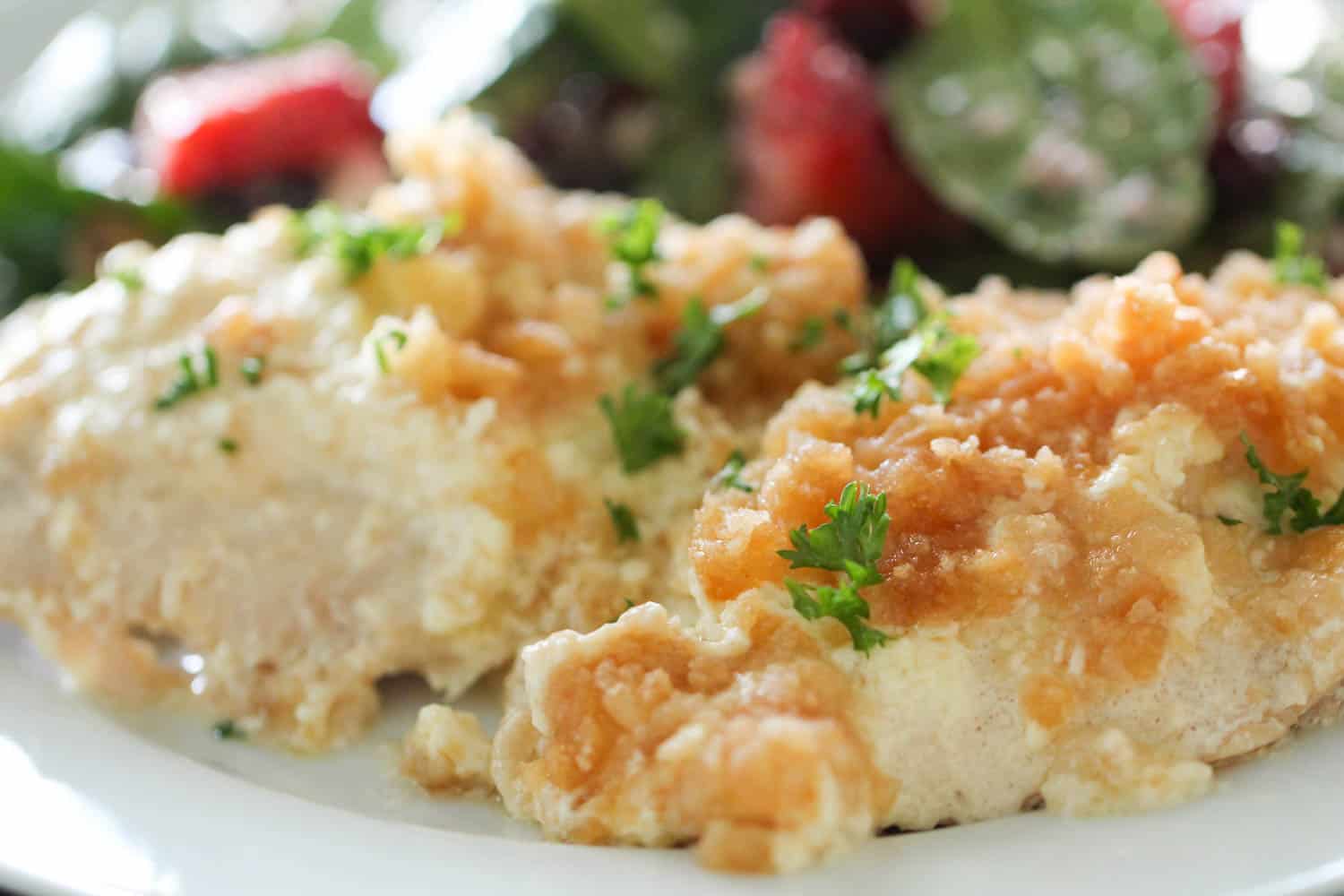 What to serve ritz cracker chicken with?
This Slow Cooker Ritz Chicken is the perfect comfort food because it is filling and hearty. We love to eat our with mashed potatoes to add that extra home-cooked feel.
We love serving this to guests or when family comes over, because it is a dish that everyone loves. You could also serve this over cooked white or brown rice.
We love making Honey Roasted Cooked Carrots with this chicken recipe as well.
I served Ritz chicken with our Spring Salad with Homemade Lemon Poppyseed Dressing and garnished it with some fresh parsley. My family devoured it and I loved how easy it was to get dinner made. Because everything was cooked in the slow cooker, I had time to throw together a yummy side dish!
Related Recipe: Try our Ritz Cracker Chicken Casserole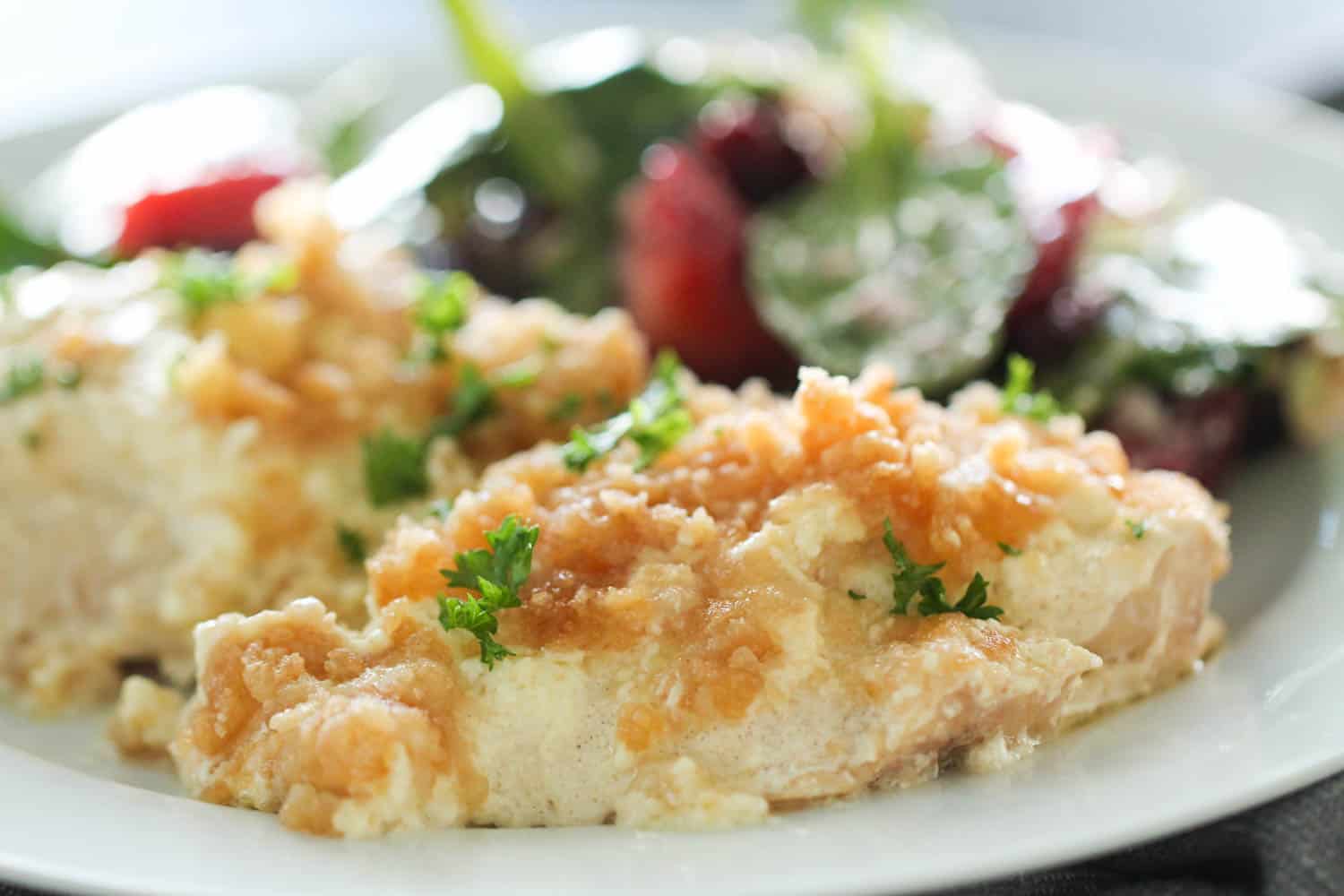 If you love this easy chicken recipe, try our Easy Biscuit Chicken Pot Pie! With just a few simple ingredients, you'll have a delicious dinner ready in no time!