These Lemon Cookie Truffles are one of my favorite go-to treats; only three simple ingredients, no baking required, and everyone who tries them needs the recipe.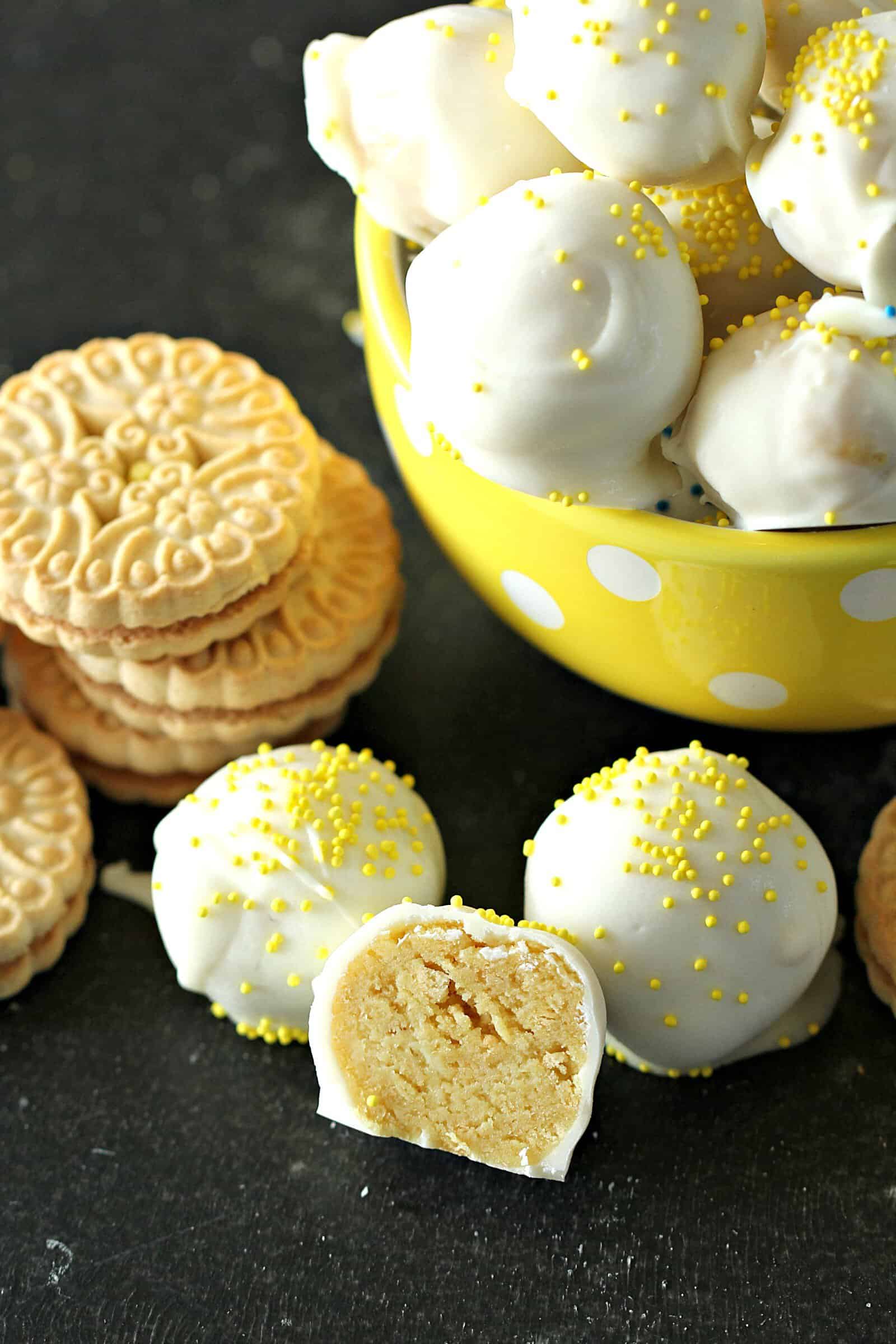 We have a couple of versions of cookie truffles on our blog, but I think that this one is my favorite combinations – lemon + cream cheese + chocolate . . . it is DELICIOUS!
These no-bake truffles will quickly become your go-to dessert. They are great for when you need a quick dessert for a party or you don't feel like turning your oven on to make a treat!
You can even put your kids in charge of making them!
How to make No-Bake Truffles
If you have never made truffles before, don't be intimated – it's easy!
Start with a a package of Lemon Sandwich cookies. Generic brands will work great for this recipe!
Stick those cookies in the blender and blend them until they are fine crumbs (you will definitely want a high powered blender, like this one).
Add room temperature cream cheese to the blender until completely mixed together. You could also mix the crumbs and cream cheese together in a bowl.
Move the dough into a big bowl (feel free to sample the dough at this point – it's delicious).
Roll the dough into 1″ balls and place on a cookie sheet lined with parchment paper. Stick the cookie sheet in the freezer for 30-40 minutes.
Melt the almond bark according to package directions. Dip each truffle (I usually use a fork or you could use a chocolate dipping tool that makes it easy!) in the melted almond bark and place back on the cookie sheet.
Immediately add sprinkles on top (if using) and place the cookie sheet in the fridge to let the chocolate set up.
In a few minutes, your truffles will be ready to enjoy!
These truffles are adapted from our Oreo Cookie Truffles – we just swapped out the Oreo cookies with lemon sandwich cookies!