No need for take-out - this EASY Sesame Chicken made in your Instant Pot is ready in less than 30 minutes from start to finish! A much healthier option to make at home that your family will love.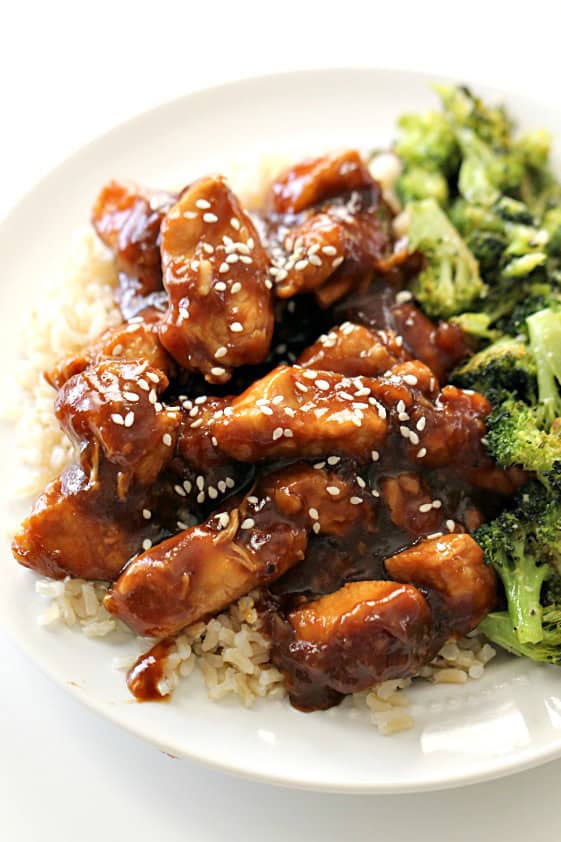 I have only owned my Instant Pot for a short amount of time and this Instant Pot EASY Sesame Chicken and Rice Recipe is the first Instant Pot recipe that I am sharing on our blog.
Even though my sisters have been sharing tons of Instant Pot recipes!
Up until this point, I have been the slow cooker queen (that is a self-given title) and have posted over 150 slow cooker recipes on our blog personally. I LOVE my slow cooker.
However, this Instant Pot has earned a spot on my kitchen counter – I am LOVING how quickly it cooks my meals, which means I can have dinner on the table in a matter of minutes!
This recipe for EASY Sesame Chicken is so simple and SO delicious!
The texture from coating it in cornstarch and then sauteing the chicken pieces in sesame oil (which, by the way, you saute the chicken in your Instant Pot and then cook it in your Instant Pot – only one dish to clean! It's the best) makes it taste like it's deep fried, but it's actually pretty healthy for you!
My family loved this recipe and I know that yours will too.
If you love easy and delicious instant pot soup recipes, be sure to try our delicious Instant pot creamy chicken enchilada soup. It's absolutely amazing!