Just when you thought fruit salad couldn't get any better, we add a sweet and sour glaze over it, that changes the game. You are going to love this Honey Lime Fresh Fruit Salad. So simple, and so delicious.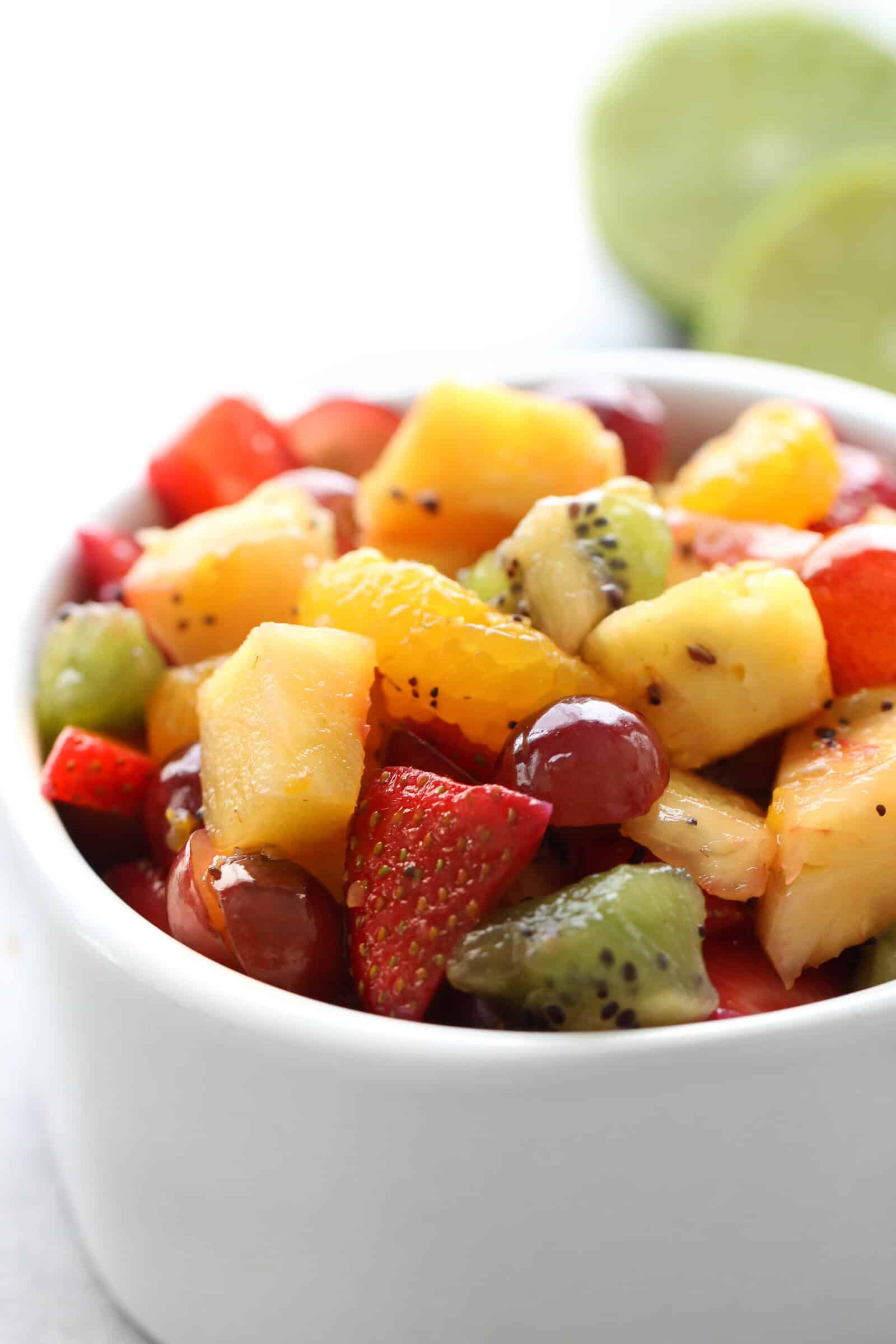 This is my all time FAVORITE fresh fruit salad. You can even used canned fruits, and it still tastes amazing.
Whenever someone asks me for my favorite fresh fruit salad recipe, I always tell them this one. It is so simple, delicious, and comes together in minutes.
I found this recipe over at Mel's Kitchen Cafe (I love her recipes) and I think that I have made it three times in the past 10 days.
It is so easy to throw together and it tastes amazing. It is really the perfect side dish to any meal. I even like to eat it for dessert some nights. It is so sweet and tangy, your family and friends are sure to love it.
The best part is, it only requires a few ingredients. Who knew fruit could taste even better, than it already does?
The combination of the honey and lime really makes this salad, what it is.
Looking for another fun way to serve fruit? Try our Rainbow Fruit Kabobs or our Winter Fruit Salad!
How to make honey lime fresh fruit salad:
Step 1: Combine the fruit in a medium-large serving bowl. You can use any fruit, but we used: pineapple chunks, mandarin oranges, kiwi, red grapes, and strawberries.
We love this mixture of fruits with the lime zest and poppyseed taste.
Step 2: Add the lime zest and poppy seeds, and gently toss.
Step 3: Drizzle the honey over the fruit and gently mix until the fruit is evenly coated with the honey. Serve immediately
Step 4 (more of a tip): This fruit salad is best served right away (or at least within an hour of making) because the strawberries tend to stain the light colored fruit.
It doesn't affect the taste at all but is a slight bummer for presentation.