Glazed Ground Turkey Meatloaf is a delicious, healthy, and easy meal. It comes together in a matter of minutes and tastes amazing. Your family is going to love this one.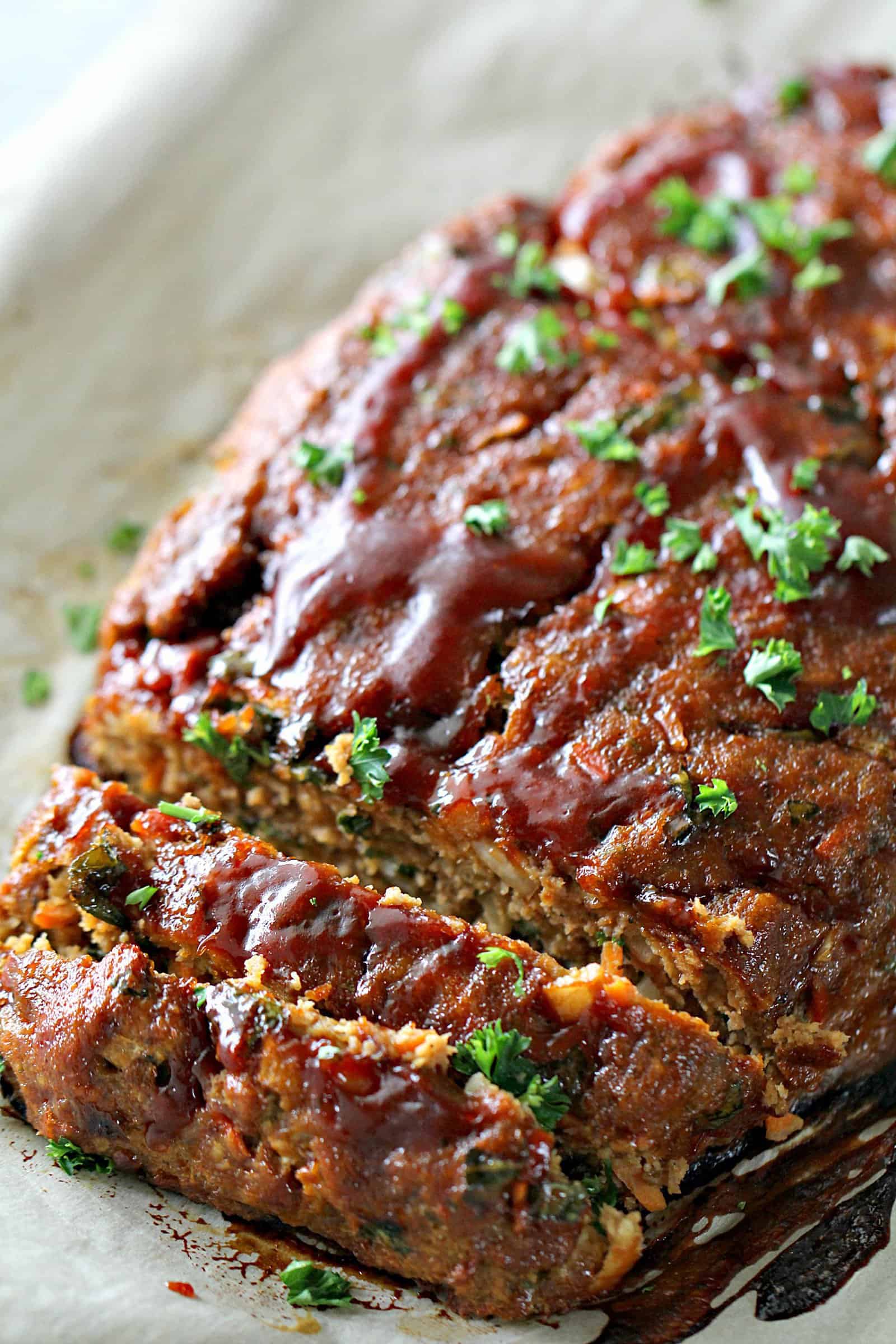 Shortly after I had my last baby, one of my sweet neighbors brought us over dinner and she had made the most amazing Glazed Ground Turkey Meatloaf.
I had been craving it ever since, and she gave me this amazing recipe, so I just had to share this recipe with you today.
How to make Glazed Ground Turkey Meatloaf:
 Preheat oven to 350 degrees.
Add the ground turkey, breadcrumbs, minced onion, minced garlic, shredded carrots, fresh spinach, shredded mozzarella cheese, ketchup, parsley, eggs, Worcestershire sauce, salt and pepper into a large bowl.
Using a fork or clean hands, mix until everything is fully incorporated.
Line a sheet pan with parchment paper or aluminum foil and pour meat on the prepared pan. Use your hands to form into a loaf shape, trying to keep it level so it cooks evenly.
Bake for 30 minutes, and while baking, mix together glaze ingredients.
Remove meatloaf from oven and brush glaze all over. I used a large serving spoon to glaze it. You could use a basting brush, but it will take quite a while to get it all on there.
Place back in the oven for another 30 minutes, or until internal temperature reaches 165 degrees.
Remove and let cool for 10 minutes before serving. Sprinkle with chopped parsley to garnish if desired.
Related Recipe: Looking for more ground turkey recipes?! Try our Slow Cooker Cheesy Turkey Burger Joes!
Could I use ground beef instead of ground turkey?
You could most definitely use ground beef instead of ground turkey. It would be an easy switch. The ingredients, cooking time, temperature and everything else would be the exact same.
We just like turkey because it has a little more nutritional value than beef, but you can purchase a very lean beef.
We like all meat, but this particular recipe we have only made with turkey. If you are looking for a beef meatloaf, check out our Grandma's Famous Meatloaf Recipe.
I personally feel that the perfect side dish to any meatloaf is mashed potatoes and these Garlic Parmesan Mashed Potatoes are amazing!
Related Recipe: Try our Easy Turkey Meatloaf!