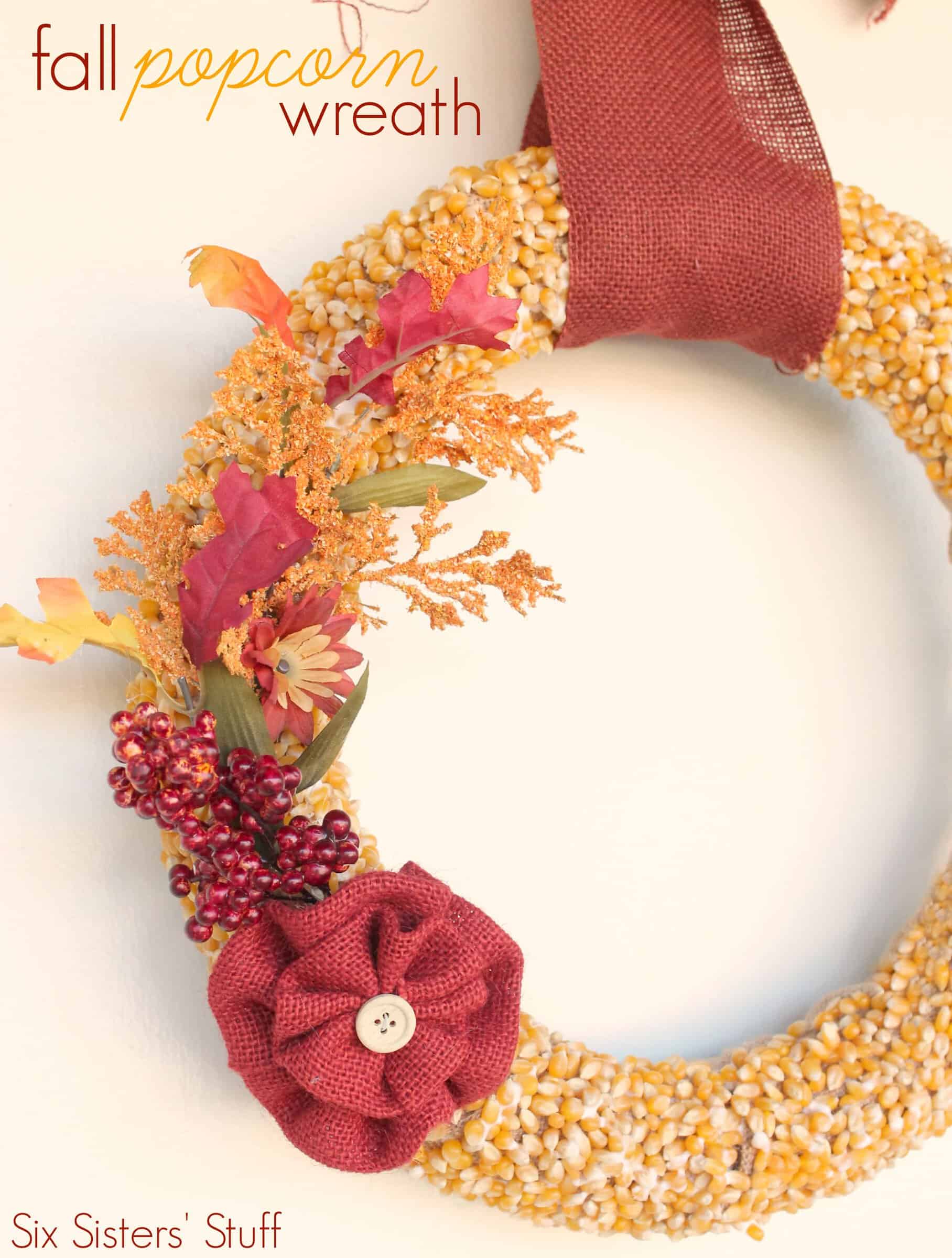 Truth be told – I'm not the biggest crafter. However – I refuse to pay $40 for a wreath I won't use for more than two months! That's when I take matters into my own hands. I saw this popcorn kernel wreath tutorial and I knew that was definitely something I could do. Plus, with the labor day sales at the craft store (and the fact that I already had the wreath ring, the popcorn, and the mod podge) – it was a $10 craft! Although getting the popcorn kernels was not the easiest task I've undertaken – I got it done. And I think it looks pretty good! 🙂


Here's what you'll need:
1 foam wreath ring
1 large bag yellow unpopped popcorn kernels
Burlap
Mod Podge
Foam Brush
Glue Gun
Fall decor pieces (I chose a few fall flowers, leaves, and a burlap flower from Michael's)
Step one – generously apply Mod Podge to your wreath ring, and start wrapping your burlap around it. It's alright if it bunches – it will just add a little more dimension. For those pesky corners that just wouldn't stick, I had a little extra help from my glue gun. Then let it dry.

Step two – In small increments (about two inches at a time) generously apply mod podge to the burlap covering. Sprinkle a handful of kernels over top. Give them a firm push into the mod podge (it will get a little messy), and then try to hand-place the kernels where there are holes. I started with the front, then I did the inside, and then the outside. I left the back kernel-free because I didn't want the wreath banging against my door and having kernels fall to the ground. This will take a while. I started watching Once Upon a Time and it took me two episodes (probably because I was watching more than I was working…but that at least gives you a time estimate). Once it has dried (about 30 minutes later) you may want to add one final coat of mod podge to kind of "seal" things in place. Make sure it's thin, because you don't want blobs on the front of your wreath. This is what it should look like:
Step three – add your favorite embellishments. I just attached them as I liked with my glue gun.

Last, but not least, I tied a bundle of rust-colored burlap to the top and hung it! Voila! You're done!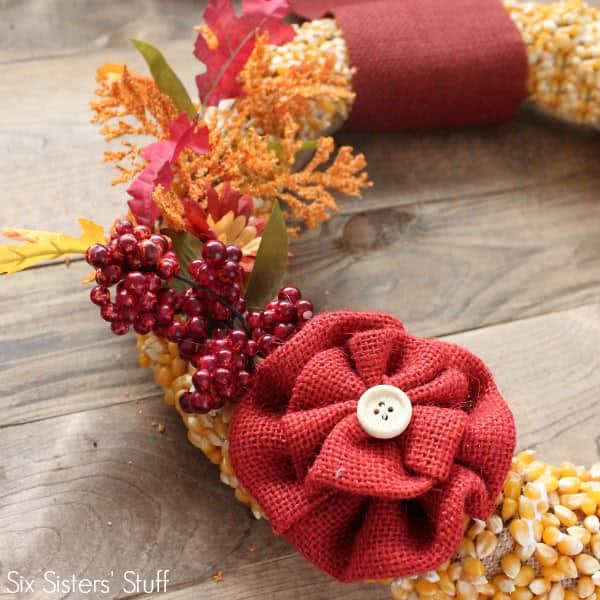 Looking for more Crafts?
DIY Book Recover
How to Make a Minion Pinata
DIY Ruffles and Yarn Fall Wreath
DIY Message Center Board
Halloween Burlap Wreath
Check out the NEW Six Sisters' Cookbook!

With over 150 recipes, we have put together 52 menu plans to make meal time a lot easier.
You can order our book HERE on Amazon!