We love great recipes that the whole family will eat and no one turns up their nose. Crescent Roll Burrito Bake was a HUGE WIN with the family. A super easy and delicious dinner that comes together so fast on a busy weeknight.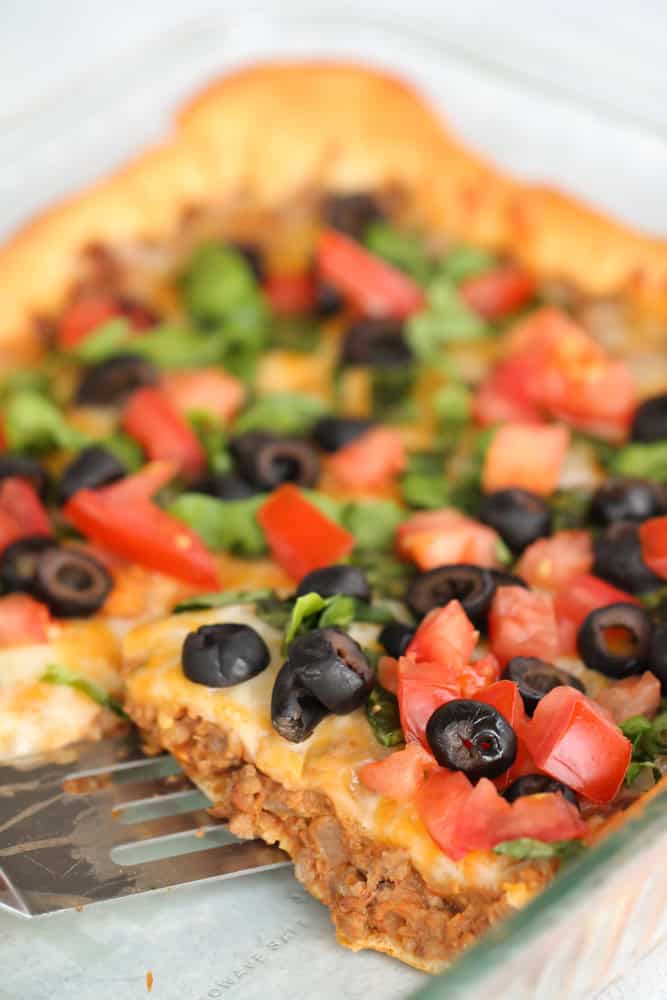 Do you ever get in that "What's for dinner" rut? We have come to your rescue with this delicious Crescent Roll Burrito Bake. It's a tasty easy meal that can be on the table in 50 minutes, and most of that time is baking.
We like the simplicity of this recipe. The prep is so easy, and then stick it in the oven. While it's cooking you can still get things done or help with homework.
We love the crescent roll dough as the crust. It's thicker than a tortilla and full of flavor with the crescent roll. It was soft and chewy and downright amazing.
What are other add-in options for this recipe?
There are many variations you can use when making Crescent Roll Burrito Bake. We have talked to many readers that have given us so many suggestions. Look in your fridge and throw in those extra veggies or cheese options.
Here are some of our favorite Add-Ins:
Salsa – fresh or bottled salsa goes well with burritos. Feel free to add it to the meat mixture or put it on top of each serving.
Corn – canned corn is an easy add in to your hamburger mixture.
Black Beans– we love black beans in all of our Mexican food recipes.
Mexican Blend Cheese – our recipe calls for cheddar and Mozzarella cheese. But kick it up a notch with a shredded Mexican blend cheese.
Sour Cream – sour cream is great served with burritos as a topping.