Our chocolate caramel brownies are the ultimate indulgent brownies. With how easy these brownies from scratch are, you will find them on your dessert list often.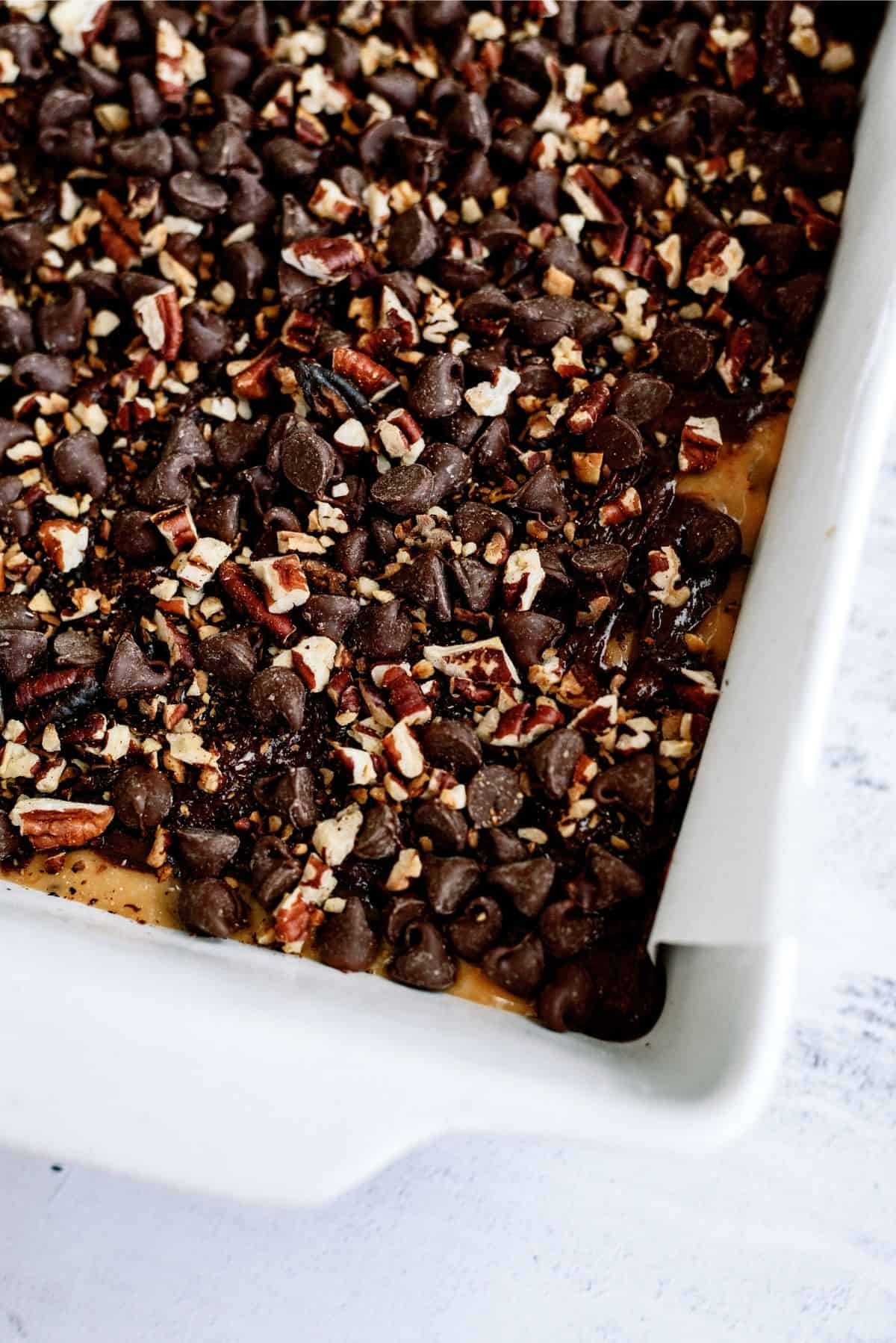 You can never go wrong with brownies, especially our chocolate caramel brownies. Since these are an easy cake mix recipe, they are extremely easy to make for your parties, get-togethers, or even just for a delicious snack at home.
I love making brownies, and these are one of the best brownie recipes you make. It has an abundance of chocolate and caramel that you will be dreaming about when you get to have another piece.
When I have to bring a snack for my kids school they always recues these chocolate caramel brownies. And I gladly do because then I normally double the recipe so we can have some at home too! 😉
Fall is the perfect time for brownies, so if you need more recipes to try out, make sure to give our Hershey's Cream Cheese Brownies, Chocolate Turtle Brownies, and Better Than Anything Brownies recipes a try!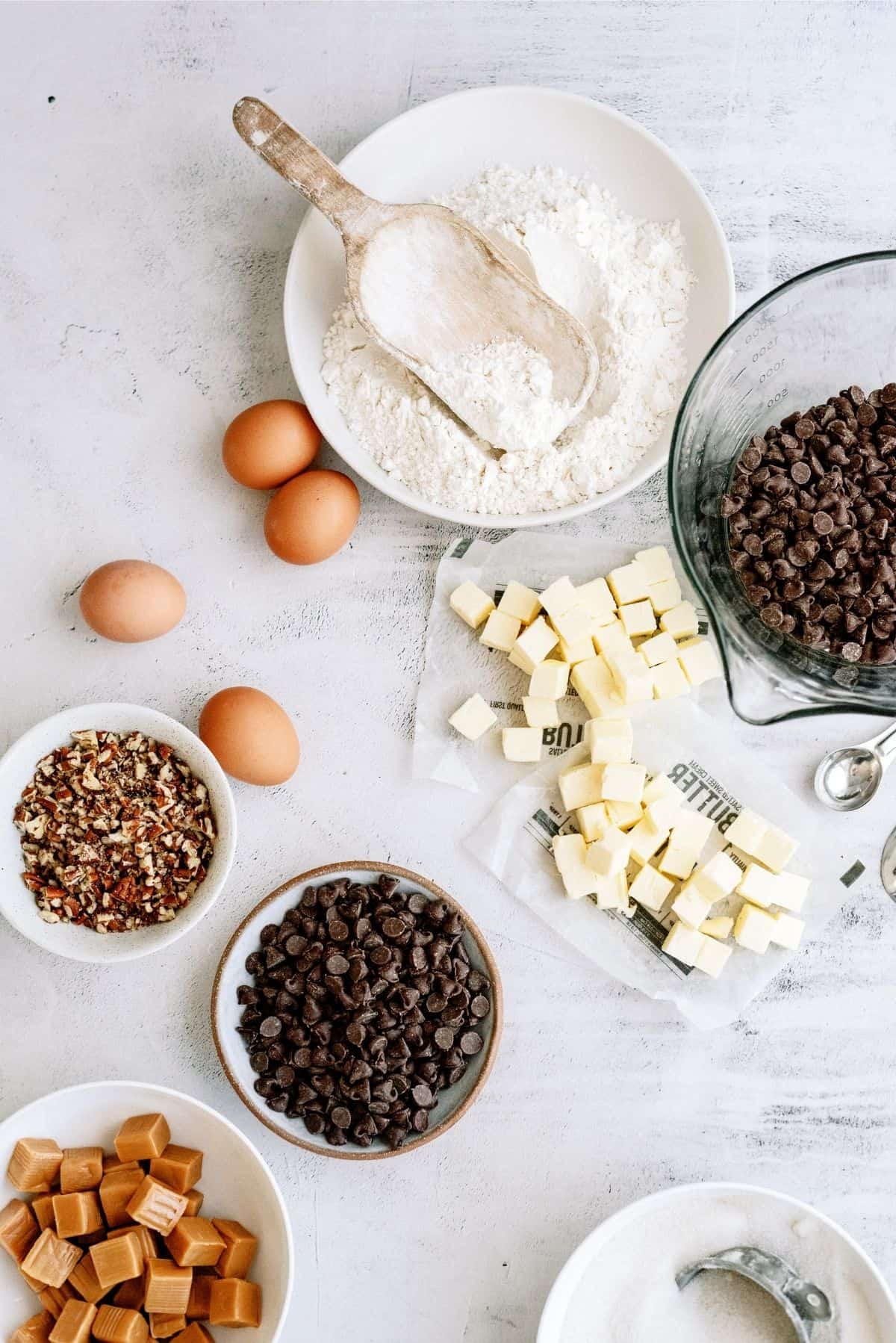 Ingredients Needed For Our Chocolate Caramel Brownies Recipe:
Butter
Bitter sweet chocolate chips or semi sweet chocolate chips
Sugar
Eggs
Vanilla extract
Flour
Salt
Pecans
Semi sweet chocolate chips
Caramels
Heavy cream
How To Make Our Chocolate Caramel Brownies:
Begin by preheating the oven to 350 degrees.
Then prepare a 9×13 inch pan by spraying it generously with nonstick cooking spray, or line the pan with foil and spray the foil with nonstick cooking spray.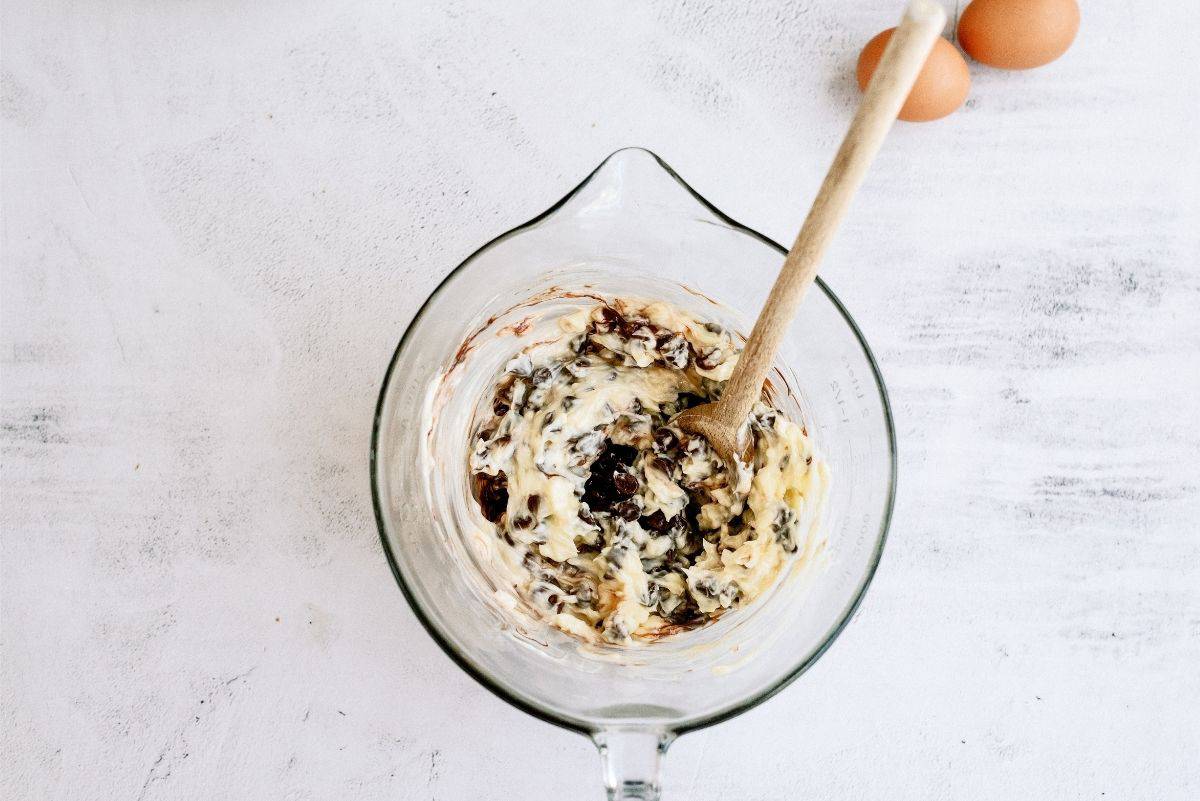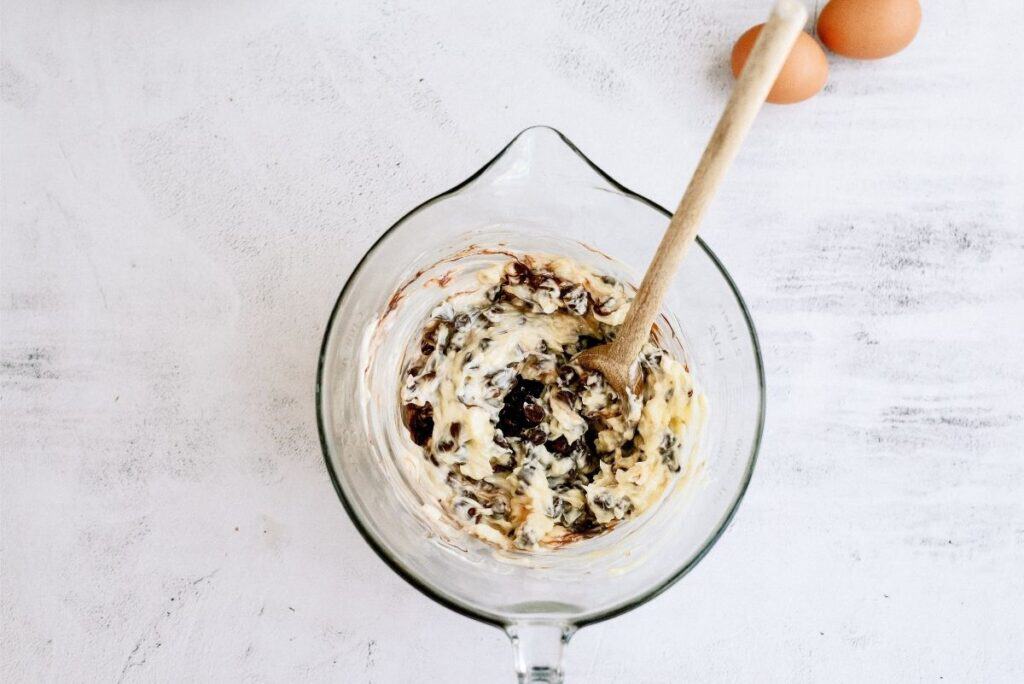 Now in a large microwave-safe mixing bowl, combine together the chopped chocolate, and butter and microwave it in intervals of 1 minute at 50% powder until all of the chocolate and butter are melted. Making sure to stir it in between each time.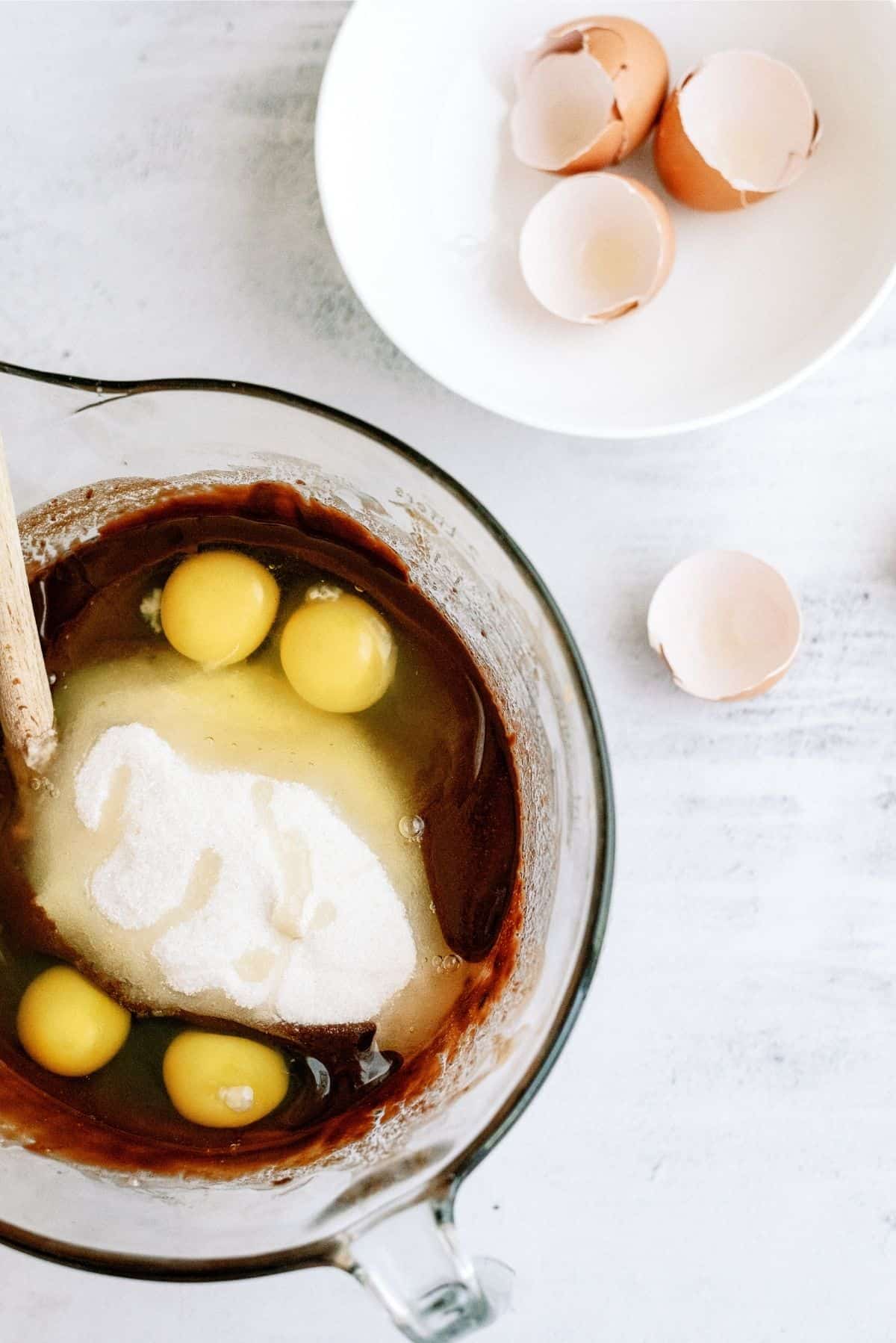 Once the chocolate and butter are melted, whisk in the sugar, eggs, and vanilla extract until it is all combined.
Now, carefully stir in the flour and and salt, but only until it is just combined. Do NOT overmix it or the brownies will be tough.
Spread about half of the brownie mix in the bottom of the pan and make sure it is spread out evenly.
Bake this brownie layer for 18 minutes at 350 degrees.
After you put the brownies in the oven, add the pecans to a medium skillet and heat them over medium heat, stirring them occasionally until they are fragrant and lightly golden, and then set them aside.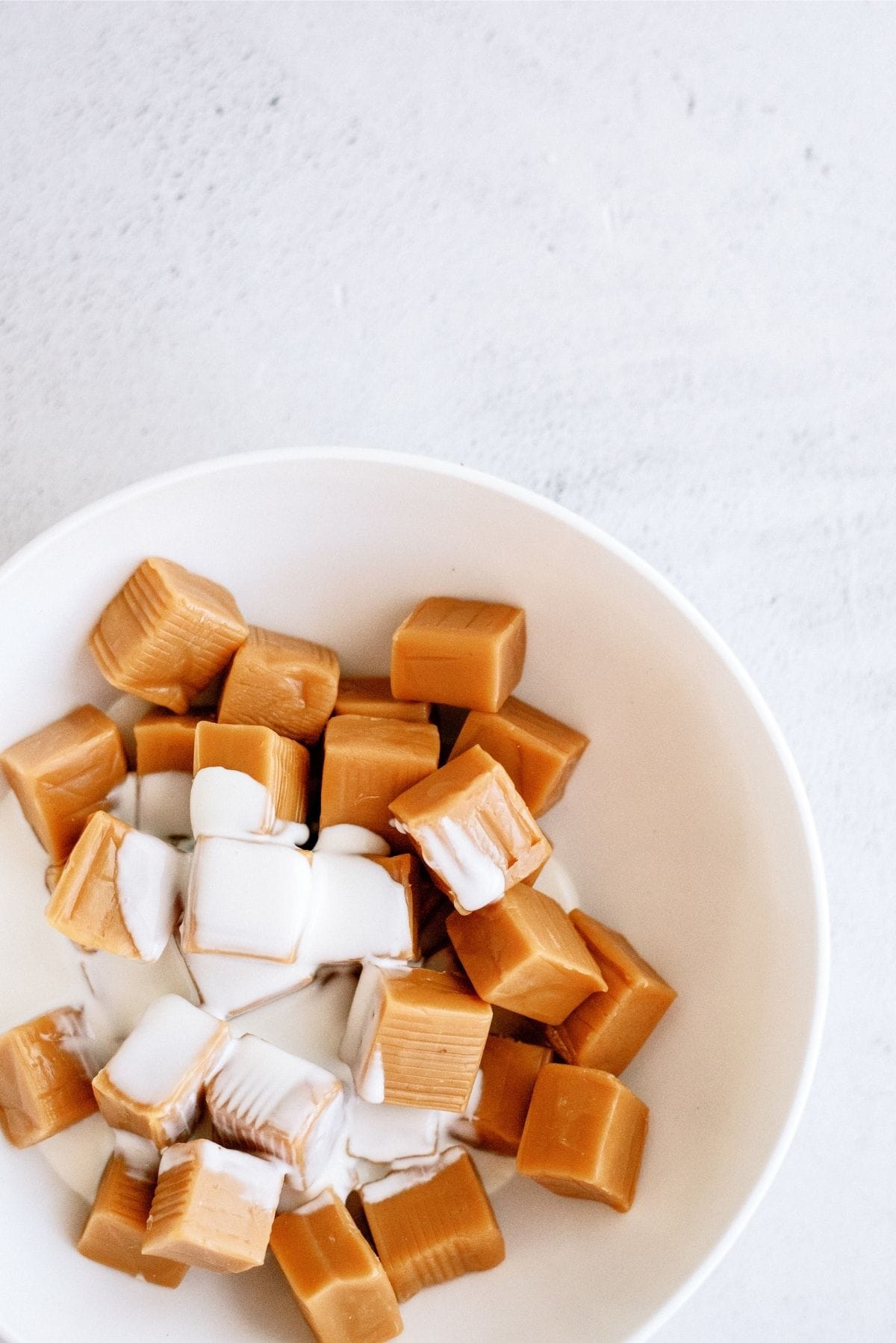 While those are baking, start to make the caramel filling by combining the caramels and heavy cream in a medium sized microwave-safe bowl.
Microwave the caramels and cream for 30 seconds at 50% power.
After the 30 seconds is done, remove the bowl form the microwave and stir it all together.
Then place the bowl back in the microwave and repeat the steps again, making sure to use low heat. The caramel can burn super fast so be sure to keep an eye on it.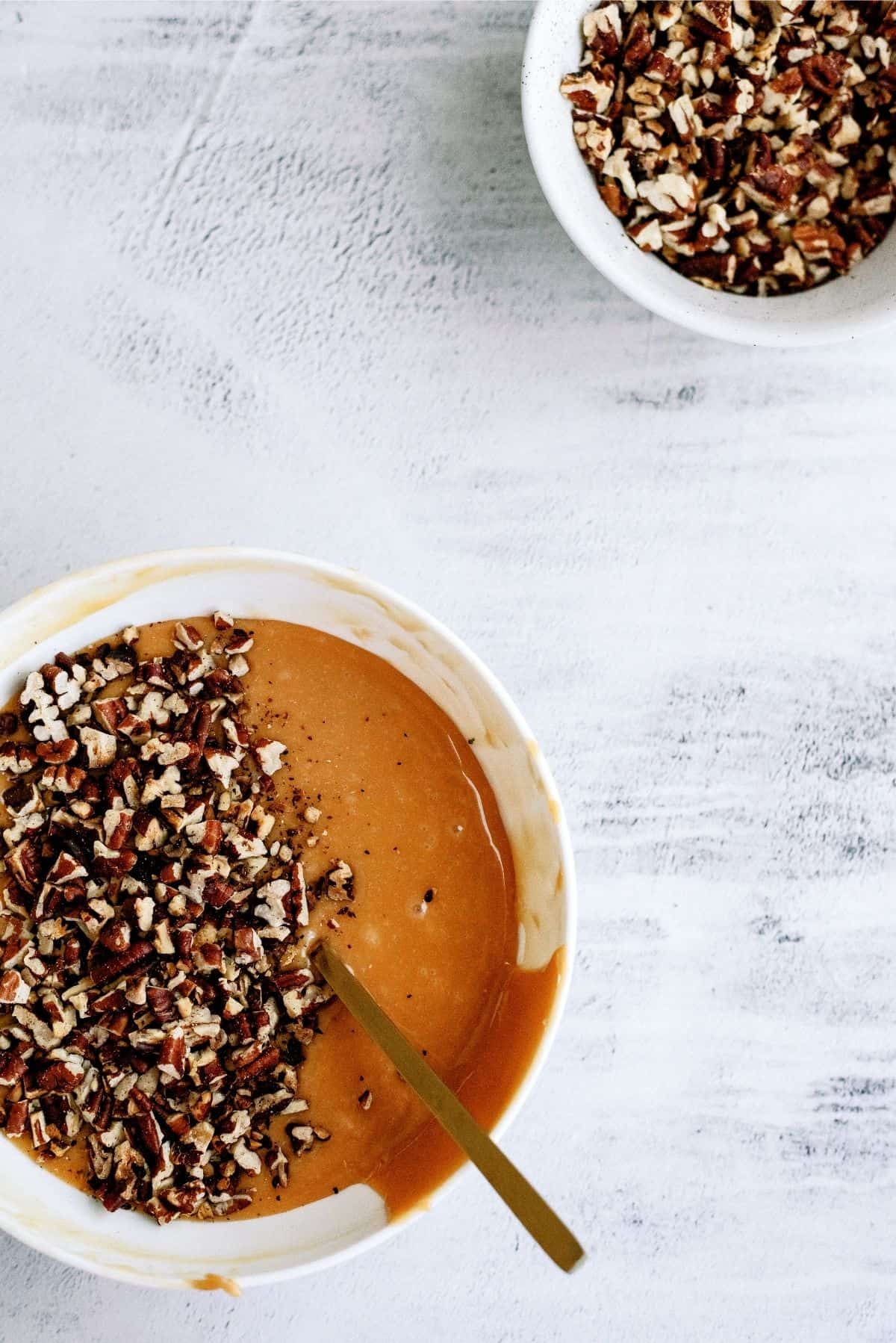 Once the caramel sauce is done, stir in half of the pecans to the sauce.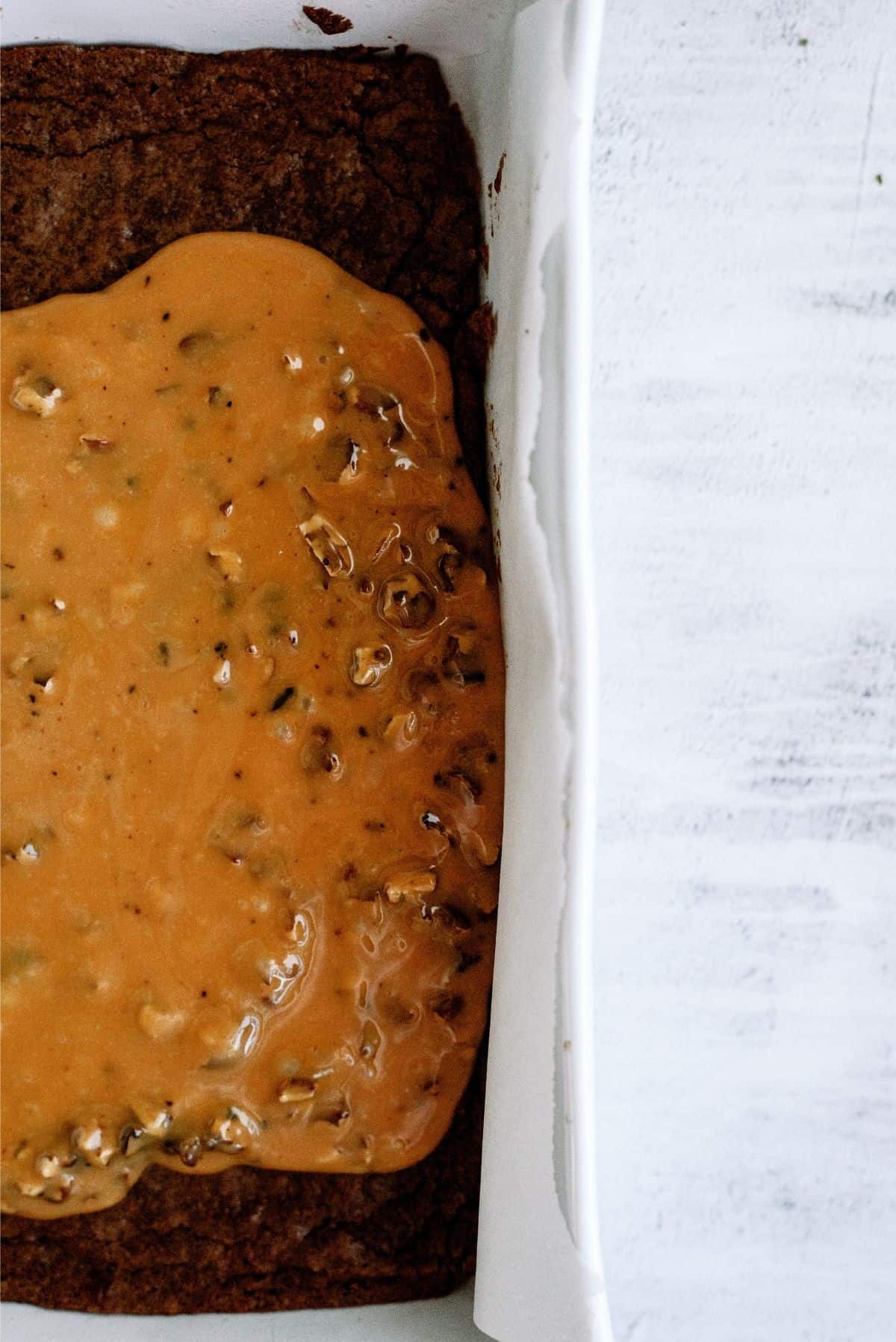 When the first layer of brownies is done cooking for 18 minutes, take it out and immediately spread the caramel sauce across the whole layer.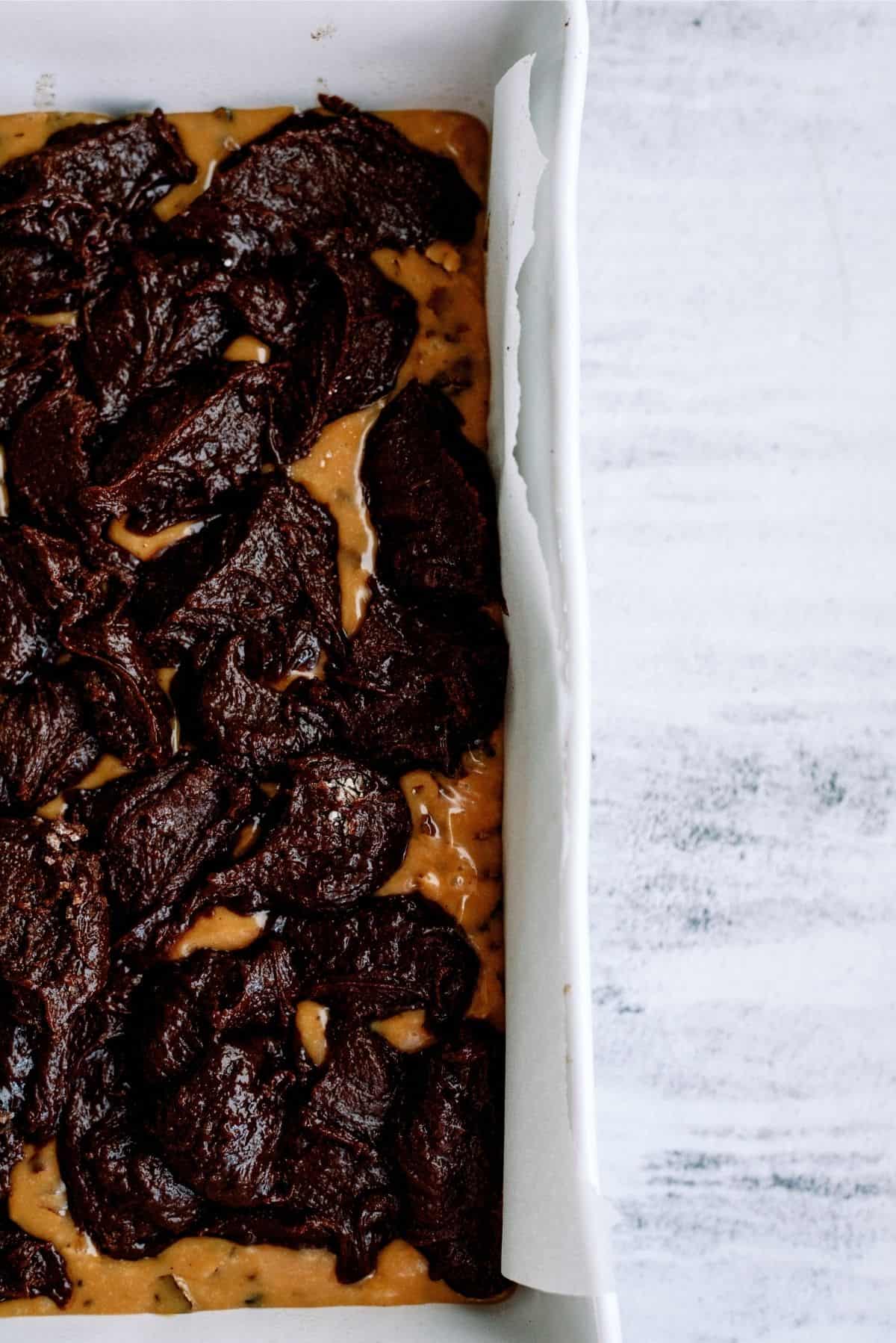 Then, scoop the remaining brownie batter over top of the caramel layer and carefully try and spread the brownie batter out over top.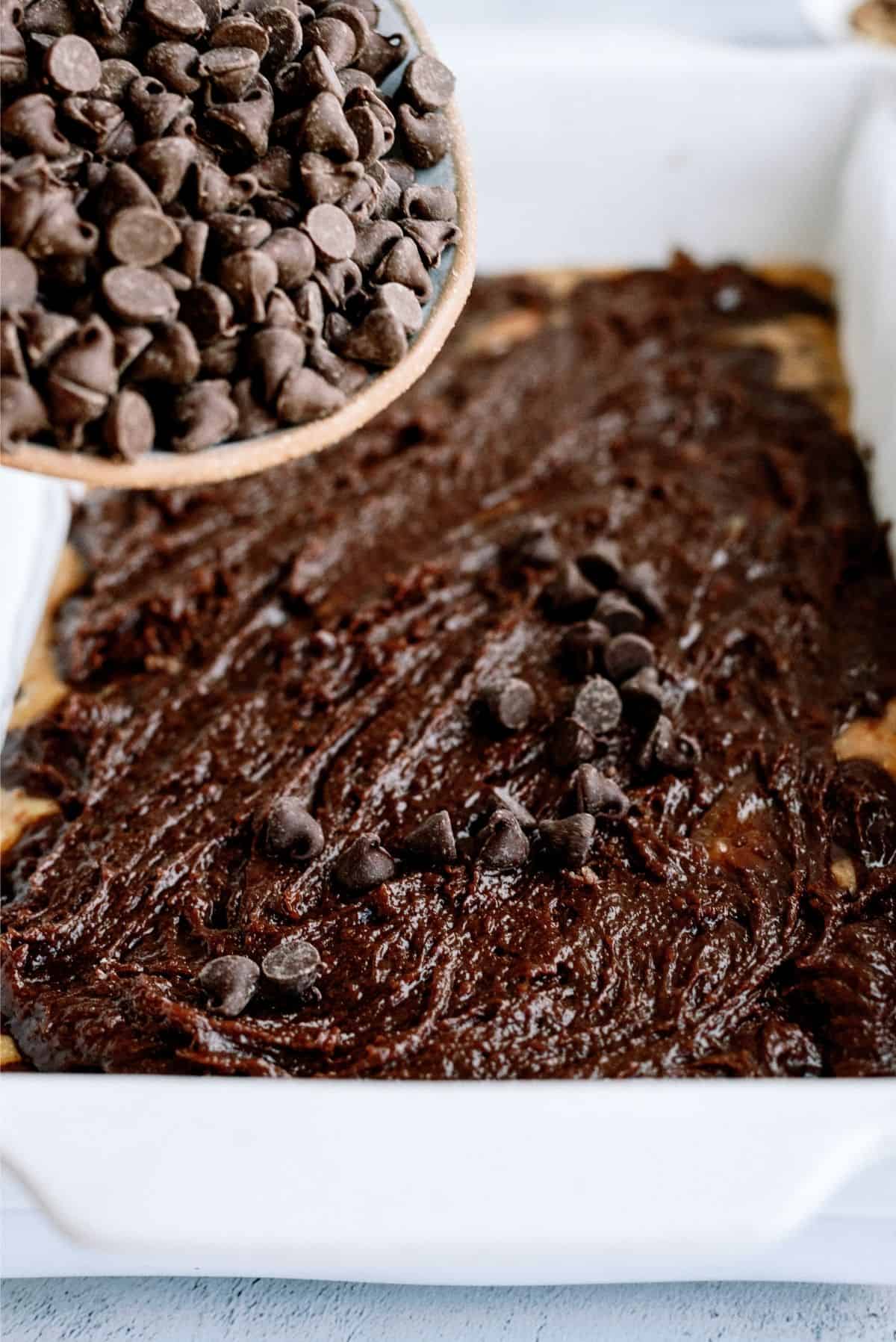 Now sprinkle the remaining pecans and chocolate chips on top of the brownie layer and put the pan back in the oven and let it bake for another 20 minutes.
Once it is done baking, move it to a wire rack to let it cool completely.
The brownies tend to be easier to handle once the caramel has been cooled and set back up.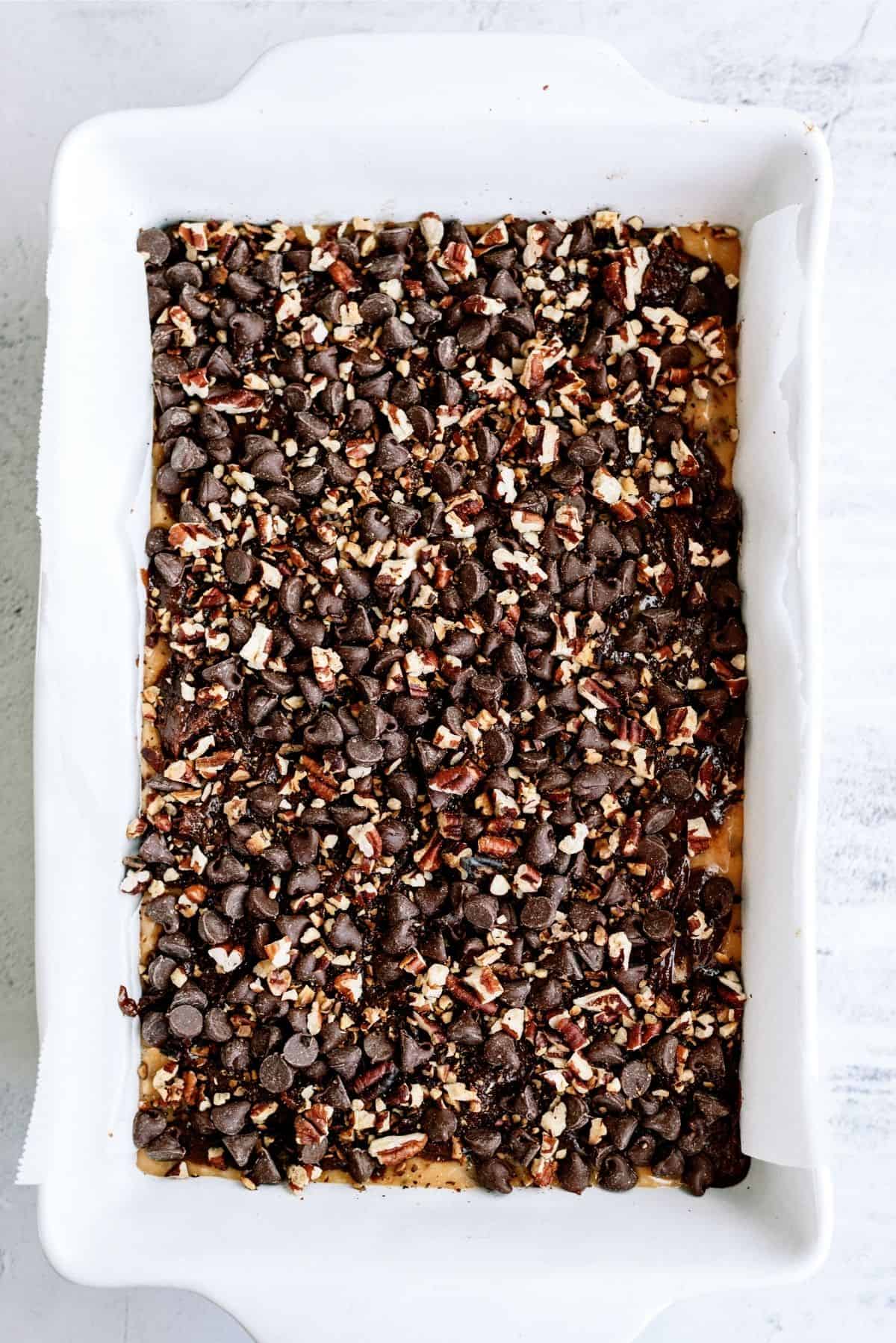 Now just slice and sevre them and store then in an airtight container. 
Looking for more Chocolate and Caramel? Try our Salted Caramel Chocolate Cookies!
To Make The Best Brownie Recipe You Will Need:
Large microwave-safe bowl (THIS is a great one!)
Medium microwave-safe bowl
9×13 inch pan
Nonstick spray
Aluminum foil