I love meals I can throw in the slow cooker, and have ready by the time I get home. Whenever I have a long or busy day, this is my go to. I throw the ribs in the slow cooker and the apple butter does the rest.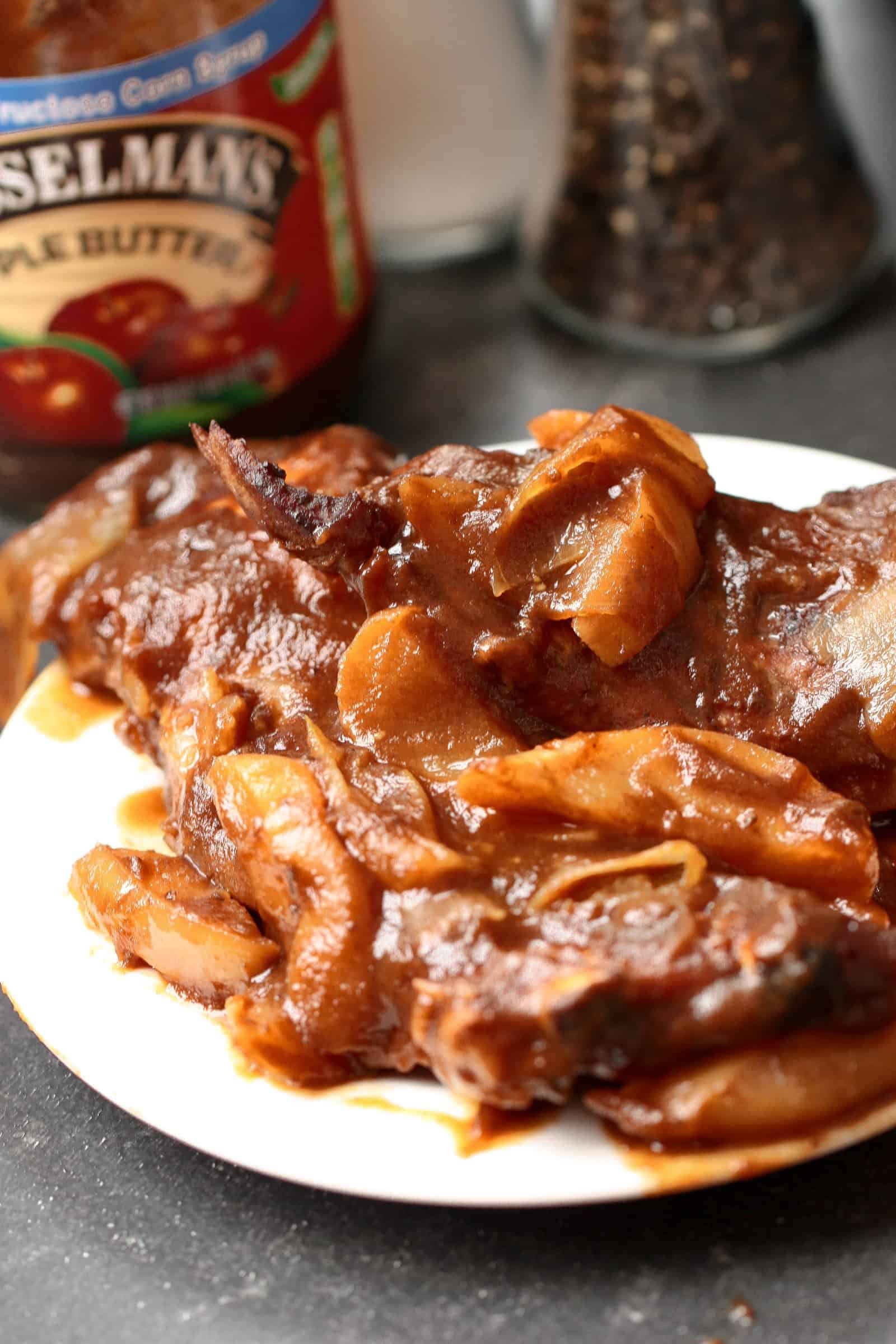 We couldn't believe how easy these Apple Butter BBQ Spareribs are to make, and especially how delicious. Musselman's Apple Butter adds such an amazing sweet taste to every recipe, and makes these ribs absolutely amazing.
The Apple Butter adds a delicious sweet taste to the savory meat of these apple butter bbq spareribs. Musselman's Apple Butter is the best part of the whole recipe.
It has the most amazing flavor and pairs great with meat. The apples also add the perfect sweetness to the BBQ flavor. This will definitely be added to your meal rotation.
How to make Apple Butter BBQ Spare Ribs
Step 1: Lightly spray your slow cooker with nonstick cooking spray. I used an olive oil non-stick cooking spray.
Step 2: Salt and pepper both sides of your ribs to taste, then set them in the slow cooker. I prefer using fresh cracked pepper because it has a little more flavor to it, but any black pepper will work.
Step 3: In a medium size bowl, mix together the Musselman's Apple Butter and barbecue sauce until well combined. Pour the sauce mixture over your ribs.
I used a spoon to make sure all the ribs were covered evenly, everywhere.
Step 4: Top the sauced ribs with onion slices and apple slices. Any apple will work. I prefer gala or pink lady apples, but whatever you have on hand would work.
Step 5: Cover and cook on low for about 7 hours. If you are looking to speed things up, you could cook it on high for 4 hours.
However, we prefer a soft and tender rib, which comes from cooking at a low temperature for a longer amount of time (low and slow).