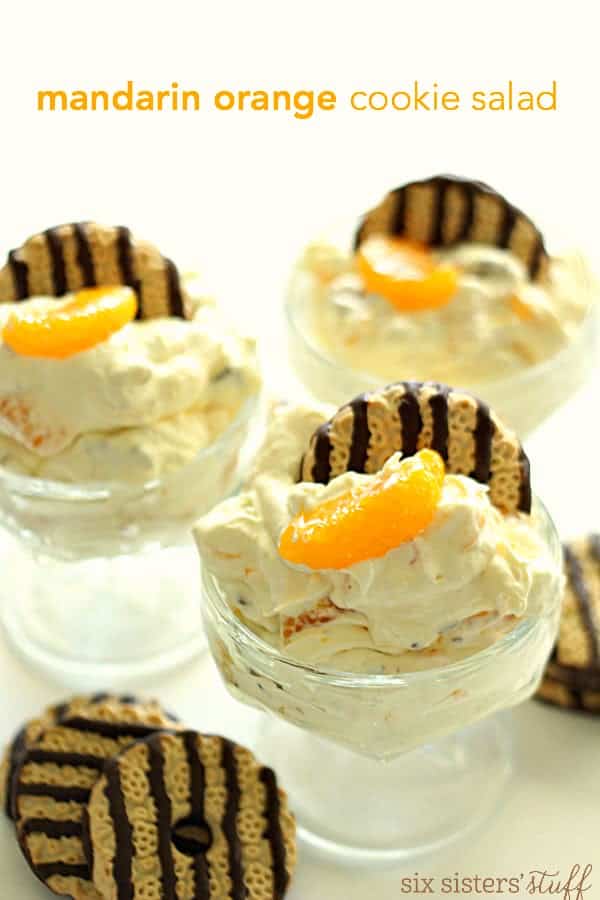 Over a year ago, we posted our Orange Jello Fluff Salad and while it is still one of our most popular posts, we received some very  emails from people who were concerned that we used the word "salad" in the title.  They feared that we were deceiving people into thinking that this was a healthy dish because of the word "salad" in the title.
Sorry about that- we had no intentions of tricking anyone!
So I googled the word "salad" and discovered that the first definition talked about vegetables and green lettuce, but that there were two definitions that work for salads such as this one:
1. a mixture or assortment
2. any dish of cold vegetables or fruit (i.e. fruit salad)
We completely agree that this isn't the most healthy you could ever eat, but we also believe that the healthiest attitude to have when it comes to food is "moderation in all things." You can have a yummy "salad" like this every once in a while . . . that is one of life's real pleasures! 🙂 
(PS Every time I make this salad, it receives rave reviews!)
Ingredients
2 (3.4 oz) packages vanilla instant pudding
2 cups buttermilk
2 (8 oz) containers Cool-Whip non-dairy frozen whipped topping
1 (20 oz) can pineapple tidbits, drained well
2 (11 oz) can mandarin oranges, drained well
3/4 (11.5 oz) package fudge-striped cookies (I used Keebler brand)
Instructions
In a large bowl, mix together the dry pudding mixes and buttermilk. Fold in the Cool-Whip.
Stir in the pineapple and mandarin oranges until incorporated.
Break cookies into bite-size pieces and gently fold into salad mixture. Serve immediately.
Notes
If you want to make this ahead of time, just wait to add the cookie pieces until right before you serve it because the cookies tend to go soggy . . . unless you like them that way!

Also, I have used milk in place of the buttermilk and it still works fine! 🙂
7.6.7
15
https://www.sixsistersstuff.com/recipe/2013/04/mandarin-orange-cookie-dessert-salad/

Items needed for recipe:

Looking for more salad recipes?