We love a moist and delicious carrot cake with cream cheese frosting.  We have one sister that is absolutely crazy about carrot cake, we won't mention any names….right, Kristen? 🙂 This recipe has been in our family for years.  It is loaded with so many ingredients that make it the perfect carrot cake.  We know you will LOVE this one!
Carrot Cake
Ingredients:
1 1/4 cups canola oil
2 cups sugar
3 eggs
2 cups grated carrots
1 cup crushed pineapple, drained
2 1/2 cups flour
1 cup shredded coconut
3/4 cups chopped walnuts or pecans (optional)
1 teaspoon baking soda
1 teaspoon baking powder
1/2 teaspoon salt
1 1/2 teaspoon cinnamon
1 teaspoon vanilla
Directions:
In a large mixing bowl cream together oil, sugar, and eggs.  Then add remaining ingredients and mix until well blended. Pour into a greased 9 x 13 baking dish.  (I used a glass pan)  Bake at 325 degrees for 45 minutes.
Cream Cheese Frosting
Ingredients:
3 cups powdered sugar
1/2 cup margarine (softened at room temperature, do not melt)
1 8 ounce cream cheese
1 teaspoon vanilla
Directions:
After the cake has cooled, mix the above ingredients until smooth and creamy.  Spread evenly over cake.
Serves: 15
Here are more of our favorite cake recipes:
Reeses Peanut Butter Cup Cake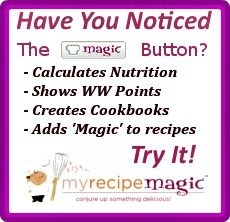 Have you signed up to become a chef on My Recipe Magic?
Not only does it add "magic" to your recipes, but it's the only recipe sharing site that actually 
PAYS
 you to share your recipes! So if you have a delicious recipe that everyone always asks for or a family favorite that everyone loves, share it today and make a little extra "dough"!