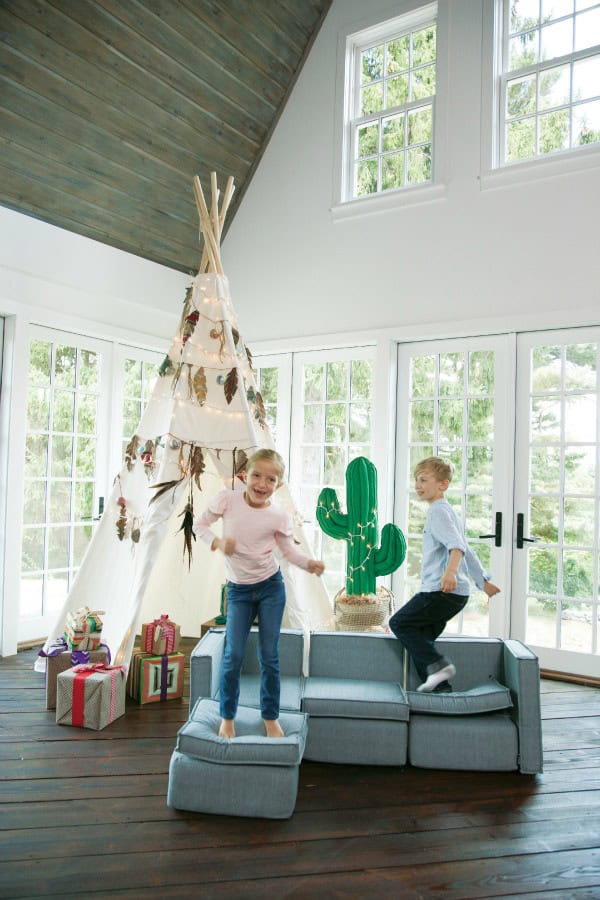 You might know by now how much my family loves Lovesac (you can read more about that HERE)!
My husband and I will be moving into our new home next week and can't wait to get Sactionals for our recreation room in the basement.  Lovesac Sactionals are the world?s first and only completely modular, machine-washable, infinitely changeable, go-anywhere, do-anything couch system. My husband has literally planned the entire room around that couch!
For the past ten years, Lovesac has been shaking up the couch world with Sactionals ? revolutionary, do-anything, washable, changeable, durable, reconfigurable modular couches that are comprised of only two pieces (Seats and Sides) and lock together using a patented, no-tool system.
And now, just in time for the holiday season, Lovesac is introducing Kid Sactionals ? everything you love about Sactionals in a special design just for pint-sized people. Kid Sactionals are small couches for big imaginations that free both kids and parents to live the life they love.
When I found out that Lovesac has created Sactionals just for kids, I couldn't wait to share it with you!

Kid Sactionals are small couches for big imaginations that free both kids and parents to live the life they love.
Kid Sactionals will be available in Lovesac?s 58 retail stores across the country and online at Lovesac.com in November. Visit www.lovesac.com/kids for exclusive pre-sale information.
Here are some of our favorite features of Kid Sactionals:
Presto-Changeable: With covers in the Berry Smoothie and Aquamarine Heathered Microweaves, kids now have the ability to mix-up their style when they want to. And parents have the ability to change the covers when kids spill or create their newest Sharpie masterpieces on their Kid Sactionals. There will be a whole new assortment of colors in 2016.
Oops-able: Machine-washable covers make it easy to clean up after the everyday ?oops? moments ? the spills, stains, and sticky fingers. Kid Sactionals have durable machine-washable covers that are easy to take off and put on. So there?s no need to cry over spilled milk, a monster scoop of ice cream, or a downpour of spaghetti.
Switcharound-able: Connected by magnets and velcro, Kid Sactionals are easy and safe for children to arrange and rearrange. Meaning they can be used like LEGOs to build rocket ships, forts, castles or anything else little imaginations can think up. The Seats and Sides can also be used to create the perfect sized bed for sleepovers. 
Life not only changes, but life happens. And Lovesac believes your couch shouldn?t get in the way of that. Which is why Sactionals – and now Kid Sactionals – adapt to your life, no matter how you live it.
Sactionals offer the freedom and flexibility to change your furniture?tool free?any time you like. And, they?re guaranteed for life.
For more information, visit Lovesac.com.
You can keep up with Lovesac on Facebook, Twitter, Pinterest, and YouTube!