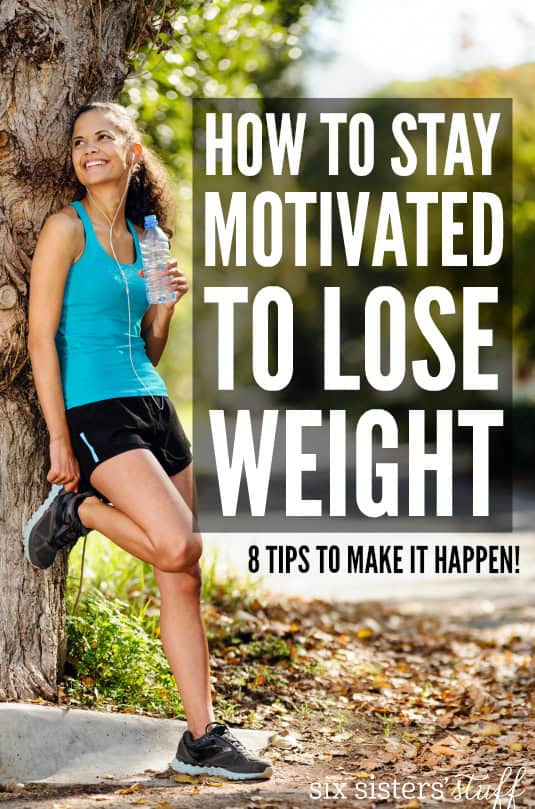 With the launch of our Six Sisters' Strong home workout programs and eating plans, we have had so many of you comment that you love the programs, but you struggle to stay motivated and committed to reaching your weight loss and fitness goals.
ButWe wanted to share with you some tips on how you can stay motivated to keep going to make those goals a reality!!
1. Figure out WHY you want to lose weight.
What are your reasons for doing this? What is your motivation for doing this? Make a list and keep it somewhere that you will see it often. Read over this list at least once a week (I like to look these reasons over each Monday – it's a good way to start the week). If you don't have a good reason why you want to do this, you probably won't get too far.
2. Write down your goals.
Determine what your fitness goals will be over the next 12 months and find a plan to get there. Also think about why you haven't reached this goal in the past and what you will do differently to make it happen this time. Be sure to check out our FREE Weight Loss Goal Setting Guide here!
3. Chart your progress.
Before you begin, measure yourself and weigh yourself. Write those numbers down and keep them in a spot to remind you where you started and where you want to go. I would recommend weighing yourself weekly and measuring yourself once a month. Your improvement and progress will help you want to keep going. Because we look at ourselves everyday, we may not see the change that is happening over time!
4. Find a friend.
Research has shown that if you get a buddy with similar goals and work together to reach them, you have a much higher chance of making these goals a reality. Get a parent, spouse, sibling, friend, boyfriend or co-worker to join you for this journey and hold each other accountable! Feel like you don't have anyone to do this with? Or join a group class at the gym and become a regular – that class will quickly become your friends who will help you keep going.
5. Use your smartphone.
There are so many apps that you can use that will help you be accountable with what you are doing. For my personal journey, I have used My Fitness Pal, but lately I have been using FitPhoto – it's like Instagram for fitness where you share the food you eat and what you do to for physical fitness each day (it's a free app – you can follow me on there @camille_sixsistersstuff to see what I eat and what I do for physical activity each day!).
6. Go public with your accountability.
This goes hand-in-hand with the last one . . . modern technology has given us so many opportunities to share with those around us what is going on in our lives. Start a blog and share your weight loss journey or even start an Instagram account with updates of your progress. Tell your friends and family what you are doing and allow them to follow you as you work to reach your goals. Knowing that people will see your progress is motivation enough to keep going! Also, you never know who you might inspire as you share your story!
7. Don't sweat the slip-ups.
We are all going to make mistakes – don't get down on yourself when you have a piece of cake or a candy bar. Give yourself a "free meal" once a week, but then commit to eating healthy the rest of the days. Or if you do have a treat, just make sure that the rest of your meals are more balanced. It's all about finding a happy balance – but don't give up when you make a mistake. Recommit to do better and keep on going!
8. Be patient with yourself.
You didn't gain weight overnight and you most definitely won't lose it overnight! Be patient and trust the process. There will be weeks when the weight will not come off as fast as you would like, but don't let it stop you. When you feel as though you have reached a plateau, try something new – like a new workout or eating plan. Sometimes "shocking" your body with something different is enough to keep the weight coming off.
Be sure to check out all our Home Workout Programs and Healthy Eating Plans on SixSistersStrong.com!