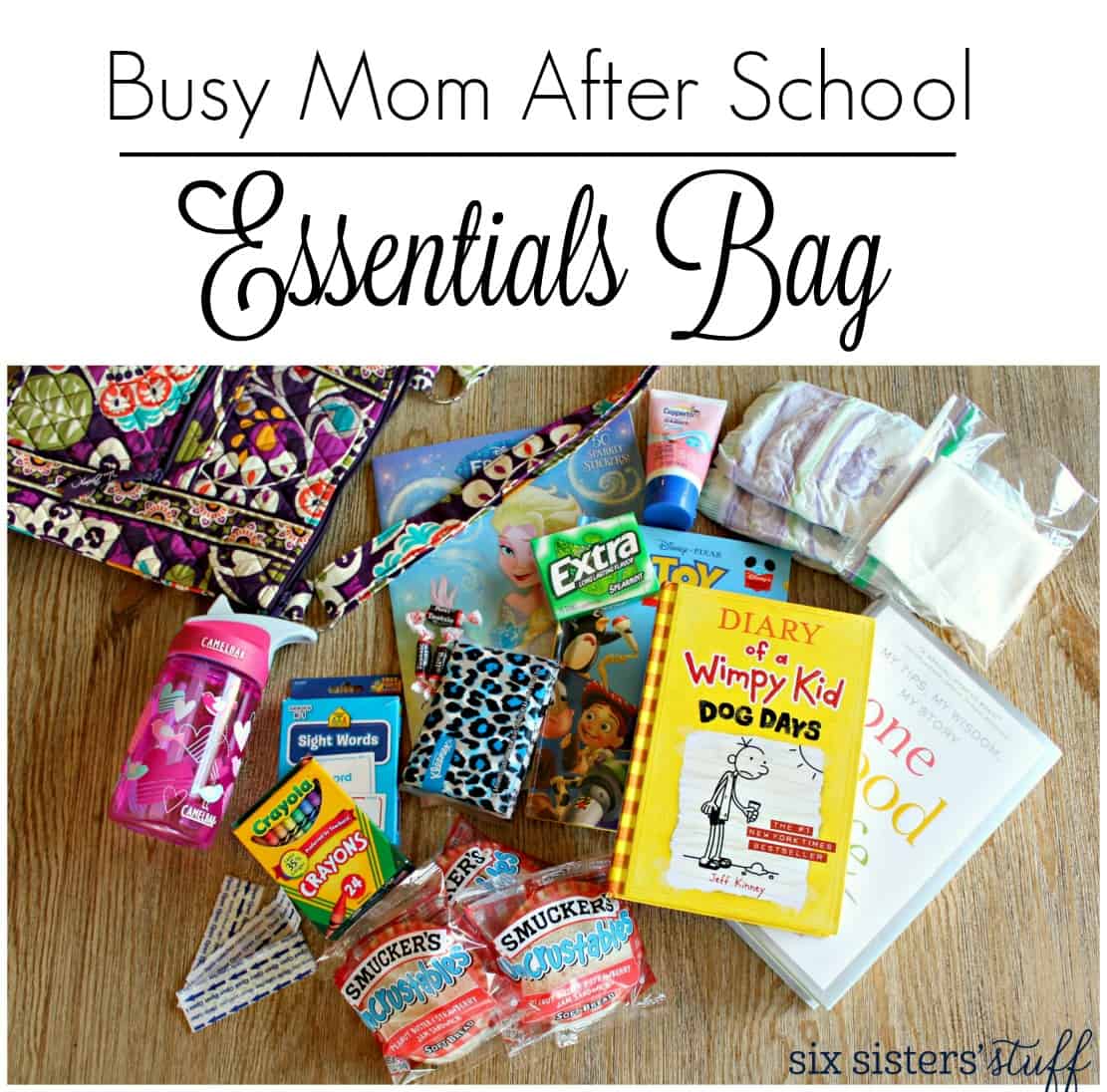 This post is brought to you by Smuckers Uncrustables and the MomItForward Blogger Network. All opinions are honest and my own.
I used to think that being a stay at home mom was kind of hard with little kids. Then my girls got a little bigger and wanted to be involved in activities after school. From soccer, tennis, piano lessons, basketball, softball, church activities, and gymnastics – things can get crazy. Now these don't all happen at once and different kids have different activities, but you understand what I mean when things get crazy. I have officially turned into the taxi Mom and sometimes it can be hard to juggle everything at once – including the little siblings who come along for the ride!
I have decided to simplify my life a little and make a Busy Mom After School Essential Bag that is full of things that I might need and my kids might need while we are traveling in the car and going to practices and activities. I think the hardest part is having other little children that have to come along and they just get SO BORED! I hate just throwing an iPad at the kids when they could be doing so many other things. Having this bag ready to go everyday has saved me (and them!)
These are some of my ideas I have in my bag!
Tissues
Whether you have nose pickers or runny noses. You always need a tissue. (Well… at least I do)
Bandaids 
You never know when you are going to need one, especially when it comes to kids.
Coloring Books and Crayons
Throw in a coloring book and baggie of crayons for each child. That way there are no fights because everyone has their own. (Just don't leave your bag in your car when you get home or your crayons will melt if it gets too hot.)
Diapers
If you are in the diaper phase with your kids, it can never hurt to have a few extra. I swear my kids always explode when I don't have one.
Snacks on the Go
One thing that keeps my kids happy is food. I love throwing in Uncrustables. I like to freeze them then put them in my bag and they are thawed and ready to go when my kids are ready to eat them. It is like a homemade sandwich but with on-the-go ease. They are the perfect snack to tide them over until dinner time.
Books for the Whole Gang
Whether it be the school pick up line or waiting for them to finish at soccer practice, I love putting down my phone and reading something not from an electronic device screen. As a family we have starting using a Monthly Disney Reading Chart. The Monthly Disney Reading Chart idea from Disney and Uncrustables is just another way to keep your family unstoppable! You can find the Monthly Reading Chart HERE.
Sun Screen
Even on a cloudy game it is easy to get a sunburn. Slather your kids and yourself!
Wet Wipes
For bums, faces and messes. Ha Ha. But really.
Water Bottles
Kids are always thirsty so I grab one bottle for each kid.
Flashcards
From letters to words to multiplication tables – they have flash cards for everything to help kids learn while they are just sitting around.
Gum 
I always get hungry before dinner while I'm waiting for my kids to finish their activities. Gum helps tide me over (and my kids over!)
Uncrustables has teamed up with Disney to give them everything they need to be unstoppable this year! Through the Disney Uncrustables partnership, parents across the country have shared tips for their on-the-go lifestyles. Todays blog post was inspired from Samantha Rodman, What is in Your Backpack, Toddler Edition.
For more information and flavor varieties (Strawberry Jam is my FAVORITE) go to http://www.smuckersuncrustables.com or find them on Facebook and Twitter.