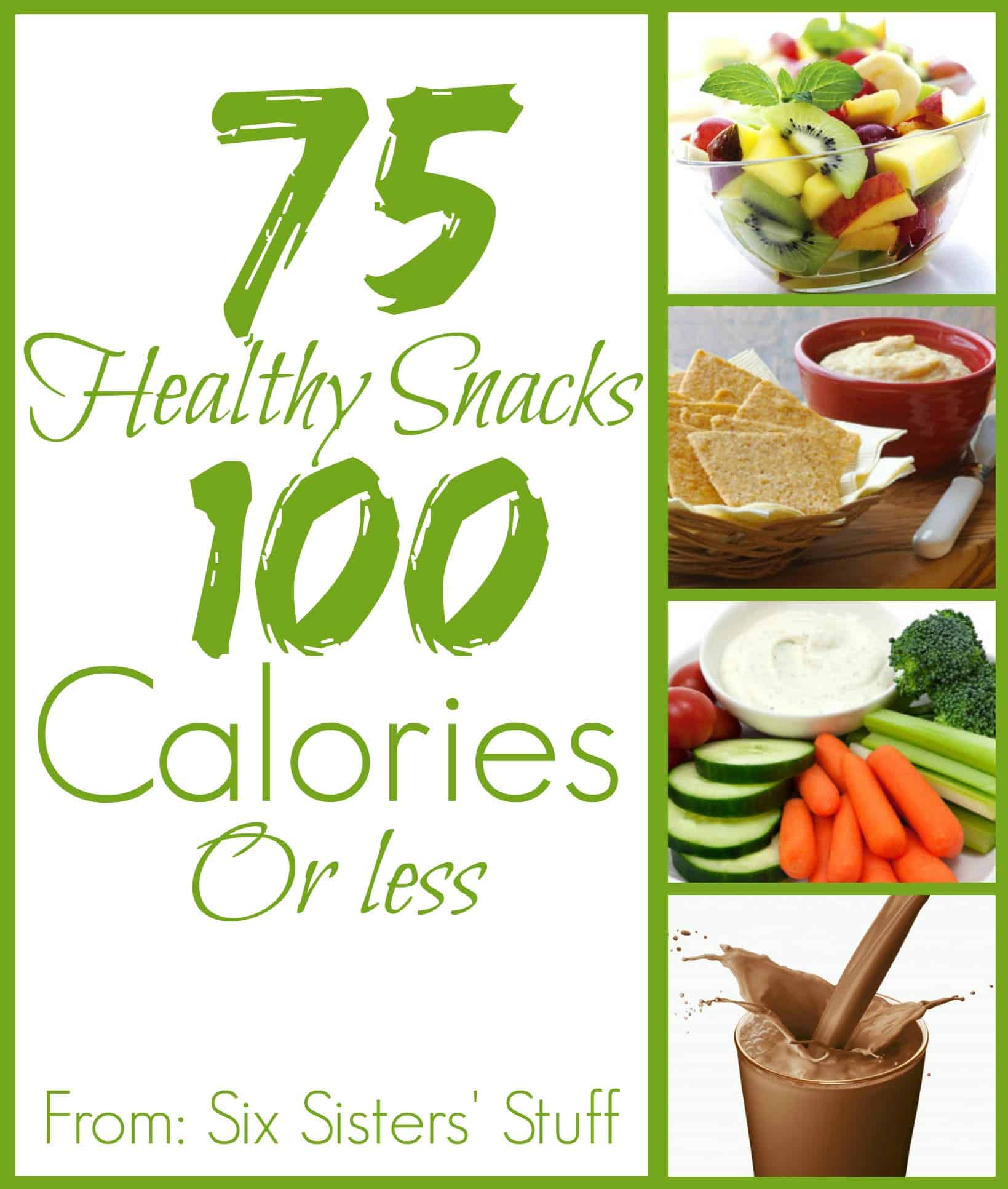 It's that time of year again when we can no longer hide under our long pants and hoodies  (dang it!) The warm weather is here and so are the short sleeves and swim suits! My husband and I have decided that our family is going to try hard and eat healthy snacks this summer. I put together a list so I could get some ideas! This isn't a list of pre-packaged snacks… these are tried-and-true healthy snacks!
75 Healthy Snacks 100 Calories or Less
1 cup of carrots and 2 Tablespoons of hummus
1/2 cup of 2% cottage cheese
2 Skinny Banana Cookies (recipe found here)
1 cup of strawberries
10 baked tortilla chips with ¼ cup salsa
1/2 cup of orange juice
18 twist pretzels
Turkey Jerky (they make 100 calorie packs or just look at the serving sizes)
Go Go SqueeZ (these are my new favorite! My kids love them but I love them more!)
1/2 of a cantaloupe
1 Tablespoon of Peanuts and 2 Tablespoons of dried cranberries
1 cup of rasberries mixed with 1/2 cup of greek yogurt
1 cup mixed berry salad (raspberries, strawberries and blueberries) tossed with one tablespoon fresh-squeezed orange juice
1 egg white on top of whole wheat toast
Baked Zucchini Bites (1 serving)
1 cup raw spinach with ½ cup sliced strawberries and 1 tablespoon balsamic dressing
3/4 cup of lowfat chocolate milk
2 cups of cut watermelon
1 Baked Cinnamon Apple (Recipe found HERE)
Medium Cumber dipped in
10 Medium black Olives
2 Cuties (mandarin oranges)
1 cup of a Strawberry Sunrise Slush
2 medium plums (still only reaches 70 calories)
1 cup of raw broccoli and 2 Tablespoons of fat free ranch
Strawberry Salsa with 15 Pita Chips
1 Tablespoon of Peanut Butter and 2 Stalks of Celery
1/8 cup of sunflower seeds
2 Deviled Eggs (my favorite: Easy Deviled Eggs) – 1 deviled egg equals 1/2 of a real egg
1 banana (or 1/2 banana with 1/2 Tablespoon of peanut butter)
2 medium kiwis
100 calorie pack of Smart Pop Popcorn
Del Monte Fruit Naturals Fruit Cups – one of my favorites is the Red Grapefruit
1 cup blueberries with 2 tablespoons fat free whipped topping
Turkey Wrap: Spread 2 teaspoons of honey mustard on 3 thin slices of turkey; top with 1/4 cup sliced apple and wrap in lettuce
1/4 cup of dried Apricots (I love these!)
Lettuce wrap (two slices of baked ham with 2 teaspoons honey mustard rolled in a lettuce leaf)
15 mini pretzel sticks with 2 tablespoons fat-free cream cheese.
2 oz of broiled salmon with 1 Tablespoon of Brown Sugar
A 4 inch dill pickle (it only has 10 calories but a bit of sodium… so one pickle is good)
1 large apple, raw
2 Servings of our Homemade Apple Sauce
An orange (it only has about 45 calories so you can even have two!)
3/4 cup of sweet red cherries
1 small whole wheat tortilla with 1 egg white and 2 tablespoons of salsa
Hot Spinach Dip (watch the serving size!)
Halve a hardboiled egg, remove yolk, and stuff the empty space with 2 tablespoons guacamole (avocado, lime, cilantro and salt)
25 pistachios (please remove the shell when you eat them) 🙂
1 cup of vegetable soup
1 cup of frozen grapes (about 28)
Zucchini Pizza Bites(Eat 3 instead of 4 so it will be less than 100 calories)
1 cup of sugar snap peas (it only has 26 calories for a whole cup!)
1 cheese stick and 4 saltine crackers
1 medium pear
2 cups of steamed veggies such as carrots, broccoli, and cauliflower. You can find fresh veggies all ready to be steamed at your local grocery store by the salad sections.
14 Almonds
1/2 of a red pepper dipped in 2 Tablespoons of fat free ranch
Banana Smoothie (½ cup sliced banana, ¼ cup nonfat vanilla yogurt, and a handful of ice blended until smooth)
Four spears (spritzed with olive-oil spray) and topped with 2 tablespoons grated parmesan cheese, baked for 10 minutes at 400°
1/2 of a baked potato with 1 Tablespoons of fat free sour cream
1 slice of whole grain bread, topped with an egg white and 3 slices of avocado
1 small baked potato with 1 Tablespoon of brown sugar and 1/2 tsp of cinnamon
3/4 cup of cucumbers sliced, 1 oz of Gouda Cheese
2 egg whites with 1/3 cup of guacamole
3/4 cup of Simply Apple Juice
1 cup of watermelon sprinkled with 1 oz of feta cheese
1 Biggest Loser Cranberry Oatmeal Raisin Muffin
1 cup of honey dew melon with 1 teaspoon of honey drizzled on top (this is one of my favorites!)
3/4 cup of cheerios and 1/4 cup of skim milk
4 Ritz Whole Wheat Crackers and 4 thin slices of Swiss cheese
1 cup of low sodium tomato soup
10 Asparagus Spears with 1 Tablspoon of Extra Virgin Olive Oil and garlic salt. Roll Spears in Olive Oil and sprinkle on garlic salt. Broil for 2 to 5 minutes until asparagus is tender.