If you dream of fettuccini alfredo we are bringing you 25 of the Best Instant Pot Fettuccine Alfredo Recipes the whole family will love!
Each instant pot fettuccine alfredo recipe will satisfy even the picky eaters in your family, and will cut down on the cooking time on those busy weeknights. Win, win!
Instant Pot fettucine alfredo is an easy pasta dinner made with simple ingredients and a flavor that rivals any Italian restaurants!
With that creamy sauce and italian seasoning, you can't go wrong with these instant pot recipes!
Tips for cooking pasta in the Instant Pot
The cooking process for pressure cooking pasta is simple. Here are some tips:
Once you add the pasta to the inner pot, add the water. A good rule of thumb is 1 1/2 cups of liquid for every 4 ounces of pasta.
Always give the pasta a good stir to be sure it is well coated to the bottom of the pot
Check the recipe card for the best cook time for that recipe – approximately half the lowest package time, minus 2 minutes usually works great.
To avoid pasta foam spraying out of the valve, do a natural release for about 5 minutes before then doing a quick release of the remaining pressure.
What to serve with Pressure Cooker Fettuccine Alfredo
The great thing about traditional fettuccine alfredo is that is pairs well with many side dishes. You can try serving it with:
chicken tenders
garlic bread or other crusty bread
caesar salad or other greens
top with a sprinkling of fresh herbs such as fresh parsley, or red pepper flakes
How do I store leftover fettuccine noodles?
Instant pot pasta recipes are a favorite meal to store and reheat for a quick meal later in the week.
For best results, allow the fettuccine pasta to cool completely to room temperature and store in an airtight container in the fridge for up to 4 days.
Each Instant Pot Alfredo recipe will become one of those easy weeknight meals you go to again and again.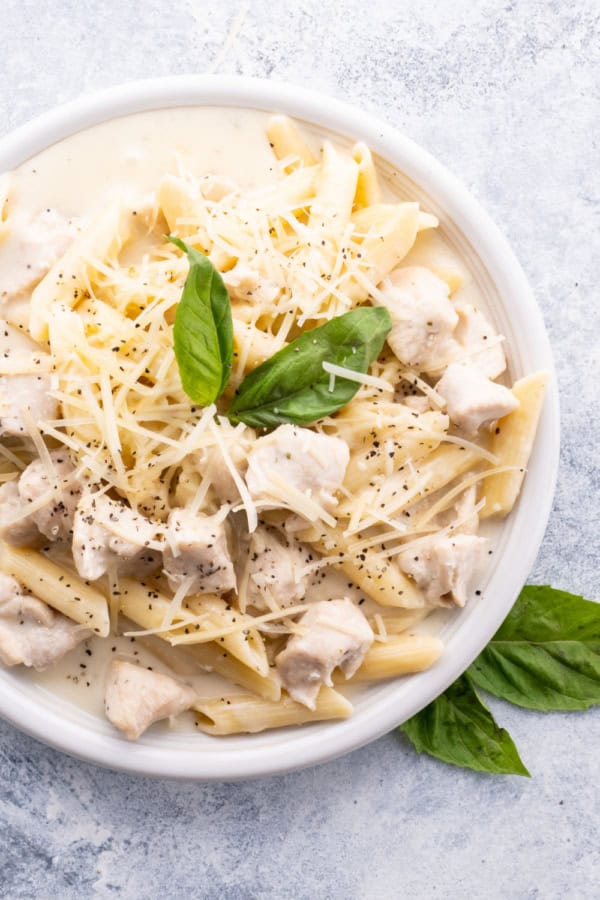 Instant Pot Chicken Alfredo Penne Pasta Recipe
This Instant Pot chicken alfredo penne pasta, has all of the cream and cheese you need to make the best and quickest chicken alfredo than you've seen before!
View the Recipe