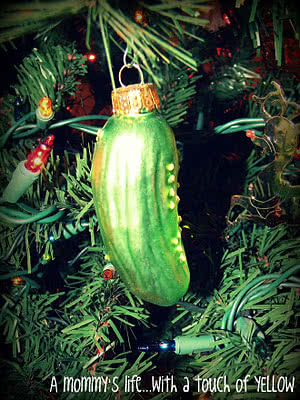 -12 Days of Christmas Traditions-
We are so excited to introduce you to our friend Whitney! We have known Whitney for a while now and consider her such a good friend . . . and she has such a fun tradition to share with you today! Here's Whitney . . .
The German Pickle Tradition
Hi, I am Whitney and the momma behind the blog
I am a mommy to this crazy little 19 month old adorable little man, Maddux
and a wife to the love of my life, Ty
I live in Salt Lake City, Utah
I change my hair probably more than anyone you know
and get asked if I do hair all the time
(I guess just cuz it is always different…maybe I should)
I have my bachelors in Physical Education and Health Education
and will one day be out there teaching your teenagers
For now I love to keep myself busy with PROJECTS of all sorts
while the hubby is at law school and the babe in napping
including redoing furniture, crafting, cooking, sewing and decorating
Can I just say being a Say At Home Mom is the best job in the whole world!
My mom's family, Bargar, is from German ancestry
and this fun tradition that I am sharing today goes back to her roots in Germany
It is the Tradition of the German Pickle
Let me give you a little background about it first:
John Lower, a German man, was born in Bavaria in 1842.
He left Germany with his family and     emigrated to the United States
While fighting in the American Civil War,
John Lower     was captured and sent to a prison in Andersonville, Georgia
He soon fell to poor     health given the poor conditions of the prison
Starving, he begged of a guard for     just one pickle before resigning to his death
The guard, taking pity on him, found     and gave John Lower a pickle
Lower family lore yields John's testimony that the     pickle, by the grace of God,
gave him the mental and physical strength to live on
After being reunited with his family he began the tradition of hiding a pickle on the     Christmas tree
Hence, the first person who found the pickle on Christmas morning     would be blessed with a year of good fortune… and a special gift, just as John Lower had     experienced!
According to German tradition,
the  pickle brings good luck and was the last ornament placed on the  Christmas tree
On Christmas morning the first child to find the pickle  was rewarded
with an extra little gift left by St. Nicholas.
This German tradition encouraged the  children to appreciate
all the ornaments on the Christmas tree,
rather  than hurrying to see what St. Nick had left for them
So For Our Family the tradition goes a little like this:
The pickle is placed on the tree just like any other ornament
on the same day, normally Dec1st, that we decorate the tree
Then on Christmas Eve, after we all went to bed
Mom and Dad hide the pickle ornament deep within the trees branches
Then on Christmas Morning
The kids get to try to find the pickle ornament
in the tree when mom and dad say go
It is like a little hunt and a race to see who finds the pickle first
It is not as easy as it sounds
since the pickle and the tree are both green it actually takes a while
and we get kinda vicious and competitive about it especially when we got older
The child who finds the Pickle first and gets it out of the tree
wins an extra present and in our family that is a nutcracker
My mom has a whole collection of nut crackers
and each year my mom gets new one
for the winner who gets to keep it and take it with them in adulthood
The nutcrackers in the picture above are mine
They are the ones I had won and now use as Christmas Decor
Back in the day we used to just use a real dried out pickle to hide
but then we were able to find the glass ornament and have used that ever since
My cute friend Ashley knew about this tradition that we did
and thought it was so funny
anyway when Ty and I got married for our wedding present 
she gave us a pickle ornament of our own
so that we could continue on the tradition in our own little family
Thank you Ashley It really did mean a lot even though it is kinda funny
We are really excited to start this tradition with our little man
Thank you girlies for letting me share one of my families traditions with you today
MERRY CHRISTMAS!