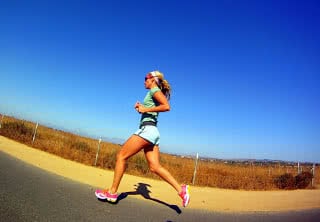 I Love to run. I especially love to run in the spring and when the weather is getting warm. I'll be honest…. I didn't always love it. In fact I hated it in high school unless it consisted of running after a soccer ball. I really had a hard time running over a mile until  I got married and a friend invited me to run with her. I almost died.  But a few months into it I ran my first 5K (yes I did walk some of it). 🙂 After that race, I decided I needed to run another one to beat my time…. and my running started from there.
I have now run a marathon, many 1/2 marathons, Ragnar, 10ks, 5ks, a Triathlon, and a Mud run. Sometimes I'll admit that running is still hard to do with kids and when I'm tired… so here is my list of 10 ways I get motivated to Get off my Bum and Run!
1. Start Small…
If you have never run before, or just had a baby, or any other thing that got in the way of running… I suggest starting slow. I had 3 good friends do the Couch to 5K program and it was AWESOME!!! All three were up to running 3 miles in 2 months. The Couch to 5K is a walk/ jog system so that anyone could do it!
2. Find a Running Partner
I used to run alone, jam to my music, and suffer through the run. When I started running with people I not only enjoyed it…. I could run a lot more miles and not even realize it! I have also gotten to know many girls that have become my best friends.
3. Run at a Pace that is Comfortable to you
I used to run with my husband…. and it killed me! I would dread going because he was A LOT faster than me. I believe you need to push yourself but if you are going to fast… you won't go on another run for awhile. Once I found girls that could run the same pace as me I really enjoyed running.
4. Get Some Music
Although I love running with people I do enjoy going by myself from time to time.  I love downloading new music and running to the new songs on my Ipod.
5. Join a Gym
I never really had a gym pass until I moved to Missouri, and I will never be without a gym again! I run 4 days a week, and lift 1 to 2 times a week. I love the change up. Most gyms also offer other classes like spinning, yoga, zumba, etc. If you join a gym you are more likely to get out and use it so you won't waste your money.
If you have children some gyms even provide child care. (Mine does and it is the best!)
6. Sign Up For a Race
My husband Ammon doesn't run all year long. He only runs when he signs up for a race.  Ammon and I have run a couple of races together including the Provo half marathon and the Phoenix Mud Run.  I just have to say that the Mud Run was one of my most favorite races because we laughed through a lot of it! Another fun run that I received an e-mail about is called Hero Rush . Instead of running through the mud you get to run through simulated challenges that firefighters face everyday. Runners will climb ladders, scale steep roofs, bust through windows and doors, drag massive fire hoses, crawl through smoke-filled mazes and more. There are also small Hero Runs for the kids to participate it!
7. Get Running Shoes
If you are going to get serious about running I suggest getting good shoes. I'm not talking k-mart $20 shoes. Go to a running (or athletic) shoe store and try on GOOD shoes. I always write down which ones I like best and then go buy them online –  You can get them much cheaper!!!! My favorites are Asics Gel Kayano. They make them for women and men. My husband also likes Asics Kayanos.
8. Get Running Clothes
You are probably thinking that I'm crazy, but getting new running clothes makes me feel awesome as I run. I usually don't spend the big bucks on clothes. I always go to the clearance racks just to see if there are any good deals. But when I get new running clothes you can bet I'll be running the next day and be wearing them.
9. Track your Route
Just running anywhere is hard for me. I like to know where I am going and how long I will be going. www.mapmyrun.com is the best website! It will help you step by step on where to map your run if you want to run 1 mile or many miles. I also have a Garmin GPS watch that lets me know how fast I am going. You if you are interested you can find cheap ones on eBay.
10. Set a Goal
Whether you are running to lose weight, to get in shape, or beat your time – you need to set a goal. Track everything from when you start… while you are going… and when you finish. Go for 2 months and if you stick with it everyday – you will be surprised at the outcome.
11. You Can Do It
Have support. Tell people that you are starting to run. It is a lot harder to back out of things when lots of people know about it.  I got a group of 28 Moms to run a half marathon  or full marathon with me. Some of these ladies had never run more than 1 mile. They are doing awesome!!!! Our race is on April 21st and all 28 of them are planning on doing it! Having support makes all the difference!
Good Luck and Happy Running!!!!
When I run all the weight I'm trying to lose literally melts off. If you are interested in the Six Sister's 8 Week Weight Loss Challenge to help you lose weight while you run – you can find it here.