Description
You may have noticed by now that we are slightly obsessed with all things Disney.  I went to Disneyland in October and as much as I love going for the attractions, the food is always at the top of my list!  After eating my way through Disneyland, I came home and recreated 20 of my favorite Disney recipes so you can make them at home!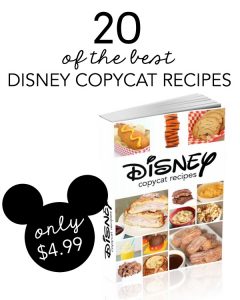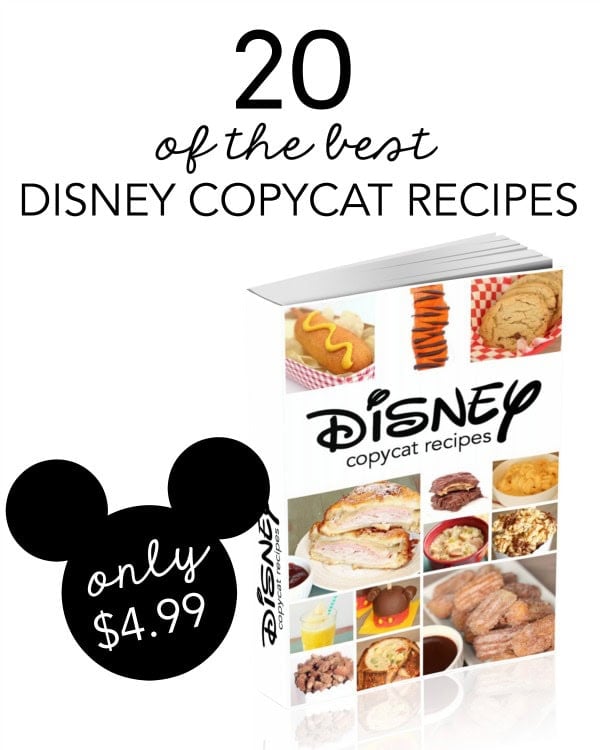 For less than the price of one of your favorite snacks in the park, you can get 20 delicious Disney copycat recipes to make in the comfort of your own home!  Bring a little extra Disney magic to your home for just $4.99!
Disney Copycat Recipes eBook
20 of the BEST Disney Copycat Recipes in one convenient place!
This eBook includes some of our favorite Disney copycat recipes, like the famous Disney Monte Cristo Sandwich, Mini Baked Churros from Cars Land, Disneyland Clam Chowder, and the delicious Cinnamon Glazed Almonds you smell as you walk down Main Street, U.S.A!
Here is a sneak peak at a few of our favorite recipes in the eBook:
We had so much making all of these recipes with our kids and reminiscing on our favorite Disney moments.  We know you will too!
*At this time, this book is only available in ebook form.*
An ebook is a cookbook in an electronic format. Rather than having to go to the store to purchase a cookbook, you can download it to your own computer, smart phone or tablet!  You can print your eCookbook if you want a hard version or you can easily access your eCookbook from your computer or other devices whenever you are ready to cook.
After you purchase your eCookbook, you will receive an email with a PDF file that you can download and save for personal use.  If the book sells well, there is a chance that we will be able to actually print this book in physical form for you to purchase.