*This post is sponsored by Camp Chef, but all opinions are my own.*
Father's Day is just around the corner, and after 9 years of marriage, I've learned the way to my husband's heart is through food! We've teamed up with Camp Chef to show you how easy it is to use their new Woodwind Pellet Grill to make a dinner the dad(s) in your life are sure to love!
I've always been intimidated when it comes to grilling because I don't know what I'm doing or my food always comes out burned and dry.  I have absolutely fallen in love with this pellet grill because it has digital temperature control which means it does the hard work for me!  The Woodwind uses premium hardwood pellets to generate heat and smoke so your food is infused with a savory wood fire taste.
Everything I have made on this grill has come out amazing AND I didn't have to wait for my husband to get home and fire up the grill because it was so easy to use!  Not only can you use your Woodwind Pellet Grill for smoking delicious meat, but you can use it to bake, roast, braise, barbecue and sear!  This grill can seriously do it all.
We broke in our Woodwind Pellet Grill by making a tasty, smoked pizza. This pizza had a perfectly crisp and chewy crust and the toppings took on the most delicious smoky flavor!  We live close to a wood fire pizza restaurant, and my husband said he preferred this pizza over the pizza we usually order at the restaurant!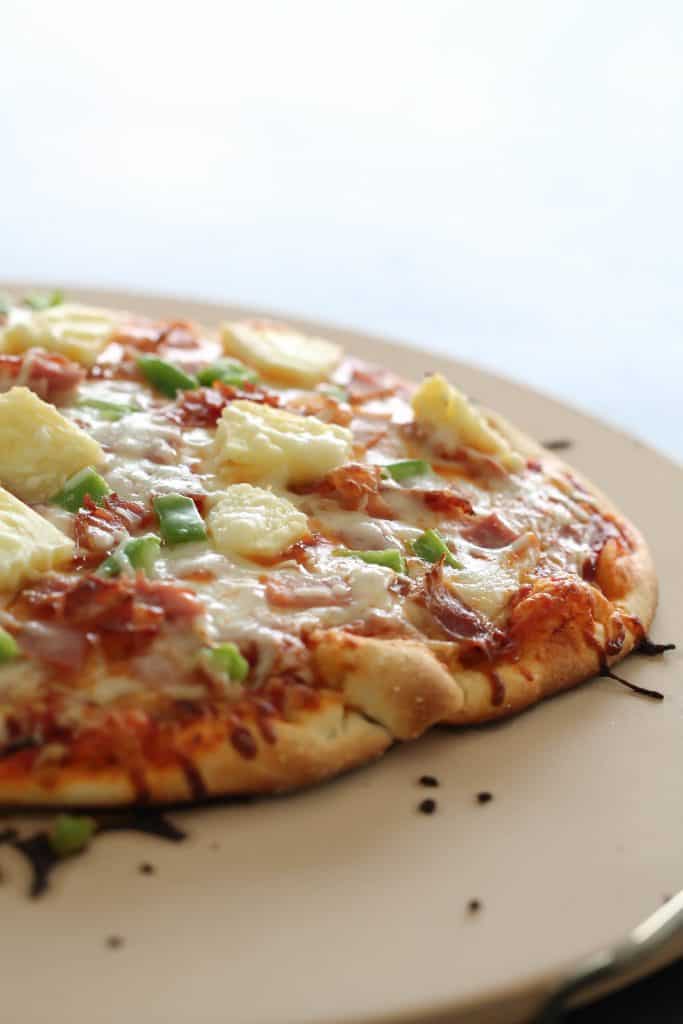 Elyse
Serves: 6
Our Favorite Father's Day Recipes with Camp Chef
10 minPrep Time
12 minCook Time
22 minTotal Time
Ingredients
Cornmeal, for spreading/transferring dough
1 (13.8 ounce) can refrigerated pizza dough, or preferred pizza dough recipe
1/2 cup marinara sauce
2 cups mozzarella cheese
1/2 cup cooked ham, diced
1/2 cup fresh pineapple, diced
4 slices cooked bacon, diced
1 green bell pepper, diced
Instructions
Start your Camp Chef Woodwind Pellet Grill on "smoke" and with the lid open for 5 minutes.
Set the temperature to 450 degrees F and place a pizza stone inside, close the lid and let preheat.
Roll out pizza dough into a 12-inch circle.
Sprinkle cornmeal on a pizza peel or pan to transfer the pizza to the pizza stone.
Spread rolled out pizza dough onto the pizza peel or pan.
Spread marinara sauce on top of dough.
Sprinkle on mozzarella cheese and top with cooked ham, pineapple, cooked bacon, and diced green peppers.
Carefully transfer pizza from peel or pan onto preheated pizza stone, close lid and let bake for 10-12 minutes or until crust is golden brown.
Remove from grill, cut into slices and serve.
http://www.sixsistersstuff.com/2017/05/smoked-hawaiian-pizza.html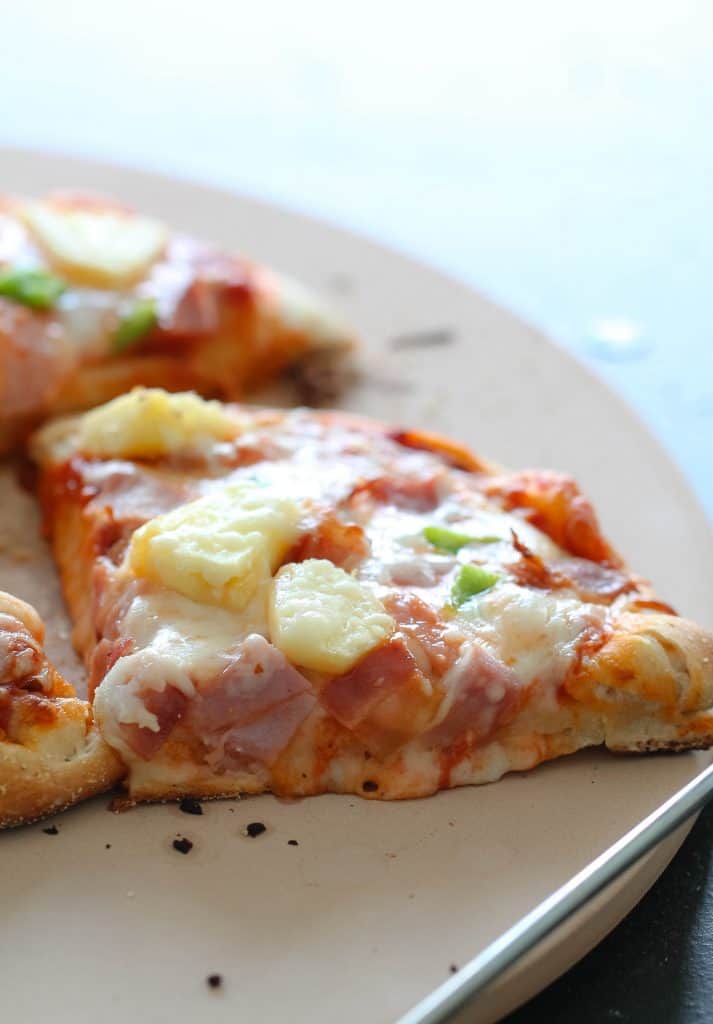 If you are looking for the perfect Father's Day gift, Camp Chef has some AMAZING outdoor cooking grills, stoves, smokers and more!
Here is the equipment I used to make this recipe:

Woodwind Pellet Grill
Camp Oven Pizza Stone
Italia Pizza Peel
Professional Chef Pizza Spatula