You may have noticed by now how much we love all things Disney!  My husband and I are expecting our 4th baby in January and wanted to have one more trip as a family of 5 before the baby comes.  I love Disneyland during the holidays, so I knew it would be the perfect trip with our kids!
We booked our trip through Park Savers to get the best possible price.  If you are looking to save money on your next Disney trip, be sure to check out Park Savers!  If you book your hotel and buy park tickets through Park Savers you will save up to an additional $25 per ticket!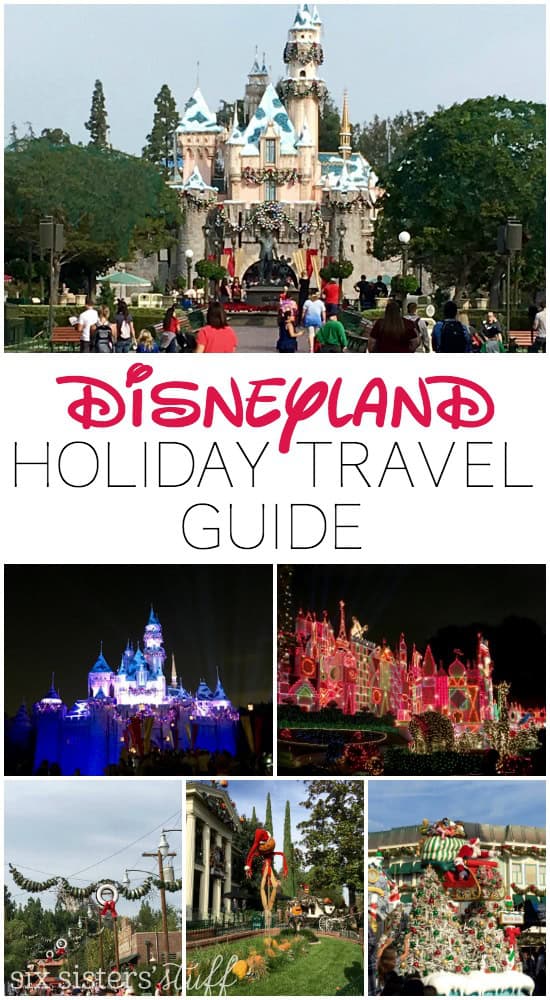 We've teamed up with Park Savers to share some of our tips for traveling to Disneyland during the holidays! Here are a few of our favorite things and tips about traveling to Disneyland and Disney California Adventure during the holidays:


I was 8 months pregnant when we went toDisneyland and all of the delicious food made it totally worth it!  One of my favorite things about traveling is trying new foods and so I thought I would share a few of our favorite foods from this trip!  Disney is known for their amazing holiday foods, but we love the regular food just as much!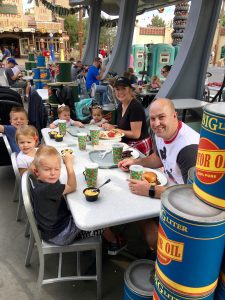 Our kids love Cars Land so we are always sure to stop and eat there!  We love the seating outside of Flo's V8 Cafe and it is really reasonably priced if you are feeding a large family!  My sister, Steph, and her cute girls met us for lunch.  If you order a side of macaroni and cheese it is only $2.99 and is the perfect amount to feed little ones. 😉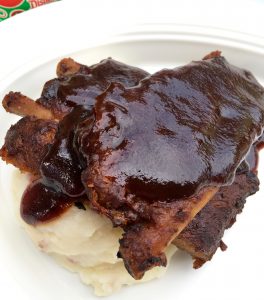 BBQ Ribs from Flo's V8 Cafe
These are served over the best mashed potatoes and the Coca-Cola BBQ sauce is to die for!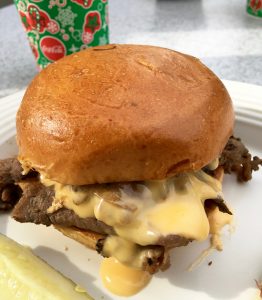 Roast Beef and Cheddar from Flo's V8 Café
This sandwich has a garlic chive bun, caramelized onions and horseradish aioli.  It literally melts in your mouth!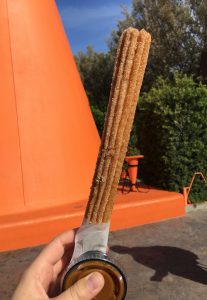 Churro with Caramel Sauce from the Cozy Cone Motel
This caramel sauce is absolutely amazing.  I'm sure all the churros in the park are the same, but for some reason these ones taste the best. 🙂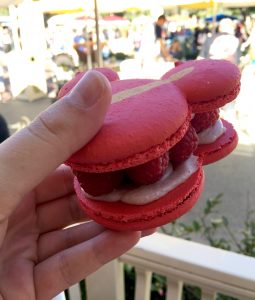 Raspberry Rose Macaron from the Jolly Holiday Bakery Café
We love eating at the Jolly Holiday for the views of the castle and main street, especially at night!  This macaron is our absolute favorite dessert from the Jolly Holiday and we make sure to get it every time we visit Disneyland.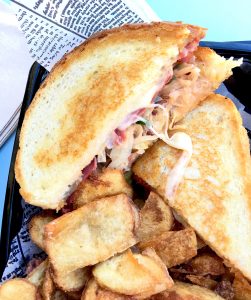 Corned Beef Reuben Sandwich from the Jolly Holiday Bakery Café
I have been craving sandwiches like crazy this pregnancy, and this may have been the best sandwich I've had in the last 8 months!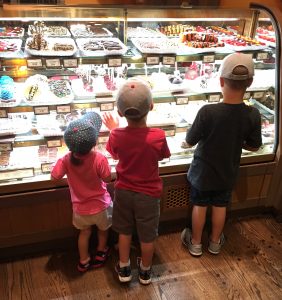 One of our favorite places to get treats in Disneyland is Pooh Corner Bakery (you can find it right by the exit of Splash Mountain).  We usually have to bribe our kids with a treat from Pooh Corner to ride on Splash Mountain… it works every time!  They have some of the cutest holiday treats if you are looking for something more seasonal!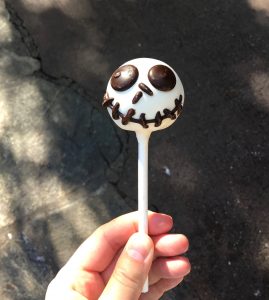 Cake Pops from Pooh Corner
If you are a chocolate lover, these cake pops are a must-try!
Our kids love the character cake pops!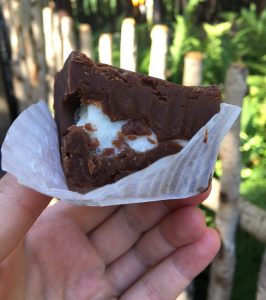 Rocky Road Fudge from Pooh Corner
During the holidays, you can find some amazing fudge in the parks!  This Rocky Road Fudge was our favorite!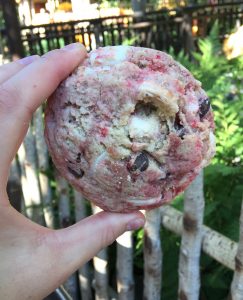 Raspberry White Chocolate Cookie from Pooh Corner
Of all the cookies in the park, this is my favorite!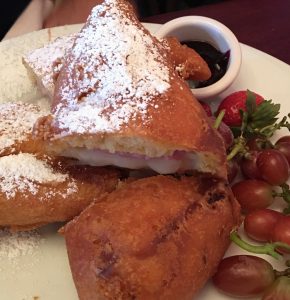 Monte Cristo Sandwich from Café Orleans (or the Blue Bayou)
A trip to Disneyland isn't complete without a Monte Cristo!  We love eating at the Blue Bayou which is right next to Pirates of the Caribbean.  If you have a large family, it can get a little pricey so you can order the same sandwich at Cafe Orleans for a little less!  It is so big that you could easily share it and fill up on other tasty snacks throughout the day. 😉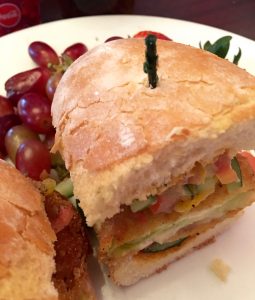 Fried Green Tomato Sandwich from Café Orleans
This sandwich is packed with so many delicious flavors, I don't even know where to begin!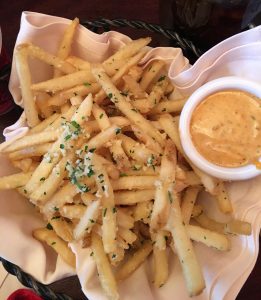 Pommes Frites from Café Orleans
If you order one thing from Café Orleans, make sure it is these frites!  Be sure to ask for extra sauce if you are sharing!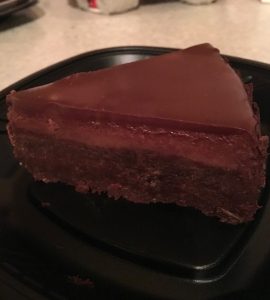 Chocolate Flourless Cake from the Jolly Holiday
This cake could practically pass for fudge!  So delicious!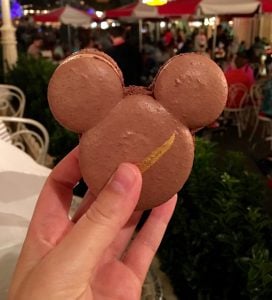 Salted Caramel Mickey Macaron from the Jolly Holiday
I've never met a macaron I didn't like!  This flavor was so good, especially the filling.  If you are looking for some seasonal desserts, the Jolly Holiday is the place to go!

I don't know if there is anything better than Main Street, U.S.A.!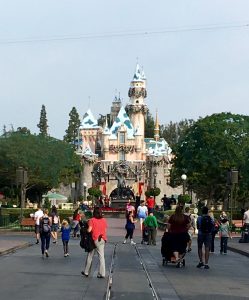 Sleeping Beauty Castle looks so magical during the day during the holiday season…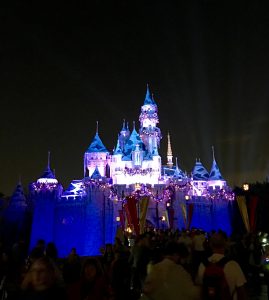 but it is absolutely stunning at night!  Each night there is a lighting ceremony where the castle completely transforms!  It is amazing!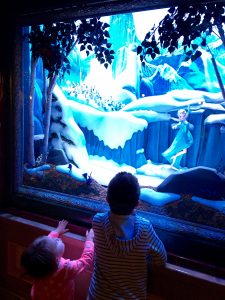 The large windows of the Emporium on Main Street, U.S.A. have the most amazing window displays!  Be sure to check them all out and wait for them to change right before your eyes!  My 2-year-old wouldn't take her eyes off this one.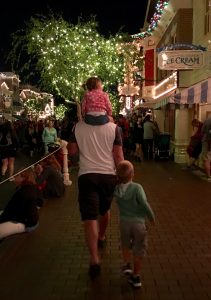 You will see window displays, lights and decor up and down all of Main Street!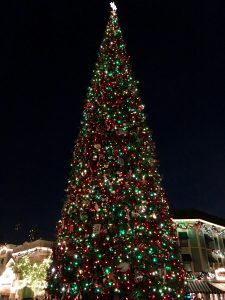 You'll find this gorgeous tree right as you enter the park.  It is breathtaking!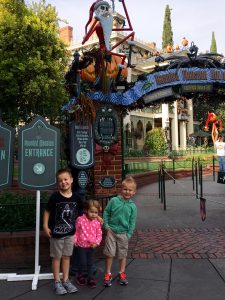 My kids love The Haunted Mansion, despite the look on my 2-year-old's face. Haha!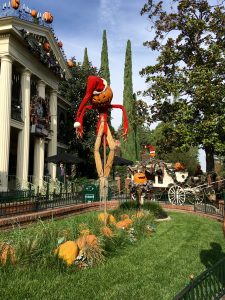 We love going on this ride during the holidays because it is completely made over to to become The Nightmare Before Christmas!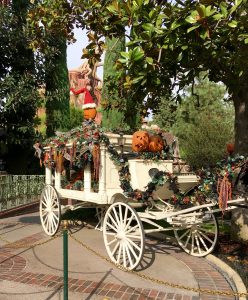 You'll find plenty of jack-o-lanterns, wreaths and characters from the movie.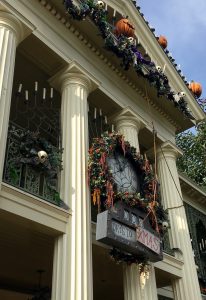 The details from the movie are absolutely uncanny!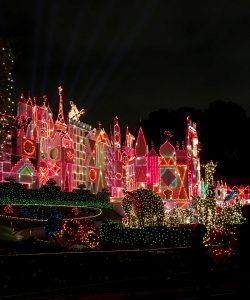 Each night you can watch an illumination display at It's a Small World!  The ride transforms with over 50,000 lights and projections that you have to see at least once!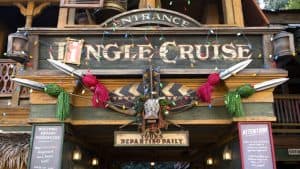 Our kids love the Jungle Cruise and thought that the Jingle Cruise was even better!  My 6-year-old was cracking up at every holiday joke the guide told us!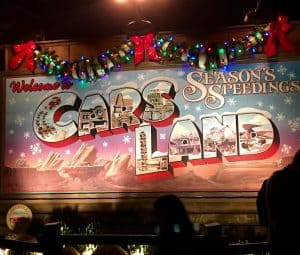 Cars Land is also decorated for the holidays!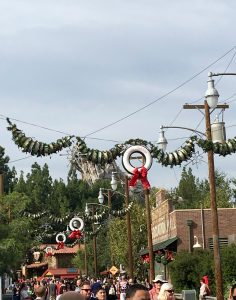 It is so fun to walk around and see all of the creative, auto-themed decorations.  It is absolutely darling!

Like I mentioned earlier, one of my favorite things about Disneyland is the food!  The Festival of Holidays in Disney California Adventure did not disappoint!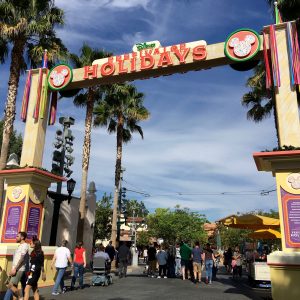 You'll find 14 marketplace kiosks throughout Disney California Adventure Park where you can try different foods from cultures all over the world!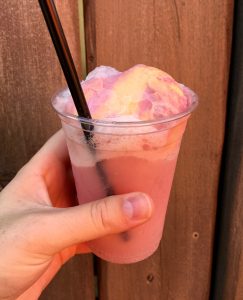 It was really hot when we were visiting the park and we loved cooling down with this Merry Berry Sherbet Punch from the Mistletoe Morsels Marketplace.  I got so caught up in trying different foods that we didn't get pictures of everything, but we also loved the Southern Mac & Cheese from Southern Home Holidays and the Rice Pudding from Heritage Cottage!
You will also find festive music and entertainment throughout the day in Disney California Adventure.  We ate dinner on the pier and listened to the Mariachi Divas preform and our kids loved the Holiday Toy Drummers that were performing throughout the park.

It's no secret that Disneyland can get pretty crowded during the holiday season!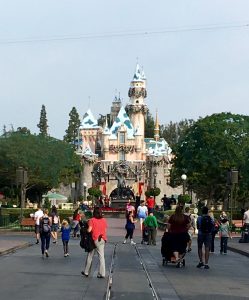 As you can see in this picture, the park wasn't crowded at all…. that was until afternoon rolled around.  We found the best time to go to the park was as soon as it opened.  We would enter the parks as soon as they opened and go on all of the popular rides with little to no wait time!  Then we would get fast-passes to the really popular rides (Radiator Springs Racers, Star Tours, etc.) to ride later in the day when the crowds came.  That way we were able to ride all of the rides we wanted to without having to wait in really long lines!  With the park hopper passes we got through Park Savers, we also had access to one Magic Morning where we got to enter the park an hour early!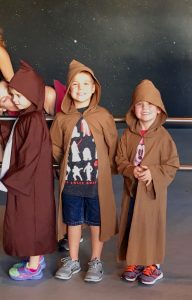 One of our kids' favorite activities in Disneyland is the Jedi Training.  It is free and such a fun experience for kids ages 4-12!  However, it fills up fast!  If you would like to participate, register at the kiosk just outside of the Star Wars Launch Bay first thing in the morning!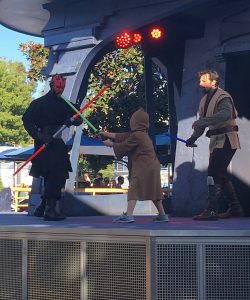 Our kids thought it was so cool to show off their Jedi skills and fight the Dark Side in front of an audience!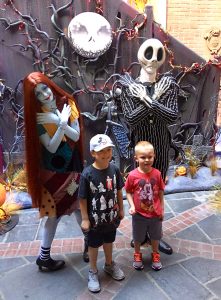 If your kids are like mine, they love meeting different characters.  I hate wasting valuable time in the park waiting in line to meet characters so we would try to meet them in the morning before the park got crowded.  Use the Disneyland app to locate where your favorite characters are!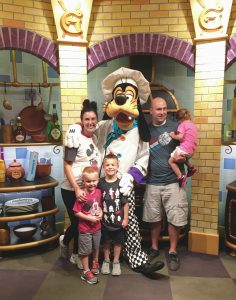 Another way we beat the crowds when it comes to meeting characters is by enjoying a character dining experience.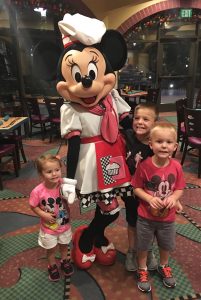 Our kids love eating at Goofy's Kitchen because some of their favorite characters are there and come right up to your table for autographs and pictures!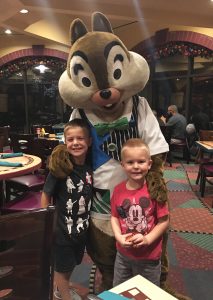 No waiting in line and you get to enjoy a delicious meal while the characters come to you!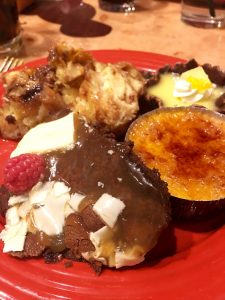 Did I mention that Goofy's Kitchen is a buffet?  It was absolutely delicious and I may have tried every dessert they offer. 😉
The holiday events are what make Disneyland so magical during the holiday season!  One of our favorite events is the Christmas Fantasy Parade!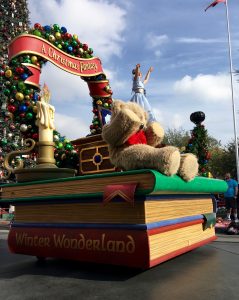 The floats are so awesome!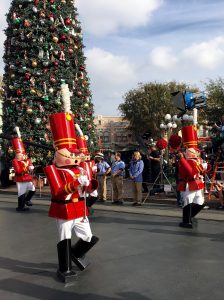 You'll see marching toy soldiers,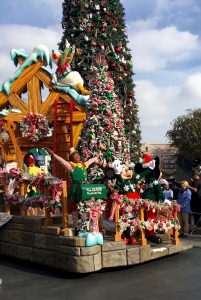 Mickey and friends,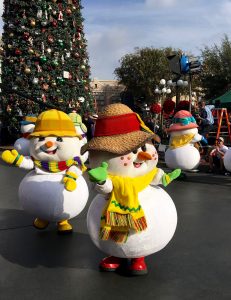 dancing snowmen,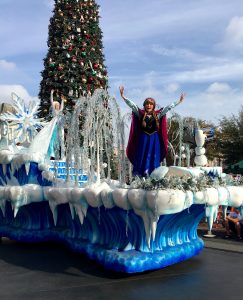 your favorite characters from Frozen and other princesses,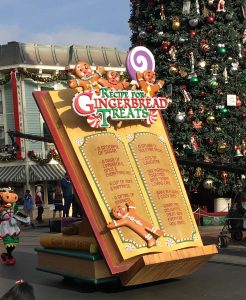 darling floats,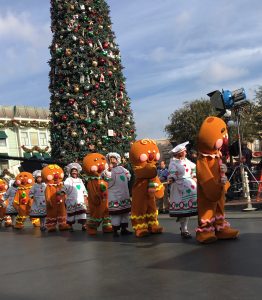 dancing gingerbread cookies,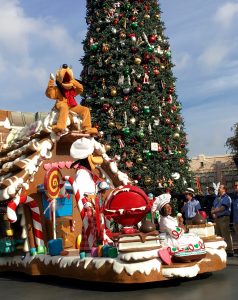 Goofy and Pluto,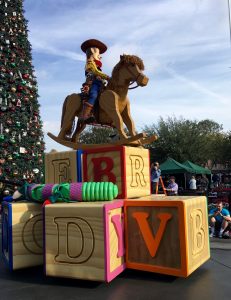 Toy Story characters,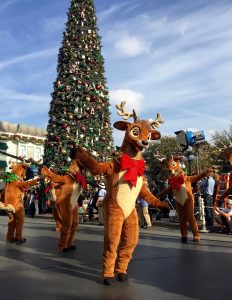 dancing reindeer,
and of course…. SANTA!  Make sure to arrive early to find a good spot to watch the parade on Main Street, U.S.A.!  We've found it gets a lot less crowded if you sit closer to the entrance of the park rather than in front of the shops on Main Street.  We were able to find spots in front of the fire station and weren't crowded at all!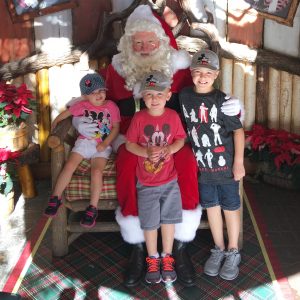 You can also visit Santa by The Many Adventures of Winnie The Pooh in Critter Country!
Now through January 8th, you can also see World Of Color-Season of Light in Disney California Adventure Park!  You'll see moments from your favorite Disney and Pixar Films projected on a wall of mist that is over 18,000 square feet!
There is no better time to visit the parks than now!  Enjoy the holidays now through January 8th, 2017!
If you are looking to visit Walt Disney World during the holidays, you can book 7 Day MYW Park Hoppers and a hotel through Park Savers and save $73 PER TICKET!  Learn more about it HERE!