Six Sisters Stuff
Serves: 3
Disneyland's Monte Cristo Sandwich
We LOVE the Monte Cristo Sandwich at Disneyland, and now we can make it at home!
10 minPrep Time
10 minCook Time
20 minTotal Time
Ingredients
6 slices of bread
6 slices Provolone Cheese
6 slices Swiss Cheese
6 slices turkey
6 slices ham
1 Cup flour
1 egg
1 Tablespoon baking powder
1 Tablespoon sugar
1/4 Teaspoon salt
1 cup of water
powder sugar for topping
raspberry jam for dipping
Instructions
In a large pot or deep fryer, heat 1 to 2 inches of vegetable oil to 350 degrees.
To assemble sandwich, layer one slice of bread, ham, provolone cheese, turkey, and swiss cheese, and then another slice of bread.
Secure all 4 corners of the sandwich with toothpicks.
For the batter, in a bowl beat the egg. Add flour, baking powder, salt, sugar, and water and mix until all smooth.
Dip sandwich in batter, coating all edges and sides.
Carefully fry sandwich until golden brown on each side.
Remove from oil and place on a paper towel covered plate to soak up the extra oil.
Sprinkle with powdered sugar, remove toothpicks, and serve with your favorite raspberry jam.
Dream of Disneyland, and enjoy!
http://www.sixsistersstuff.com/2016/03/disneylands-monte-cristo-sandwich.html
We love this pot to fry the sandwiches:

Looking for more Disney Copycat recipes? Here are a few of our favorites:
Walt Disney World Magic Cookie Bars
Disney's Apple Caramel Pie
Disney World's Ooey Gooey Toffee Cake
Disneyland's Snickerdoodles
Disneyland's S'mores Bake
Are you a Disney lover?!
Check out our Disney Copycat Recipes eBook!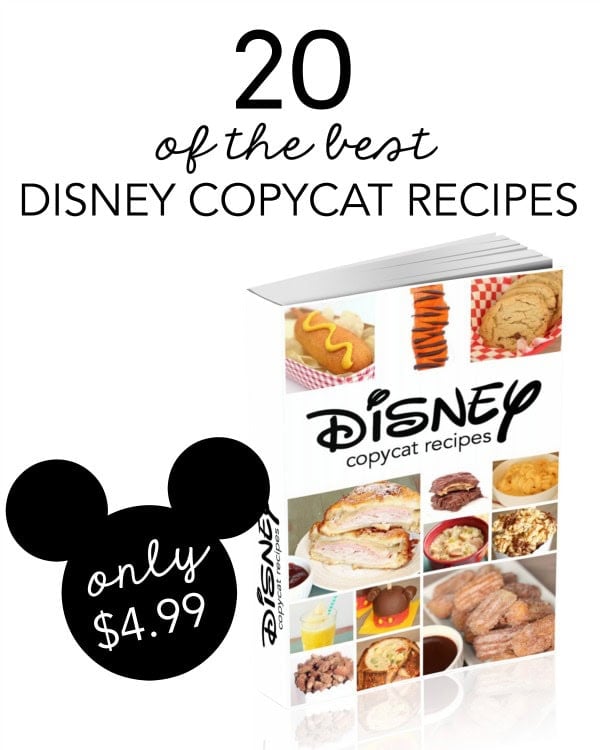 For just $4.99 (less than the price of a treat in the park) you will receive the best Disney copycat recipes, straight to your inbox!
Some of the recipes included are the Monte Cristo Sandwich, Pineapple Dole Whip, Mickey's Mac n' Cheese, Tigger Tails and more!