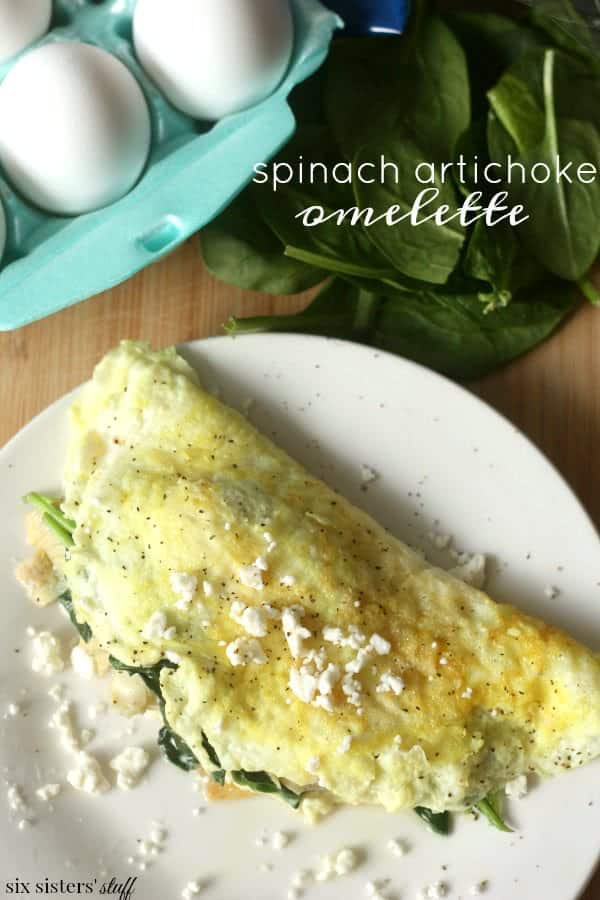 I have been working really hard at eating healthy and I am determined to lose the last few pounds of my baby weight. I have now been eating healthy for 2 weeks and I have lost 2 pounds. I only have 5 more to go! The best part is, that I enjoy eating this omelette! It is so yummy I could literally eat it for every meal.
Serves: 1
Easy Spinach Artichoke Omelette
5 minPrep Time
8 minCook Time
13 minTotal Time
Ingredients
3 egg whites
1 teaspoon of extra virgin olive oil
1 Tablespoon of milk
salt and pepper
1 Tablespoon of green onions, chopped
1 Tablespoon feta cheese
A little bit of parmesan cheese
1/2 cup chopped fresh spinach leaves
3 marinated artichoke hearts, diced
Instructions
Heat an 8-inch nonstick frying pan to medium heat.
Once it is hot, add your olive oil until heated.
Next add your spinach, onions and artichokes.
Cook until your spinach is wilted.
Whisk together egg whites, milk, and add a sprinkle of salt and pepper.
Add the egg mixture to the frying pan so it coats the bottom of the pan. Use a rubber spatula to slowly scrape from the outside edge of the omelette inward, letting runny eggs flow to bottom of pan- mix in the spinach and artichokes a bit.
Cook until the bottom is cooked enough to turn it. Then flip it with a spatula.
Once flipped, add your feta cheese on one side of the omelette and fold it in half over the cheese.
Flip it one more time to make sure both sides are cooked. Serve it on a plate and add a little more pepper and Parmesan cheese if desired.
http://www.sixsistersstuff.com/2013/10/easy-spinach-artichoke-omelet.html
Happy Healthy Eating!!!
Our new cookbook, Dinner Made Easy, is now available for SALE!
With over 100 easy main dishes to help you get dinner on the table, meal time will be a breeze!