We had a lot of Whoppers left over from our sister Stephanie's wedding.  She had a huge candy buffet bar at her reception that turned out so cute.  We love Whoppers and wanted to find a great way to use them in a recipe.  We came across this Whoppers blondie recipe that you will just love.  Bet you can't eat just one!
Whoppers Blondie Bars Recipe
Ingredients:
2 1/3 cups flour
1 teaspoon salt
1 1/2 teaspoons baking powder
2 tablespoons malted milk powder (optional)
1 1/2 sticks (14 tablespoons) butter, room temperature cut into cubes
1 3/4 cup packed brown sugar, light or dark brown sugar
2 large eggs
2 teaspoons vanilla extract
1 cup Whoppers, coarsely chopped
1 cup chocolate chips, semi-sweet or milk chocolate)
3/4 cup chopped walnuts (optional)
Directions:
1. Preheat oven to 350 degrees.  Grease a 9×13 inch baking pan with cooking spray or butter.
2. In a medium bowl whisk the flour, baking powder, salt and malted milk powder together.
3. In the bowl of a stand mixer with the paddle attachment, beat the butter and brown sugar on medium speed until completely combined.  Scrape down the bowl, add the eggs and vanilla, and beat until combined. (This can also be beaten by hand if you don't have a stand mixer)
4. With the mixer on low, add the flour mixture one half at a time and beat until combined.  Add in the malted milk balls, chocolate chips and nuts and beat until just combined, about 10 seconds.  The batter will be very thick.
5. Turn the batter into the prepared pan and spread evenly.  (damp fingers may help spread it around)
6. Bake for 25-30 minutes or until a toothpick inserted come out clean.
7. Let blondies cool for about 20 minutes before cutting and serving.  They are delicious served warm or at room temperature. Makes about 20 blondies.
Adapted from Baked: New Frontiers in Baking
Here are more of our favorite blondie/bar recipes:
Snickers Brownie Bites Recipe
Salted Nut Roll Peanut Bars
Butterfinger Blondies
Smores Bars
German Chocolate Cake Bars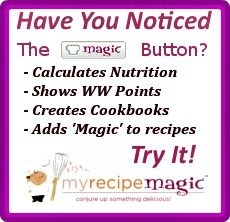 Have you signed up to become a chef on My Recipe Magic?
Not only does it add "magic" to your recipes, but it's the only recipe sharing site that actually PAYS you to share your recipes! So if you have a delicious recipe that everyone always asks for or a family favorite that everyone loves, share it today and make a little extra "dough"!