Steph is finally back from her honeymoon in Hawaii.  I missed her so much while she was gone that I thought I would bring a little island flavor to my home. 🙂
It may not be as good as a trip to Hawaii, but this cake is the next best thing!  It is so moist and flavorful you'll forget your just in your kitchen!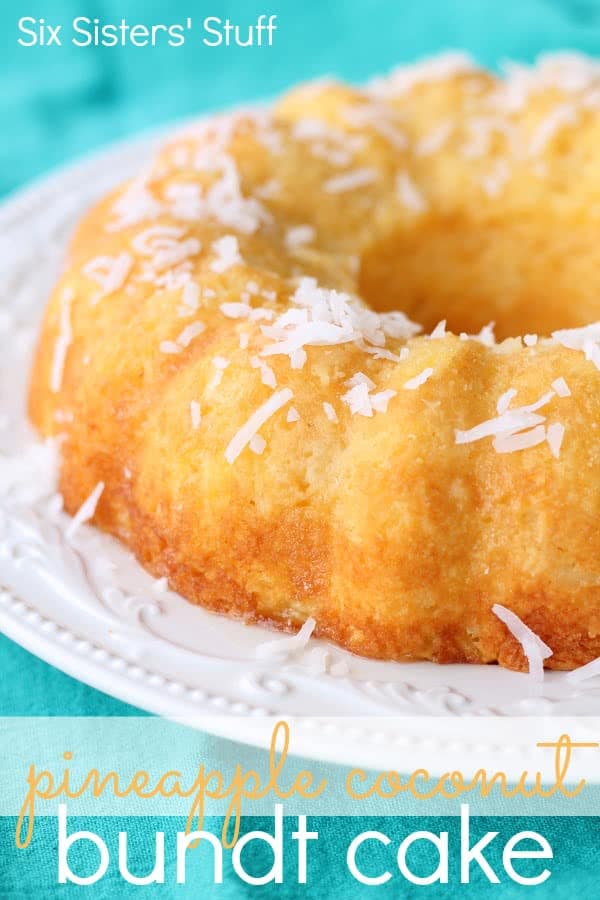 Pineapple Coconut Bundt Cake Recipe:
Ingredients:
Cake:
1 (15 ounce) box yellow cake mix
1 (20 ounce) can crushed pineapple, undrained
1/2 cup sweetened coconut flakes
Glaze:
1/4 cup orange juice
2 cups powdered sugar
Directions:
In a large mixing bowl, combine dry cake mix, pineapple and coconut flakes.  Pour batter into a bundt pan sprayed with nonstick cooking spray.  Bake according to directions on cake box for a bundt cake.  Let cool completely  in pan for about 90 minutes before inverting onto a plate.  If desired, drizzle orange glaze on top and sprinkle with extra coconut.
Looking for more delicious bundt cake recipes?
Here are a few of our favorites:
Lemon Poppy Seed Bundt Cake
Triple Chocolate Bundt Cake
Butterscotch Banana Bundt Cake
Very Vanilla Bundt Cake
Strawberry Yogurt Bundt Cake

Are you on YouTube?!
We would love to have you subscribe to our channel by clicking HERE.