I went to the Farmer's Market this week and picked up fresh tomatoes and fresh basil. When I got home I was thinking of everything I could make with those ingredients! I came up these Caprese Crescents and they tasted DELICIOUS! Don't forget to dip them in the Balsamic Vinaigrette Dipping Sauce- It really just made all the flavors pop!
Caprese Crescents with Balsamic Vinaigrette Dipping Sauce:
(Makes 8 servings)
Ingredients:
1 Large Red Tomato Sliced, then cut in half
1 (8 ounce) can refrigerated crescent rolls
8 slices of skim mozzarella cheese
8 leaves of basil
For the Vinaigrette:
1 tbsp oil
1 tbsp honey
1 tbsp balsamic vinegar
2 tsp Dijon mustard
Directions:
Preheat oven to 375 degrees. Cut tomatoes, and cheese.  Separate crescent rolls into 8 triangles. Place one slice of cheese on the wide end of each crescent roll. Put the tomato, and basil on top of the cheese then roll it up. Bake for 15 minutes, or until golden brown.
For the Vinaigrette:
Mix the oil, honey, vinegar, and Dijon mustard all together. Then dip the warm crescents into the vinaigrette.
(Have leftover Dipping Sauce? Use is as a dressing for your salad!)
Like other basil recipes? Check some of these out!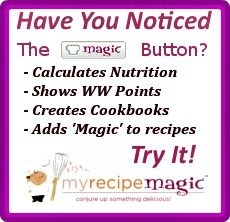 Have you signed up to become a chef on My Recipe Magic?
Not only does it add "magic" to your recipes, but it's the only recipe sharing site that actuallyPAYS you to share your recipes! So if you have a delicious recipe that everyone always asks for or a family favorite that everyone loves, share it today and make a little extra "dough"!