One of my favorite foods is the 7-layer dip that my Mom used to make. When I came across a 7-layer dessert, I swear my tongue did somersaults! This dip is not only delicious, it isn't too bad for you either! Another thing I love about this dip is that it can feed a group of people so it is perfect for a BBQ! Hope you enjoy it as much as we do!
Ingredients
4 cups of skim milk
1 (5 oz) box of instant chocolate pudding
1 (5oz) box of instant vanilla pudding
3 medium bananas, thinly sliced
1 cup crushed pretzels (I crushed mine with a food processor)
1 cup sliced honey roasted almonds (or any kind of roasted almonds)
1 pound of strawberries, thinly sliced
8 oz cool whip, thawed
Instructions
In a smaller bowl whisk 2 cups of milk with the vanilla pudding. In a separate bowl whisk 2 cups of milk with the chocolate pudding. Stick both bowls in the refrigerator and let it set.
After your pudding is set, add your ingredients in this order in a 9 x 13 inch pan: chocolate pudding on the bottom, then add sliced bananas, crushed pretzels, vanilla pudding, sliced almonds, sliced strawberries and then spread the cool whip over the top. I topped it with more almonds.
Stick it in the refrigerator and keep cold until you are ready to serve. I served mine with Vanilla Wafers and Graham Crackers.
Want to change it up a bit?
Use Graham Crackers instead of pretzels, or add chocolate chips for another layer. Or you can add more fruit such as pineapple or blueberries!
http://www.sixsistersstuff.com/2013/08/7-layer-dip-dessert.html
Materials needed to make this recipe: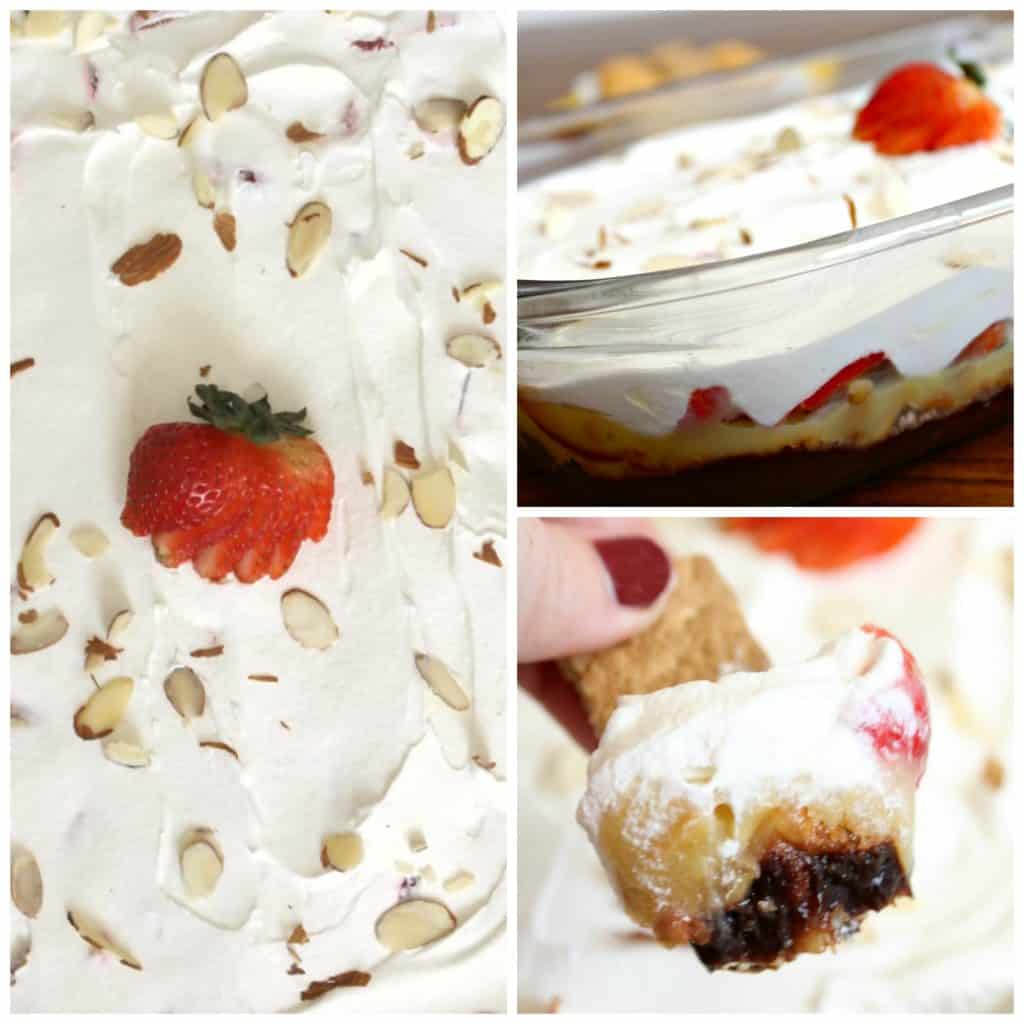 Looking for other delicious desserts? 
These are some of my favorites!
Disneyland Churro Funnel Cake
Rolo Chocolate Chip Bars
Easy Apple Pie Bars
Pumpkin Bread with Maple Frosting
Pizookies!
Our new cookbook, Dinner Made Easy, is now available for SALE!
With over 100 easy main dishes to help you get dinner on the table, meal time will be a breeze!
Get your copy HERE.