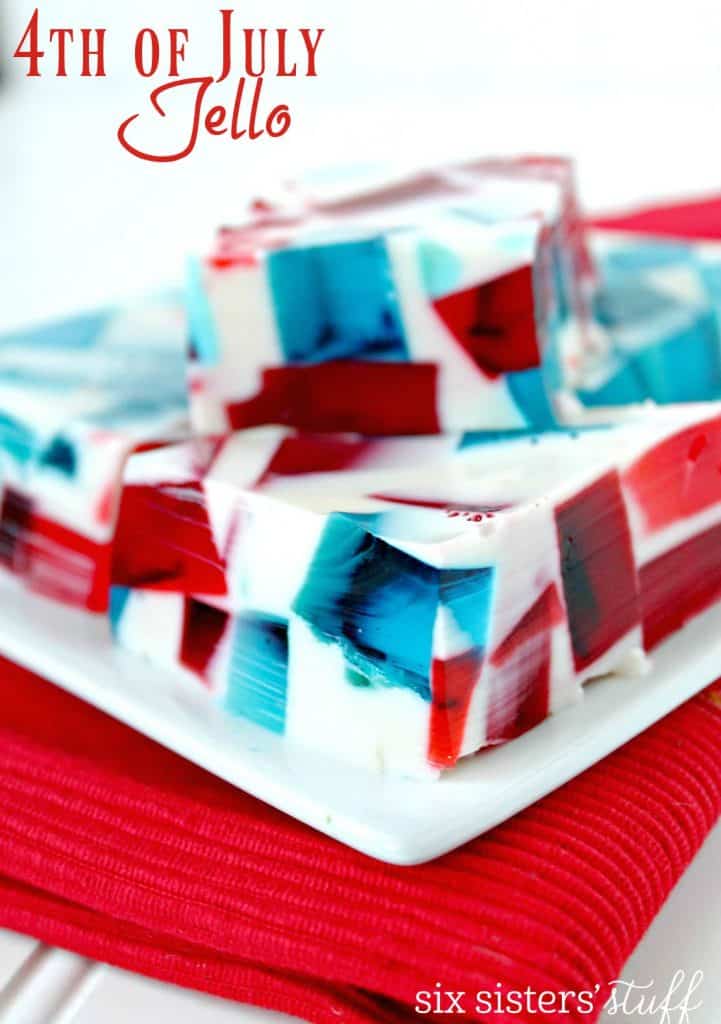 Every 4th of July, we head to our city's parade and sit in the same spot our parents stake out every year.  After the parade we walk through the park and taste all the delicious food being cooked up and browse through all the vendors peddling their wares.  I seriously love it!  We usually head home during the heat of the day for a barbecue before returning for fireworks in the evening.  I knew my family would love this festive treat to help them cool down on a hot day!



Serves: 16

4th of July Jello Recipe

6 hr, 15 Prep Time

6 hr, 15 Total Time

Ingredients
1 (6 ounce) box red Jello
1 (6 ounce) box blue Jello
1 (14 ounce) can sweetened condensed milk
2 (1 ounce) envelopes Knox unflavored gelatin
Water
Instructions
For each flavor, dissolve one box of Jello in 2 cups of boiling water. Pour into two separate 9x13" pans and chill for at least 3 hours, or overnight.
After chilling the flavors, cut them into small squares. Mix both colors of Jello squares in one 9x13" pan. In a separate bowl, sprinkle 2 envelopes of unflavored gelatin into 1/2 cup cold water. Let the gelatin expand in the water for a few minutes, then add 1 1/2 cups boiling water and whisk together until the unflavored gelatin dissolves.
Mix in the can of sweetened condensed milk, stir and let cool at room temperature. Once the milk mixture has cooled, pour over Jello squares in the 9x13" pan. Chill for a few hours until set up. Cut into blocks or shapes and serve.
http://www.sixsistersstuff.com/2013/07/4th-of-july-jello-recipe.html

Six Sisters Stuff



Materials used to make this recipe:

Looking for more Jello recipes?
Here are a few of our favorites:
5 Minute Jello Salad
Cherry Cola Jello Salad
Orange Fluff Jello Salad
Homemade Jello Fruit Snacks
Berries and Cream Jello Salad
Our new cookbook, Dinner Made Easy, is now available for SALE!
With over 100 easy main dishes to help you get dinner on the table, meal time will be a breeze!
Get your copy HERE.